How to order on AliExpress: step-by-step instruction in English
AliExpress, a Chinese online market, is known globally and used regularly by millions of customers for shopping. Despite its fame and reliability, many people are afraid to shop on AliExpress because they lack knowledge and information on how to place an order correctly. In this article, we'll provide a step-by-step guide on how to find and purchase goods on AliExpress. You'll learn how to use the AliExpress website without fear of being deceived.
Even if you are familiar with purchasing from AliExpress, we still advise you to read this article, as you will find important information and tips.
How to buy on AliExpress
The website allows you to browse products and their descriptions without registration. But if you decide to make a purchase, you'll be required to create an account. After registration, you can place orders, access your purchase history, create Wish lists, receive bonuses and discounts, contact sellers and so on.
How to register
The website algorithm detects users from English-speaking countries and automatically shows the English version of AliExpress. But if for whatever reason you got the French version of AliExpress, you can change it manually. To adjust your language preferences, click the flag icon at the top of the page and choose your country/language.
To start, go to the AliExpress homepage. Point your mouse to «Account».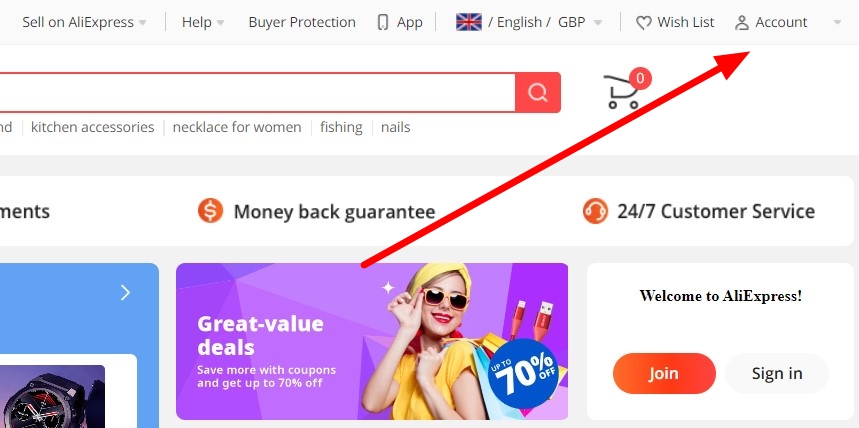 Then choose «Register».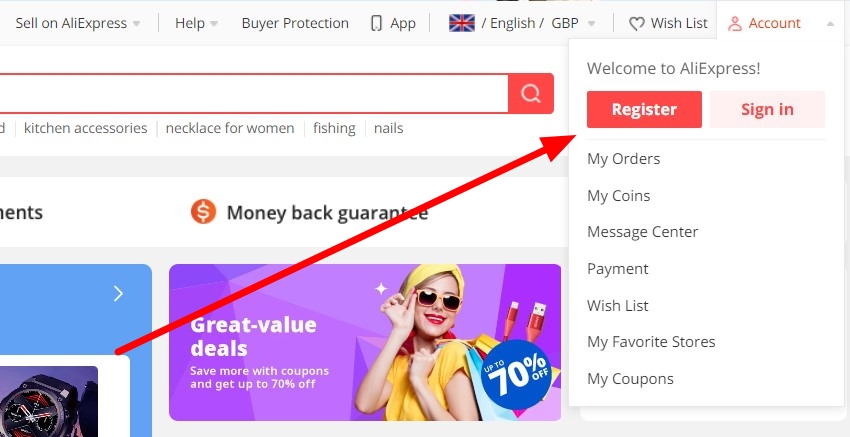 After clicking, a window will open where you need to choose the registration method. By default, it can be your email or phone number.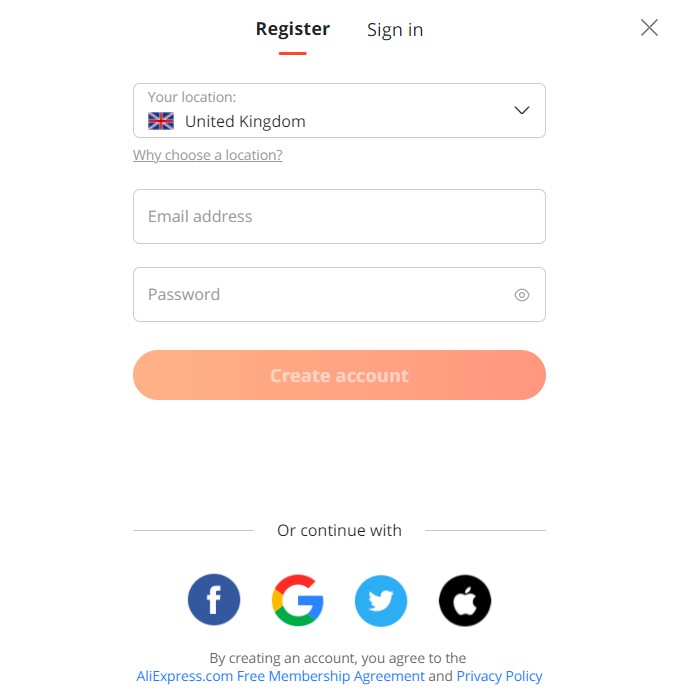 I recommend using email for registration. If you have an email linked to your account, you can change your password, receive order notifications and learn about special offers and sales. But if you choose any other method, you can manually add your email later in your personal account settings.
After registration, it is recommended to check your email box for a confirmation email from AliExpress and activate your account by following the link.
After registration, you can get a $2 (or more) sign-up bonus coupon for new users.
That's it! After you complete your registration, you can go straight to searching for products and placing orders on AliExpress.
Setting up and using cashback while shopping
I recommend using cashback while shopping on AliExpress. Of course, you can get by without it. But activating cashback before placing an order on AliExpress gives you a 3-8% discount, which is paid after you receive your order.
You should always use cashback when shopping on AliExpress (or other markets) since it is a great way to refund some amount of money spent on purchases. Saved money can be withdrawn easily after you receive your order.
Searching for products
You can use several options to browse for goods on AliExpress:
1. Search by product name. For example, I put the "Wireless Earbuds" in the search bar and clicked on the magnifier icon.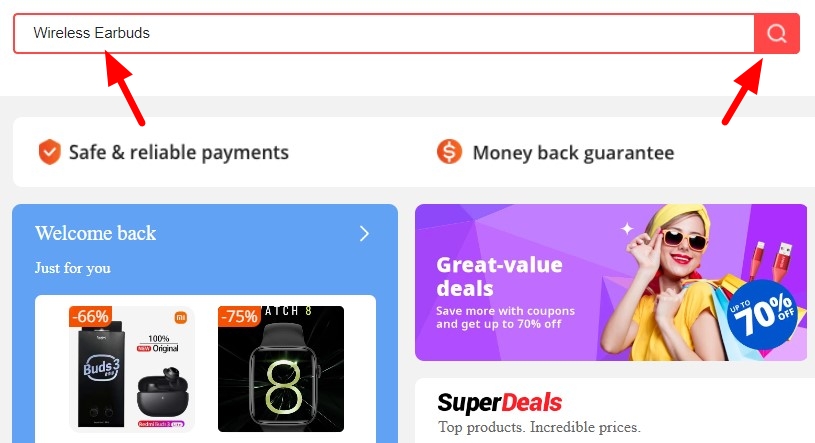 After getting the search results you can apply filters to find the best products, such as: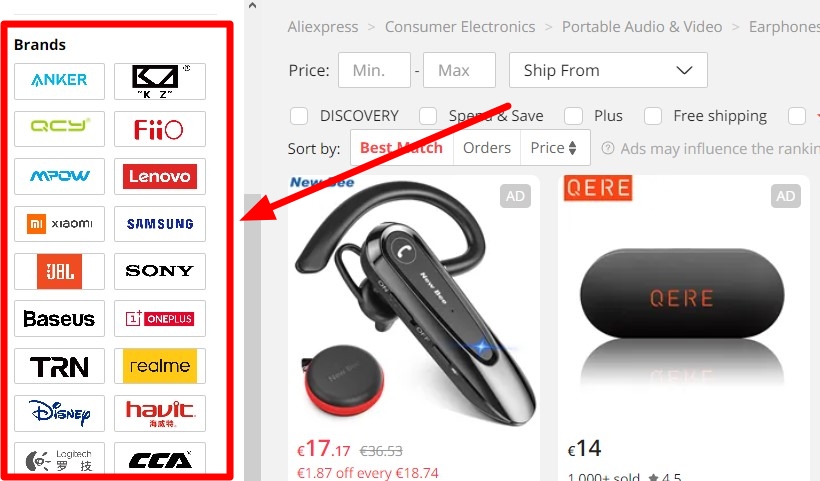 Free shipping;
specifications;
Sorting by Best Match, Prices or newest arrivals.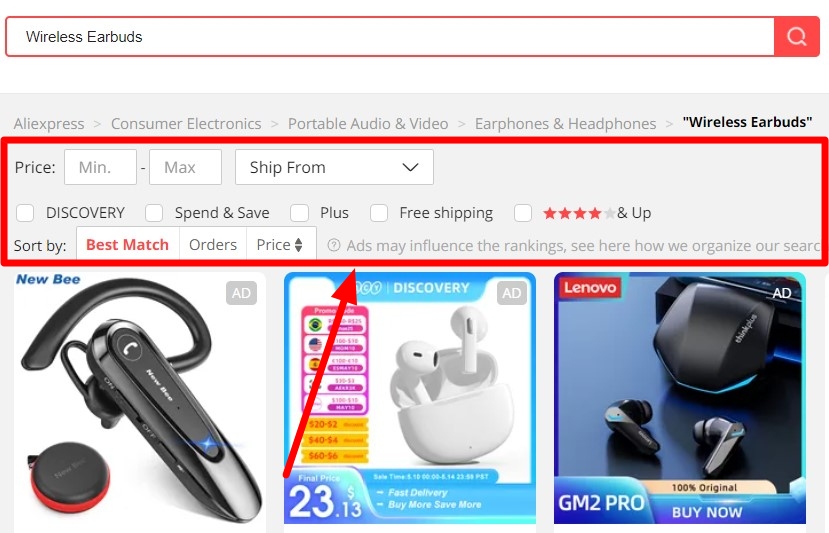 In general, this is the most common way to search on AliExpress. By knowing what kind of product and specifications you need, as well as by additionally applying different filters you can find the best buy option.
2. Search by Category. This method works best if you have a product for purchase in mind, but haven't decided on specifications, such as style or specific model.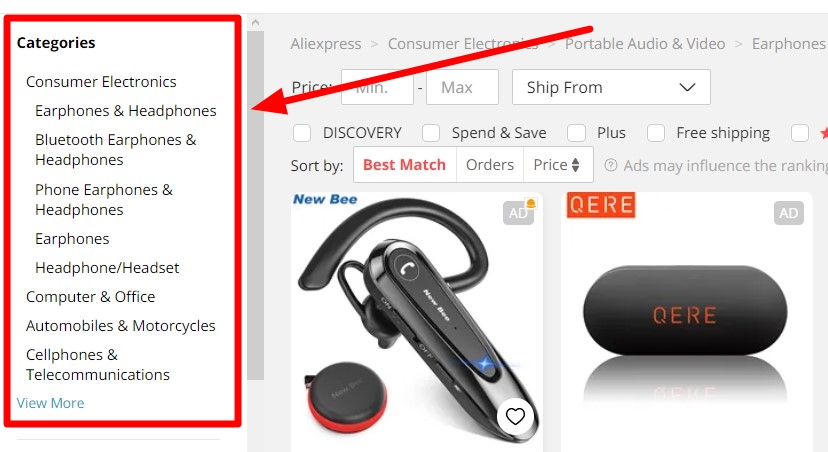 Click on the category you are interested in and browse the suggested results. Apply filters to select the right products.
3. Search by Image. It is recommended to use the AliExpress official App for this method. Launch the app and click on the photo icon.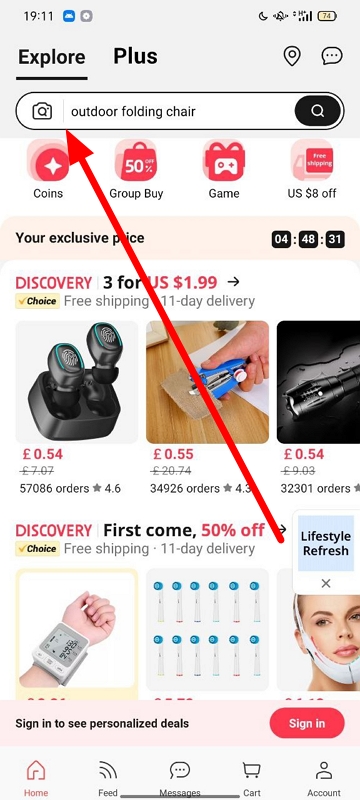 Point to an object with your camera or upload the existing image to search for products.
Choosing a product and placing an order on AliExpress
Using one of the search methods, you'll find many similar products of your interest. The next step is to find the cheapest offer. At the same time, it has to be of good quality and distributed by a trusted seller.
Click on the product to learn more about it. You'll be redirected to the description page, which also features reviews and shipping options. Explore the page, analyze the specifications and look at the photos. Pay close attention to customers' reviews, who already purchased and received the product.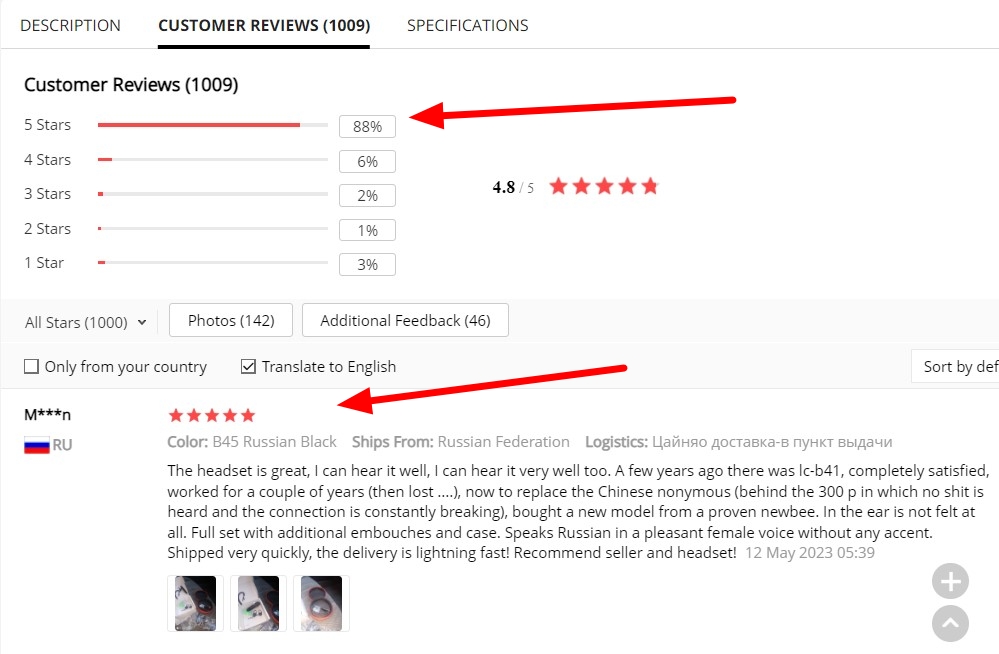 To check the seller's reliability, download and install the LetyShops Cashback Service plugin. This plugin will show the seller's rating and the product's price history, as well as allow you to activate cashback bonuses.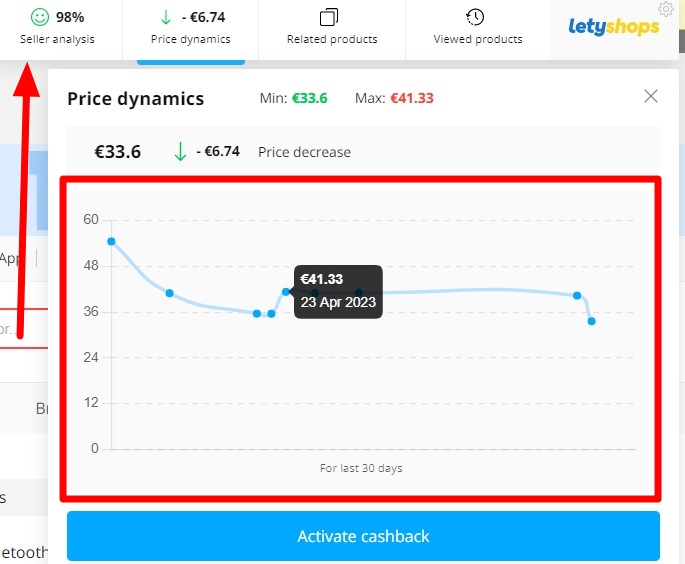 After confirming the seller's reliability on the website and making sure that product specifications suit your needs, you can proceed to order placement.
Step-by-step guide on how to place an order
AliExpress offers a great variety of goods. The purchasing process is the same each time.
So, if you have followed my advice and decided to apply a cashback before placing an order, then activate it. If not, skip this step.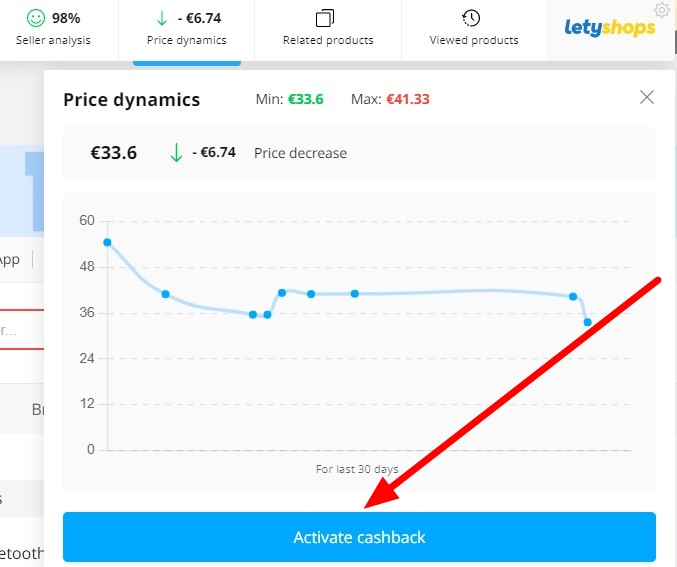 Now you can place an order on AliExpress.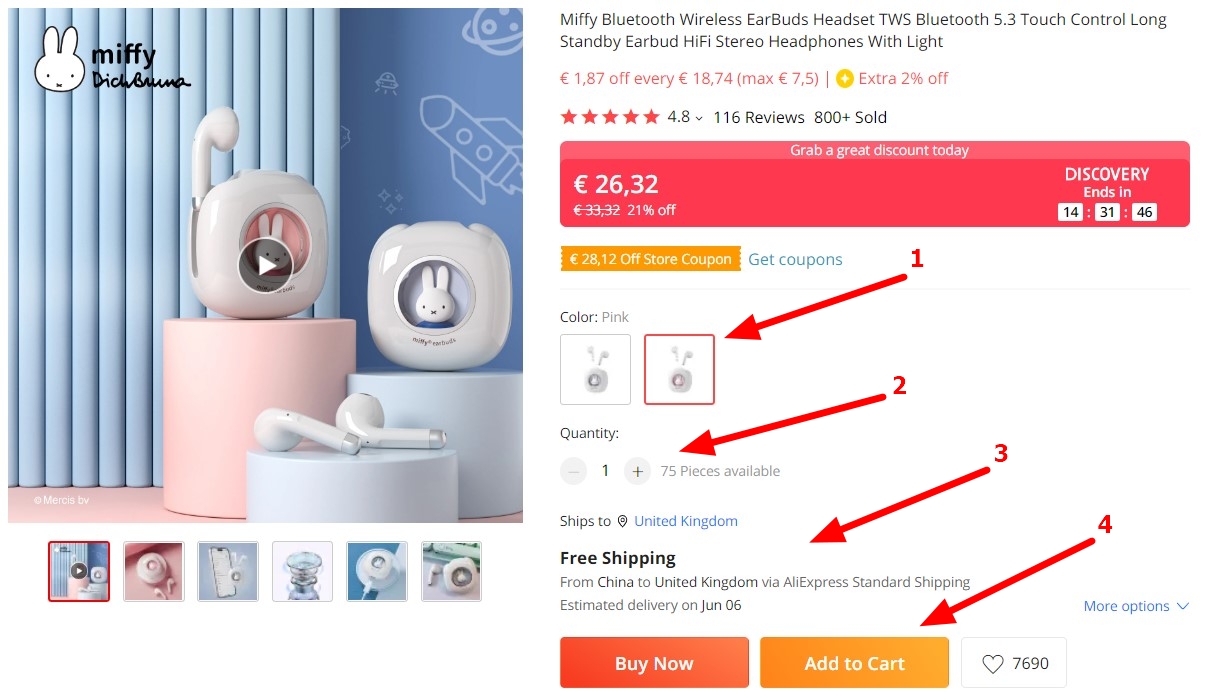 It is required to choose the following specifications for the product:
Color, size, volume, etc.;
Quantity;
Shipping method — by default, the system chooses the cheapest shipping method (usually free shipping). But if you click on the shipping window (look at 3 in the picture above) you can choose a faster and more convenient method for yourself.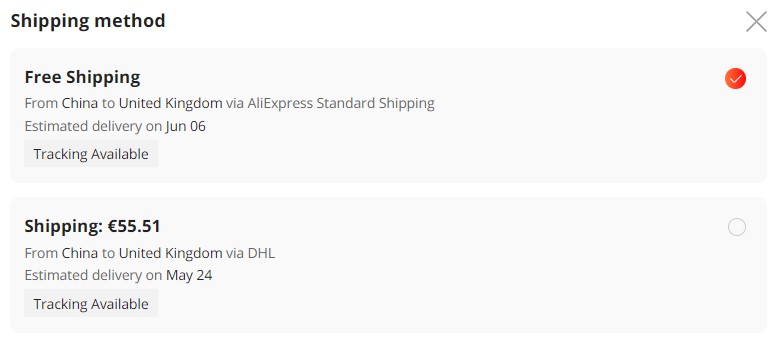 After confirming your choice, click «Buy Now» and proceed to order placement, or click «Add to Cart» and continue shopping.
If, while browsing, a certain product piqued your interest, you can add it to your «Wish List» and return to it later.
Adding shipping address
After confirming product specifications and clicking "Buy Now" through the product page or cart, you'll be redirected to the order placement page. First of all, the system will ask you to provide your shipping address.
If you haven't ordered anything on AliExpress yet, you'll be requested to complete the following form. If it is not your first order, then the system will suggest using an address already saved in your profile.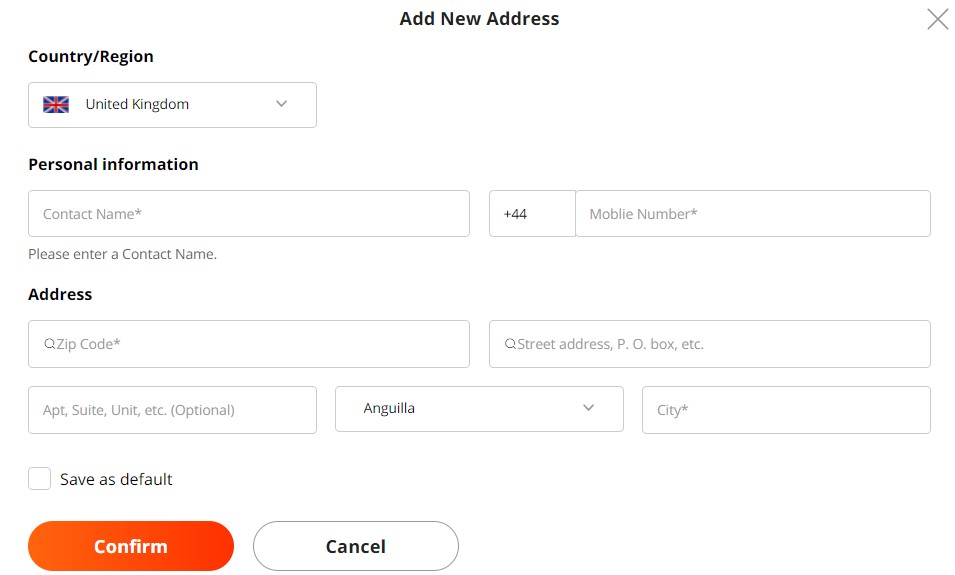 The form is easy to fill out. Write down the required information (in Latin letters) in the fields that must be filled manually, and choose your country, region and city in drop-down lists. If you want, the address can be saved for future use. Later on, you can add another shipping address or edit/delete the old ones.
Choosing payment method
After adding your shipping address, you need to choose a payment method.
There are several payment methods available on AliExpress. All of them are safe and secure, so there is no need to be worried about your savings. Here is the list of the payment methods:
Bank card;
PayPal;
Google Pay;
Other methods depending on the country.

In this article, I won't describe all of the payment methods, instead focusing only on bank cards.
So, choose the payment method— «Add a new card» and fill in the necessary information:
Card number;
Cardholder name;
Card expiration date;
Card Verification Value/Code (CVV).
If you want, you can Save your card details by checking the associated box. After doing this you won't have to provide your card details each time.

After filling out the information click «Save&Confirm». Double-check the cost summary, which includes:
Once everything is checked, click «Place order» and complete your payment.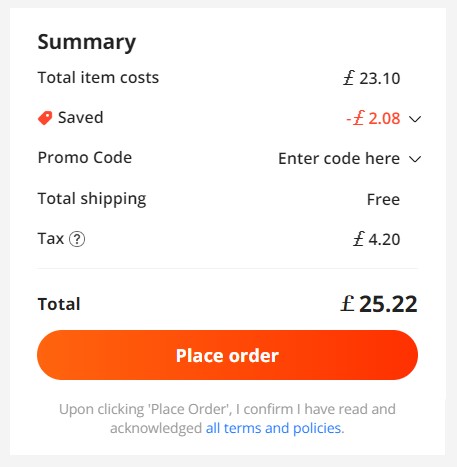 After your payment is processed, you'll get the «Your Payment is Being Verified» status. And once the payment is complete, the status will change to «Awaiting shipment» and the seller will start preparations to ship your order. At this stage, the status should change to «Awaiting delivery».

Once your payment is complete, enter your cashback service's personal account to see how much cashback was earned.
Can you cancel your order?
Quite often users find themselves in need to cancel an order, so they start inquiring about the process. Yes, you can cancel your order even after payment. The only condition is that this must be done before the seller ships your order. If your parcel is already shipped, then, unfortunately, you won't be able to cancel your order at this stage.
To cancel an order, click on the corresponding button and choose one of the suggested reasons.
Order status and their meaning
Once you chose and placed an order on AliExpress, it will show different statuses depending on the stage:
Awaiting payment — order is placed, but not paid for yet;
Payment being verified — the system validates and processes the payment;
Awaiting delivery — seller prepares the product for shipment;
Order shipped — parcel is sent, and the tracking number is issued;
Order finished — order is received.
Cancelled – order was cancelled before shipment.
Tracking order
Once your purchase is complete, the seller will prepare your goods for shipment and hand them over to the courier service. After that, the seller will issue a tracking number for you to track your parcel.
Those who are new to AliExpress eagerly await their parcels. But note that the delivery won't be fast, so you have to wait a little bit. Check its status from time to time, as well as the remaining buyer protection period.
Where to find the tracking number
Go to AliExpress, click on «My orders» and choose the relevant one. Then click on «Track Order» or «Order details».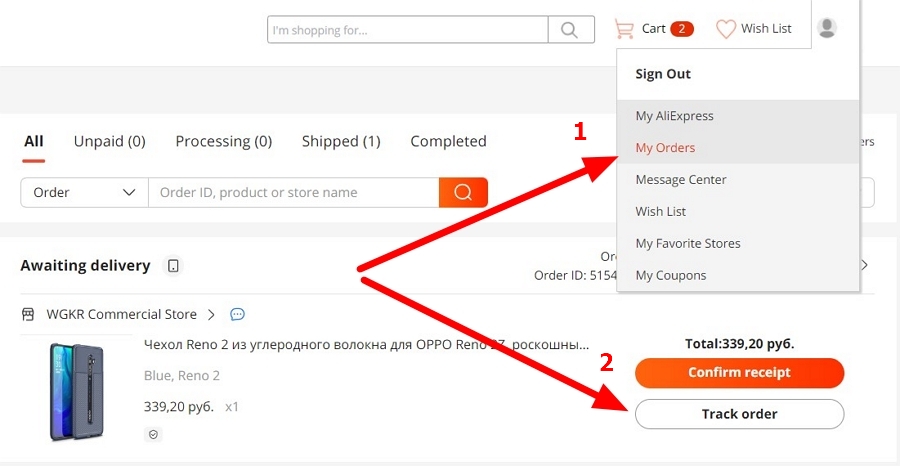 After clicking on «Track Order», you'll be redirected to a new page containing all information about your order. If it was shipped just recently, then the tracking information won't be displayed. To receive the first tracking updates you'll need to wait at least 10-15 days.
A tracking number will be indicated in the «Global Express Tracking» window.
Where to track your order?
If you want to track your order, you can do it in the following ways:
Directly on AliExpress, through "My Orders";
Use tracking services, such as: ordertracker.com, postal.ninja, ship24.com and others.
Buyer protection
Once your order is shipped, buyer protection of 60+15 days is applied to your purchase.
What does it mean? When you place an order on AliExpress and pay for it, the system does not immediately transfer money to the seller – instead, the sum is kept in a special account. Only after the customer confirms an order as delivered, the seller will receive payment.
It's important to check your remaining buyer protection time. If it expires before the order is received, you should open a dispute to get a refund.
How to receive your order and avoid mistakes
You can learn that your parcel is delivered to the post office in the following ways:
Postal notice in your mailbox;
A phone call or a message from the post office or courier service;
By tracking your order using the services listed above.
Once your parcel is delivered, take your passport and go to the post office to receive it. If you have a postal notice, then fill it out and take it with you. Once you are at the post office, give your name, surname and parcel's tracking number to the operator.
Pay attention! Sometimes parcels are delivered by various courier services rather than by regular post. In this case, wait for the courier's call.
Attention! Once the parcel is received, record the unpacking process on your smartphone camera.
The step above is not necessary if your ordered item is «cheap». But if it is expensive then video recording is a must!
You can do it at the post office or home. Make a video of the parcel on all sides and show its tracking number, which should be easily readable. After that unpack the parcel, show the product, inspect it and video-record all of the defects on your camera, if there are any.
With this video on hand, you'll have proof to open a dispute and return your money, if there are any issues with ordered products.
How to confirm the receipt of goods
Once your parcel is received and you are satisfied with the quality, then you should confirm the receipt. This step is needed so the seller could receive payment. In addition, if you used cashback, the money saved will be transferred to your account only after you confirm the receipt.
To do this, go to «My orders». In the relevant order click «Confirm receipt».

After that, you'll be redirected to a new page, where you need to confirm your action. To do this, check the box in the relevant field and once again press the confirmation button.
After the confirmation, the system will notify you that you have 15 days to open a dispute if there are any problems with your order. Click "Send" – and the order will be completed.
The system will suggest to leave a review about your purchase.
Problem with a received order
If everything is fine with your purchase, then enjoy it. But if you find any issues (a faulty product; wrong quantity; incorrect or wrong item in your order) or you have not received your parcel at all, then you should open a dispute to get a refund.
When opening a dispute, choose the right reason. For example, if the parcel has not reached its destination and the buyer protection is about to expire, then open a dispute for this particular reason. And if the product is partially defective but still usable, then you can request a partial refund.
To open a dispute, go to «My orders», find the relevant one and click «Refund/Return».

A new page with two options will open: «Refund only» and «Return and refund». Don't be afraid to click on them. You can click each one of them, explore suggested solutions and find the best one for your situation.

Once you identified how you want to proceed, click the option which suits you the most. Next, choose suitable variants, specify the refund amount, describe the reason for the dispute and attach proofs. Once the form is complete, submit it by clicking «Send».
After opening the dispute, wait for the seller's response or AliExpress' decision. If you have valid proofs, they'll be on your side and a refund will be issued shortly.
There are many different situations in opening and escalating a dispute, which cannot be covered in a single article.
Conclusion
Actually, buying from AliExpress is very easy. Just like you, I was constantly afraid of being deceived and tracked my order every single day. That was too much, while the most important things are:
To choose a quality product sold by a reliable seller at a reasonable price;
Complete payment;
Check the Buyer protection period regularly once the order is shipped;
Record the unpacking process on camera;
If there are any issues – open a dispute to request a refund.
If you follow these steps, you can be sure that you'll be protected from any fraudulent activities, and also reduce the chance of losing your money to almost zero.
And that's it. Happy shopping!