A folding knife is a versatile and important tool for every users. It can be especially useful for those who like fishing or camping. Its main advantage is compactness and convenience. Its portability allows you to carry it in a backpack, your pocket, or keep it conveniently stored in your car's glove compartment, just in case. A good folding knife is comparable in durability and functionality to its classic counterpart. We've selected 15 of the best models of folding knives that you can order from AliExpress with complete confidence in their value for money.
Parts
Top 3 Best Folding Knives on AliExpress Based on Price-performance Ratio
Top 3 Best Multi-tool Knives on AliExpress
Top 3 Best Bowie Knives on AliExpress
Top 3 Best Inexpensive Folding Knives on AliExpress
Top 3 Best Premium Folding Knives on AliExpress
How to Pick a Good Folding Knife from AliExpress
To ensure that a product bought from a Chinese mass market is durable, and will not disappoint its owner, you should choose it responsibly. First of all, you should verify the reliability of the seller and make sure that the product description matches its real characteristics. Then you can proceed to a detailed assessment of the parameters of your chosen model, which is given in a separate tab on AliExpress.
What to look for when choosing a folding knife:
The steel quality: The main criterion when evaluating a product. The steel blade is the component which is subjected to a lot of physical impacts. Therefore, it must be able to withstand pressure, be resistant to corrosion, and tolerate temperature fluctuations.
The handle: It is not right to evaluate it by its visual characteristics. First of all, the knife must lie comfortably and firmly in your hand. Both comfort and safety depend on the handle. Therefore, it is important to make sure that the handle will not slip, and that there are no sharp elements or edges on it. In addition, it must be made of sufficiently strong material.
The liner lock: The mechanism which holds the blade in place must be robust. It must open with one simple movement and move smoothly and quickly.
Additional elements: A pouch or a belt clip can make a knife more convenient and adaptable for different situations. In this regard, individual preferences should be taken into account, so we recommend you choose from available options based on your taste.
To help you find the perfect folding knife from the variety of options, we prepared the selection of the best models presented on AliExpress, splitting them into 5 groups based on their distinctive features. The knives were chosen based on their price, mechanism, and functionality – and we leave it up to you to choose the one which suits your needs.
Top 3 Best Folding Knives on AliExpress Based on Price-performance Ratio
In case you don't have any strict requirements for the knife, we recommend looking out for versatile models with a classic design. By choosing one of the best folding knives in terms of the price-performance ratio, you'll be able to thoroughly enjoy the product's characteristics. At the same time, you don't have to overpay for unnecessary elements or functions. There are a wide variety of budget models on AliExpress, so it is important to choose those sellers who can guarantee the quality of their product and its compliance with specified characteristics.
3.

DOOM BLADE D2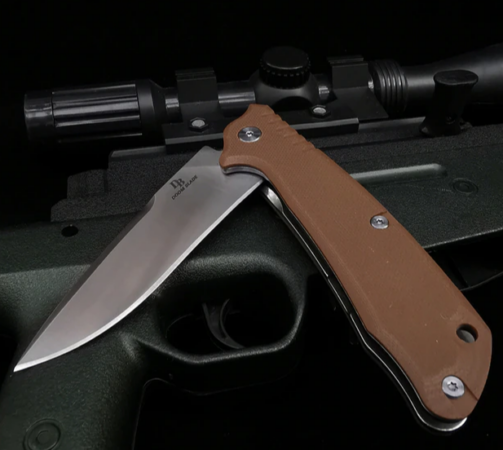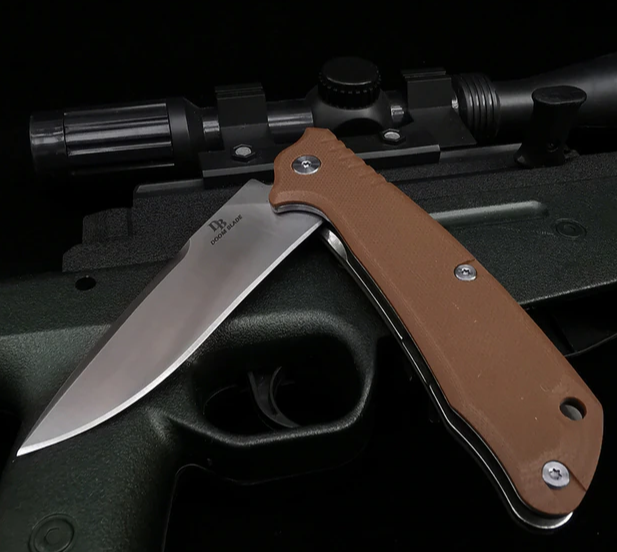 Our top selection is launched by a stylish, functional and compact folding knife. Its distinguishing feature is the sturdy blade made of D2 steel, immune to corrosion and rust. Copper bearing provides fast and precise blade ejection. The high-quality assembly ensures the durability and reliability of the tool.
The overall size of the knife is 20.5 cm. Of this, 12cm is accounted for by the handle. The tool weighs only 110g. The handle is made of G10 material that provides a secure and non-slip grip. Declared metal HRC equals 61 units. The product is of the folding type. At a relatively low cost visually and tactilely the knife can easily be attributed to the more expensive class of similar tools.
Pros
A beautiful and functional folding knife
copper bearing locking mechanism
the blade is already sharpened on delivery
made of D2 61 HRC steel
comfortable handle made of G10
low cost
overall length - 20.5 cm
compact.
Cons
Sharp handle edges
there is one complaint about the delivery issues.
2.

CS claw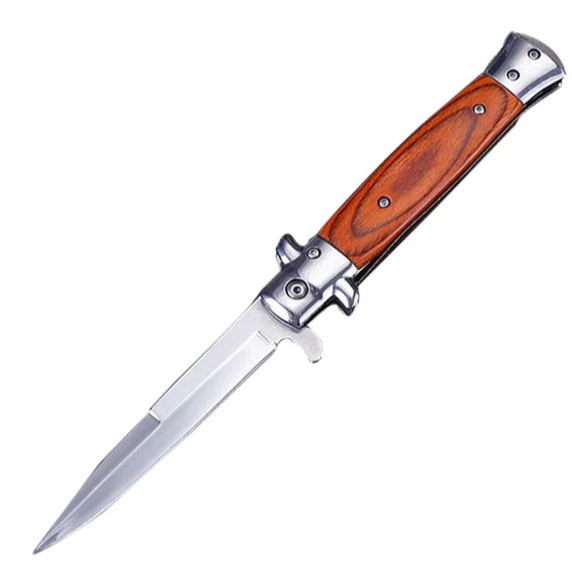 True connoisseurs should look closely at this compact and neat folding knife with a double-edged blade. It is presented in two colour schemes: either with a black or a red woodgrain handle. The total length of the knife is 22.5 cm, while the handle is 12.5 cm long. The tool is perfect for fishing or any other outdoor activities. The blade is said to be resistant to changes in moisture and temperature.
Blade made of 58 HRC stainless steel. The metal cut is 3 mm. The handle is made of acrylic with metal elements: it fits well in the palm and does not slip. Fast delivery from Russian warehouses is an additional feature. The weak point is the packaging: the knife is wrapped in a simple packing tape, so it will not be suitable as a gift.
Pros
Not expensive, but a high-quality knife
Sturdy and sharp steel blade
comfortable handle made of acrylic with wood-like colouring
compact and lightweight
flipper opening mechanism
glossy surface
fast delivery.
Cons
small gaps are visible
slightly slack, but expected for the price
cheap packaging.
1.

8CR13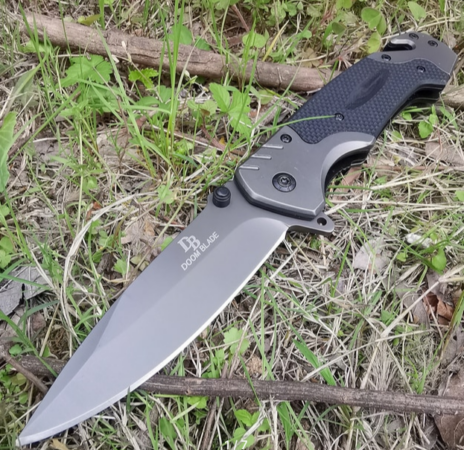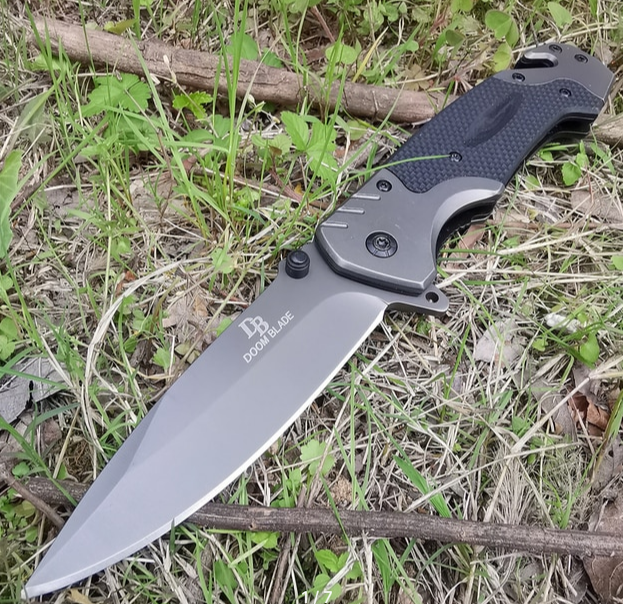 This is a tough and brutal example of an inexpensive but high-quality folding knife. The colour of the knife is black with a smooth chrome-plated surface. Those who appreciate quality and sturdiness should certainly consider this knife. The semi-auto mechanism ensures quick and precise blade ejection. The locking mechanism ensures that the blade remains firmly secured in the folded position. The blade is 9.5 cm long and 28 mm wide, strong against moisture and temperature fluctuations. Moreover, it is resistant to dirt, which makes it great for camping.
The handle is made of durable, high-quality G10 composite material. It has a shape that provides a good grip even when wearing a glove. The total weight of the tool is 240 g which provides comfortable handling. The high HRC allows you to cut even hard objects.
Pros
A brutal and austere folding knife for men
stylish dark grey colour
high-quality steel
sharp - easily cuts through paper
swift blade ejection
reliable locking mechanism
sturdy build
precise delivery.
Cons
Semi-automatic unfolding mechanism
sheath not included.
Top 3 Best Multi-tool Knives on AliExpress
Multi-purpose folding multitools are indispensable for camping, travel or situations where you don't have a toolkit on hand. In addition to the classic blade, such devices have a whole arsenal of useful and necessary items. All the components fold neatly, conserving space efficiently. The main point is to choose a trustworthy mechanism, distinguished by a reliable assembly and durability. Let's take a look at the 3 best multi-purpose folding knives on AliExpress in 2023.
3.

GANZO Multi Knife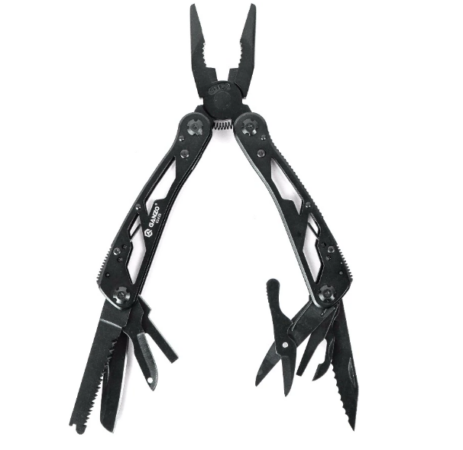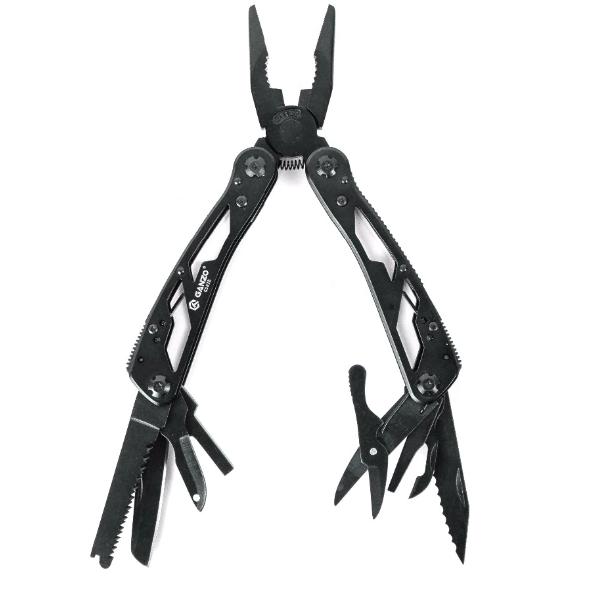 A functional multitool will be of great assistance in various situations. With that being said, our ranking starts with this inexpensive folding multitool with more than 20 tools. It is packed in a neat cardboard box and has a sheath for keeping. The model is considered one of the best in the budget segment. The blades are made of 440 C-grade stainless steel. The tool's weight, 250g, could also suggest the use of quality materials in its production. When folded the multitool measures 10.5cm in length and 2cm in width.
In terms of design, the black colour of the multitool will go well with men's outfits. It includes a handy sharpened knife, two serrated blades, a drill, scissors and pliers. There is also a screwdriver and 12 different tool attachments. The slightly curved handle will allow you to hold the tool firmly in your hand and quickly release the necessary parts.
Pros
Inexpensive and functional multitool
21 tools included
made of high-quality durable steel
black colour
case (sheath) included
comfortable, slightly curved handle
all parts are firmly secured
weighs 250 g.
2.

MOSSY OAK 21 in 1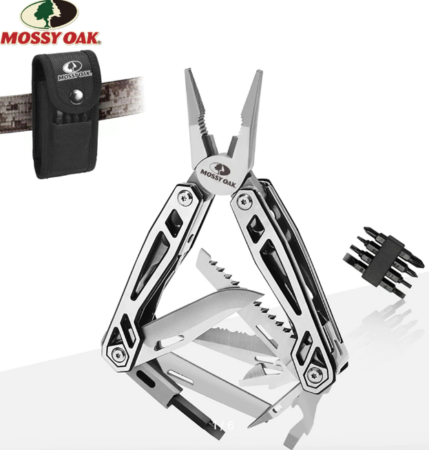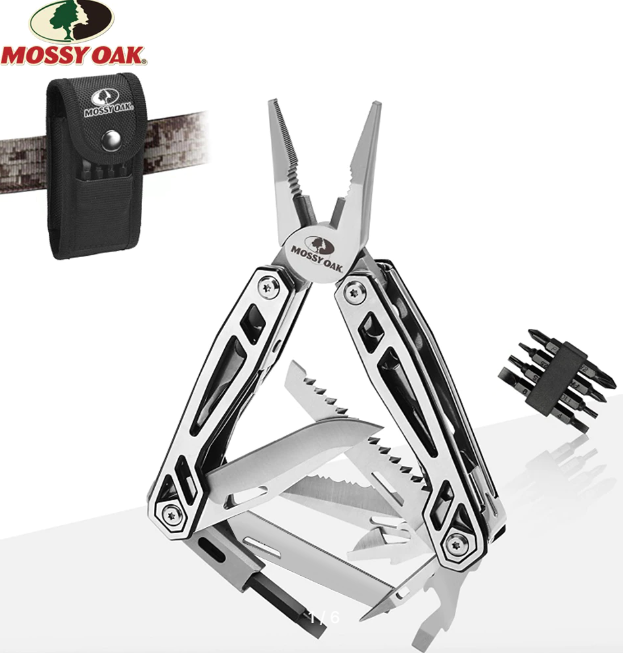 Another inexpensive but elaborate multifunctional folding knife. It is available in several colour schemes: a classic metal design, a beautiful handle with inset elements or even a black plastic decoration. The handles are nice and sturdy, allowing the tool to be deployed quickly and handled comfortably.
Consists of 21 foldable tools. The knife is conveniently packaged in a small pouch. Includes pliers, several types of can openers, and saws. The knife is well-sharpened. Removable drills are stored in a separate pouch. The handles are ergonomically designed with special materials to provide a secure, non-slip grip, even when wearing gloves. The knife is made of stainless steel that is well-capable of withstanding a mechanical impact.
Pros
Affordable multitool of high quality
21-in-1
several colour schemes available
made of stainless steel, resistant to moisture
folds compactly and retracts into its carrying case
removable accessories can be stowed in a separate pouch
secure attachment
Each tool has a practical pull-out button.
Cons
some users have reported issues with the blade becoming blunt and needing straightening
heavy, so it is better to carry it in its pouch on the belt.
1.

Daikemping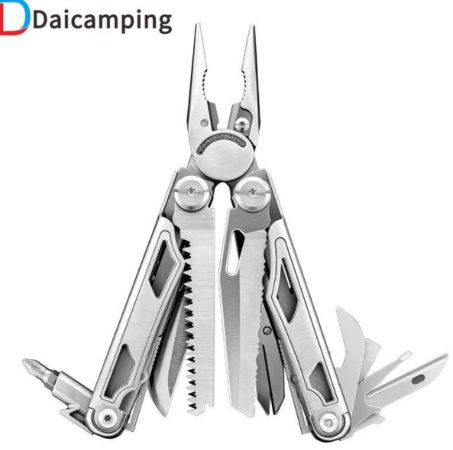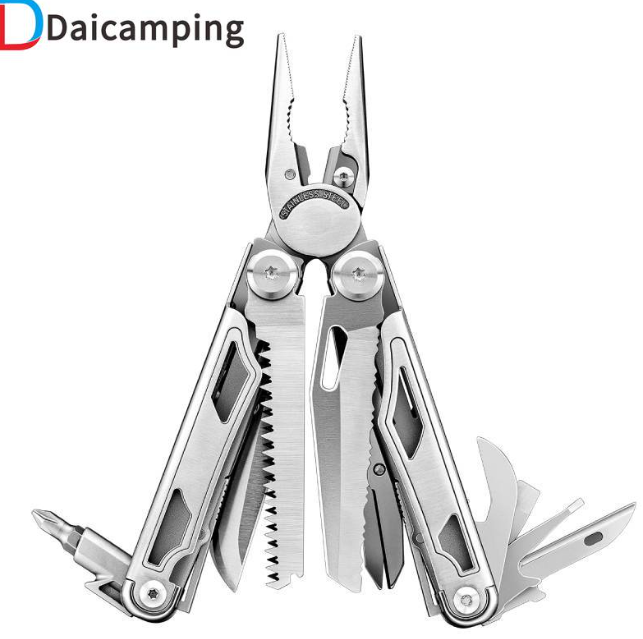 This is a stylish and smart multifunctional folding knife from a reliable Chinese manufacturer. Available in black or chrome colour schemes. The size is also quite handy. All removable parts are packed in a special pouch, which makes it easy to carry on your belt. All mechanisms are rigidly built but smooth upon release, which ensures quick unfolding and a secure fit.
The tool is stored in a handy fabric pouch. The maximum unfolded length is 16 cm and the handle length is 10 cm. Made from quality stainless steel. Weighs 350g, including packaging. Professional sharpening ensures comfortable use of the tool at once.
Pros
A sophisticated, reliable and multifunctional folding knife
convenient size
comes with a storage case
high-quality stainless steel
2 colour schemes: chrome and black
durable blade
convenient layout of the available tools
tightly fixed and smooth-running mechanism
high-quality assembly.
Cons
The pliers are not spring loaded.
Top 3 Best Bowie Knives on AliExpress
Balisong knives – better known as butterfly knives, have gained a lot of popularity due to their simple and quick way of opening. The beautiful sweep of the blade upon release, in combination with the distinctive handle form, indeed resembles butterfly wings – and that's where the name comes from. The main advantage of the balisong knife is its durability, easy storage, and maintenance. It is possible to find many good butterfly knives on AliExpress – and we are here to tell you more about the top 3 models.
3.

Cavalier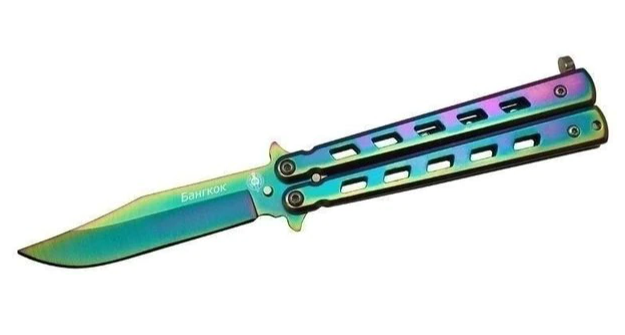 A beautiful balisong with a classic shape in an unusual pearl shade. All elements are made of grade 420 stainless steel, which guarantees the strength and durability of the tool. The blade can be perfectly concealed within grooves in the handles and is kept securely in place by a padlock while in the folded position. It's safe to say that you'll get the best value for money. The knife is perfect for training and easy tasks.
The total length of the blade is 21.2 cm, while the handle takes up to 12.4 cm. This ratio ensures a comfortable grip if you plan to use the knife to perform some basic tricks. It weighs only 100g, which makes it suitable even for a small palm.
Pros
A butterfly knife in a beautiful pearl shade
made entirely of grade 420 stainless steel
smooth mechanism
weighs only 100g
quick delivery
compact size.
Cons
Designed for small hands
one complaint about the screws being too tight.
Read also:
2.

CS GO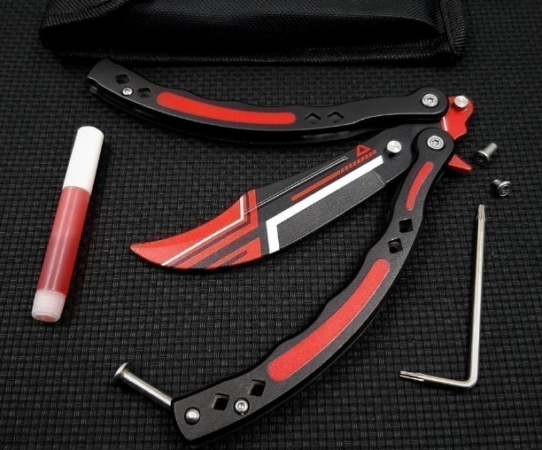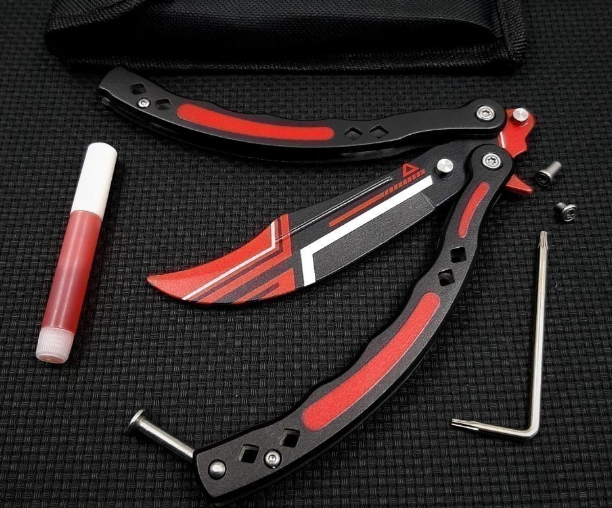 This unusual and colourful folding balisong knife will appeal to lovers of unconventional solutions. The irregular, slightly curved shape of both the handle and the blade gives it a somewhat 'fantasy' look. The handle comes with finger grooves for a steady grip: that will let you hold it securely and perform tricks with no problem.
This model belongs to the category of training knives, so it's safe to buy it on AliExpress, without fear of possible problems at customs. The knife is packed in a simple box and comes with spare parts, a screwdriver and a nylon pouch.
The full length of the knife is 23.5 cm. The blade and handle are made of grade 420 stainless steel. An all-metal build ensures increased robustness. The 140g weight ensures a secure grip without causing hand fatigue. And the bright colouring adds to the charm when you spin the knife in your fingers.
Pros
colourful butterfly knife of an unusual shape
curved handle looks good and fits well in the hand
a training type
fully packaged with everything necessary
nylon pouch for storage
classic length (23.5 cm)
inexpensive.
Cons
There is one complaint about the paint on the tip of the knife being chipped off.
1.

Dragonfly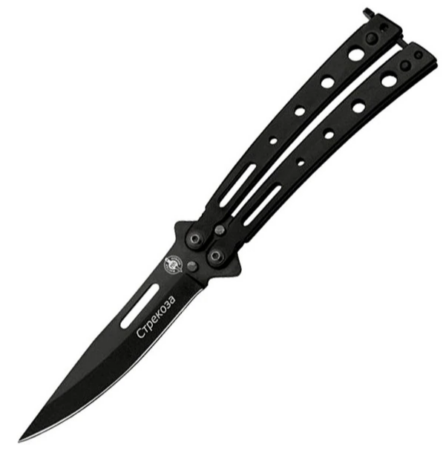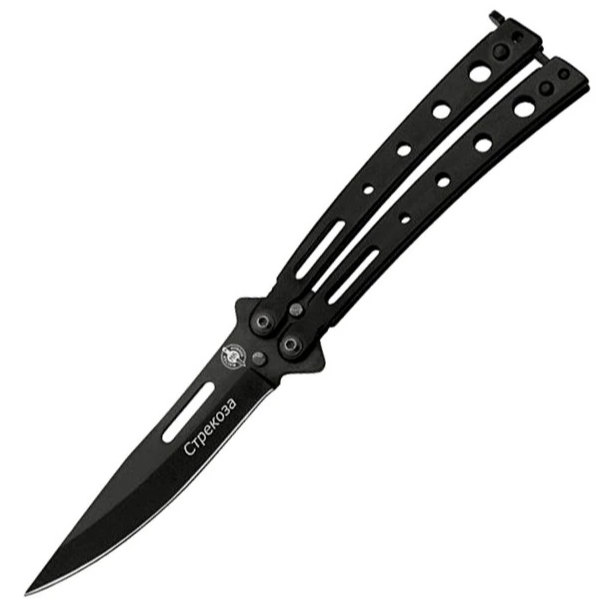 A stylish and decent butterfly knife made of metal with black coating, which makes it look more refined. Belongs to the class of training knives. The blade comes already sharpened. Thanks to the high quality of the steel, it will last for a long time without resharpening. The length of the knife is 20.3 cm and the blade takes up to 8.7 cm. Based on its characteristics, the knife is not considered a weapon.
The blade is made of grade 420 stainless steel. The stated hardness is 54-56 HRC. At a low cost, the item is well-made, good-balanced and smooth. A drawback is the paint chipping over time, as reported by several users.
Pros
Inexpensive balisong knife
designed for training
stylish in appearance with a solid black coating
made of metal
comes sharpened
cuts through paper effortlessly
good assembly
smooth-blade deployment
grade 420 steel and HRC 54-56.
Cons
Paint is prone to chipping.
Top 3 Best Inexpensive Folding Knives on AliExpress
A great, functional folding knife that can serve its owner for many years doesn't always come at a high price. There are several interesting models on AliExpress available for low prices. Of course, it wouldn't be wise to compare their characteristics to those of premium models, but they are quite capable of functioning reliably. We've picked up 3 interesting models that are worth paying attention to.
3.

kni folding knife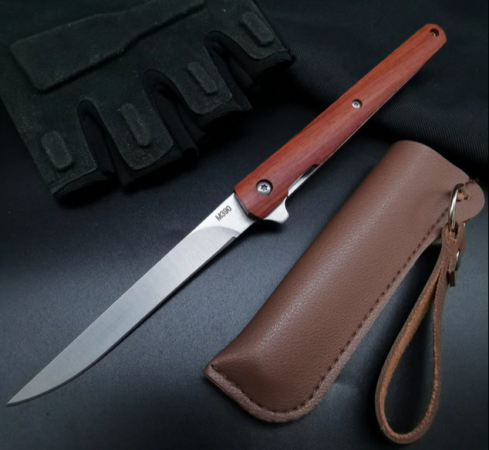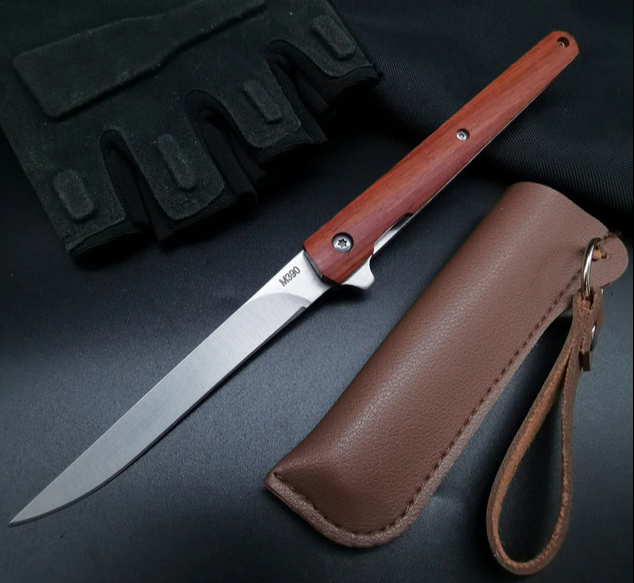 Among inexpensive but sharp and handy folding knives, this small-sized pocket model is worth mentioning. The slim, sleek tool can handle a variety of tasks in a matter of seconds. It's not only useful in the field, but also in everyday life. Its slim design and light weight (only 100 grams, including the box) make it an ideal tool for both women and men. The knife is available in two colours: black and a beautiful mahogany shade. You can also choose the shape of the blade: classic pointed or bevelled.
A pouch for convenient storage is included in the set. The blade itself is made of high-quality, durable steel capable of withstanding mechanical impacts. If needed, it can be easily sharpened. In addition, customers speak positively about the salesperson who answers all questions and helps with order placement.
Pros
A pocket-sized folding knife
Quality steel and solid build for a cheap model
available in two colour schemes
bevelled blade option
semi-automatic, smooth action
elegant design
easy communication with the seller and fast delivery.
Cons
There is one complaint about poor sharpening.
2.

Folding knife S/L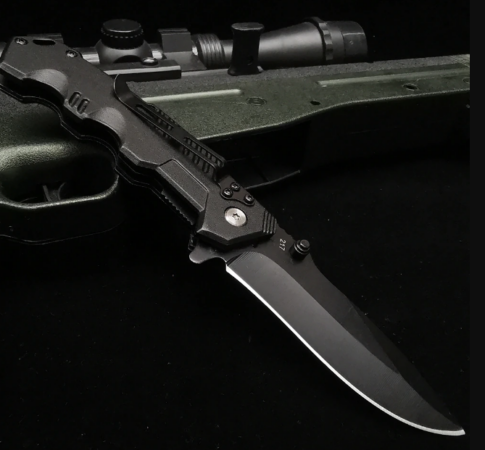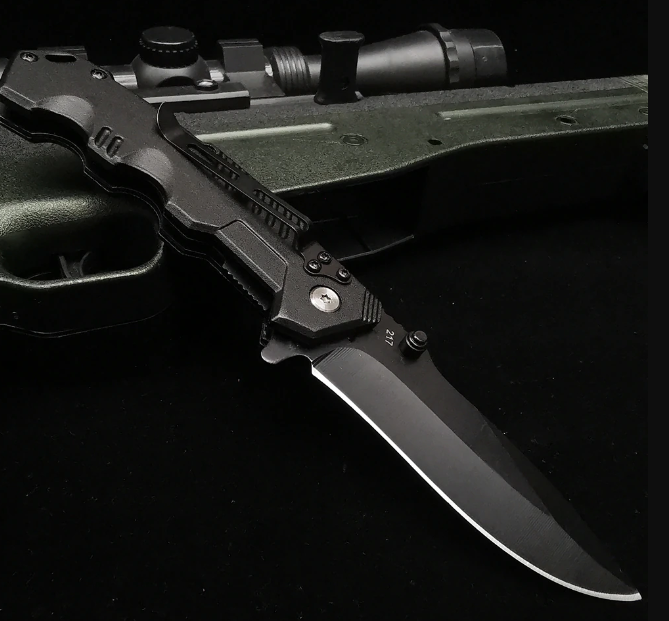 Next on our ranking is a brutal knife with an austere exterior. It is one of the most impressive budget models available on AliExpress. It perfectly fits into the arsenal of a real man and is suitable for use in any environment. The carefully designed shape fits perfectly in the hand, providing a firm grip. Finger grooves allow it to be used while wearing gloves.
The sturdy clip secures the blade firmly in place. The blade comes already well-sharpened. With careful use, you won't have to resharpen it for a long time. The blade deploys easily with a single motion. The model is characterized by smoothness and good assembly, which is rarely found in economy-class knives. The overall length is 20 cm. Constructed entirely of steel with a hardness rating of 58 HRC.
Pros
Inexpensive but good-quality folding knife
Masculine design
The blade is made of stainless steel, as well as the handle
steel hardness is 58 HRC
smoothness
quick delivery (takes a few days)
secure holding mechanism.
Cons
One customer complained about uneven sharpening
Small, as the overall length is only 20 cm.
1.

Folding Tactical Knife 440c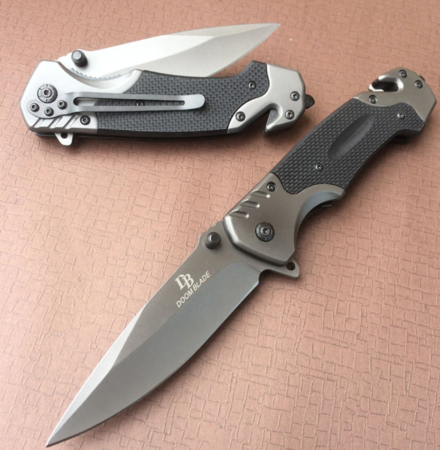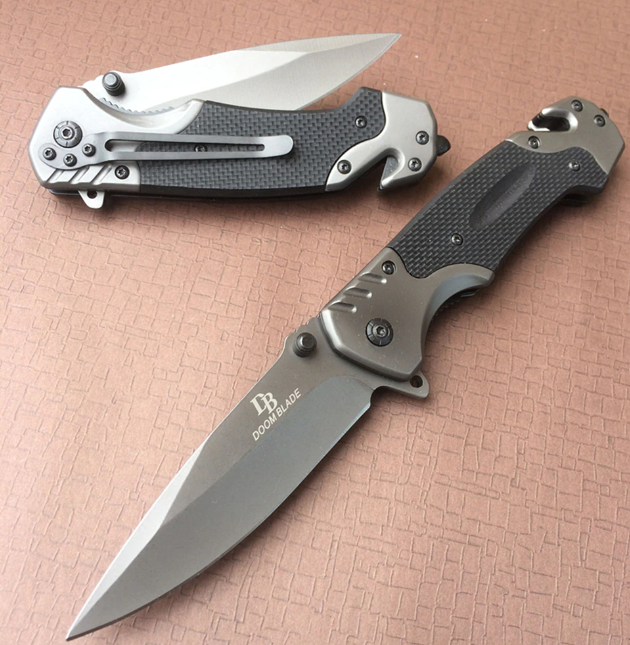 The top-rated budget model is a straightforward yet functional pocket knife. It has a simple design in grey shades. The handle is constructed from steel and adorned with G10 glass textolite accents. This additionally improves the grip, even in colder seasons with gloves on.
The manual spring-loaded mechanism ensures a quick and easy deployment of the blade. Made of grade 440c stainless steel, it will withstand any weather or fluctuating temperatures in the wilderness. The overall length of the item is 23 cm, of which the blade accounts for 9.5 cm. The weight of the knife is 206 g, so it is a solid feeling in your hand.
Pros
A good cheap folding knife on AliExpress
spring-loaded mechanism
classical design
convenient size (23 cm)
handle with elements of G10 composite material, which fits perfectly in the palm
smooth
secure fixation
Hefty (206 g) and durable.
Cons
Ships in simple packaging
Top 3 Best Premium Folding Knives on AliExpress
You can tell that a knife is expensive and well-made just from first glance. Every detail is carefully thought out, starting from the choice of materials, design, and the smooth and reliable release mechanism. Therefore, true connoisseurs of fine weapons or kitchen/training knives prefer well-established and reputable brands. The Chinese mass market on AliExpress offers a range of excellent premium folding knives made to world-class standards. Here we will cover three sophisticated models.
3.

SRM SANRENMU 1006/1005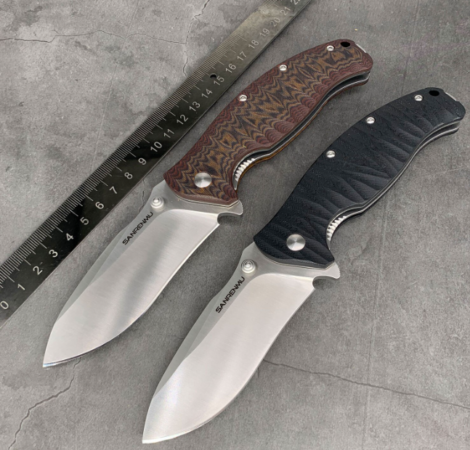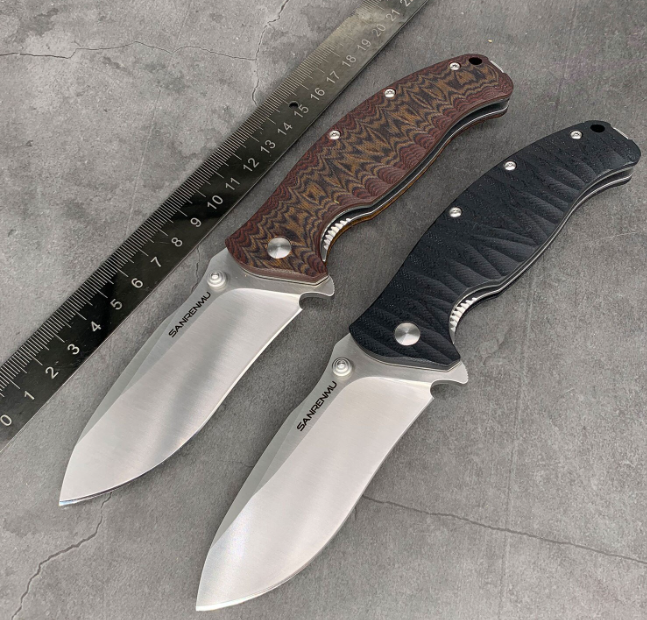 The ranking is launched by a relatively inexpensive (compared to other models in this group), but a stylish, reliable, and functional pocket knife. The flipper system operates smoothly on a bearing, ensuring instant blade release and secure placement. The grade 14C28N steel ensures durability and preserves the sharpness of the blade for many months. Dimensions of the product are 9 cm-blade with a 12 cm handle. The blade thickness measures 3.9 mm.
The ergonomic and comfortable handle is made of G10 material with a transverse wavy pattern, which provides a secure grip and allows working with the tool even with the gloves on. The sturdy and secure assembly ensures durability, even during rigorous use. The knife is packed in a simple cardboard box. The blade comes with a factory-provided sharp edge that doesn't need further resharpening.
Pros
A premium folding knife for an affordable price
Ergonomic shape of the handle and blade
grade 14C28N steel
high-quality assembly ensures all components are firmly in place
not affected by temperature extremes, mechanical damage or moisture
ball bearing flipper mechanism
weight - 180 g.
Cons
packaged in a simple cardboard box
several complaints about late delivery.
2.

Green Thorn Custom F95 HATI K110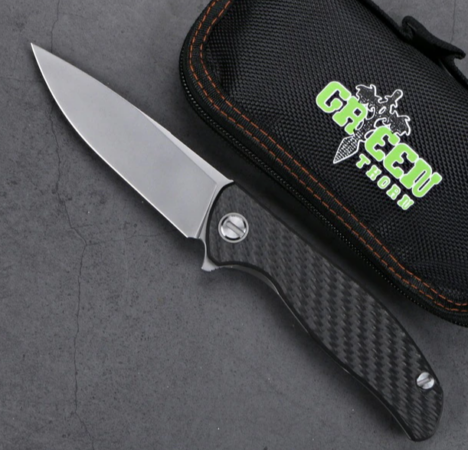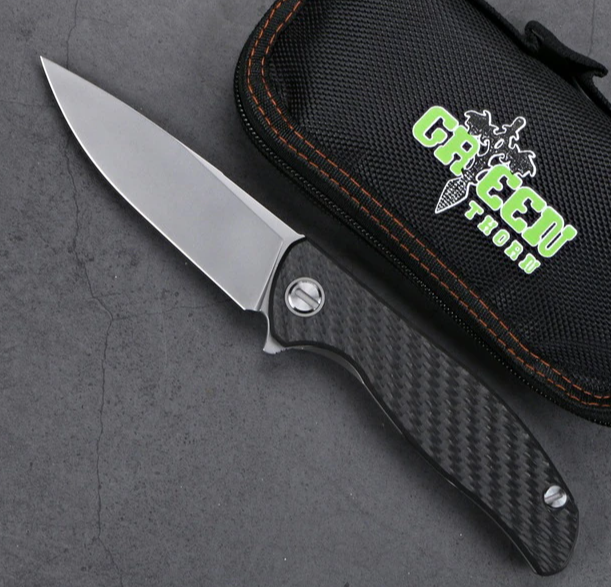 In the middle of our ranking is a neat and compact folding knife designed for use in natural environments. It features a special alloy with a high carbon content for enhanced durability and long-lasting blade sharpness. The blade is 9.5 cm long with a hardness of 61 HRC.
Also notable is the robust titanium handle, designed to mimic the grip of an adult male's hand. Fits well in the hand and allows one to perform even the most demanding operations. The length is 12.7cm. Mechanism glides on ceramic bearings, considered to be one of the most reliable and durable. Comes with a handy zipped pouch for storage.
Pros
A functional and sturdy folding knife for hiking
Smooth, sharp blade that retains its quality for many years
Firm titanium handle
HRC 61
overall tool length - 22.3 cm
ceramic bearing
comes with a pouch.
Cons
There are complaints about the long delivery
non-standard fixing screws.
1.

Japanese hunting knife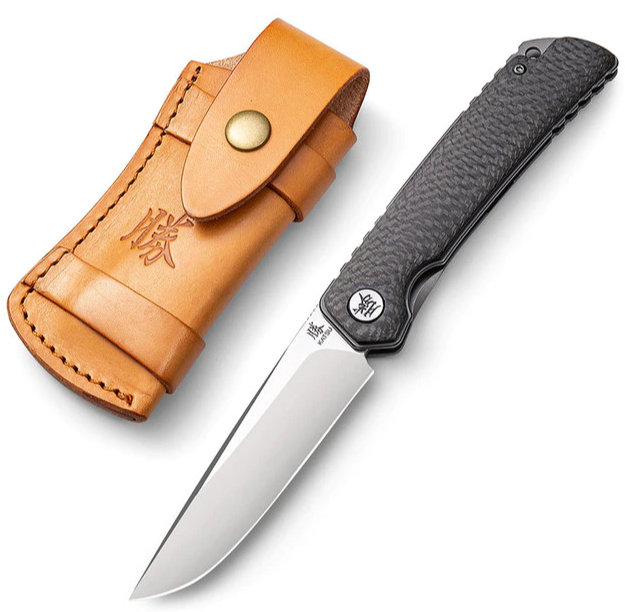 The undisputed leader in the premium group is the professional Japanese folding knife, perfect for hunting and outdoor activities. It features a simple, minimalist design: the blade can be stored in a rivet pouch. It also comes with a nice sac to wrap up the knife nicely if you plan to give it as a present. The most prominent part is the sturdy carbon fibre handle, durable against force pressure. It can be comfortably and securely held in the palm of your hand. The product weighs 120 g.
The blade is deployed with a simple twist of the classic Japanese lever. The blade measures 3.5 inches in length. The smooth surface with a logo at the top gives it a concise and elegant appearance. The perfect factory-delivered sharpening allows you to use the tool as soon as you receive it. Its sharpness will last for many months.
Pros
A classic, solid and reliable Japanese folding knife
convenient storage in its pouch
includes an additional wrapping
sturdy carbon fibre handle
excellent build quality
classic Japanese lock
suitable as a gift.
Cons
Extended delivery time.
Conclusion
The huge variety of all kinds of folding knives on AliExpress allows you to choose a tool that will fully satisfy your needs. For a reasonable price, specialized shops offer decent analogues of expensive brands of knives.
The best in terms of price-performance ratio is the 8CR13, a great sharp blade in a dark colour that cuts through the paper in one motion and retains its original quality for a long time.
Among the multi-purpose ones, the Daikemping stands out: an affordable knife characterised by a solid build and functionality.
Among the butterfly knives, it is worth giving a shot to the classic Dragonfly. This balisong features a convenient lock, smooth mechanism, and precise size.
The best among budget knives is the 440c tactical folding knife made of quality stainless steel. It is a trusted companion to go out into the field with because it will not let you down even in the most extreme conditions.
If you are after a "real thing" in the market though, you might want to take a closer look at premium knives. The Japanese Hunting Knife is the flagship among premium models – with its defined shape, perfectly sharp blade made of high-quality steel and concise, stylish design.
Read also:
Some video reviews