What's a tool which you can find in any kitchen? That's the knife, of course! Without this simple but essential household item, it is impossible to cook even the simplest of meals. There is a huge variety of kitchen knives to choose from, whether you are cutting meat, chopping herbs or slicing bread. The main point is to choose the right one for the task at hand. AliExpress is the easiest way to find an affordable kitchen knife of decent quality since the marketplace offers a huge range of all kinds of models.
Parts
Top 3 Best Utility Kitchen Knives on AliExpress
Top 3 Best Chef's Knives on AliExpress
Top 3 Peeling Knives on AliExpress
Top 3 Best Bread Knives on AliExpress
Top 3 Best Kitchen Knife Sets on AliExpress
Which AliExpress Kitchen Knife is the Best
The Chinese marketplace AliExpress offers a huge variety of knives for slicing, peeling and cutting. It might be difficult to find the right one from such a wide selection, so it's worth remembering a few things.
In addition to evaluating the key characteristics (strength of the steel, ergonomic handle, quality of sharpening), you should also decide which knife is the most practical for your kitchen tasks.
What should you aim for when buying a knife from AliExpress:
Utility knife: Perfect for various tasks and easy for anyone, including those with smaller hands, to use when preparing meals. The utility knife has an ergonomic shape and a blade length of 5-6 inches. It is easy to handle and requires little effort in terms of maintenance.
Chef's knife: A knife of impressive size that is suitable as a multi-purpose tool for larger hands. The overall length is 8-9 inches. It can have a narrowed or wide blade. It's great for chopping food, cutting meat or slicing vegetables.
Vegetable peeler: A small, lightweight knife with a sharp tip and a comfortable handle. Optimal for precise cuts and peeling. The sharpness of the blade allows it to peel thinly, while the compact size won't get the hand tired. Complements the chef's knife perfectly.
Bread knife: Has a saw-like appearance because of the serrated cutting edge. Not only does it cut bread perfectly, but it can also be used to cut vegetables and fruits with a thin peel. The key point is to choose the right size of serrations.
To fully equip your kitchen space, it's easier to get a kitchen knife set. It contains 4 to 7 knives most needed for the cooking process. Such sets usually come with a stand or a storage case.
If the goal is to assemble a personal set to your liking, you can start by buying a high-quality and expensive chef's knife, and purchase the other knives at lower prices. By doing so you'll save some money and still have all the necessary tools.
Top 3 Best Utility Kitchen Knives on AliExpress
The ideal and simple solution for everyday cooking. The best choice for those who don't like to cook and are used to having a minimal set of utensils. The utility knife is also the comfiest option for those with small hands. We've picked out three of the best utility knives from AliExpress that can be used to equip any kitchen.
3.

SUNNECKO 5 inch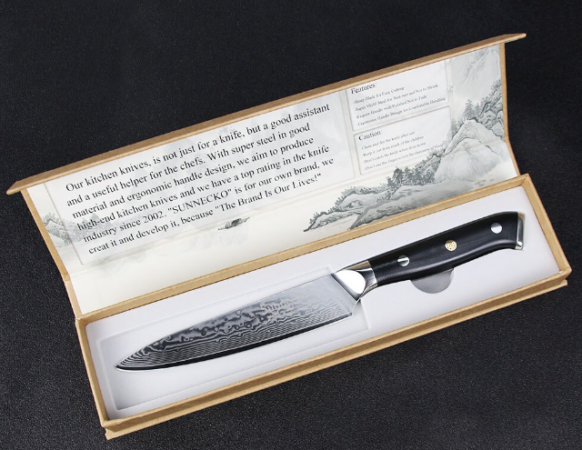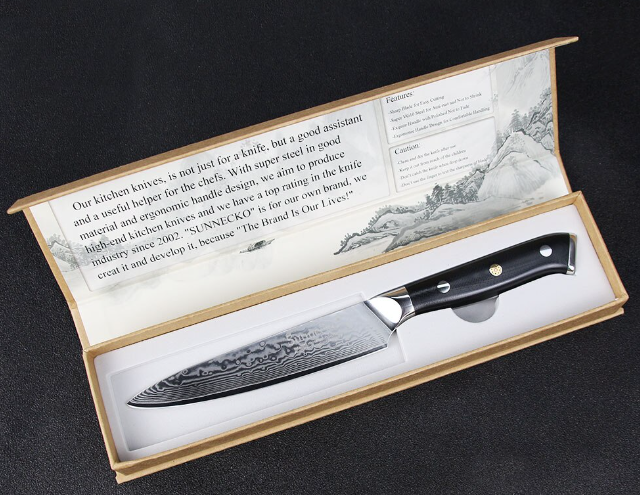 The multi-purpose utility kitchen knife features a stylish design and high durability. The dimensions of the tool are optimal for a small hand. The handle is made of non-slip G10 material, and the overall length is 11.5 cm. The tool weighs only 119 g, so your hand won't get tired during use. Suitable to cut anything, except for meat bones.
The blade is made of solid steel with a length of 12.7 cm. Factory sharpening ensures durability and reliability in use. If properly maintained, it will retain its edge for a long time, able to cut the finest slices effortlessly. Can be resharpened quickly and easily at home if necessary. The blade has a beautiful wavy pattern. The certified hardness reaches 59-60 HRC.
Pros
the quality standard of a renowned Japanese brand
good blade hardness (HRC 59-60)
gift wrap
handle made from durable G10 composite material
the comfortable size that fits small hands
weighs just 119 g
Reliable seller and fast delivery.
Cons
There are doubts about claims that the blade is made of Damascus steel, but the quality is not affected
expensive.
2.

Japanese Diamond 6" MKT410-04A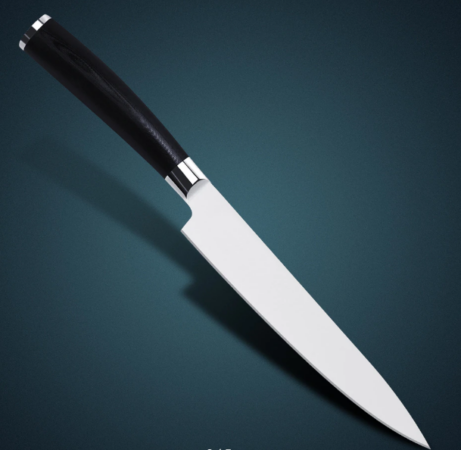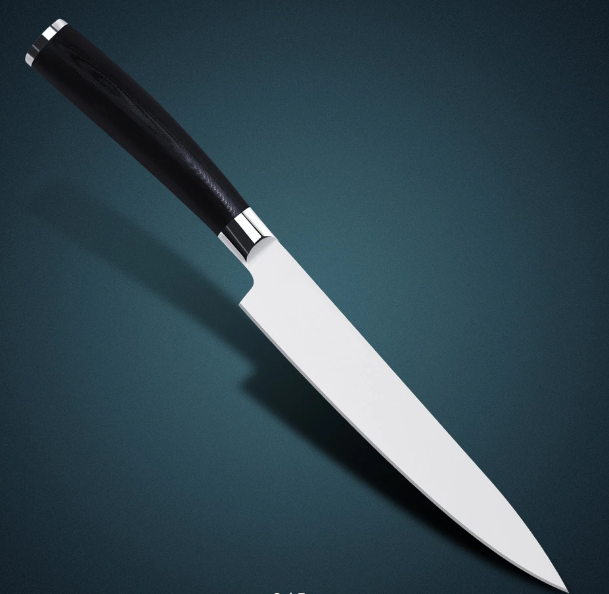 The second highest-ranking utility knife, manufactured using the latest Japanese technology. It has a strict classical design, an ergonomic shape with a smooth transition of the blade into the solid one-piece handle. The handle is made of G10 material with a diameter of 2.5 cm. The length (6 inches) is perfect for hands of any size.
The blade is made of 7CR17MOV stainless steel. The Rockwell Hardness Rating is 58 +/- 2. Maintains its factory sharpening for several months. When actively used, it only needs to be sharpened a little with a honing still. The blade is 15 cm long. The smooth surface with an engraving on the tip of the blade adds to the design. Delivered in a compact box that protects the knife securely during delivery.
Pros
A stylish utility knife with a classical design
A smooth blade with a brand logo engraving
58-60 HRC
good length (15 cm)
sharpened at a 17-18 degree angle
medium price.
Cons
blunts regularly, but this can be fixed at home
a few complaints about the delivery.
1.

German kitchen 440C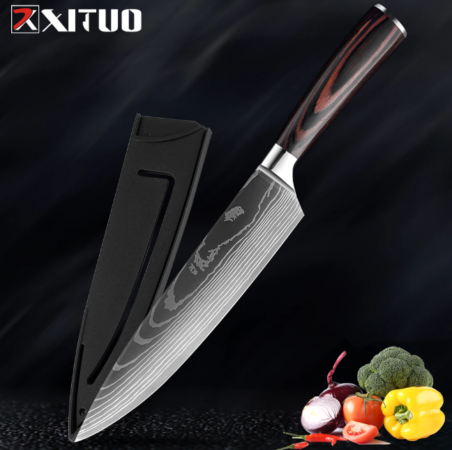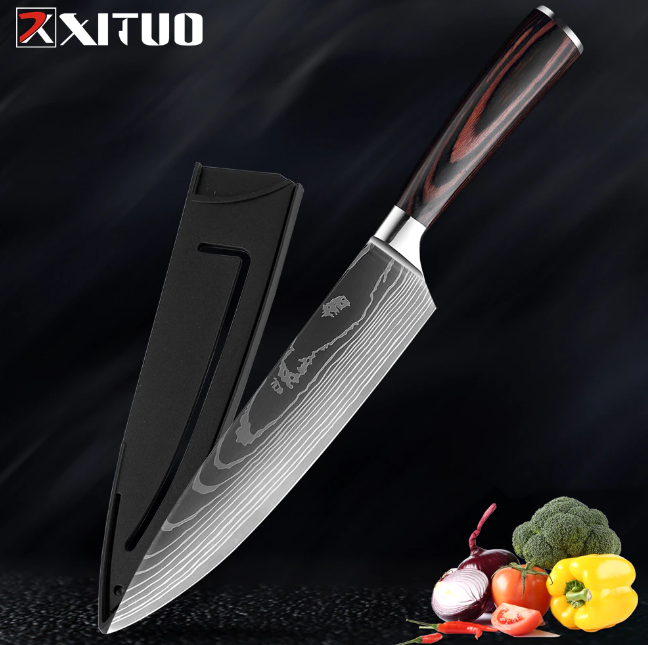 This stylish counterpart to the German utility kitchen knife deservedly becomes the leader of the category. For a low price, it features excellent quality and good characteristics. Its large size of 8 inches and light weight of only 205 g makes it a transitional option between the utility knife designed for any task and the highly-functional chef's knife. The comfy wooden handle fits firmly in the palm and provides a safe and secure grip.
The knife is distinguished by its sturdy blade with a length of 21 cm and a thickness of 1.8 mm. The angle is around 60 degrees. Made of durable stainless steel. The laser-etched wave pattern makes the glide even smoother. Can be used to cut and chop any food.
Pros
Chinese utility knife made with German technology
excellent stainless steel with laser engraving
sturdy wooden handle for a comfortable grip
small weight (205g)
affordable
Perfectly sharpened - cuts through paper easily and effortlessly
anatomically shaped
comes with a plastic sheath.
Top 3 Best Chef's Knives on AliExpress
Massive and large chef's knives are perfect for those with big hands. These knives can handle difficult tasks quickly and efficiently, and cut thin slices of finished products, vegetables, and more with high precision. A tool like this is a must-have in every kitchen, and it is essential for anyone who loves to cook and enjoy the cooking process. You can find high-quality knives at an affordable price on AliExpress. Below you'll find the top three chef's knives in 2023.
3.

Sunecko VG10 for chefs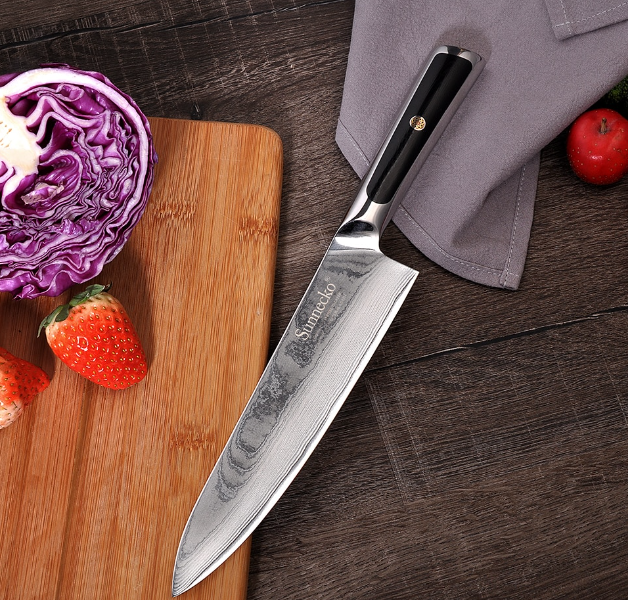 On top of the ranking is an 8-inch solid chef's knife made from Damascus steel. The quality and beautiful packaging make it perfect for personal use or as a gift. What distinguishes it is the blade made of high-quality steel. The manufacturer claims that it is Damascus steel, but experts suggest that it is a multi-layer alloy made using modern technology. Nonetheless, the blade possesses excellent characteristics.
The high-quality standards of the Sunecko brand guarantee durability. The polished exterior finish gives the product a flawless appearance. The blade is 20.3 cm long, and the handle is 12 cm long. The blade is 2.2 mm thick. With a weight of 273 g, it feels extremely light in the hand. The ergonomically designed handle with a smooth surface made of glass-cloth laminate provides a comfortable grip. The angle of the sharp edge is 12°.
Pros
an excellent quality Chinese premium chef's knife
stylish and expensive appearance, beautiful packaging
VG10 steel with a hardness of 61 HRC
Strong, durable steel
Stays sharp for a long time, easy to re-sharpen
It's weighty, lies comfortably in the hand and cuts all kinds of products easily
The handle is made from G10 composite material - smooth and non-slip
fast delivery.
Cons
is not suitable to cut frozen meat or bones
expensive.
2.

HEZHEN 7 or 8 inches for the chef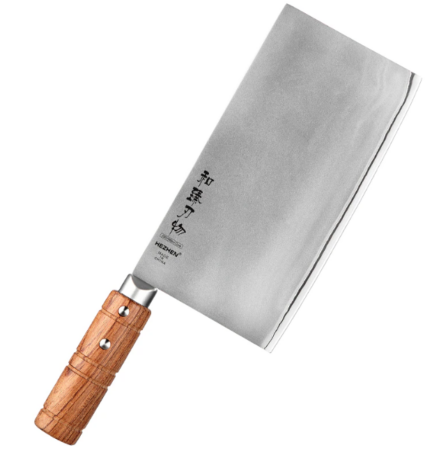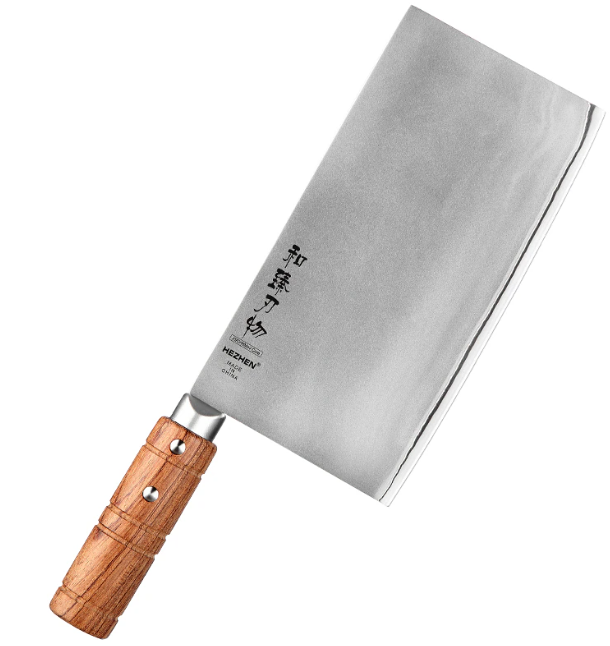 This professional chef's knife will provide a comfortable and enjoyable cooking process. The large 8-inch blade has all the chances to become a jewel in your knife collection, transforming the cooking process into art. It is made of composite 3-layered steel. Despite the axe-like appearance, it is not designed for chopping hard or frozen products, so it is important to keep this in mind.
The knife is perfect for fruits and vegetables, minced meat, and sausages. With proper care, it will last for a very long time without the need for additional sharpening. Washing it in the dishwasher is not recommended.
The knife has a small wooden handle that does not slip. Thanks to the good balance, the hand won't get tired or slip while chopping. The weight of the product does not exceed 600 g with the packaging because of a very thin blade. Even the smallest of hands can easily handle this tool. With high-quality performance, the price is considered average when compared to other knives on AliExpress.
Pros
stylish and handy knife
Excellent sharpening that lasts a long time
three-layered enforced steel
Careful and pro-quality edge finishing, good assembly
packed in a beautiful box
medium price
fast delivery.
Cons
a knife bolster looks flimsy
the handle has rough edges.
1.

XINZUO DIN 1.4116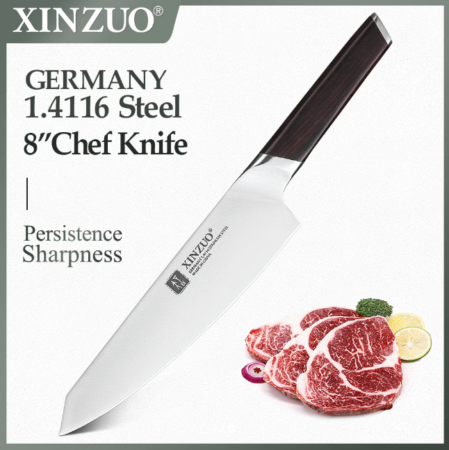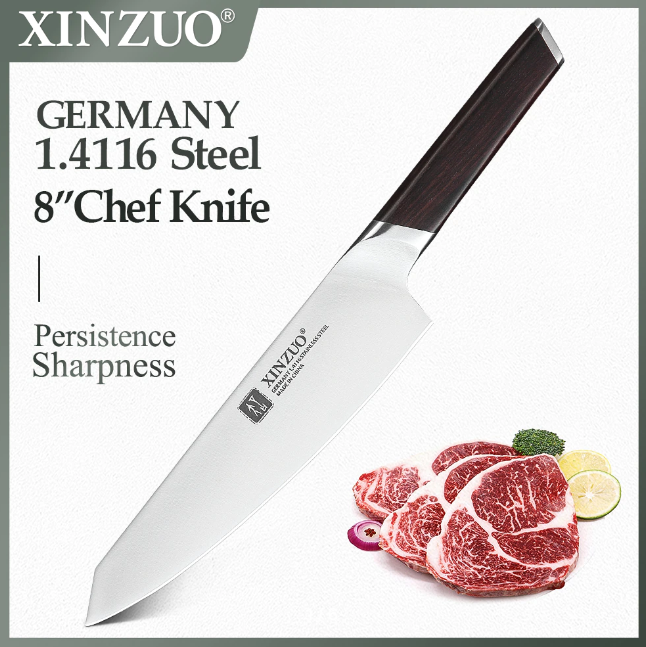 First place goes to a chef's knife with a well-known German brand name. This model is considered the best on the market in terms of price-performance ratio. We recommend this knife to those who have a limited budget but appreciate functionality and reliability. First of all, it stands out thanks to its simple minimalistic appearance, which fully complies with premium designs. It has a perfect polish, small brand engraving, and a smooth transition of the blade into the handle.
The perfectly adjusted balance allows the blade to cut through smoothly and easily. The ebony-made handle doesn't slip, causes no discomfort, and fits a hand like a glove. The blade is made of 1.4116 steel with a hardness of 56-58 HRC, which fully complies with international standards. The overall length of the knife is 33.8 cm. At the same time, it weighs only 192 g. The sharpening angle is 15 degrees.
Pros
an excellent chef's knife under the well-known German brand name
perfect sharpening, which will last for many months
big but very lightweight
fits the hand comfortably
delivered in a simple box
low price.
Cons
Several complaints about long delivery time.
Top 3 Peeling Knives on AliExpress
In addition to a large and functional chef's knife, it is necessary to buy a small vegetable peeler. This tool is suitable for children's hands when they are learning how to cook. We have selected 3 models available on AliExpress that are the best in terms of price-performance ratio.
3.

Jaswehome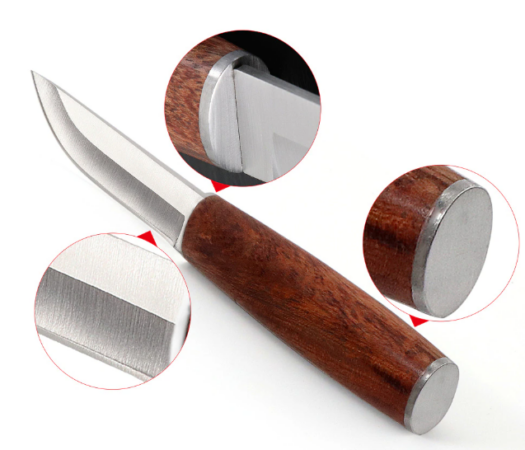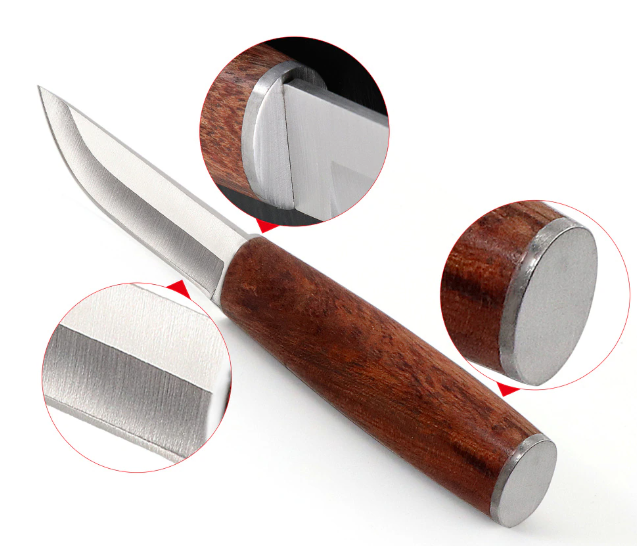 On top of the rating is an inexpensive set, consisting of several identical knives. It is perfect for families with children who are always eager to help with cooking. The lightweight peeler fits perfectly in small hands, but even an adult will be comfortable using it thanks to the ergonomic handle. The light and sharp blade is capable of peeling even thin-skinned fruits and vegetables.
The simple assembly is its weak point. The handle is reinforced with glue, but this does not significantly affect the cleaning. The blade is made of high-quality stainless steel and finely sharpened. This allows you to peel fruits and vegetables gently or cut thin slices of citrus or pulp.
Pros
a handy set of several identical knives
compact size
made of German 3CR13 stainless steel
fine sharpening, the knife stays sharp for a long period
The rosewood handle is comfortable even for small hands
lightweight and maneuverable
inexpensive.
Cons
reinforced with glue, but the assembly is still secure
packed in plain wrapping paper.
Read also:
2.

XITUO 7cr17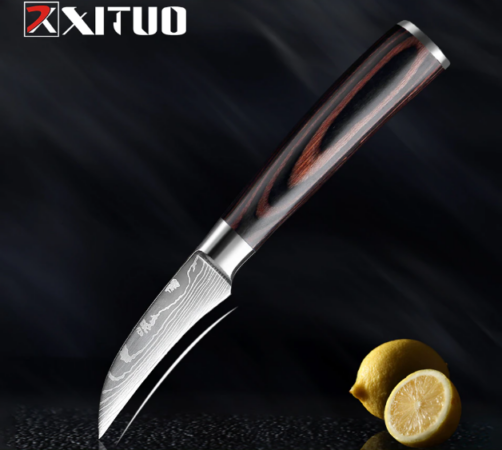 Another knife in the chart is an inexpensive vegetable peeler with a stylish and luxurious design. The unique curved arc shape of 8 degrees provides a comfortable grip and a smooth glide, allowing you to peel fruits or vegetables with the thinnest skin. The blade is 1.6 mm thick. It is made of 7cr17 grade stainless steel, which guarantees durability and moisture resistance. The hardness scale is 56-57 HRC.
The knife is 18.6 cm long, and the blade itself is 7.1 cm. A laser pattern runs along the blade, serving as a distinctive feature. The wood-made handle lies comfortably in hand. While cooking, you can be certain that the knife will not slip, even in wet hands.
Pros
A handy and functional vegetable peeler
The curved shape of the blade allows it to glide smoothly
The blade is made from stainless steel engraved with a beautiful laser pattern
affordable price
fits securely in the hand
weighs 76g.
Cons
plain packaging
complaints about long delivery time.
1.

SUNNECKO VG10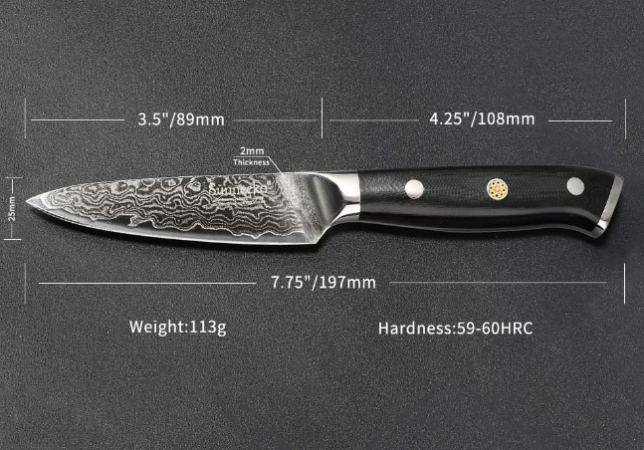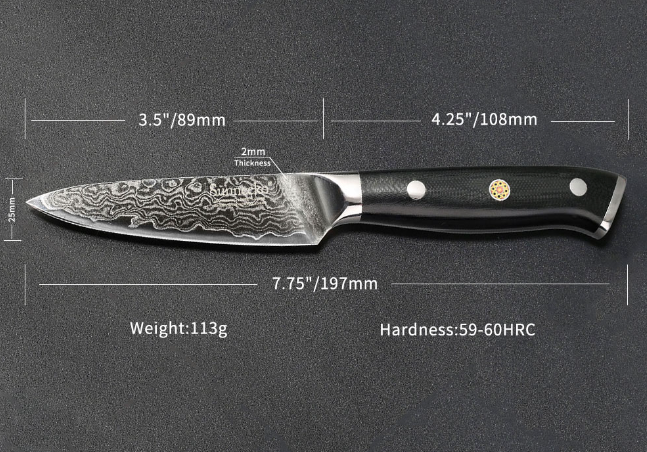 On top of the chart is the famous peeling knife made under the name of the famous Sunnecko brand. The main advantage of the model is the high-strength Japanese VG10 steel. A blade like this will cope with any task, retaining its original smoothness, sharpness and shape. Due to the factory-provided sharpening, you can start using the knife once it is delivered, and no additional sharpening will be needed for many months.
The 3.5″ size is optimally suited to deal with any task at hand. The handle is 10.8 cm long, allowing it to be gripped firmly even in big hands. Weighing 113g, the model feels reassuringly in hand, but without putting excessive strain on your muscles. The blade is 2mm thick, and the hardness scale is 59-60 HRC, which is standard for professional kitchen peelers.
Pros
a premium-quality vegetable peeler
made of renowned Japanese VG10 steel
an ergonomic shape
suitable for big and small hands
excellent sharpening that lasts for a long time
weighs 113 g, 3.5 inches long
59-60 HRC
beautiful packaging, suitable as a gift
fast delivery (2-3 days).
Cons
complaint from one customer about the blunt blade.
Top 3 Best Bread Knives on AliExpress
As the name suggests, the bread knife is designed to cut bread or thin-skinned fruits and vegetables, such as tomatoes, bell peppers, etc. The serrated blade prevents the soft bread loaves from crumbling and keeps the shape of the fruit slices intact. In this chart, we will cover 3 of the best bread knives available on AliExpress.
3.

Zemen, 8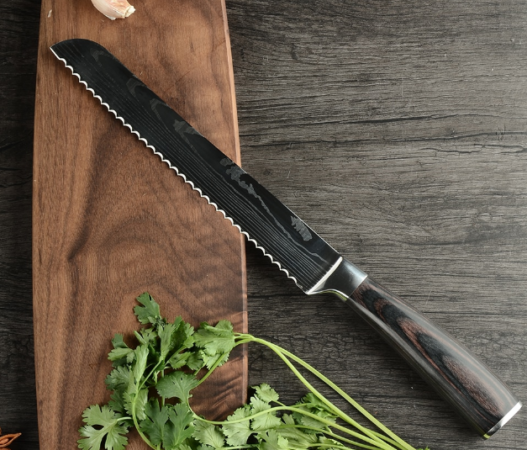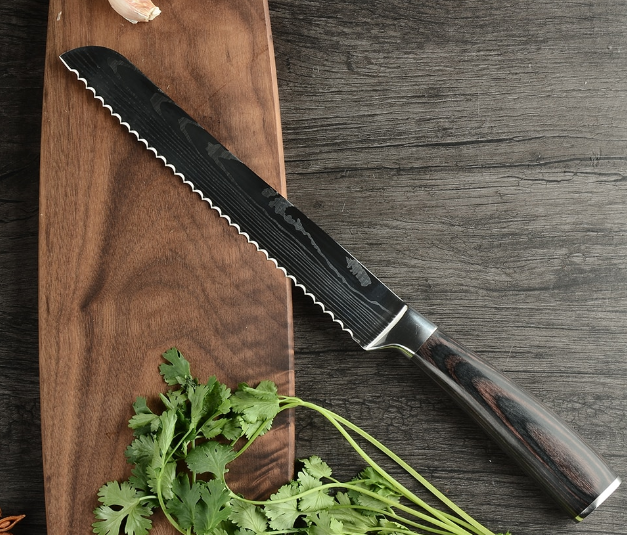 Third place goes to an inexpensive semi-professional bread knife with a stylish design, comfortable shape and quality performance. The blade is made from high-carbon stainless steel of enhanced strength and durability. Flowing lines are laser-engraved on the blade surface, which creates a simple but expensively-looking design.
Comes with a plastic sheath that protects the serrated blade from damage. The wooden handle is firmly connected to the base and has a smooth, tactile feel to it. The overall length of the knife is 33 cm, which allows for cutting cakes and bread without ruining their shape. It weighs about 190 g. It is not recommended to put the knife in the dishwasher.
Pros
an inexpensive and handy bread knife
made of stainless steel with a beautiful engraving
the optimal size of the serrated blade's "teeth"
wooden handle with a neat surface finish
secure fixation of all elements
the comfortable size of 33 cm at a weight of 190 g
Comes with a plastic blade sheath.
Cons
plain packaging
a complaint about the delayed delivery.
2.

XITUO, 8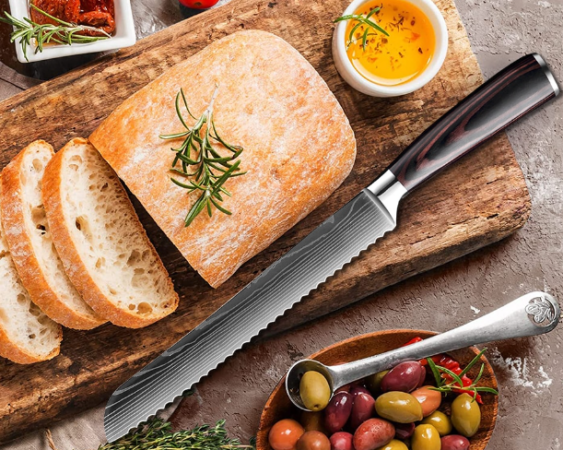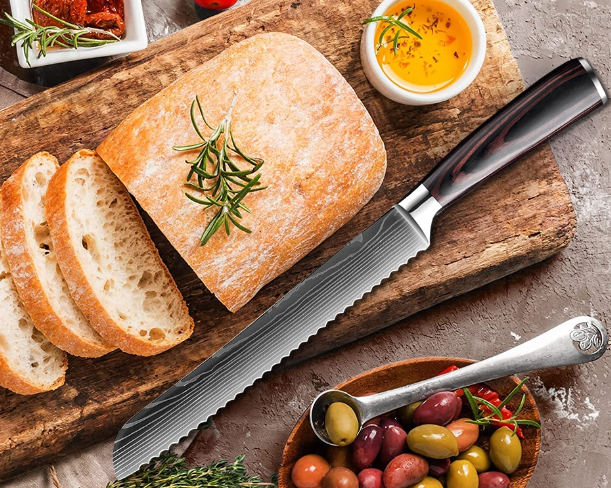 This knife is a typical inexpensive model from a Chinese mass market, but with a good performance nonetheless – that's why it takes a middle position in the ranking. Even though the material only imitates natural wood and high-strength Damascus steel, it has a quality appearance. The laser engraving delivers beauty and elegance to the overall design. The quality of the stainless steel is acceptable for domestic use.
The full length of the product is 34.5 cm, of which 22 cm is accounted for by the blade. The blade width is 2.9 cm. The knife is easy to handle and cuts thin, even slices. Even the crispy loaves of bread will not crumble, and the 57 HRC hardness level ensures durability.
Pros
an affordable Chinese bread knife
stylish appearance
stainless steel grade 7 CR17
a beautiful laser pattern
convenient size
small weight (176.5 g)
blade angle - 60⁰.
Cons
packed in a plain white box
Damascus steel and wood imitations, not real materials.
1.

XINZUO, 9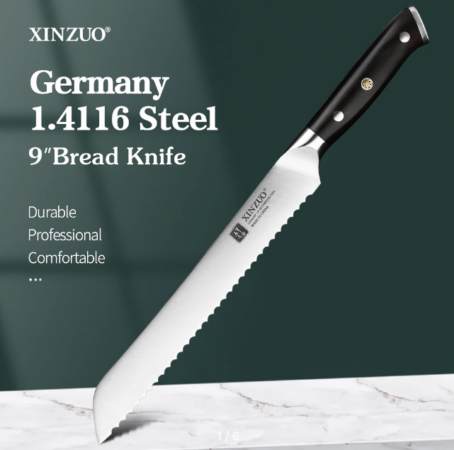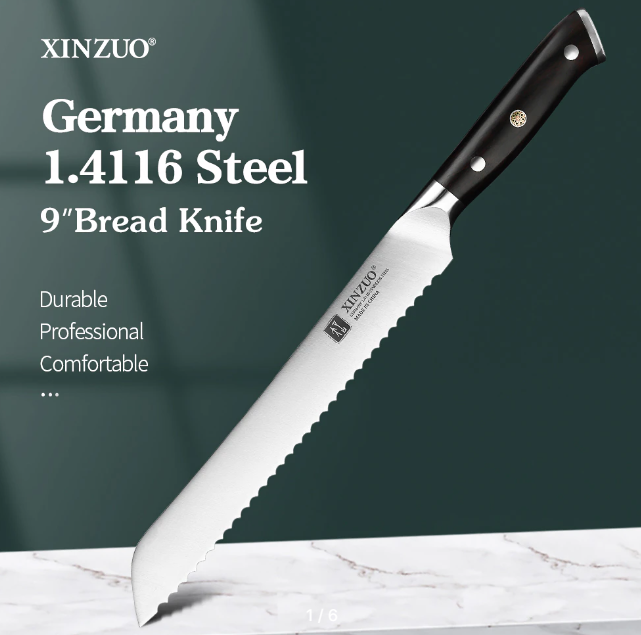 The first place in the ranking goes to a premium kitchen bread knife made of top-quality German steel. The ergonomic shape, black-and-chrome colour scheme, and the impressive 9″ size – all these elements are key features of the brand and demonstrate the professional approach of the manufacturer. Quality sharpening and anti-corrosion coating allow using the knife immediately upon delivery. The additional polishing maintains the blade's appearance for a long time. The Rockwell Hardness Scale is 58 HRC.
The ergonomically shaped handle is made of ebony and lies comfortably in the hand. The cutting force is 8 N, typical for expensive premium-quality bread knives. It is delivered in an elegant gift box.
Pros
a stylish premium bread knife
A blade made of 1.4116 German steel, 58 HRC
A big and weighty knife which lies securely in the hand
additional anti-corrosion coating and polishing
Ebony handle
cutting force - 8 N
gift wrapping.
Cons
a couple of complaints about delayed delivery.
Top 3 Best Kitchen Knife Sets on AliExpress
The best option to fully equip your kitchen is to purchase a knife set. Such sets include the most required types of knives. A set can also be much more cost-effective than buying each knife one by one. We've picked out 3 of the most interesting knife sets available on AliExpress.
3.

7CR17 440C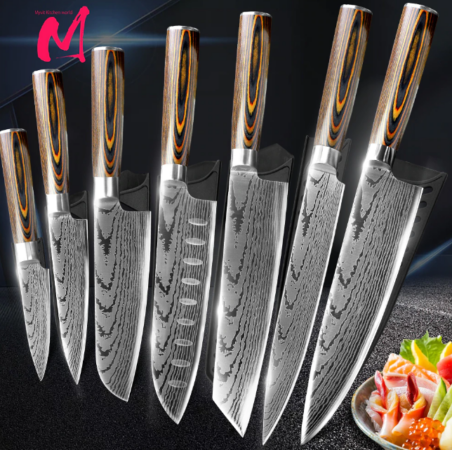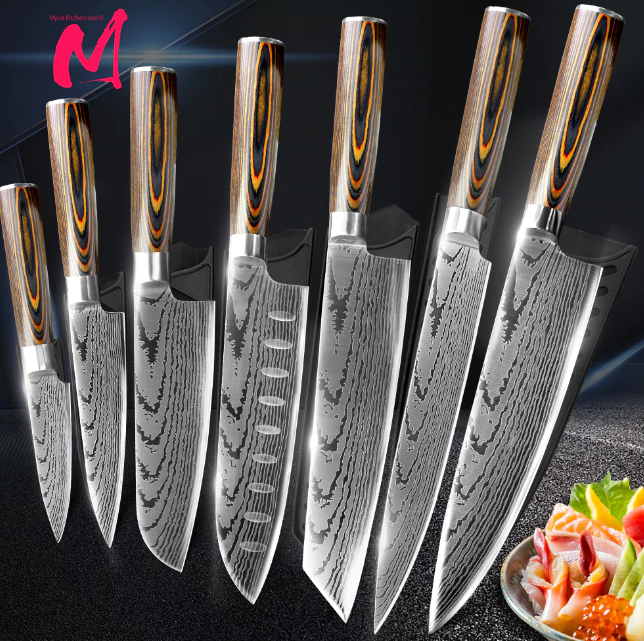 This brand uses Japanese technology to produce affordable knife sets. The best set in terms of value for money is a 6-piece set which includes the essential types of knives: starting from the large 8-inch chef's knife to a small vegetable peeler. The blades are made of high-carbon alloy which provides high strength with a hardness scale level of 60 HRC. The surface is laser-engraved to provide a Damascus-like steel finish.
The handles are made of pakka wood – a compressed veneer of beautiful colour with a wood-like texture and excellent durability. The balance ensures the comfort of movement and prevents the hand from getting tired. It is not recommended to put the knives in the dishwasher.
Pros
an affordable set of 6 knives
7cr17 grade stainless steel
60 HRC
laser engraving to imitate Damascus steel
comfortable pakka handle
plastic knife sheaths
fast delivery.
Cons
not to be put in the dishwasher
plain packaging.
2.

Zepter 6 pieces in a gift box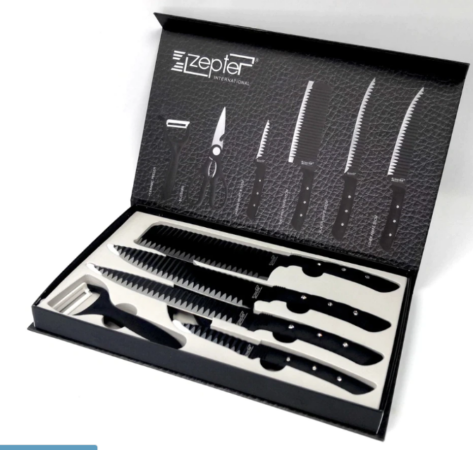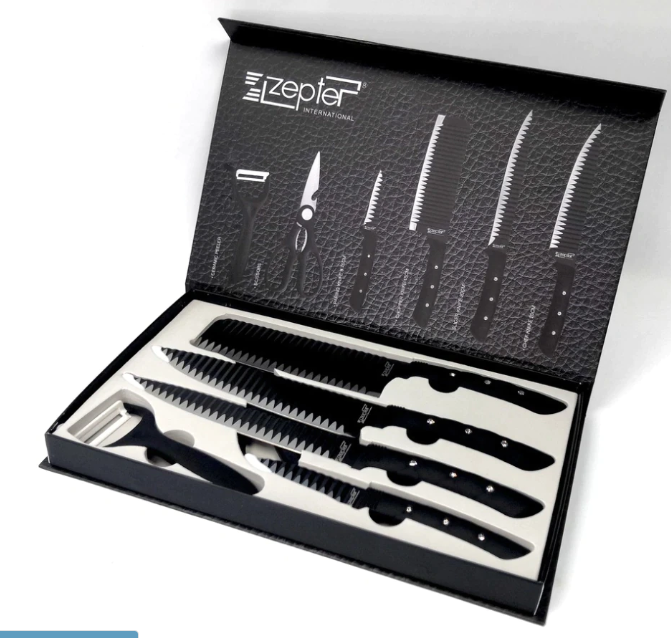 A set of 6 functional knives from the famous Zepter brand could be a good gift option. The stylish packaging catches the eye immediately. Each item is placed in its compartment and the lid is labelled with a description of its intended use. Besides the classic chef's knife, utility knife, and fruit cutter, the set includes the vegetable peeler, the axe-shaped chef's knife, and the fish cutter.
The blades are made from a special stainless steel alloy that is highly durable and retains its sharpness for a long time. Subsequent resharpening can be easily done at home. The special antibacterial coverage ensures the smoothness of the blade to effortlessly cut through products. The comfortable, slightly elongated handle is perfect for small hands. The stylish black-coloured design of the tools will easily blend into any kitchen interior.
Pros
A stylish gift set in a beautiful package
Contains 6 functional items
made of high-quality stainless steel
additional antibacterial coating
a wave-shaped blade edges
affordable price.
Cons
one complaint about blunt blades.
1.

XITUO kitchen rack, 8 pieces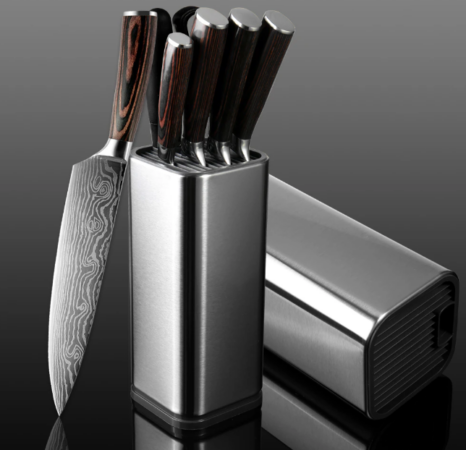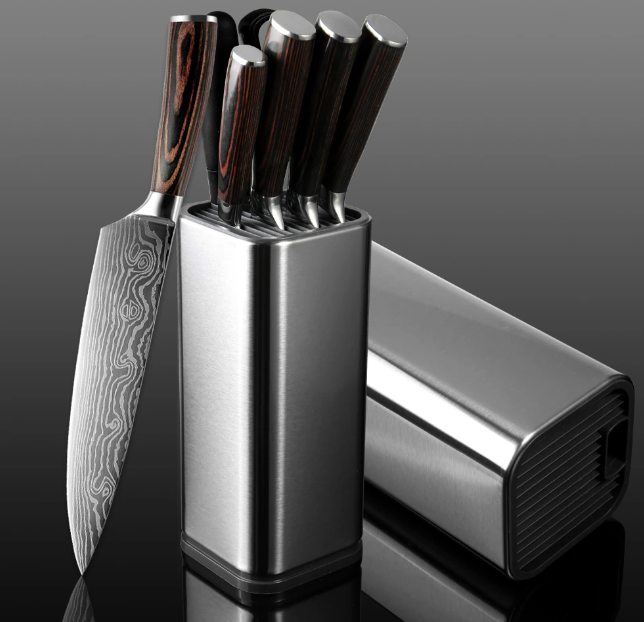 This 7-piece set with an additional knife holder is considered the best on the market. For an affordable price, the knives are of excellent quality. No unnecessary items are included, so there is no need to overpay. The set consists of an 8-inch chef's knife, a Japanese kitchen hatchet, a handy classic utility knife, a small Japanese cutter, a vegetable peeler, a 9-inch bread knife, and honing steel.
The main advantage of the set is the special rust-resistant alloy 7CR17MOV. The hardness grade is 58 HRC. The ergonomic non-slip handles are comfortable and easy to hold while chopping. The lack of a nice packaging box could be considered a disadvantage, although each knife has a protective cover.
Pros
a functional set, no unnecessary items included
excellent contents (a stand and honing steel included)
includes the most necessary knives in the kitchen
made of a 7CR17MOV steel alloy
ergonomic handle shape
anti-slip
well-balanced, fits securely in the hand.
Cons
no gift wrapping is available.
Conclusions
Having a good set of sharp and functional knives can make cooking much easier and more enjoyable. It's best to buy a set, as it includes different knives in a single design and allows you to save some money.
The best value-for-money knife set on AliExpress is the XITUO kitchen rack, 8 pieces. It is distinguished by the wise choice of elements, which definitely will be useful in the kitchen. Additionally, the manufacturer included a knife stand for compact storage.
If you decide to buy the knives one by one, it's better to start with a professional chef's knife. Among these, the premium XINZUO DIN 1.4116 knife is considered the best due to its German quality, expensive design, and sharp blade.
To complement the chef's knife, purchasing a good vegetable peeler is necessary. Made in compliance with Japanese technologies, SUNNECKO VG10 is a leader among peeler knives.
For different tasks, the best choice is an affordable German kitchen 440C utility knife, which combines the advantages of a chef's knife and the maneuverability of smaller tools. In addition, it would be good to complete the set with a bread knife, not necessarily from a premium segment. A good choice is the XINZUO, 9. This knife has the optimal size of the serrated blade's "tooth", which is particularly important for delicate and precise cutting of crusty bread loaf.
Read also:
Some video reviews