A flashlight is your best friend in exploration, hiking, camping, or even unexpected emergencies. It can serve as a safety and self-defence tool as well, which makes it an indispensable piece of equipment. This rating aims to introduce you to the top 10 best Chinese flashlights which can be bought on AliExpress – your best market for budget-friendly deals.
How to Choose the Best Flashlight?
Choosing the flashlight is fairly simple, but there are a few recommendations on what you should look for before placing an order:
Brightness level. Measured in Lumens (lm), it shows the intensity and brightness of the flashlight beam. Choosing anything between 1000-2000lm is good for wilderness exploration, while small flashlights of 500-1000lm can serve as useful emergency tools.
Lighting modes. Usually, a tactical flashlight is equipped with 3 to 5 lighting modes for various scenarios. High, medium, and low brightness, as well as SOS modes, are certainly something that you should look for in a device.
Additional specifications. The case material, waterproof certification, charging method, and so on – these characteristics affect the overall performance of a flashlight, so pay attention to them.
Top 10 Chinese Flashlights on AliExpress
10.

Heinast 4 Core Led Flashlight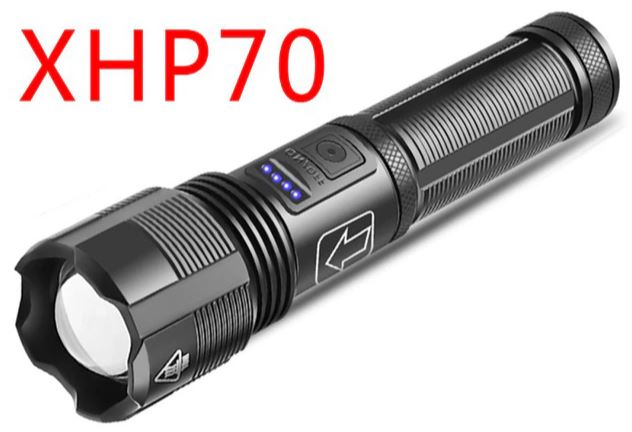 Specs: Lumen: Other, Lighting Distance: 200-500 m, Zoom: Yes, See all.
The Heinast flashlight is a valid choice for any occasion – whether you need a light source for your bike or just want to have an emergency flashlight for your forest explorations.
It is equipped with a telescopic zoom, meaning that you can switch between two beam modes – spotlight and floodlight. As for the general modes, there are 3 lighting regimes of various intensities and a maximum lighting distance of 500 m.
In addition, the IPX5 certification makes it resistant to moisture or even rain.
However, the price tag doesn't seem to be justified: for $20, AliExpress can offer better flashlights in terms of performance, hence the lowest place in the rating.
9.

Plutus-Quinn Mini Flashlight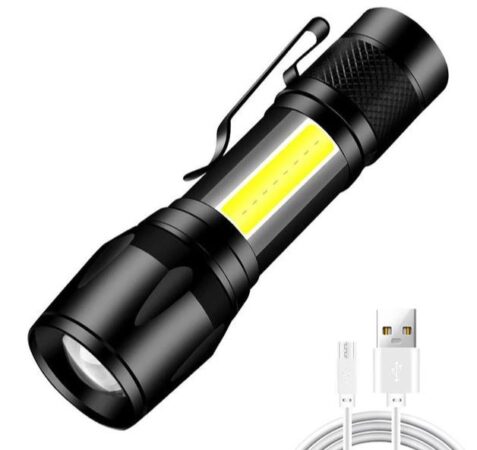 Specs: Wattage: 5W, Lumen: 300, Lighting Distance: 100-200 m, Zoom: Yes, See all.
A pocket-size Chinese flashlight might be just what you need for unexpected emergencies. Plutus-Quinn is less than 10 cm in length but still serves as an incredibly useful tool for illumination and even defence. It is also very budget-friendly, with a cost of less than $8.
With a built-in lithium battery, it can be charged with a USB. But even if your flashlight runs out of power, you can use an emergency kit of 8 small COB lights.
The brightness output can reach 2000lm thanks to the LED Q5 beads – this is why the flashlight is great as a self-defence tool. A pen-clip design makes it easier to carry, but if you need an additional storage place, you can order a flashlight box.
As for the obvious cons, this small flashlight is not the best choice for extreme hiking or wilderness survival.
8.

LONGRIVER L-826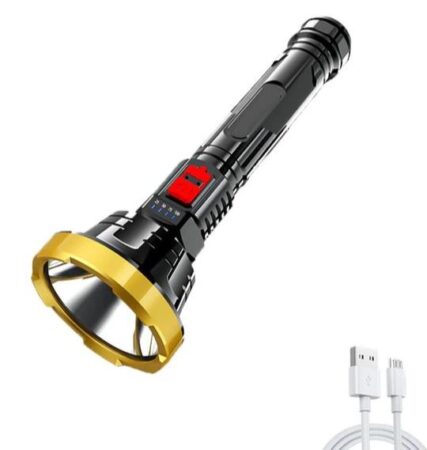 Specs: Wattage: 10W, Lumen: 800, Lighting Distance: 200-500 m, Zoom: No, See all.
You have probably seen those cartoonish big-sized flashlights used in survival TV shows. Well, if your answer is "yes", then the LONGRIVER L-826 will look familiar to you, as it features a massive design with a P700 Lamp bead.
It is one of the best flashlights for hiking and wilderness exploration, as it offers up to 99 hours of work on a single charge, and also monitors the battery capacity in real-time – to make sure you are always aware of how much power you still have.
With 3 lighting modes, you can adjust your flashlight to any scenario. In addition, the IPX6 certification adds to the device's "survivability".
While the majority of 400+ reviewers are happy with the product, some customers complain about low brightness levels and the "cheap quality" of the plastic used for construction.
7.

Smiling Shark 622 A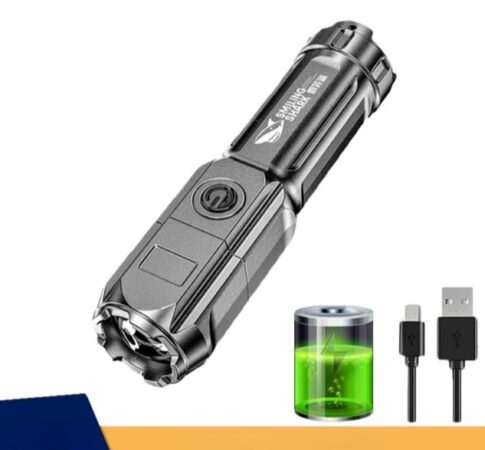 Specs: Wattage: USB charging, Lighting Distance: 100-200 m, Zoom: Yes, See all.
For around $15-20, you can get the Smiling Shark portative flashlight – a small, but powerful Chinese device with a lighting distance of 100-200 m. Its main feature is highly-precise focus adjustment of the beam, which can switch from "eagle" to "telescopic" focus – which is spotlight and floodlight beam regimes respectively.
In addition to that, the 622 A has a "multi-stage heat dissipation" system: as you may have guessed, it prevents the flashlight from overheating if you use it for extended periods. The one-piece construction also offers maximum protection from rain and water.
The flashlight is equipped with a rechargeable battery, so you can use any regular USB Type-C cable to charge quickly and at any time.
6.

ZPAA Tactical USB Rechargeable Flashlight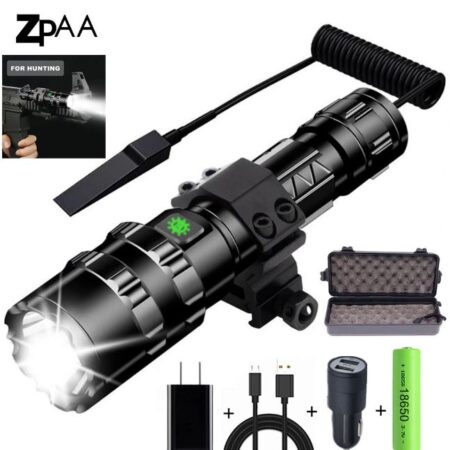 Specs: Wattage: 10W, Lumen: Other, Lighting Distance: > 500 meters, Zoom: Yes, See all.
There are not many hunting flashlights sold on AliExpress, but ZPAA is an exception. It can be attached to a hunting rifle, but a non-slip handle and shock-resistant construction make this flashlight a valuable survival tool on its own.
With an IPX6 certification, it doesn't fear moisture or rain – just ensure you don't completely drop it into the water. It has 5 lighting modes, from the brightest levels to the SOS regime, which will help you out if you are ever lost in the woods.
For power, it uses a rechargeable battery that is compatible with any device supporting Micro-USB Interface.
Among all the positive reviews, there are a couple of complaints about low brightness levels: while the manufacturer claims it's 4000lm, some customers believe that it is just around 650-800lm.
Read also:
5.

ZHIYU Q5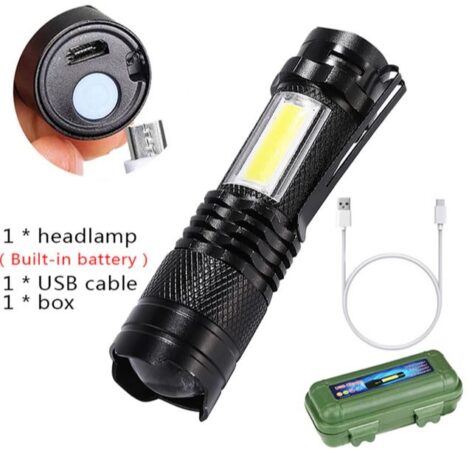 Specs: Wattage: 5W, Lumen: 2000, Lighting Distance: 50-100 m, Zoom: Yes, See all.
Sometimes all we need on a hiking trip is a small pen-sized flashlight that fits perfectly into our pocket, no holsters needed. As small as 2.5×10 cm, the ZHIYU Q5 Chinese mini-flashlight is a solution you've been long looking for.
It comes in different packages, so make sure you place your order correctly to avoid receiving a model you didn't pay for. For example, you can order a flashlight with an ABS or aluminum body; a pen clip or a rope holder.
It uses a 14500 built-in rechargeable lithium battery and Type-C USB charging mode. Despite being so small, it supports focus adjustment for improved illumination.
With a price tag of $10 (and that is without discounts), it is one of the cheapest flashlights on AliExpress, so don't hesitate to grab one! As for the cons, the small device with a limited power capacity is not the best choice for wilderness survival, so consider this.
4.

TRLIFE FL673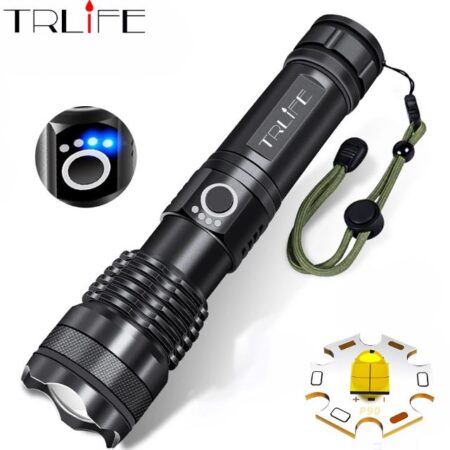 Specs: Wattage: 40W, Lumen: Other, Lighting Distance: > 500 meters, Zoom: Yes, See all.
You might wonder – why this flashlight became one of the bestselling devices on the market? The answer lies behind its remarkably low-price tag: with a base price of $20-25, it is constantly subjected to store discounts, which cut down the price in half.
But even if cheap, this flashlight performs extremely well: packed in an aluminium-made shock-resistant body, it offers a lighting distance of 500 meters. And the flashlight is so sturdy you can even use it for self-protection!
In addition, it is IPX6 waterproof-certified and has 5 lighting modes essential for survival: even SOS is included. The flashlight can be powered by AAA or 26650/18650 rechargeable batteries. On a full charge, it will work for 12 hours.
The only concern is the flashlight's acrylic lens, which can lose its sharpness over time, unlike glass or crystal.
3.

Paweinuo HS569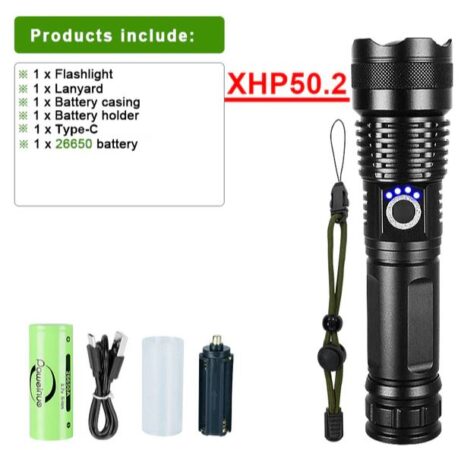 Specs: Wattage: 300W, Lumen: Other, Lighting Distance: > 500 meters, Zoom: Yes, See all.
HS569 flashlight by Paweinuo has one of the best autonomy indicators on the market: equipped with a 5000 mAh rechargeable battery, it offers up to 15 hours of work on a single charge. So, rest assured – with this flashlight you'll never run out of light, which can save you in unexpected circumstances in the wilderness.
To protect your battery and the device itself, HS569 supports overcharge and overvoltage protection. There is also a beam control function, allowing you to switch from Spotlight to Floodlight modes with a simple click.
But what is also important is that the flashlight can be used as a power bank for your Type-C smartphones or laptops! And if, by chance, you'll find yourself in need to break a window, you can smash the glass with the flashlight's sturdy head.
Among 500+ reviews, there are just a few complaints that the flashlight is not nearly as bright as promised (5500lm).
2.

Shustar S-001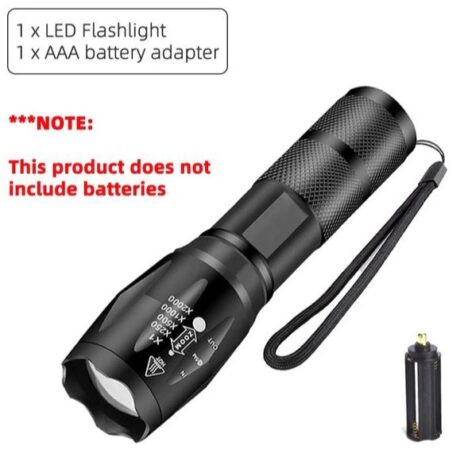 Specs: Wattage: 10W, Lumen: 1000, Lighting Distance: 200-500 m, Zoom: Yes, See all.
"To keep the dark and the bad guys away" is an impressive motto for a basic flashlight – but Shustar S-001 stands to it as one of the most popular Chinese flashlights on AliExpress. With almost 700 positive reviews and 5000+ orders, it offers 5 tactical light modes for any situation and extreme durability, which is essential for survival in the wilderness.
Thanks to the zoomable design, you can control the beam by switching it to narrow Spotlight and widespread Floodlight modes. This, together with a brightness level of 1000lm and a lighting distance of 200-500 meters, makes the flashlight a perfect choice even for extreme situations and emergencies.
The flashlight is battery-powered: you can use three AAA-type batteries or a single 18650 rechargeable battery for improved battery life. The customers note that the flashlight is truly "very bright" and of excellent quality, but apparently, it doesn't feel "very sturdy", which could be considered a minor issue.
1.

RxZoA S-422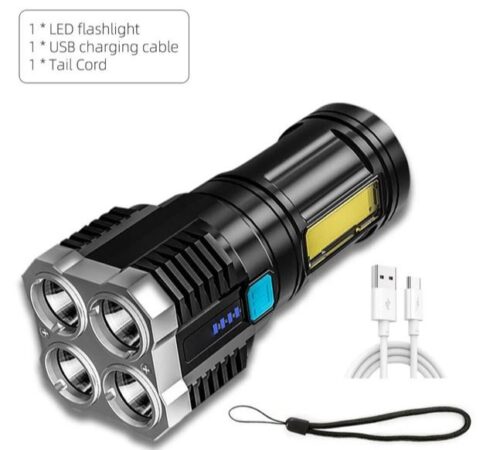 Specs: Wattage: 10W, Lumen: 1000, Lighting Distance: 100-200 m, Zoom: No, See all.
Are you looking for the brightest and most powerful Chinese flashlights on the market? Well, you have finally found it: the S-422 is equipped with 4 LED bulbs with a brightness level of 1000lm. You'll be able to literally turn the night into day, using 4 different light modes to adjust the flashlight in accordance with the situation at hand.
It can easily illuminate an area of 30 m2 (almost a whole yard), making it a perfect fit for a survival tool. It has IP64 waterproof certification and a remarkably durable ABS plastic body, meaning that it is not afraid of rain or some damage.
It is powered by a built-in rechargeable lithium battery: the customers complain that it drains quickly, which can be explained by the number of LEDs. The size is another issue: by no means this flashlight will fit in your pockets, so you'll have to carry it in your backpack.
What is the Best Flashlight on AliExpress
The range of flashlights offered on AliExpress is impressive, and it is not easy to identify the "best of the best" offer. However, we attempted to do it.
The RxZoA S-422 flashlight with 4 LEDs is the most powerful device – not solely by the number of lighting bulbs, but by considering various lighting modes and battery durability as well. It can become a trustworthy companion for the most rigorous camping and hiking experiences.
In terms of appearance and performance, a Shustar S-001 is an optimal flashlight for any situation: trekking, exploring, camping and even emergencies – thanks to its tactical design and a good set of lighting modes.
Last but not least is the Paweinuo HS569 – a Chinese flashlight with a battery so powerful you'll be able to use it as a power bank. It might save you in a dire situation when your smartphone is running off the battery in the forest, so you'll stay safe, protected and, most importantly, illuminated.
Read also: