In recent years, 3D printing, also known as additive manufacturing, has become increasingly popular. First limited to professional use, it has now become widespread in small industries too. Some individuals even purchase 3D printers for hobby workshops to create intricate shapes and figurines. Such an increase in demand prompted manufacturers to create user-friendly machines, each designed for specific use. That being said, choosing the right 3D printer might be difficult, but we are here to assist you. In this article, we will guide you through the top 10 best Chinese 3D printers on AliExpress.
Top 10 Chinese 3D Printers on AliExpress
10.

Geeetech Mizar Series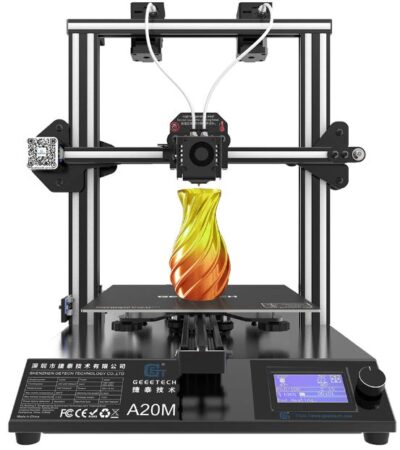 Specs: See all.
If you want to print multicolored prototypes then you might need a 3D printer with several extruders. Geeetech offers an entire series of 3D printers with dual/triple nozzle designs to satisfy various multi-color printing needs. The series includes A10M, A20M, A10T, A30T, and Mizar M 3D printers. While they use the same modular design and the FFF printing technology, each model has unique specifications for different use.
There are two printing modes available. The 'Separated Color' mode allows you to print objects with clearly distinguished color spots, while the 'Gradient Color' mode is designed to create smooth color transitions.
Each printer has a power panic mode, so even if you experience a power outage, your plastic filament won't go to waste. The printing size depends on the model: for example, A10T features 22x22x26 cm, and A20M has a slightly larger printing volume of 25x25x25 cm.
One consideration is the limited number of customer reviews on AliExpress.
9.

KeePang KP3S 3.0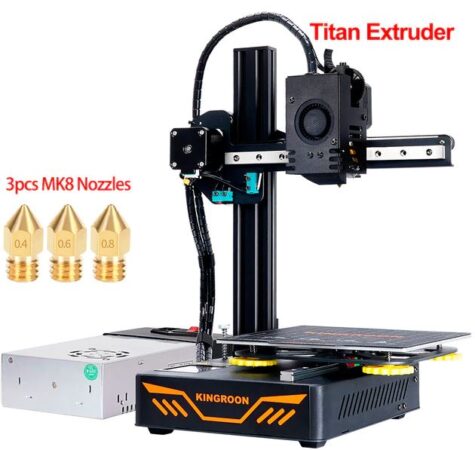 Specs: See all.
This Chinese FFF 3D printer is a well-balanced option for your home-based or professional workshop. KP3S 3.0 is the latest model in the series of custom-tailored 3D printers by KeePang, which means that it received a lot of technological updates to improve the printing process.
To enhance printing stability and precision the printer is equipped with the Titan extruder and two cooling fans. This helps to cure printed layers more quickly, which is important if you are printing several prototypes in a row.
The maximum print size is 18x18x18 cm. The printer will be ready to work in less than 5 minutes due to the fast-heating design of the hotbed. And thanks to the power panic function you'll be able to continue printing even if you face an unexpected power outage.
However, some customers on AliExpress have noted that the printer is difficult to assemble, so we don't recommend this model for beginners.
8.

SOVOL SV06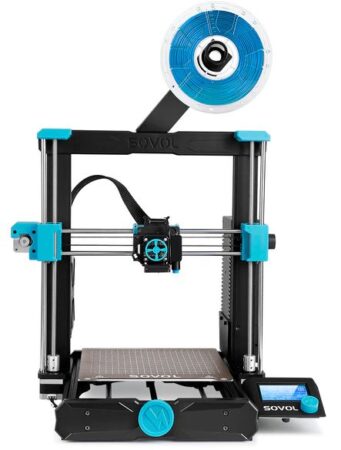 Specs: See all.
Priced at $235, the SV06 3D printer by SOVOL uses FFF technology to create physical objects and prototypes from a vast catalog of CAD models. Featuring a 22x22x25 print size, it is capable of printing medium and large-sized prototypes for professional or individual use.
One of the printer's main selling points is its unique modular design. As a result, the printer can be assembled in 5 easy steps, and any element can be replaced which prolongs the printer's service life.
Thanks to the high extrusion temperature of 300°C, you can experiment with a variety of printing materials. However, if you are planning to print at temperatures over 260°C, you'll need an enclosure, which is not included in the package.
7.

TISHRIC K1 3D Printer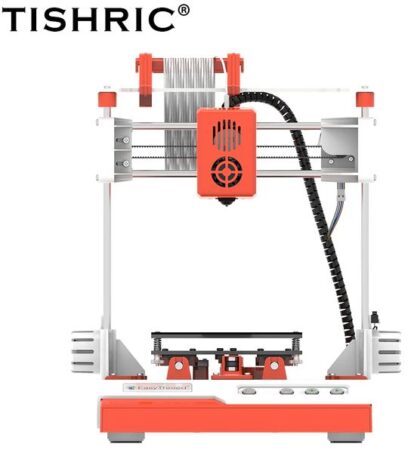 Specs: See all.
If you want to introduce your kids to 3D printing then the K1 model is a great and affordable beginner-friendly option for learning. It will cost you around $90, leaving you with enough money to buy a spool of plastic filament for your first printing session.
The extrusion temperature is limited to 180-230°C, so it is recommended to use PLA material with a melting point of 180°С for a smooth printing process. As expected of a low-priced printer, the printing size is 10x10x10 cm, combined with a printing speed of 10-40 mm/s.
To ensure that the extruder always stays in the right position the printer is equipped with a smart levelling system. By pressing one of the four control buttons, you can automatically position the extruder on the platform to start printing.
The printer comes with its own beginner-friendly slicing and modeling software, so children can learn the basics of 3D modeling.
While customers on AliExpress described the product as a compact and easily assembled printer, the issues include customs problems: the seller doesn't include an invoice in the package, so you can be expected to pay excess tax.
6.

SIBOOR VORON 0.2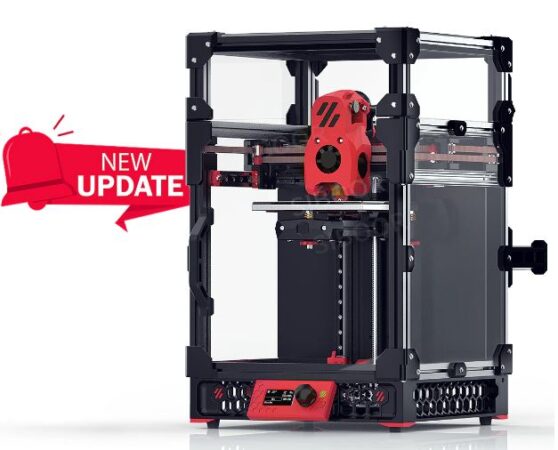 Specs: See all.
Founded in the technological city of Shenzhen, China, Siboor specializes in small 3D printers for hobby workshops and STEM education. In addition to shipping from China, the manufacturer has warehouses in Poland and Italy, meaning that European customers can enjoy reduced delivery times.
The brand's most popular model, the VORON 0.2 3D printer, is no bigger than a regular desktop printer. It has a small printing size of 12x12x12 cm which is compensated by the 250 mm/s printing speed. Note that it is one of the fastest low-priced printers available on AliExpress.
The printer is equipped with a ceramic V6 hotend, which can heat up to 300°C. This allows to use high-temperature filaments like ABS/PA to create physical prototypes for various use.
Customers note that the VORON 0.2 is a good choice for both beginners and experienced users. In addition, the Siboor tech support "exceeds all expectations": one customer complained about a minor issue with the board, and the manufacturer was ready to send a replacement in just one day.
5.

EasyThreed K9 Mini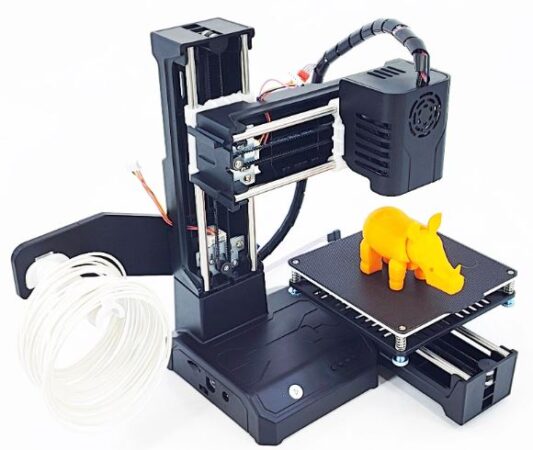 Specs: See all.
As the product's name suggests, the K9 Mini 3D printer is a beginner-friendly FFF machine that can be used to introduce kids to the basics of 3D printing. The model is capable of printing small objects sized 10x10x10 cm maximum: for example, your children can print toy soldiers or tiny figurines to play with.
The installation and assembly are fairly easy, and the printer comes with its slicing software. In addition, there is a whole catalogue of printable 3D models for beginners: you can download them from the manufacturer's website and transfer files to the printer using a USB or an SD card. With a nozzle diameter of 0.4 mm, the printer features a regular printing speed ranging from 10 to 40 mm/s.
Another important feature is that the 3D printer works quietly, not exceeding noise levels of 60 dB.
Considering a low price of $90, the K9 Mini is a good option for learning how to operate a 3D printer before purchasing something more advanced. Note that many customers advise against using the filament included in the package for your first print as it is of low quality.
4.

ANYCUBIC KOBRA NEO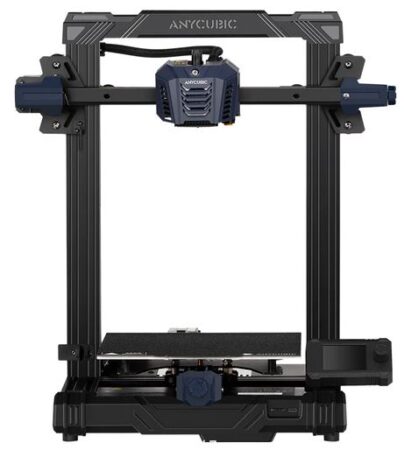 Specs: See all.
Based in Shenzhen, China, Anycubic is a big name in the Chinese world of 3D printing equipment and one of the featured brands on AliExpress. Characterized by the "Keep it Simple" motto, the KOBRA NEO 3D printer is one of the best options for FFF printing.
With a printing size of 25x22x22 cm, it is suitable for large-scale printing. In addition to that, the machine is fast: it can print with a 10 cm/s speed while the direct drive extruder design ensures that filament is extruded in a stable and precise manner.
Leveling is important for FFF printing, and KOBRA NEO is equipped with the Anycubic LeviQ leveling system. Featuring 25 calibration points, it can compensate for uneven hotbed temperatures, so your printed objects are not wasted or damaged. The printing bed is made of spring steel with PEI coating which is bendable and resistant to scratches.
Many customers noted that the printer can be assembled even by children in less than 10 minutes, so it is easy to set up and start printing. With a price of $130, the printer features an incredible price-quality ratio.
3.

Flying Bear Ghost 6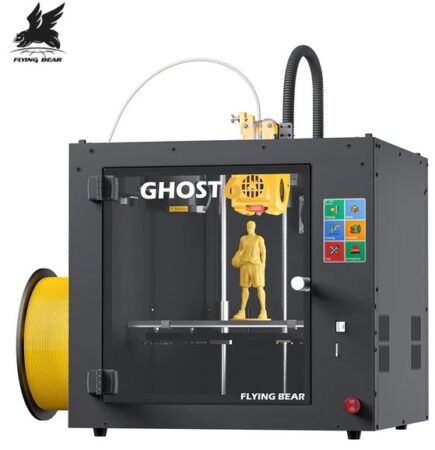 Specs: See all.
Flying Bear brand is familiar to small workshop owners, as this Chinese manufacturer offers one of the best laser engravers and 3D printers on the market. Their bestselling model, Ghost 6, is a FFF 3D printer designed for large-volume printing (around 25.5x21x20 cm).
The printer is distinguished by its printing speed (150 mm/s with a 0.4 mm nozzle diameter) and the high-precision extruder. It is transparent, so you can observe the extrusion status directly. In addition, such a design allows for easier removal of blocked filament. And thanks to the latest TMC-2225 drivers, the printer works quietly which is important for small home-based workshops.
To quickly transfer your CAD or 3D files for printing the printer can be connected to a Wi-Fi network. After that, you can adjust the settings using a 3.5" touchscreen.
The 3D printer is covered by a 1-year warranty: in case you face defects in hardware and software the manufacturer promises to replace the product (but you'll still have to pay shipping costs).
Customers note that the printer is very beginner-friendly and can be assembled in less than 5 minutes.
2.

ANYCUBIC Photon Mono 2
Specs: See all.
Previously we talked about FFF 3D printers manufactured by ANYCUBIC. But their bestselling 3D printer, the Photon Mono 2, is the best solution for resin printing. Equipped with a 6.6-inch 4K LCD screen, it is suitable for beginners and professionals working on high-quality prototypes for industrial use.
The large print volume of 16.5×14.3×8.9 cm (or 2 liters) allows the printing of big physical models without sacrificing the fine quality of small details. And to further reduce the layer lines the printer is equipped with an improved LightTurbo Matrix technology.
The printer comes with professional slicing software with a user-friendly interface. For a price of $370, you'll get the 3D printer, a washing station and a set of 4 resin bottles; the printer itself costs only $200.
Customers note that the machine is capable of printing objects with "gorgeous detail", while minor issues include the low quality of resin included in the standard pack.
1.

CREALITY Official Ender 3 Series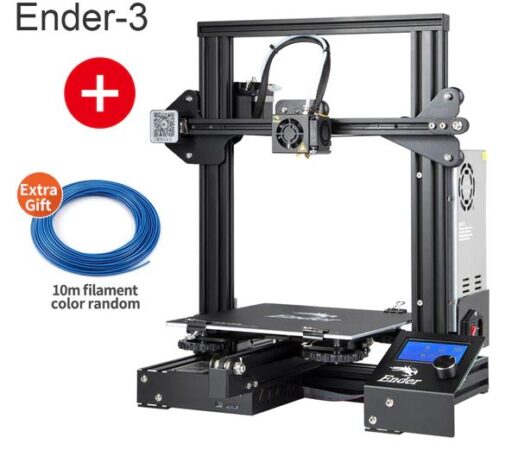 Specs: See all.
CREALITY is the leading Chinese brand specializing in the high-tech manufacturing of 3D printers and equipment. In 2017 they introduced a new series of 3D printers – the Ender-3, which quickly became the bestseller on AliExpress.
The series includes four FFF (or FDM) printers designed for professional use and home-based workshops. The prices range between $190-480 depending on the model.
What makes it a good choice for beginners is the simple DIY assembly, as there are only 10 pieces and a multilingual instruction manual. A printing volume of 22x25x22 cm enables the large-scale printing option, while a stable V-profile ensures precise nozzle positioning and long service life.
To make sure that your printing won't be ruined in the case of a power outage, the Ender-3 series machines are equipped with a power panic function. It allows you to resume printing even after an unexpected power-off.
The manufacturer offers a one-year warranty for each printer, which is an additional advantage. More than 300 positive customer reviews prove that Ender-3 series 3D printers are worth every penny.
How to Choose a 3D Printer?
A 3D printer is a machine that uses a digital model to create a physical object layer by layer – a process known as additive manufacturing. This can be done using various materials such as plastics, liquid resin or powder grains. By layering down many thin layers successively, the machine can create complex 3D objects of any shape that wouldn't be possible otherwise.
Chinese manufacturers have excelled in consumer-oriented machines and equipment, but with so many options on AliExpress, choosing the right 3D printer can be challenging.
Note that in this article, we will focus solely on desktop 3D printers for regular customers. To help you gain a deeper understanding of the topic, we will navigate you through the main specifications to consider when buying a 3D printer.
Printing Technology
Two popular printing technologies are used by 3D printers – FFF and SLA. FFF, or fused filament fabrication method, is similar to how a hot glue gun works. FFF 3D printer uses melted plastic filament that is carefully layered down from a nozzle. The filament then cools down, revealing a solid object.
The main advantage of FFF printers is that they are easier to use, but visible print layers on the finished object can be seen as a disadvantage.
SLA, or stereolithography, is a common technology that uses liquid resin to shape the smallest objects and achieve precise details – something that FFF printers frequently struggle to achieve. However, liquid resin is difficult to manipulate due to its stickiness and UV-light dependence to cure completely.
Print Quality
For FFF 3D printers the print quality is defined by resolution and printer construction. The resolution shows how fine details the machine will be capable of printing; this depends on the nozzle diameter. For hobby purposes, a 0.4 mm nozzle is a common choice.
The smaller diameter will improve the quality of details but also noticeably slow down the printing speed. As for the SLA printers, much depends on the display resolution, the support of anti-aliasing for smoother edges and the quality of rendering.
Print Speed
As briefly mentioned in the previous paragraph, the printing speed in FFF machines depends on the nozzle diameter. The simple rule is as follows: the bigger the diameter – the faster the printing speed. In the case of SLA printers, the print speed depends on the curing times of the print material, specifically the resin.
The type of display is also important: for example, a monochromatic display results in a 4x increase in printing speed compared to an RGB display.
Print Volume
The print volume indicates the maximum size of an object that the machine is capable of printing. The main advantage of FFF printers is the large-scale printing, while objects printed with SLA technology are limited to the size of a large smartphone.
Price
In general, FFF printers and the plastic filament they use are cheaper when compared to SLA printers and liquid resin. However, SLA printers can be used to print complex objects and prototypes needed in medicine and jewelry making which explains the price increase.
Additional characteristics
Parameters such as noise levels, filament sensors, and power loss protection are important for FFF 3D printers. And if you are considering an SLA printer, you might need to set up curing and washing stations to ease the process of completely curing the printed object.
Note that along with Fused Filament Fabrication term, Fused Deposition Modeling is also used to describe 3D printers that use this technology. The main difference is that FDM is a proprietary term, while FFF was coined to avoid potential copyright infringements. However, you'll often find both FFF and FDM used on AliExpress in regards to printers.
The same stands for SLA/DLP/LCD printers, but important notes should be made. All of them are very similar and use liquid resin for printing, but DLP and LCD printers cure layers faster due to projector/LED lights that can instantly trace an entire layer. AliExpress sellers use all of these terms for promotional purposes, but you can easily identify the right type of printer based on its specifications.
Which 3D Printer is the best on AliExpress
If you are looking for a reliable Chinese FFF 3D printer on AliExpress, then Ender 3 is the best choice both for professional and home use. While expensive, it features a large printing volume, a power panic function and a highly-precise extruder to print even the finest of details.
For resin-based printing, nothing beats Photon Mono 2 3D printer. With so many customers impressed by the printing quality and the absence of print lines, it makes this model suitable even for industrial applications.
And if you are a beginner looking for an affordable 3D printer before moving on to something more serious, then try Flying Bear Ghost 6 or Anycubic KOBRA NEO FFF printers. Both are easy to assemble and come together with beginner-friendly slicing and modelling software, so you'll grasp the basics of 3D printing in no time.