If you are familiar with computer parts and their functions, then you already know that SSD (or a solid-state drive) is a type of storage device used in PCs. Unlike hard disk drives (HDDs), SSDs are much faster when it comes to performance, and way more reliable because they don't use magnetic components to write and read data. AliExpress is a literal goldmine when it comes to affordable computer parts. And to help you find the right SSD to upgrade your PC, have a look at our list of the Best Chinese SSDs on AliExpress.
How to Choose the Right Chinese SSD?
A computer's CPU can run millions of operations per second, but it needs a fast drive to have access to data. Even if you have the best HDD on the market, it still can waste a lot of time on processing, since it has to physically locate the data sectors you need. On the other hand, SSDs don't have this issue, as they use the flash controller and NAND flash memory chips to quickly access data. As a result, your system will boot up and save files considerably faster.
AliExpress is the best place to shop for budget-friendly PC hardware, where finding a replacement for an outdated GPU or a brand-new SSD is not a problem. We don't want to overwhelm you with detailed specifications, however, to choose the right SSD for your computer, here are a few basic tips to consider:
Storage capacity. First things first – identify how much data you need to store and save all your files and programs. These days, buying a SSD with less than 256GB of storage doesn't make any sense, since an AAA video game can take up to 20GB. For this reason, purchasing a capacity of 500GB to 1TB is the optimal range for most scenarios.
Check What Kind of SSD your PC Can Support. The SSD come in 3 form factors: a 2.5-inch Serial ATA (SATA), an SSD Add-in Card (AIC) and an M.2 SSDs. If you have a gaming PC with a high-end motherboard, it's likely that your computer will be compatible with any SSD available on AliExpress. However, note that some laptops only support M.2 form factor and don't have space for a 2.5-inch drive. So, make sure to consult your device's manual to understand your options.
PCIe or SATA Interface. SATA (Serial Advanced Technology Attachment) and PCIe (Peripheral Component Interconnect Express) are interfaces that connect your SSD to a motherboard. Keeping this in mind, make sure to check your motherboard's manual to understand what type of SSD it can support.
Top 10 SSDs on AliExpress
10.

SAMSUNG SSD M2 (980 PRO)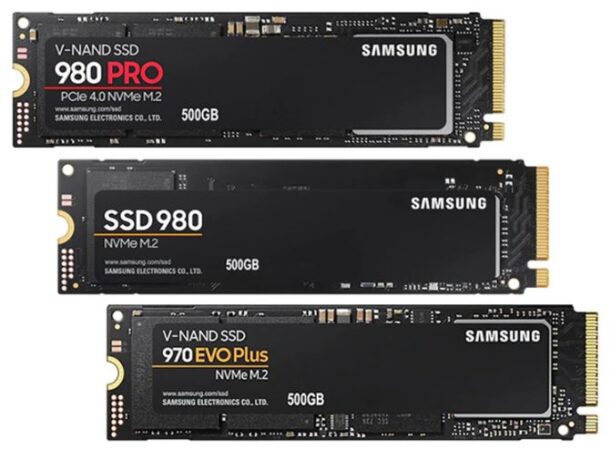 Specs: Size: M.2 2280, Bus Type: PCIe 4.0×4, See all.
Let's start our rating with something familiar – who doesn't know about Samsung? With this next-level PCIe 4.0 NVMe SSD, you'll be able to double the data transfer rates and get an impressive read speed of 7000 Mb/s for your PC.
This SSD is designed for gaming PCs and high-end laptops, offering adjustable storage capacity ranging from 250GB to 2TB.
Although many customers noted that the device works well (even with Samsung SSD software) and passes all performance tests, we placed this SSD lower in the ranking due to doubts about the brand's authenticity. The drive is distributed through the "Sumsung Global Store", which doesn't look official due to understandable reasons.
9.

KingFast SSD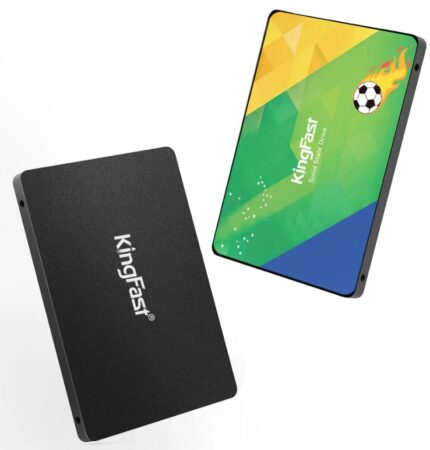 Specs: Size: 2.5″, Bus Type: SATA III, See all.
With 1400+ reviews and more than 10000 orders, the SSD by KingFast with SATA 3.0 interface is a reliable storage device for mainstream computers and business laptops. You can choose any storage capacity from 60GB to 2TB, with a base price of $30 per TB, which is a reasonable offer.
The SSD features a read speed of 550 Mb/s and a write speed of 500Mb/s confirmed by performance tests, a high level of compatibility with different PCs and operation systems, as well as effective heat dissipation technology.
Note that the manufacturer does not offer a warranty for its products, which is considered a significant drawback.
8.

Netac M2 SSD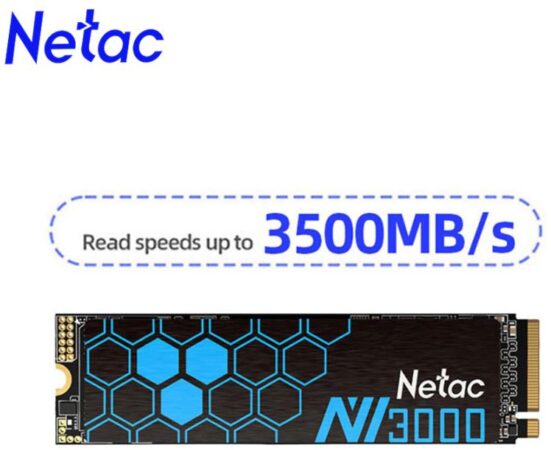 Specs: Size: M.2 2280, Bus Type: PCIe 3.0×4, Max Sequential Write: 2100, Max Sequential Read: 3500, See all.
There are not as many SSD options with M.2 PCIe interface on AliExpress when compared to SATA 3.0, but Netac drives are one of them. With an extraordinary read speed of 3500Mb/s, this storage device will significantly shorten the system booting and program loading times, thus improving your PC's performance.
The SSD's capacity can be adjusted: the manufacturer offers 250GB, 500GB, 1TB, and 2TB options, priced at $38 per TB.
Finally, one of the SSD's key features is the advanced heat dissipation technology based on graphene and aluminium properties – this combination ensures the 10°C cooling effect.
7.

ACOS SATA 3.0 SSD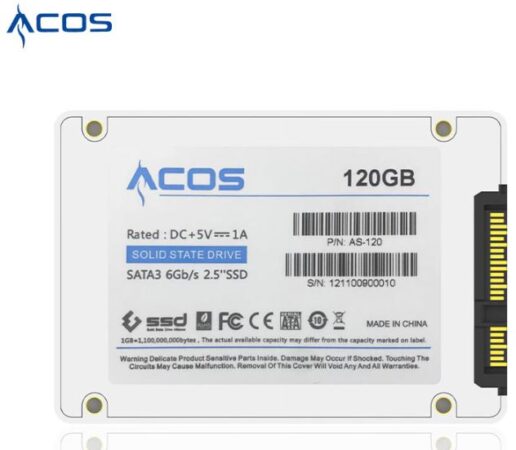 Specs: Size: 2.5″, Bus Type: SATA III, Max Sequential Write: 510, Max Sequential Read: 560, See all.
ACOS is a Chinese manufacturer focused solely on SSDs. If you're purchasing drives in bulk for a PC store, you can save money with wholesale options. For instance, you can buy 10 SSDs, each with a capacity of 240GB, for less than $82. However, there are numerous options for individual customers as well. You can purchase a single SSD with a SATA 3.0 interface and adjustable storage capacity ranging from 120GB to 2TB.
The drive is equipped with "an A+ chip" for increased processing times – you can expect 540Mb/s of data transmission, which will gradually improve system booting speed and loading operations.
While most reviews are positive, some customers have noted that the SSD "did not work," which is not something you'd expect given the price of $40 per TB.
6.

WALRAM SSD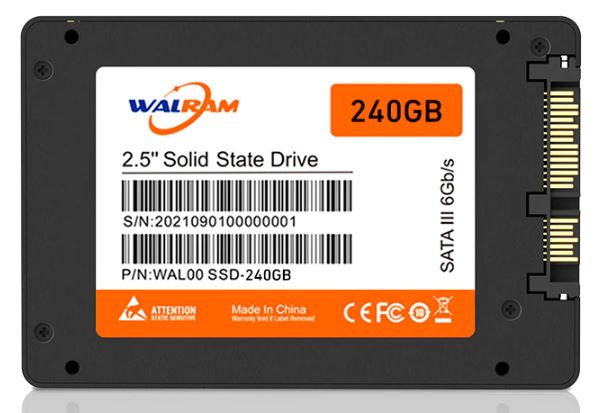 Specs: Size: 2.5″, Bus Type: SATA III, Max Sequential Write: 500, Max Sequential Read: 560, See all.
Walram Electronics specializes in the manufacturing of storage devices and hardware research to enhance its product performance. The brand has been present on AliExpress for the past two years and offers a $31 SATA 3.0 SSD with customizable storage capacity, suitable for most desktop computers and laptops.
Its main feature is extreme durability: the SSD's plastic case is shockproof, ensuring the drive can withstand physical impacts. Additionally, the SSD features 19V overvoltage protection.
Given its slim 7mm thickness, it can be easily installed alongside an HDD in a system. Furthermore, there are various storage capacity options available, ranging from 128GB to 2TB.
5.

MOVESPEED 7450MB/s SSD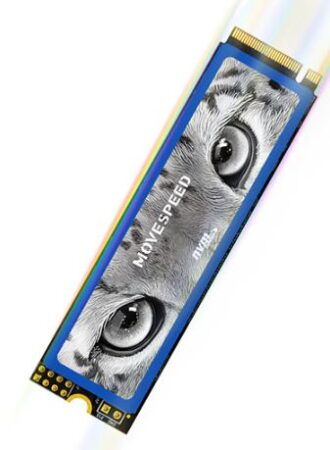 Specs: Size: M.2 2280, Bus Type: PCIe 4.0×4, Max Sequential Write: 6500, Max Sequential Read: 7450, See all.
MoveSpeed is a Chinese brand specializing in "charging technology and computer storage" – basically, all the essential hardware needed for your PC to run smoothly. In January 2023, the brand opened the official store on AliExpress, making its products available to customers around the globe.
Regarding drives, the brand's bestselling offer is the $57 PCIe4.0 SSD with a high processing speed of 7450MB/s. Equipped with the Maxio MAP1602 controller, it combines excellent performance efficiency with low power consumption, while 3D TLC NAND technology significantly increases read and write speeds.
Each SSD goes through 6 cycles of mandatory tests, but if you are still not convinced of the brand's reliability, MoveSpeed offers a 3-year warranty for any SSD you choose.
Just note that the storage capacity starts from 1TB, and there are no smaller options available.
4.

Lenovo SSD (E660 & ST600/800)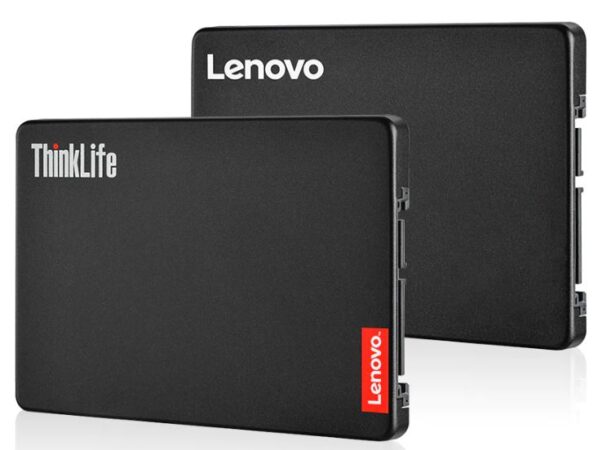 Specs: Size: 2.5″, Bus Type: SATA III, See all.
Lenovo is a globally recognized Chinese brand. If you're familiar with business computers, you've likely heard about Lenovo ThinkPad – a renowned line of laptops designed for corporate and office use.
This Lenovo SSD comes in two different options: global (E660) and Chinese (ST600 and ST800), but they have little difference except for storage capacity. Both devices are form factor 2.5-inch SATA 3.0 SSDs compatible with the majority of consumer laptops and motherboards.
You can choose a storage capacity ranging from 128GB to 2TB, and a 3-year warranty ensures ample time to utilize all that space. Moreover, many customers noted that this SSD significantly improves system booting and file transmission times.
3.

KingSpec 2.5 Inch SSD SATA 3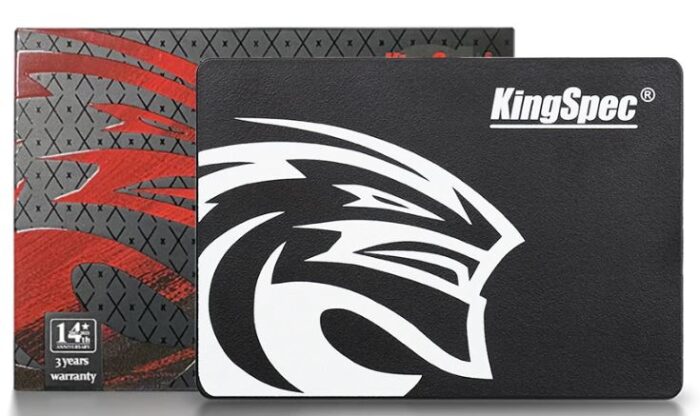 Specs: Size: 2.5″, Bus Type: SATA III, Max Sequential Write: 500, Max Sequential Read: 550, See all.
Based in Shenzhen, KingSpec positions itself as one of the leading global SSD manufacturers, offering affordable and innovative solutions for individual consumers and industries. Their SATA 3.0 SSD lives up to its reputation by delivering quicker response times, faster data processing, and a 6Gbps transfer interface ideal for gaming and office PCs.
This SSD is highly compatible and can be installed on most mainstream laptops, thus providing high processing speeds (especially when compared to HDD) and additional storage. The same applies to operating systems: the SSD supports Windows XP and later versions (although there's no information about Windows 11), DOS, and Linux.
There are many options when it comes to storage capacity: you can choose anything between 128GB and 4TB. Some customers conducted their own speed and performance tests, confirming that the SSD lives up to its expectations.
2.

XrayDisk SATA 3 SSD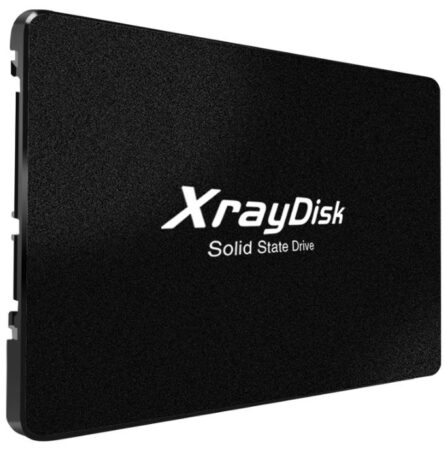 Specs: Size: 2.5″, Bus Type: SATA III, See all.
XrayDisk brand describes its bestselling SSD as a fast and reliable drive for gaming computers: according to the product description, with this drive the system booting will take only 11-13 seconds. And don't forget to add highly-compatible SATA 3.0 6Gbps interface to the list of advantages. Customers note that Adobe Creative Suite software, such as Photoshop and Illustrator, runs faster with this SSD. This demonstrates that the SSD is a high-performance storage device designed to load programs and save files as quickly as possible.
You can customize SSD's storage capacity from 60GB to 1TB (there is also a 2TB option, which doesn't seem to be available at the moment) to adjust the drive to your PC requirements. In addition, the low power consumption rate makes it a great choice in terms of energy efficiency.
Finally, the SSD is very compact (only 7 mm thick), so it will be easy to install even together with the 9 mm thick HDD.
1.

Goldenfir SSD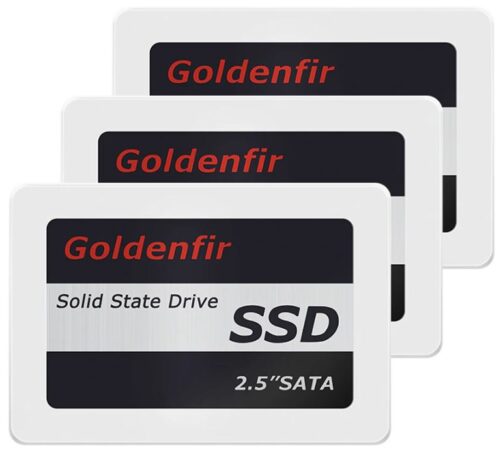 Specs: Size: 2.5″, Bus Type: SATA III, See all.
Market's absolute bestseller with more than 10k orders, this SSD is manufactured by one of the AliExpress Plus featured brands. Goldenfir is one of the largest Chinese factories supplying computer storage hardware, such as SSDs, RAM, and USB flash drives. Their competitive prices on AliExpress can be attributed to the fact that you're purchasing directly from the manufacturer, with no resellers involved.
This SATA 3.0 SSD is compatible with Windows, DOS, Linux and Unix operation systems, which makes it a versatile storage device for laptops, gaming PCs and office computers. The SSD's capacity can be customized, offering options ranging from 120GB to 960GB.
It's important to note that the factory provides a 3-year warranty, in addition to mandatory tests conducted on each SSD before shipping. This offers an additional bonus in terms of product reliability.
Which SSD is best on AliExpress
As you can see, there are numerous SSD options available on AliExpress. Therefore, it's often easier to make your decision based on the brand rather than the device specifications – particularly since they remain consistent across different stores. Considering this, we have combined the brand's reliability and approach to SSD testing with technical specifications to identify the top 3 SSDs on the market:
Goldenfir takes pride in being one of the leading Chinese drive suppliers, and its SSD with a SATA 3.0 interface stands out as the top offer on the market in terms of price and performance ratio. It is highly compatible with laptops/desktop PCs and will cost you less than $8 (for 120GB) – upgrading your hardware has never been more affordable.
If you are a graphic designer seeking to enhance the loading times of demanding software, the XrayDisk SATA 3.0 SSD is worth considering – a compact drive boasting impressive read and write speeds. Additionally, its low power consumption rate provides an additional advantage.
Finally, the KingSpec SSD SATA 3.0 is a versatile option suitable for gaming and business PCs. The manufacturer makes sure that each SSD goes through several performance tests to deliver the most reliable storage device for your computer.