A dashboard camera, or simply a dashcam, is a small in-car video device which records everything happening on the road when you drive. A dashcam not only helps to capture the greatest moments of your trip but also serves as safety insurance against accidents and misunderstandings. For example, if your vehicle got hit by another car in a parking lot, and the driver won't take responsibility, you simply show them the footage as proof. AliExpress features many affordable dashcams to assist you on the road: in this article, we will share a list of the Best Chinese Dashcams on AliExpress with some useful tips on how to choose the right device.
How to Choose the Right Dash Cam for Your Needs?
Road accidents can happen to everyone: when something goes wrong or the police pull you over for a mistake you didn't make, it is always good to have solid proof of your innocence. Chinese dashcam can provide you with that and many more: while associated with safety recording devices, it is also a great gadget to capture your favorite road trip moments to view them later. Before moving on to the best models, we have a few tips for drivers on how to choose the right dashcam for your needs.
Identify Your Needs. Do you need a car camera to record only what is happening on the road, or cabin recording is also important? Are you buying a device to record accidents or capture memorable road-trip moments? Or do you need everything at once? Identifying your needs is the first step to choosing the right dashcam: by keeping a list of needed features in mind, you'll avoid overpaying for unnecessary options.
Choose the Number of Cameras. One camera is enough for external recording only, but if you want to keep an eye on what is going on inside the cabin, then you might need a set of two or three cameras. AliExpress offers single and dual-dash camera systems to simultaneously track your car's external and internal environment.
Image Quality is Important. Imagine that your dashcam recorded an accident, but because of the poor video quality, you couldn't make out the license plate of the driver responsible who is responsible for the mistake. Sounds bad, right? It would be even worse when you take the footage to the police or your insurance company. To avoid that, make sure that you are choosing a camera with good image quality and resolution. A device supporting HD 1080p resolution is a decent choice for an external camera, and such options as night vision will make it even better.
Storage Size. You'll need to store your video recording somewhere. The storage size should depend on what you are buying the dashcam for. If you want to simply record the road accidents and don't want to keep the old videos, then anything between 16-32 GB is sufficient – no need to overpay for extra space you won't use. However, for road trips, you need bigger storage and a longer backup. Some Chinese manufacturers even offer cloud storage services, where you can save important accidents and video memories from trips.
Additional features. There are many ways in which a dash cam can be handy for drivers. For example, some devices have a parking mode and emergency alert to keep your vehicle safe and sound while you are away. Other useful features include GPS tracking and even contacting emergency services.
Top 10 Dash Cams on AliExpress
10.

Gmaioxo Dash Cam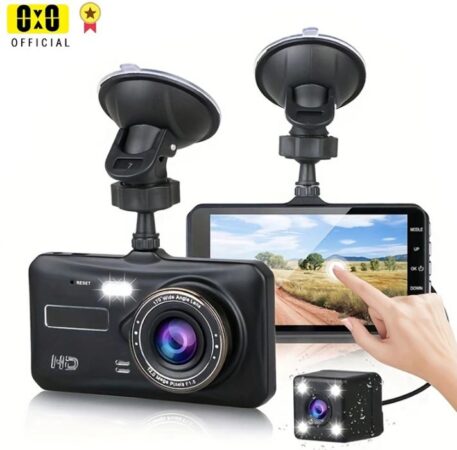 Specs: Display Size: 3″-5″, Pixels: 200Mega, Camera Resolution: 1920×1080, View angle: 150-160, Frames Per Second: 30, Max External Memory: 64G, See all.
Let's kick off our list with something affordable and basic. This $26-27 dual-dashcam by Gmaioxo – a Chinese-based manufacturer of recording equipment for vehicles – is a well-balanced choice for recording road and parking accidents.
With front 1080P and rear 720P cameras, you'll always have access to detailed footage to file your insurance claims. What we also liked about this model is the super night vision support thanks to the upgraded WDR technology: your videos will be significantly clearer even when recorded during nighttime.
Add G-Sensor and loop recording features to the list of this dash cam's advantages, and you'll get a comprehensive security system for your vehicle. As for the customer reviews on AliExpress, they are mostly positive: small issues include the difficult installation process.
9.

AZDOME M550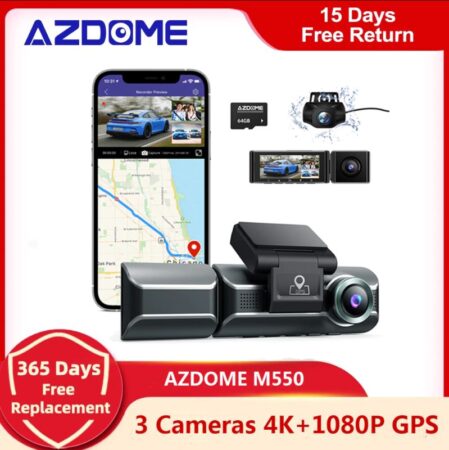 Specs: Display Size: 3.19 inch, Pixels: 800Mega, Camera Resolution: 3840×2160, View angle: 150, Frames Per Second: 30, Max External Memory: 256G, See all.
This is the first, but not the last time we will be featuring AZDOME dash cams in our article: it is a product of one of the most well-known Chinese brands specializing in car cameras and useful vehicle accessories. While quite expensive (almost $120), the M550 dash cam is a 3-channel monitoring system, which allows you to keep an eye not only on the road but on the car cabin as well.
Capable of recording in 4K UHD quality, it is not just a simple device to record road accidents. On the contrary, the camera looks like it was designed to capture road trip moments in surprising detail – all thanks to the improved Novatek NT96670 processor and the Sony IMX307 image sensor. With such a powerful camera you'll be able to record clear videos even in the dark.
Another useful feature is the 24-hour parking monitoring: once the camera's G-sensor is triggered by a physical impact (when someone hits your car, for example), it will automatically record a 1-minute video, and then save it.
8.

Podofo 9.3″ Dash Cam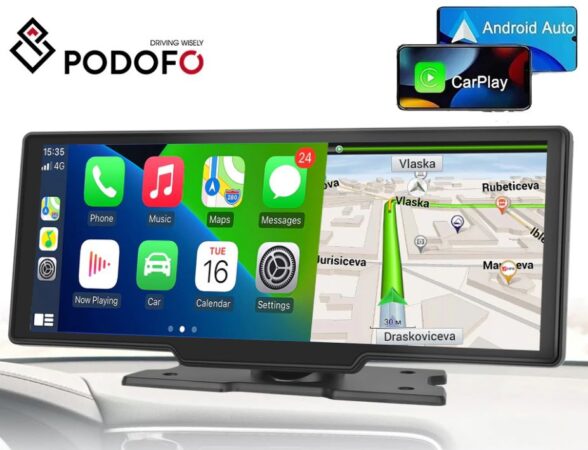 Specs: Camera Resolution: 1280×720, View angle: 150°-160°, Frames Per Second: 30, Max External Memory: 32G, See all.
A dashboard camera by Podofo comes on AliExpress in two different options – with a 9.3″ and 10.26″ display. Make sure to choose the 9.3″ model, since the one with the bigger display is not equipped with cameras and acts as an on-board computer, which was the cause of some of the negative reviews by customers.
As for the camera's performance, it supports Dual Bluetooth Functions so you can access your smartphone device wirelessly and listen to music while on the road. The gadget was initially designed as a rearview 1080P backup camera, but you can connect it to the front camera and use it as an all-around dual-safety system.
The customers note that the dash cam is easy to install and has many useful options – such as the carplay feature, which "works amazingly". However, it seems like the device was designed as a carplay system rather than a dashboard camera.
7.

Etymoofox Mirror 1080P Car DVR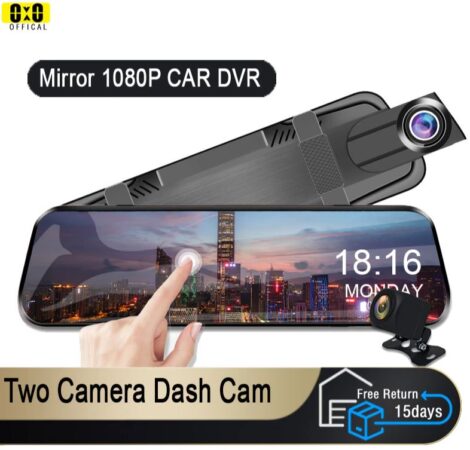 Specs: Display Size: 9.88, Pixels: 200Mega, Camera Resolution: 1920×1080, View angle: 170°, Frames Per Second: 30, Max External Memory: 128G, See all.
What makes this Etymoofox dash cam unique is its shape: designed like a rearview mirror, it can be installed in your car to provide a better view of your surroundings.
The mirror is, in fact, a 10.0" IPS display with an integrated front camera, capable of recording and transmitting 1080P footage in fantastic quality. The screen has other useful options as well: for example, you may check the time, enable the voice assistant or get access to additional features, such as photo and video playback.
Together with a front camera, you'll get a rear 1080P camera to monitor the movement behind your vehicle.
There is an important note: the dash cam is compatible with cars that have a 12V power supply, and a 24V power supply will burn the device, so make sure that your vehicle is equipped with the correct power plug.
6.

AZDOME M300S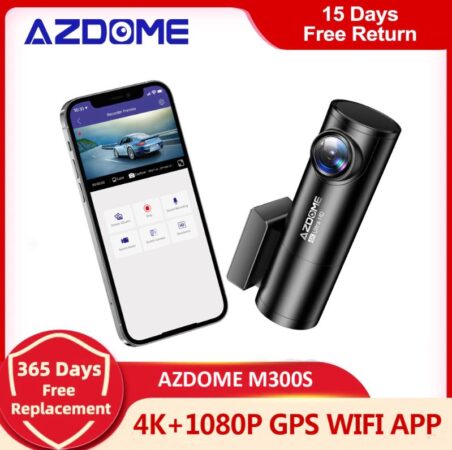 Specs: Display Size: No, Pixels: 800Mega, Camera Resolution: 3840×2160, View angle: 150, Frames Per Second: 30, Max External Memory: 512G, See all.
AZDOME is a Chinese brand offering on AliExpress expensive, but high-quality dash cams – you can expect to pay around $60-100 for a basic gadget. Despite high prices, the brand managed to win a lot of customers by offering free TF cards.
In the case of the dual-dash cam M300S, it comes with a 64GB TF card, which will provide you with 3-6 hours of video backup. One of the camera's most impressive features is the UHD 4K image quality supported by the front camera (for the rear camera it is 1080P). With such capacity, you'll be able to record cinematic-like road videos.
An in-built GPS tracker will allow you to restore your route or send information to emergency services. In addition, the camera can be synchronized with your smartphone via Wi-Fi and Azdome App – this way you'll be able to share videos on different social media platforms.
5.

KOCAM 3 Lens Dash Cam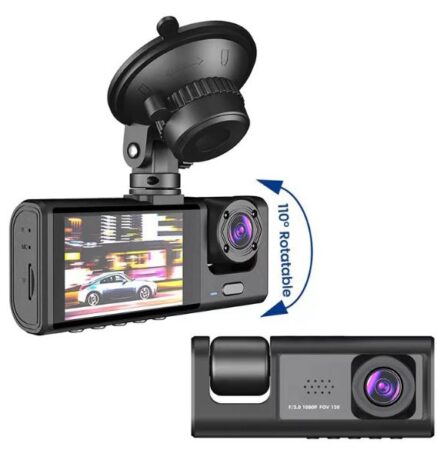 Specs: Display Size: <3″, Pixels: 300Mega, Camera Resolution: 1920×1080, View angle: 170°, Frames Per Second: 30, Max External Memory: 64G, See all.
This dash cam is the ultimate solution for those who want to record external and internal car environments. Three cameras are designed to video capture the road from a front/rear perspective, as well as track what is going on inside the car's cabin. Drivers with kids will find this setup especially useful since you can concentrate on the road and keep an eye on your small passengers.
The camera supports 1080P HD image quality – just enough to make out the road signs and license plates when rewatching the recorded footage. In addition, the rear camera comes with a useful parking mode for safe guidance (even if you are planning to parallel park).
With a loop recording and G-sensor features, the dash cam will automatically overwrite the old videos, but save the important footage, such as parking monitoring.
4.

OBDPEAK 10.26″ Dash Cam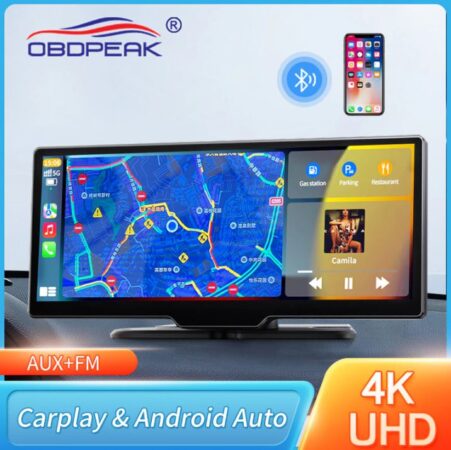 Specs: Display Size: 10.26 inch, Pixels: 1200Mega, Camera Resolution: 3840×2160, View angle: 170, Frames Per Second: 30, Max External Memory: 128G, See all.
As a Chinese-based brand, OBDPEAK has a small, but reliable selection of dashboard cameras and accessories for your vehicles. Just note that their gadgets are more expensive when compared to other models on AliExpress: the bestselling 10.26″ Dash Cam stands for $85-86, but it is worth every cent.
The camera comes with additional useful accessories, and you have the option to purchase only what you need. The list includes a 64/128GB SD card, GPS tracker and a rear camera, while the basic package includes only the front dash cam and a charger.
Offering an impressive 4K 2160P image quality, this camera is a great choice for those who want to capture road-trip moments in exquisite detail. In addition, you can enable useful Carplay and Android Auto functions by connecting via Wi-Fi – this will allow you to make calls and listen to music.
3.

70mai Dash Cam Pro Plus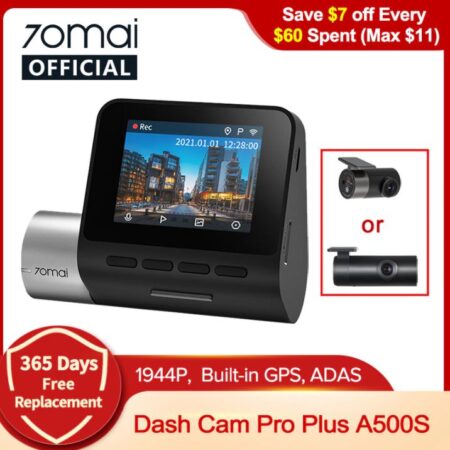 Specs: Display Size: <3″, Pixels: 500Mega, Camera Resolution: 2592×1944, View angle: 140°, Frames Per Second: 30, Max External Memory: 64G, See all.
70mai is a Chinese brand specializing in dashboard cameras – their gadgets are distinguished by outstanding image quality, many useful functions and great service support. The 70mai Dash Cam Pro Plus comes packed with all these features and more, which justifies its higher price range of $81-82.
If, however, the budget is not an issue, you are up to buying the dash cam with a stunning 1944P HD image quality and 5MP SONY IMX335 image sensor – probably the best you can find on AliExpress. The 70mai Dash Cam Pro Plus excels at capturing clear and detailed footage, including license plates, road signs, and even the finest road details. You can also enable GPS tracking, which is critical for roadside assistance.
The dash camera can be synchronized with a rear camera from 70mai, providing your car with protection from all sides. And with night-vision support, your vehicle is 24/7 safe.
2.

KPY Car Camera HD 1080P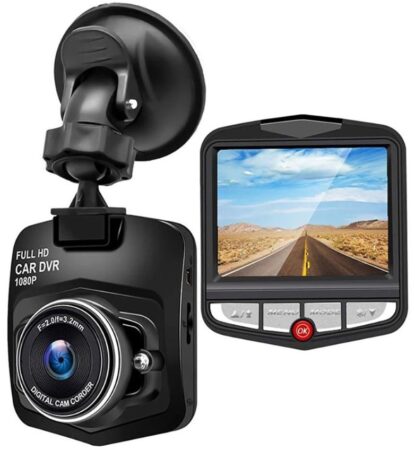 Specs: Frames Per Second: 25, See all.
This dash cam might not be manufactured by a famous Chinese brand, but it is still one of AliExpress' most popular offers: with a low price of $10-11, it was ordered more than 5,000 times. Reviewed by customers as "small, but reliable", this car camera has many useful features to assist you on the road.
With a Full HD 1080p resolution, you'll be able to capture all the necessary details, license plates included. Videos are recorded in AVI format, and you have the option to enable loop recording to overwrite old footage – this way you'll manage memory storage more effectively.
The seller offers 16/32GB SD options, you can also buy a dashcam without it to save more money. While reviews are positive in general, some customers noted that the camera doesn't have a night vision option as indicated in the product's description.
1.

KAWA 2 Lens Car Video Recorder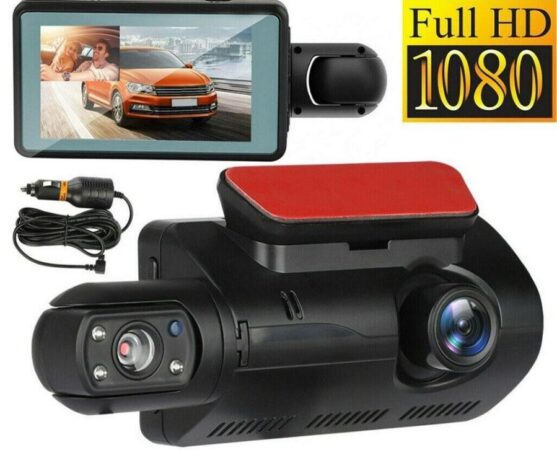 Specs: Display Size: 3″-5″, Pixels: 1200Mega, Camera Resolution: 1280×720, View angle: 170 °, Frames Per Second: 30, See all.
The dual-dash cam by KAWA is your best friend when it comes to the safety of your car while on the road or in the parking lot. This sentiment is shared by 5000+ customers worldwide and further proved by more than 2,500 positive reviews, which makes this dash cam one of the bestselling Chinese models on AliExpress.
With a loop recording option, you will never run out of storage space: the camera will simply overwrite the old recordings, except parking monitoring and motion detection footage. Note that you still need to buy an SD card. For an additional price, the seller offers a 32GB option, but we are not sure if the camera supports cards with a bigger storage size.
If your vehicle is hit by someone while in the parking lot, the G-sensor will automatically start recording, so you'll have no trouble finding those who are responsible. And the Sony IMX323 1/2 image sensor with ultra-night vision will allow you to do this even at nighttime.
What's the best Dash Cam on AliExpress
To ensure the safety of your car not only on the road but in the parking lot as well, we recommend KAWA 2 Lens Car Video Recorder – a dash cam with a Sony IMX323 image sensor for clear recording even during nighttime. Motion detectors and G-sensor act as extra safety measures against car thieves and irresponsible drivers, so your vehicle can enjoy ultimate protection.
For those on a limited budget, KPY Car Camera with an HD 1080P image quality is the cheapest offer on AliExpress, which also provides all the necessary features of a reliable dashboard camera.
On the other hand, if you are willing to pay more for the quality, then 70mai Dash Cam Pro Plus with a 1944P HD image quality is the best gadget for your vehicle. Equipped with useful GPS tracking and emergency alert features, you'll always have access to safety measures.