The soldering process is essential in electrical engineering and repair works, and one needs good and reliable tools to connect two components using solder. For this task, a soldering iron is an important instrument in an electrician's arsenal, while soldering stations provide more flexibility with additional accessories and settings. Chinese manufacturers offer a great variety of soldering tools for any purpose, so make sure to check our list of the Best Chinese Soldering Irons and Stations on AliExpress.
How to Choose a Soldering Iron/Station?
Soldering itself is a process of connecting two metal pieces using solder – a special fusible alloy which melts once heated to 180-190°C and cools down in a room temperature, thus creating a permanent joint. This is why the soldering iron/station is essential for electricians, as it is a convenient tool to heat the solder and use it to repair electronics, create circuit boards or join two components.
When choosing a soldering iron or a station, the first thing you should consider is the wattage rating, as it identifies how long will it take for your tool to heat up. Anything between 20 to 60 watts is a good choice for domestic/professional use.
Temperature adjustment is a valuable function, which is not always available when it comes to soldering irons. However, soldering stations have this feature.
Finally, check if a soldering iron comes with replaceable tips – usually, there are various sizes for different projects, which will make it much easier to operate the tool.
Top 10 Soldering Irons and Stations on AliExpress
10.

GVDA New Soldering Station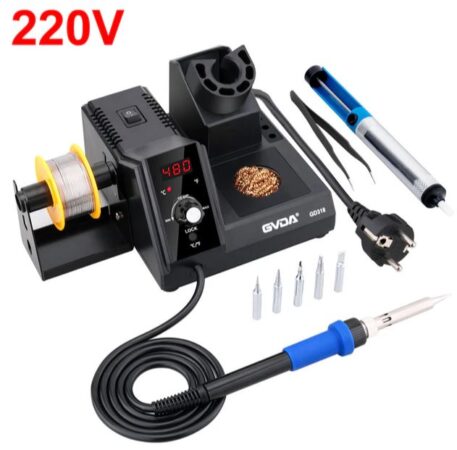 Specs: See all.
Let's start our rating with a basic soldering station suitable for professional and domestic use – a user-friendly GVDA New Soldering Station with a rapid heating system. The control station is equipped with everything you need for maintenance: there is a solder wire coil, tips and solder stand, as well as soldering iron tip cleaner.
Moving to the specifications: with a power rating of 80W, the temperature can be adjusted from 80°C to 480°C, which makes the soldering pencil very versatile.
In addition to that, the control station features Auto Standby and Auto Sleep safety modes to prevent the dissolution of the iron tip coating.
9.

DELIXI 60W Electric Soldering Iron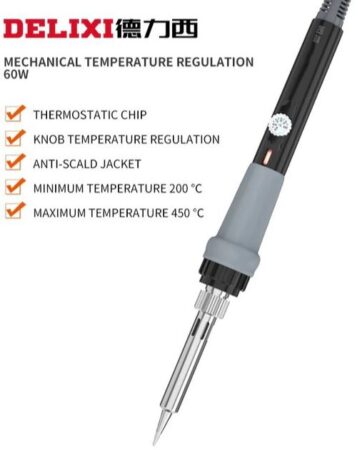 Specs: See all.
For a small and portable repair tool, consider a soldering pencil by DELIXI with a ceramic heating core. Equipped with an intelligent temperature maintenance system and a thermostatic chip, it is fast to heat up: you can adjust the temperature from 200°C to 450°C using a small control knob placed on an iron's handle.
You can also easily replace the iron's tips: while they are not included in the package, you can compatible options in any welding store on AliExpress.
The tool received 1,500+ reviews: customers note that the device is an "excellent soldering iron", and even if you buy tips from other stores, they are going to fit the pencil perfectly.
8.

SUGON-A9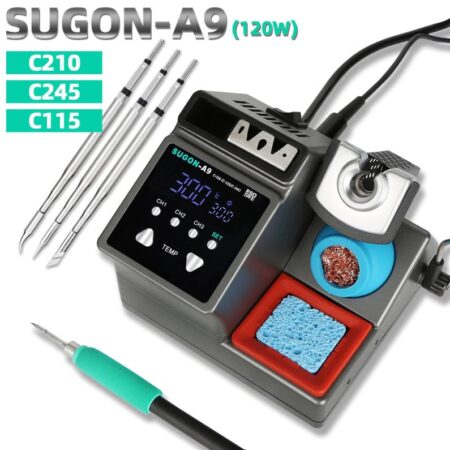 Specs: See all.
According to the product's description, the SUGON-A9 belongs to the "new generation of soldering stations". With a power rating of 120W and enhanced control features, it appears to be true: this tool is a perfect choice for professional electricians and engineers, as it is suitable for processing the smallest ultra-fine circuits.
The station features a smart display, tips stand, cleaning sponge, tip cleaner and control buttons: you can adjust the temperature, set up the short circuit protection and convert Celsius degrees to Fahrenheit.
As for the cons, they are quite obvious: with a price of $126, it is one of the most expensive soldering stations on AliExpress.
7.

Silverflo 8586d-II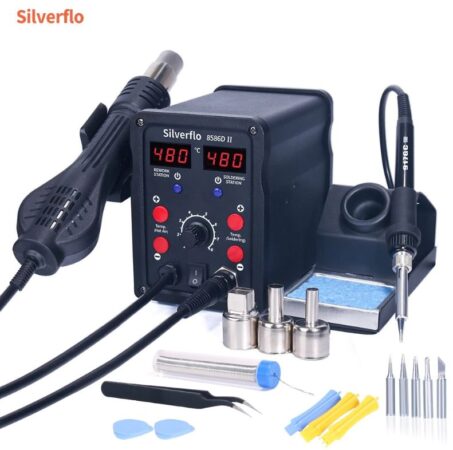 Specs: Rated power: 750W, Voltage: 120V; 220V-240V, See all.
Silverflo is a well-known Chinese brand of affordable welding tools, so it is not surprising to see their soldering station featured in our rating. The 8586d-II is a "2-in-1" soldering system, featuring soldering iron and a hot air gun –everything an electrician might need for repair projects.
The temperature can be adjusted for a soldering pencil (from 200°C to 480°C) and a hot air gun (from 100°C to 480°C). For improved performance, the control station uses a Digital Temperature Calibration system, which increases heating efficiency and protects the heating element from overheating.
It is not the only smart feature of the device. The control station is capable of detecting its operation status: if no movement of a soldering iron is detected for 10 minutes, it will automatically switch to sleep mode.
6.

Digitaling Store Cordless Soldering Iron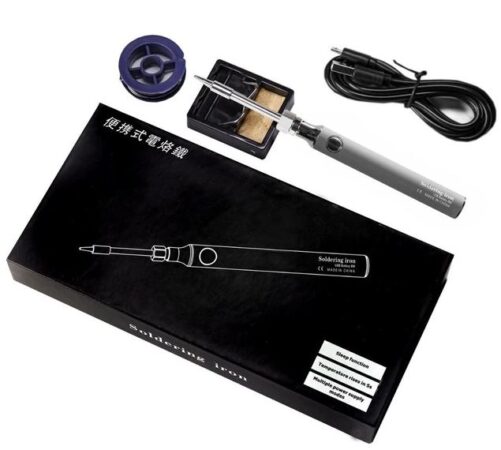 Specs: See all.
If you have never used a soldering pencil before and would like to test something beginner-friendly before buying a more expensive tool, try this cordless soldering iron. Even though it has a low wattage rating of 8-10W, it is quite quick to heat up and can maintain a stable temperature: it takes only 15 seconds to melt solder.
There is even a temperature adjustment feature: using a control button, the iron's heating mode can be set up for 300°C, 380°C or 460°C, which is the highest setting.
Once fully charged, the pencil can work for 30 minutes. The manufacturer even considered a safety system: if the soldering iron is turned on, but not operated for 10 minutes, it will automatically turn off.
5.

Digitaling Store Electric Soldering Iron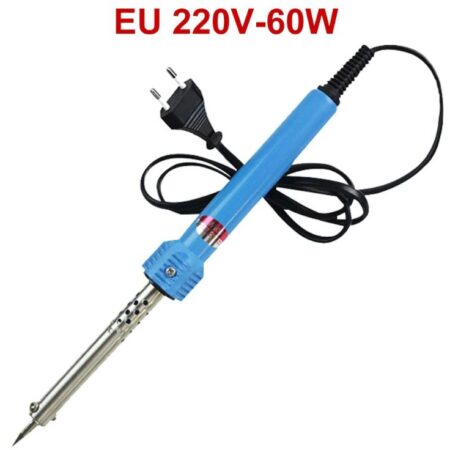 Specs: See all.
This soldering iron is part of what we call "Chinese unbranded electronics" – the cheapest type of gadgets, which, however, are not inferior to branded products. For a price of $6, it is a great tool to be added to your repair arsenal – this is proved by 10,000+ orders placed on AliExpress.
With a wattage rating of 60W, it is fast to heat up. Like with many pencil models, you don't get the temperature adjustment feature, so all you need to do is to wait for the tip to heat up and you can start working. The soldering iron uses a 90 cm power cable, so it will be fairly easy for you to connect it to the nearest power socket.
Many customers noted that they didn't expect much of this cheap iron, but it turned out to be surprisingly effective for soldering works. In addition to that, you'll also get a fast delivery.
4.

JCD 2 in 1 750W Soldering Station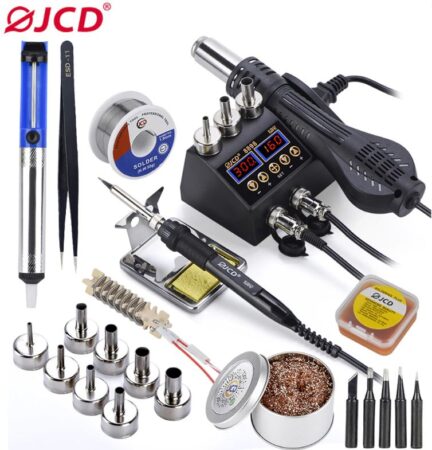 Specs: See all.
JSD is a Chinese brand specializing in a wide range of welding tools, including soldering irons, stations and accessories. Their 750W Soldering Station with the automatic cooling function is the store's bestseller, with a high rating of 4.9 based on 400+ customer reviews.
This station offers both a soldering pencil and a hot air gun for welding and repair work. With digital LCD dual displays and control buttons, it is easy to adjust the temperature (180°C-500°C for soldering iron and 100°C-500°C for a hot air gun). Featuring an output power of 80W, the soldering iron is fast to heat up.
Customers note that the station is not noisy and suitable for cell phone repair works, circuit boards and component soldering. Just note that with a price of $47-48, it is more expensive when compared to other soldering stations available on AliExpress.
3.

SumSour 8898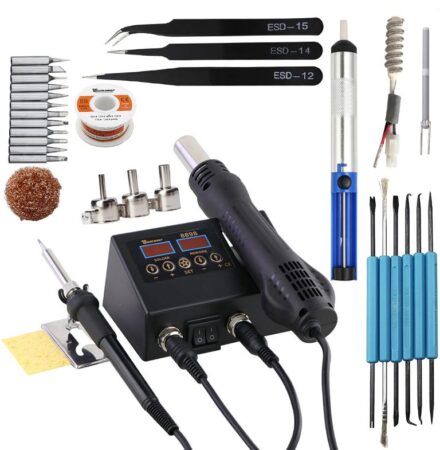 Specs: See all.
SumSour's 8898 soldering station is the ultimate tool for repair works and electrical projects, as it comes with a hot air gun and enhanced control features for better temperature adjustment.
Using a control station, you can easily adjust the iron's temperature (from 180°C to 500°C, with temperature stability around 1°C), as well as the airflow's temperature (from 100°C to 480°C). Such temperature stability was achieved by PID technology.
The station was designed with durability in mind: in addition to high-quality materials, it has an automatic cooling function to protect the internal heater piece.
Customers note that the station comes well-packed and "works perfectly". Low price is also considered an advantage, as the whole set is available for $36-37.
2.

5V USB Soldering Iron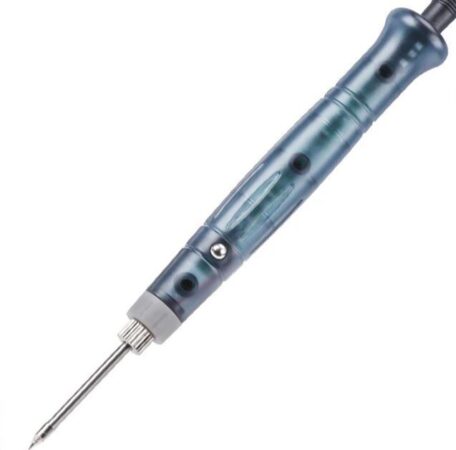 Specs: See all.
Lengthy power cables can be frustrating, and you might not always have a power socket nearby to connect your soldering iron. For such scenarios, a USB soldering power is a perfect choice: you can charge it with a power bank and use it as a portable soldering pencil to create new circuit boards or work on small SMD projects.
To heat the pencil, press and hold the power button for 2 seconds – just note that it might take some time since it has a low wattage rating of 8W. The soldering iron is equipped with a smart auto-shutdown system: if not used for 15 seconds, it will switch to sleeping mode.
For a price of $6, it is a great beginner-friendly tool for soldering crafts: this is further confirmed by 10,000+ orders and more than 9,000 reviews. However, we would advise professional electricians and engineers to look for something with a higher power wattage.
1.

SumSour Soldering Iron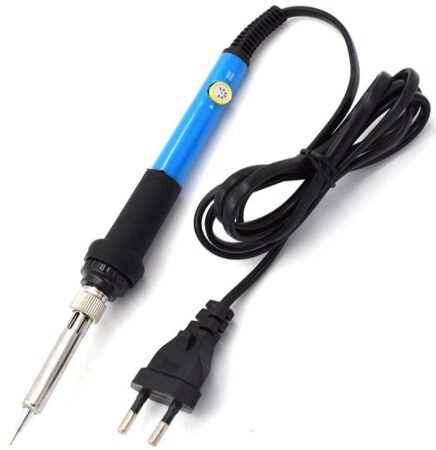 Specs: See all.
With more than 100,000 orders and 50,000 customer reviews, this $4 soldering iron is the bestselling model available on AliExpress. Equipped with an internal ceramic heater and a 60-80 wattage rating, it takes only 55 seconds to preheat, while also maintaining the temperature in the range of 200-450°C.
Unlike other soldering pencils, this one features a temperature adjustment option – just use a small knob on the handle to set up a heat desired regime. The tool uses a 1.2 m power cord with a US/EU plug. As a result, this soldering pencil can be used for a variety of projects: from repair works to handicrafts.
Most of the reviews are positive: customers note that the soldering iron is fast to heat up and, in general, "works well". The only thing customers were not satisfied with is the long delivery.
What are the best Chinese Soldering Stations/Irons
Best Soldering Iron from AliExpress. SumSour Soldering Iron with temperature adjustment is a versatile tool applicable for any scenario: you can easily solder electric components or use it for your craft projects. It is also cheap, which makes it one of the best offers on AliExpress in terms of price and performance ratio.
Best Soldering Iron for DIY Crafts. For a beginner-friendly instrument, consider 5V USB Soldering Iron – a USB-charged wireless pencil with an automatic shutdown function. It is safe and easy to use, which makes it a good choice as the first-ever soldering tool in your kit.
Best Chinese Soldering Station. SumSour stands out once again since their 8898 Soldering Station offers an ultimate toolkit for welding and soldering works. With precise control options and additional accessories included in the package, it is a great addition to an electrician's instrument arsenal.