A webcam is a type of camera which can be connected to a PC or a laptop for video transmission. While the majority of laptops are already equipped with a built-in camera, the quality of built-in cameras is usually inferior to external webcams, which provide better picture and color reproduction quality, making them suitable even for professional streaming. In this rating, we will review the top 10 best Chinese webcams which you can find on Aliexpress.
How to Choose the best Webcam?
When buying a webcam, there are a few things you should consider. First, identify what are you going to use it for: to attend online courses and working meetings, to stream or record vlogs. For work purposes, a resolution between 720P and 1080P is sufficient, while professional streaming and video conferencing require a camera with at least 2K-4K resolution.
Additional image-enhancing features, such as brightness adjustment and color correction, should also be taken into consideration.
Finally, check if the webcam is equipped with an in-built microphone (preferably with noise cancellation) and a tripod mounting hole: these extra design features may not be as important but still can affect the overall device usability.
Top 10 Chinese Webcams on Aliexpress
10.

TISHRIC T200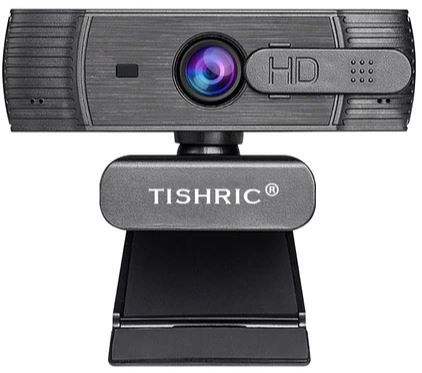 Specs: Pixels: 2 Mega, Max. Resolution: 1920×1080, Image Sensor: CCD, Certification: CE, See all.
We are starting our rating with a small and simple T200 webcam, a product of the budget-friendly Chinese brand, TISHRIC.
For around $30-40 you'll get a 1080P webcam with an in-built mic, which is a decent choice for e-learning and teaching, as well as for joining video conferences with your colleagues.
Additionally, it has an auto-focus feature to adjust the focal lens and keep the picture quality vivid and sharp.
Customers are mostly happy with the 2.1mpx module and easy software-free installation, but the webcam is still not the best choice for professional streaming.
9.

QUEED Webcam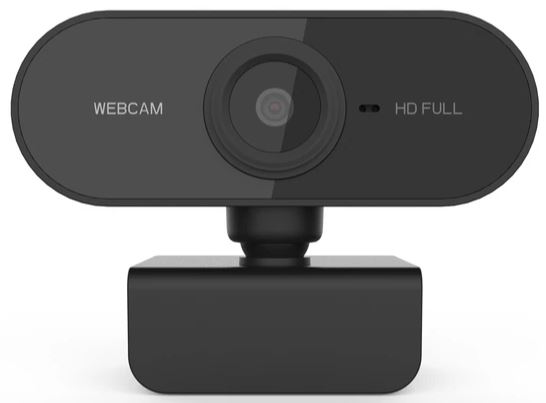 Specs: Pixels: 2 Mega, Max. Resolution: 1920×1080, Image Sensor: CMOS, Certification: NONE, See all.
Many customers described this webcam as a "perfect choice for school lessons". Due to its limited transmission quality, it is not the best solution for streamers, but this is expected for a price of less than $15.
And indeed – a 1080P webcam by QUEED with autofocus and brightness adjustment support is a basic device for e-learnings and video conferences, that don't require much in terms of resolution.
Installation is driver-free – just plug the webcam's USB and you are good to go and launch your first video conference. In addition, a built-in microphone and 360° rotation base will help you create a perfect setup for work or classes.
There are no major complaints by customers, but just remember that this webcam is a bad choice for professional streaming.
8.

TrustDii Taida Webcam
Specs: Pixels: 8 Mega, Max. Resolution: 3840×2160, Image Sensor: CMOS, Certification: FCC, See all.
There are two configurations of Taida webcam available – 2K and 4K, each equipped with an auto-focus. With a high-definition of video transmission, this webcam is perfect for conferencing, online teaching and even live streaming.
A drive-free installation and compatibility with iOS, Windows and Linux systems make it a good choice for those who are planning to use this webcam with multiple devices with USB interface support.
But its most unique design feature is a touch-activated light, which can significantly improve the quality of video and brightness levels in rooms with bad lighting.
The webcam is small and, once installed, can be rotated up to 360° for a better viewing angle. The customers highly appreciate the auto zoom feature and the lens quality, while minor complaints include the poor quality of audio transmission (the camera is equipped with an in-built mic).
7.

Emeet C970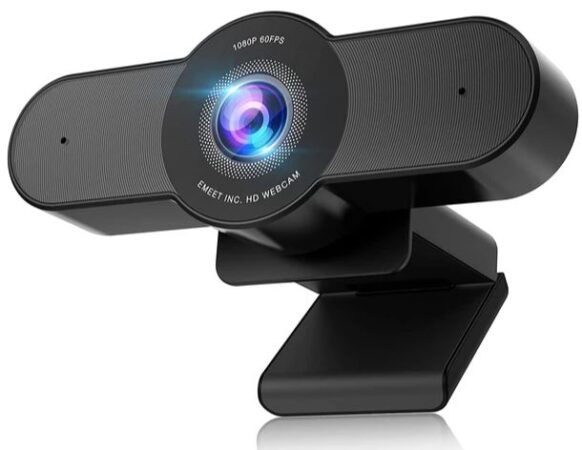 Specs: Pixels: 2 Mega, Max. Resolution: 1920×1080, Certification: WEEE, See all.
For $30, Emeet C970 webcam is a balanced choice both for team meetings and professional streaming, as it supports 1080P/60 fps resolution in major conferencing apps. A high fps rate also ensures that your videos are smooth and vivid, while the automatic light adjustment technology will set the right level of brightness – your colleagues and viewers will certainly be impressed.
The C970 is also provided with 24 months warranty – not something you would expect from a device bought on Aliexpress.
Additionally, you can purchase a tripod to place the webcam on your desk, which is better for game streaming.
If your PC is not equipped with a microphone, then you can use in-built noise reduction mics installed in the webcam for improved audio transmission.
Some minor customer complaints include occasional camera flickering and freezing, which depends on the OC used.
6.

Logitech C270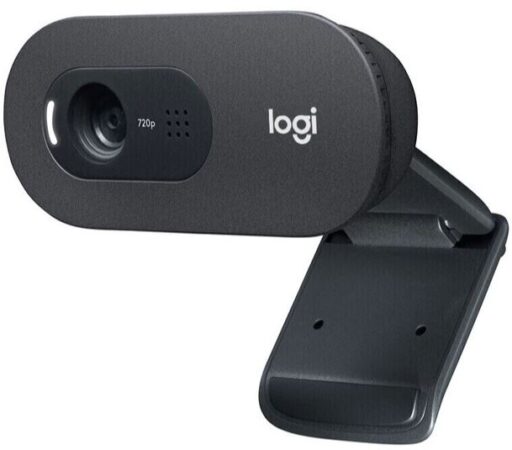 Specs: Max. Resolution: 1024×768, Image Sensor: CMOS, Certification: NONE, See all.
Logitech is globally famous for its affordable mini webcams designed for virtual team meetings or online studying. And while the C270 webcam with a 720P video resolution might not be the best choice for professional streaming, it remains one the most trusted devices on Aliexpress.
The webcam uses a unique clip to attach to a laptop, allowing for careful balancing and adjustment of the viewing angle.
While the base resolution is 720P/30 fps, it can be enhanced up to 1080P if you are using the latest version of Skype for Windows (no information on apps for iOS, however). This once again proves that the webcam performs its best when used for working team meetings in mainstream conferencing apps.
As for the main drawback, it is fairly obvious – this webcam is not the best choice for professional streaming on Twitch or similar platforms.
Read also:
5.

Clodrain Mini Webcam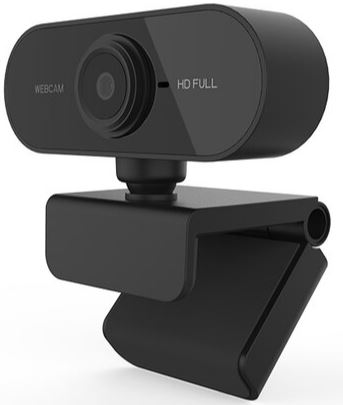 Specs: Pixels: 2 Mega, Max. Resolution: 1920×1080, Image Sensor: CMOS, Certification: CE, See all.
Not everyone needs a big HQ webcam – sometimes a small device is sufficient for casual video conferencing with your colleagues or friends. In this case, a mini webcam by Clodrain is exactly what you need: costing less than $10 due to a permanent discount, it is one the cheapest offers on Aliexpress.
With a driver-free installation, you can use it immediately after unboxing. A full HD 1080P resolution ensures that you'll get a clear and bright picture in any video conferencing app, such as Zoom or Microsoft Teams.
To our surprise, this mini cam has an in-built microphone with noise cancellation technology support: your colleagues and friends will be able to hear you even if you are connected from a public space.
Keep in mind that this webcam's limited video quality may not be the best choice for live streaming.
4.

Spedal MF934H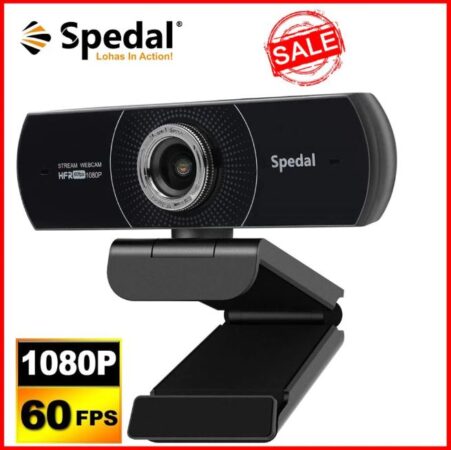 Specs: Pixels: 2 Mega, Max. Resolution: 1920×1080, Image Sensor: CMOS, Certification: RoHS, See all.
The MF934H webcam by Spedal is a good choice for streaming and video conferencing – especially when the price is considered. The initial price of $90 has been reduced by 60% thanks to the store's permanent discount, so it is a perfect time to consider this model.
The MF934H offers you something that even the best Chinese webcams often overlook – the image filters via Spedal's trademark software for iOS and Windows. You can use them to adjust the brightness, saturation and overall color reproduction to your liking.
With a 1080P/60 fps resolution, you'll get a bright and vivid picture in any conferencing or streaming app. And thanks to the webcam's unique design it can be placed anywhere even without the tripod.
3.

FIFINE K420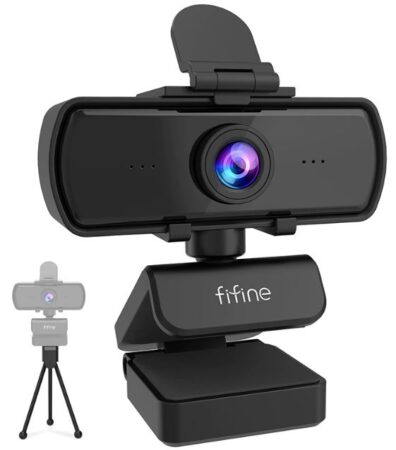 Specs: Pixels: 3 Mega, Max. Resolution: 2560×2048, Image Sensor: CMOS, Certification: CE, See all.
The K420 webcam by FIFINE is one of the best offers in terms of price-performance ratio: for less than $40 you get a 1440P video quality transmission, already favored and reviewed by 1000 customers worldwide.
The camera comes together with a tripod, so you can place it on your laptop or desk for more mobility. In addition to that, the camera itself can also be rotated up to 360° to adjust the viewing angle.
If you think that 1440P is not enough for professional video conferencing, then rest assured: the camera is equipped with 6 HD lenses and a 1/2.8" CMOS image sensor, which means that you'll get the best resolution and quality of color reproduction.
You don't need to install additional drivers to use the webcam – just plug the USB and go.
The camera has in-built microphones, but here is the thing: some customers complained that the noise cancellation technology doesn't work as well as promised, so consider this.
2.

EASYIDEA Webcam 4K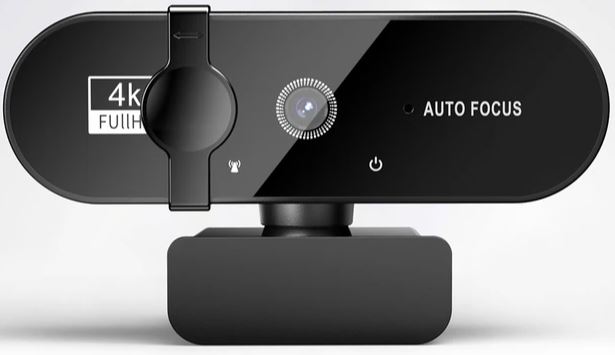 Specs: Pixels: 8 Mega, Max. Resolution: 2560×2048, Image Sensor: CMOS, Certification: CE, See all.
EASYIDEA offers three configurations of its famous webcam – with 4K, 2K and 1080P resolution. We will stick to the 4K option on this review, but it is safe to assume that with more than 3000 orders and almost 700 reviews, these cameras are trusted by customers.
For a reasonable price of $45-50, you'll get a camera with an improved high-resolution lens and color adjustment technology for enhanced video transmission. And the camera installation process is very simple – it is just "plug and play" since you don't need any drivers.
Once connected to the laptop, you can rotate it up to 360° to adjust the viewing angle. Additionally, you can use an in-built cover for privacy while web surfing.
All of the EASYIDEA webcams have a tripod mounting hole: while the tripod itself is not included, you can purchase it for an additional fee to give your camera more mobility in terms of positioning.
But if you are using a MacBook, then this webcam might not be the right choice for you: some customers noted that the device is only compatible with Windows PC.
1.

Anker PowerConf C200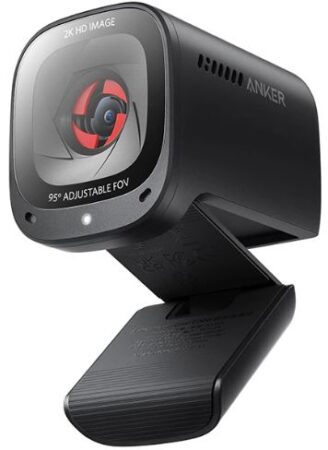 Specs: Pixels: 5 Mega, Max. Resolution: 1920×1080, Image Sensor: CMOS, Certification: RoHS, See all.
With a total of 5000+ orders and 900+ customer reviews, the PowerConf C200 webcam by Anker is indisputably the best device you can buy on Aliexpress.
C200 is designed for professional video conferencing, delivering a stunning 2K and distortion-free picture. To further improve the quality of the picture, the camera is equipped with automatic AWB, BSI sensors and f/2.0. To put it simply, the camera will adjust the brightness levels and make sure that the image will appear bright and color-balanced.
In addition, the device is equipped with dual stereo microphones with noise-cancellation technology, so your colleagues can hear you well and clearly. And if you want some privacy, use the built-in camera cover – that will save you from any awkward situations when you forgot to turn your camera off.
However, the price for such quality is high: with a base price of $80-90, it is advised to wait for discounts.
What's the best Chinese Webcam on Aliexpress
Webcam is essential for video conferencing and streaming. Among all of the devices offered by Chinese manufacturers, we tried to pick the best for meetings and online education.
Anker PowerConf C200 is, without a doubt, the best choice for video team building or meetings with your boss. A distortion-free camera with automatic brightness adjustment technology will impress your viewers with a 2K quality video transmission, even if you have to pay a little extra.
The EASYIDEA webcam is an affordable 4K solution for bloggers who are into live streaming their gaming sessions: combined with a tripod, it can be conveniently placed on a desk for the best viewing angle.
Finally, there is a FIFINE K420 webcam – a device from Aliexpress you can use both for attending online courses or streaming on Twitch. 6 HD lenses and an improved color/light sensor are there to equip you with the best video transmission quality.
Read also: