If you are living in a big private residence, then it is expected to be worried about your safety. Installing a set of security cameras with IP support might ease your worries, as you'll be able to assess and monitor the situation at your home from almost anywhere, whether it is tracking thieves, unwelcome visitors or even stray animals on your lawn. To help you out, we picked the top-10 best security cameras offered on Aliexpress – these devices will surely keep you safe and sound.
How to Choose the best IP Camera?
There are security cameras suitable for indoor or outdoor use, so it is the first thing you need to consider. If you need a camera to track what is going on the streets, then try to choose a device with the best possible zooming available (4X or even 8X). For in-house monitoring, zooming may not be as important as the viewing angle: you'll need a full of 360° wide-angle panoramic view to catch everything that is happening in the room.
Having a smart motion-detecting system installed on your camera is a good thing too: you'll receive alerts when your camera finds anything suspicious and will follow the moving object.
Finally, check the connection type – it is better to have both wireless Wi-Fi and wired network interfaces supported.
Top 10 Chinese Security Cameras on Aliexpress
10.

ASECAM IP Camera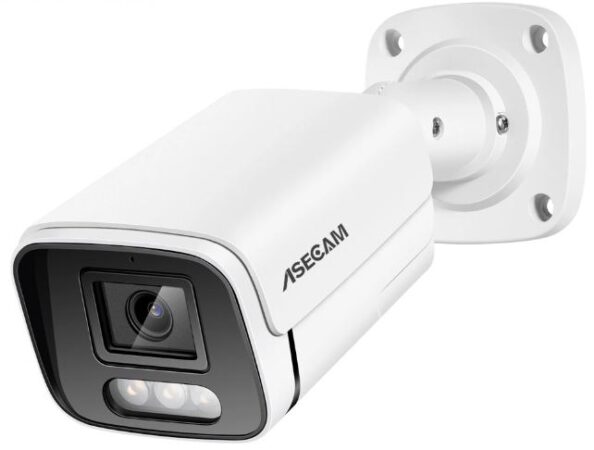 Specs: Megapixels: 8MP, Lens (mm): 2.8mm, Viewing Angle: 130°, See all.
Our rating is launched with ASECAM IP camera – a basic surveillance device, with an expensive price as its only flaw. Equipped with an 8MP camera, it can record videos in an exceptional 3840P HD quality – something that you won't find in just any model out there.
To save memory space, the camera compresses the HD video: it doesn't affect the quality, but allows you to store more footage.
Motion detection is also installed together with different vision modes – infrared, smart color and LED activation upon movement detection.
Aside from the high price, the cons include poor quality of recording at night, as reported by several customers.
9.

DUREVIN Solar Camera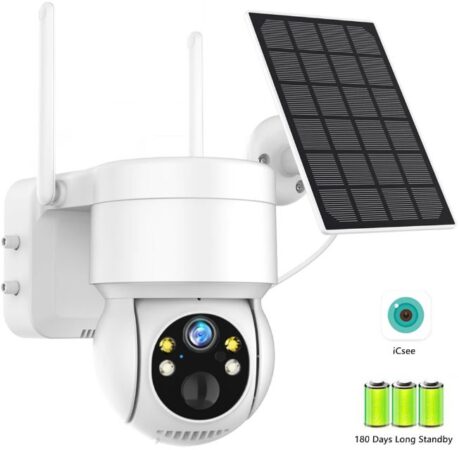 Specs: Megapixels: 4MP, Operating Temperature: -20~50, Lens (mm): 4mm, Viewing Angle: 85°, See all.
The Chinese IP camera by DUREVIN is the best solution for those who care about sustainable power consumption. Powered by a mini solar panel, it can work up to 180 days if there is enough sunlight; otherwise, the battery life is limited to 90 days.
Even if your camera eventually runs out of power, the built-in 13200 mAh battery can be recharged, thus extending its service life. The best thing about this camera is that you don't need wiring to connect it, so just enjoy easy installation!
The camera supports a motion detection system: if someone stands near your doors for too long, the camera will notify you via a smartphone app. As an alternative, you can set up a sound alert to wake you up at night.
The only issues we found in the reviews section were related to unstable Wi-Fi connection, which can interfere with the recording.
8.

BESY IP Camera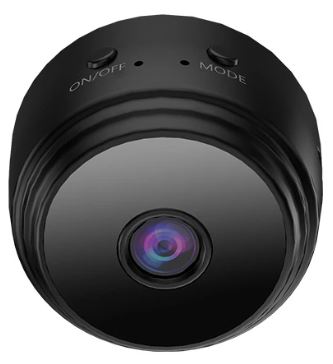 Specs: Lens (mm): 2MM, See all.
An IP camera by BESY is designed for discreet monitoring: it is incredibly small and can be attached to any iron-made surface thanks to the built-in magnet. If you don't want people to know that they are being recorded, then this camera is your best option.
When disconnected from the cable, the battery provides up to 1 hour of recording, so it is recommended to keep it plugged in for better consistency.
The camera is operated and controlled through a smartphone app, where you can adjust the night vision mode and access additional options.
For a base price of less than $10, it is also the cheapest offer on Aliexpress. However, note that this camera is not the best solution for 24/7 home surveillance.
7.

DBIT Bulb Camera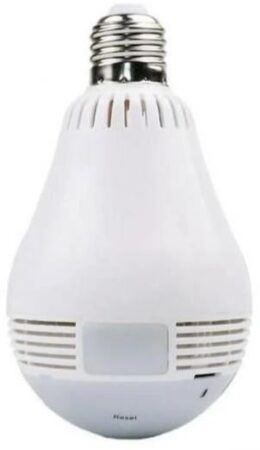 Specs: Viewing Angle: 360°, See all.
A Chinese security camera by DBIT stands out on the market due to its unique design: the device looks exactly like an E27 standard lightbulb. Moreover, you can screw in the camera to mask it as a regular bulb: nobody but you will know that the room is under surveillance.
A fisheye camera provides a 360° wide-angle view of the room, so you won't miss a single thing. In addition, the automatic motion track identifies and records any movement, alerting you immediately via smartphone notifications.
And the best thing about this lightbulb-ish camera is the fact that you can use it as the light source! Just turn on the LED illumination mode when you don't use the device for monitoring.
Among 130+ reviews, we found one complaint about audio issues (the camera wasn't recording any sound), which looks like a manufacturing defect.
6.

JOOAN JA-F10R-4-U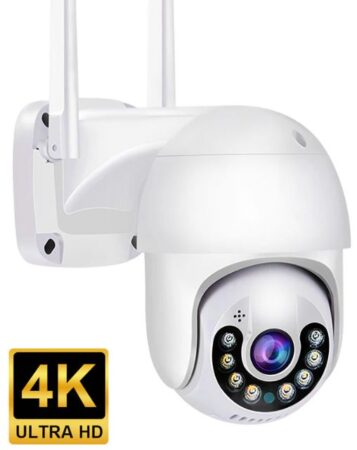 Specs: Megapixels: 8MP, Operating Temperature: -10°-60°, Lens (mm): 3.6mm, Viewing Angle: 90°, See all.
For a base price of $100, JOOAN offers a decent 5MP security camera with motion tracking support – an offer we consider a little bit expensive, but let's take a closer look at the device first.
This camera is one of the best in terms of durability because it has an IP66 certification. It means that the camera is waterproof, allowing you to install it outdoors without any issues.
In addition, it is equipped with a 100 dB alarm system that can be triggered by motion detection. This will make sure that the thieves won't go unnoticed, and with different night vision modes, you'll get improved visibility even in the dark.
Finally, in terms of connectivity, the IP camera supports wireless 2.4G GHz Wi-Fi and wired network cable interfaces.
Read also:
5.

BESDER XM-P3S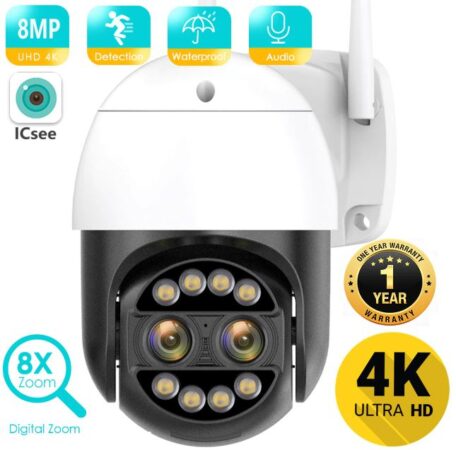 Specs: Megapixels: 8MP, Operating Temperature: -10°-60°, Lens (mm): 12mm, Viewing Angle: 360°, See all.
Indoor and outdoor security camera by BESDER can surprise anyone with its 4-8MP quality image and enhanced viewing angle. The dual lens design (12 mm and 2.8 mm) provides an ultra-wide view; in addition, the lenses can be switched to focus on a specific area.
As a cherry on top, there is an 8X digital zoom support to capture any detail without extreme blurriness to decrease the picture quality.
A smart tracking system can lock on the moving object and monitor its movement, whether it is a stray cat or an unexpected visitor near your doorstep. You'll receive a smartphone notification for every detection as well.
However, if you get tired of receiving frequent alarms for every movement, you can turn on the AI Humanoid Detection – a system which tracks only human-shaped moving objects, with no false alerts for trees or pets.
Among minor complaints, there are reports about "dented packaging" upon delivery, which can be credited to poor handling by couriers or postal services.
4.

Fuers IP Camera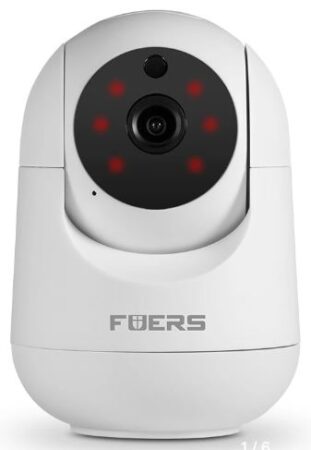 Specs: Megapixels: 3MP, Operating Temperature: -10°-60°, Lens (mm): 2MM, Viewing Angle: 90°, See all.
Security camera by Fuers fully stands to its "simple and easy IP solution" motto, as you'll get one of the most affordable indoor monitoring devices available on Aliexpress.
It can automatically track and follow the movement – this way you'll never miss anything suspicious going on in your house while you are away. The IP camera can also be easily integrated into the Smart Home system with Tuya and Smart Life apps, which feature advanced control options.
With the two-way voice system, you can talk to your family members anywhere in the house, so it is recommended to install and synchronize several Fuers cameras.
However, the fact that the camera doesn't support zooming is a setback that should be considered before purchase.
3.

Xiaomi Mijia IP Camera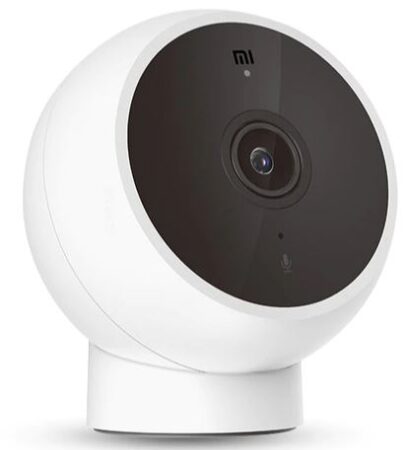 Specs: Megapixels: 3MP, Operating Temperature: -10°-50°, Lens (mm): 2MM, See all.
The only reason why the Xiaomi Mijia IP camera didn't make it to the first place of this rating is the fact that it is best suited to be used indoors – as a baby security and monitoring device, for example. Even so, it features top-quality assembly and a set of functions essential for effective surveillance.
Its key feature is the 2K image quality with an improved 2X zoom technology. It reduces the blurring to keep even the smallest of details on the screen – a feature which is especially useful when you monitor your kids.
Night vision mode is also supported: thanks to 940-nm infrared lights you can watch your baby even in dimmed rooms, causing no disturbance.
The IP camera can also ease communication within the house, as the two-way voice calls support allows you to connect to your family members anywhere.
Among 330+ reviews, there are few complaints about the installation guide, which is only available in the Chinese language.
2.

Perciron 1080P Security Camera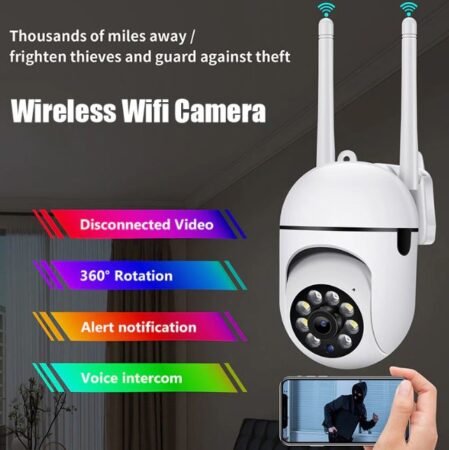 Specs: Lens (mm): 2MM, See all.
The second best on Aliexpress is the Perciron Chinese IP camera – an advanced surveillance device with an increased viewing angle. It also features the best price-performance ratio in this rating and on the market as a whole: with a base price of $20, it can be purchased for less than $10 when regular discounts are applied.
It can be rotated 360° horizontally and 120° vertically to provide the best view of your house surroundings. Equipped with A7 advanced camera with HD video support and motion tracking, it ensures full vision during night and day.
All of the controls can be executed via your smartphone: "motion detected" notifications will also be sent to the designated app.
With an order count of 5000+ and almost 600 positive reviews, it has just a few customer complaints, like the "fragile" plastic quality.
1.

Lenovo X5Q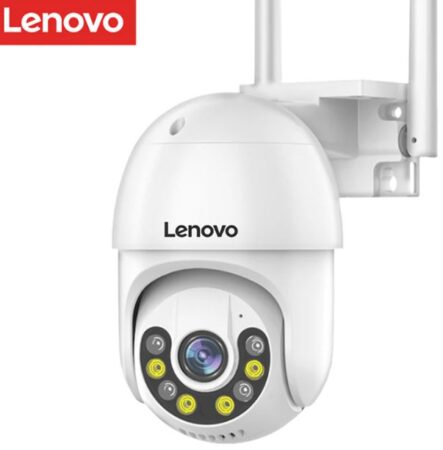 Specs: Megapixels: 3MP, Operating Temperature: -10°-60°, Lens (mm): 3.6mm, Viewing Angle: 107°, See all.
An absolute bestseller with more than 10000 orders and 2500+ positive reviews, Lenovo X5Q is the best IP camera you can buy on the market.
Equipped with smart detention technology, it can track movement and issue fully customizable sound alarms, making sure that no unwelcome trespassers bother your property. It can be attached to the wall or the ceiling and rotated remotely to cover the whole area with 270° horizontal and 90° vertical viewing angles.
In addition, it has 3 Night modes to ensure maximum visibility: infrared vision, LED and intelligent colour vision. The image can also be zoomed X4, so you won't miss anything even during nighttime.
The camera supports wireless Wi-Fi and wired connections, which is an additional bonus.
The only setback is the base price: if no discounts or promo codes are applied, it can reach up to $100, which is quite expensive for a single camera.
What's the best Chinese Security Camera
With so many security cameras offered on Aliexpress, it is difficult to choose the best home surveillance device. But we have carefully looked through the most appealing offers to come up with our top-3 IP camera picks on the market.
A famous Lenovo brand never disappoints, and the X5Q security camera is proof of this statement. Equipped with night vision modes, a smart motion detection system and a wide-angle view, it is an exemplary monitoring and surveillance device.
If you are planning to save some money, then Perciron Security Camera is your ultimate choice for home security. For an incredibly low price tag, you'll get all the features of premium cameras, including double zoom, motion tracking and HD-quality video recording to capture every single detail.
And, of course, there is no way we could forget about Xiaomi Mijia – one of the best Chinese brands when it comes to home equipment. Their IP camera is perfectly designed for indoor use, featuring two-way voice call support and a user-friendly application to access additional control options.
Read also: