Shopping for your entire beauty routine online can be challenging: there are reliable stores to find and prices to be considered, all while you cannot test the products you are buying. Luckily, AliExpress is the best place to snag quality beauty products: in addition to discounts and freebies, you'll also get free shipping in most cases.
In this article, we listed the best AliExpress stores for your makeup therapy. Shimmering eyeshadow palettes, "mirror" lip glosses, creamy-textured blushes, highlighters and concealers, TikTok trending makeup products and beauty bloggers' "must-haves" – in these stores, you'll find everything you need for a complete beauty bag.
Top 10 Makeup Stores on AliExpress
New Makeup Store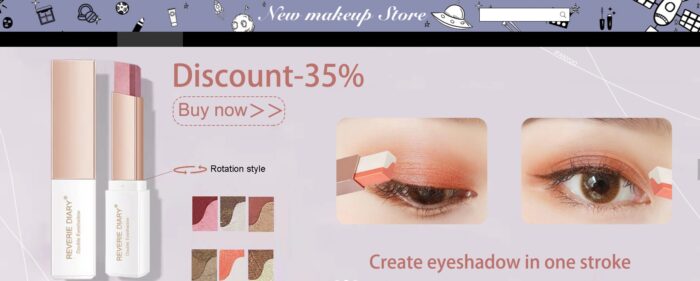 Duration: 1 year
Positive feedback: 91,6%
Followers: 9873
Face contouring and applying makeup can be challenging for beginners, but New Makeup Store offers cosmetics that are easy to apply. It has been open for a year and has a positive review rate of 91.6%, which is a sign of a trustworthy seller.
Have you been struggling with the winged eyeliner look? If yes, try out the SUAKE Stamp Liquid Eyeliner offered by the store. For just $1.74, you'll get a fast-drying and waterproof pencil to rock sharp and perfect wings – just stamp them on the outer corner of your eyes. It takes less than a second, but you'll be wearing it for the whole day!
And if you don't know how to contour your face and apply blushes evenly, check the multi-purpose LANGMANNI Liquid Blush. It has a creamy texture and a soft spongey applicator, which helps to blend blushes effortlessly, enhancing your natural skin tone.
Make Your Beautiful Store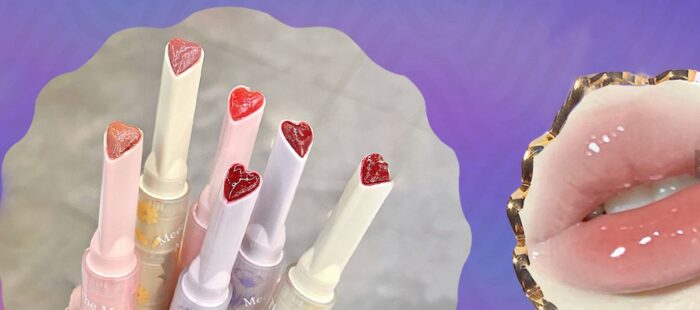 Duration: 3 years
Positive feedback: 90,7%
Followers: 11,3K
Make Your Beautiful Store has everything you need for a soft and romantic makeup style, so it is a great shopping place for teenagers and young women. The seller has been offering lips, eyes and face beauty products for more than 3 years. In addition to cosmetics, you can find skin and body care, hair accessories and nail products.
The first product to catch your attention will probably be a famous Heart-Shaped Mirror Lipstick for perfect "glossy" lips which has been a trending makeup style in Asia for recent years. It is very affordable (just $2.35), but long-lasting, waterproof and cute at the same time, since the lipstick case is, as promised, "heart-shaped".
You might want to finish your look with a Silkworm Highlighter Pencil by MYHO. Use it to highlight the corners of your eyes to enhance and enlarge them for a "doe" style.
The store doesn't have a lot of special promotions, but there is a regular discount: when spending $16, you can save $1 as a bonus.
My Q Princess Store

Duration: 5 years
Positive feedback: 88,9%
Followers: 17K
If you are looking for AliExpress beauty stores that support wholesales, make a stop at the My Q Princess Store – it offers lowered prices and great discounts for bulk buyers. Combined with a wide range of cosmetics, it is a perfect place for makeup artists, who are always in need of beauty products.
The seller mostly offers affordable makeup products manufactured by Chinese brands. One of the store's most popular products is the CAKAILA Matte Lip Gloss. For just $0.98, you can select a waterproof long-lasting lipstick from 18 bright colors.
For eyebrow styling, you can find Han Daiyan's Liquid Eyebrow Enhancer – a dying cream (6 different colors available) for professional and home use, which is easy to apply and gives a persistent eyebrow tint for a whole day.
Currently, the store holds a positive review rate of 88.9% and has more than 16,800 followers. It is a great cosmetics outlet store to shop for cheap medium-quality products.
O.TWO.O Official Store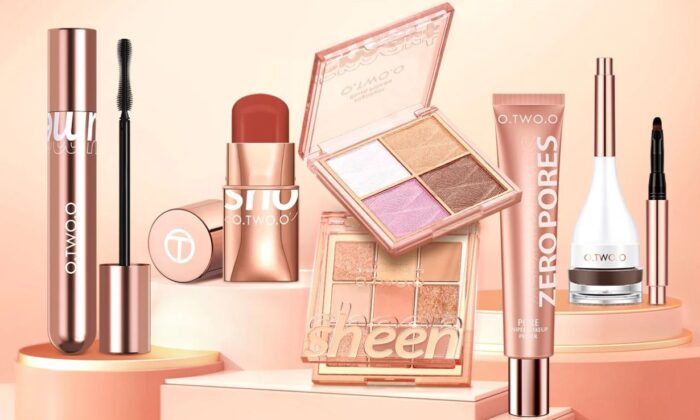 Duration: 6 years
Positive feedback: 95,1%
Followers: 677K
«O.TWO.O» is one of the rare stores that has been awarded the AliExpress Gold Medal for outstanding quality of customer service and a high positive review rate of 95.1%. Since it is a brand store, you'll find only O.TWO.O cosmetics – a famous Chinese brand based in Guangzhou, which offers drugstore makeup available to every woman.
The brand is famous for its 3D Lengthening Waterproof Mascara available for $3.75 (or $8, if no discounts are applied). The customers note that the product doesn't smudge (which usually happens a lot when applying black mascara), and the silicone brush is perfectly shaped to curl the lashes without clumping.
We also recommend the O.TWO.O 3-in-1 Stick, which can serve as a lip tint, a creamy eyeshadow, or a blush. It is a perfect beauty product to carry in your bag, as you'll be able to reapply makeup and freshen your face in any place.
Then add some foundation and lipsticks to your basket – and you are all set!
Sweet Girls Beauty Store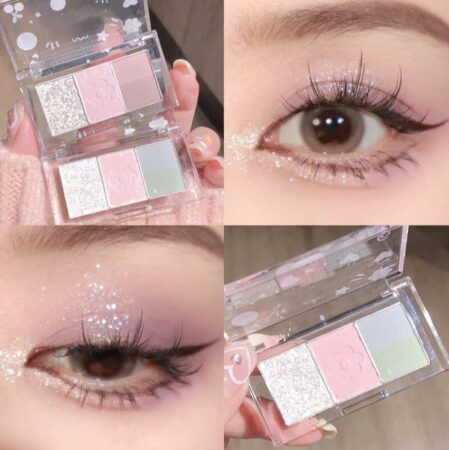 Duration: 5 month
Positive feedback: 88%
Followers: 981
Sweet Girls Store has been operating for less than a year – which explains why it doesn't have many followers despite the great selection of beauty products. The store's catalogue features foundations and concealers, eyeshadow palettes and false lashes, lipsticks and glosses, as well as useful beauty tools like complete makeup brushes sets, eyelash curlers, and so on.
Eye beauty products are the store's most popular niche. For example, its $1.91 Diamond Shining Liquid Eyeliner has been sold more than 3,000 times and has a high rating of 4.8. Customers note that it gives an excellent and long-lasting shimmery finish, which is perfect to complete the winged eyeliner look or to wear on its own for soft romantic makeup.
And if you love everything "sparkly", check out Pudaier's Waterproof Diamond Glitter Lip Gloss: for just $2.53, you'll get a highly pigmented lip gloss that you can rock for 16 hours without reapplication!
Young Beauty Store

Duration: 1 year
Positive feedback: 94,9%
Followers: 4265
With a positive review rate of 95.3% and quality service, the Young Beauty Store is distinguished by AliExpress Silver Medal, which is given to the sellers with the best rating on the market. The store offers a wide range of beauty products, including face/eye/lip makeup, tools, nail products, and some skincare. Makeup enthusiasts will appreciate the catalogue organization, as it greatly helps to easily scan through various categories of beauty products.
One of the store's bestsellers is a Waterproof Pearlescent Eyeshadow Pencil Stick for $2 – a fast-drying and waterproof liquid eyeshadow with a shimmery finish, which is perfect for a fancy dinner with your special one or a night out.
And for a complete look, don't forget about rocking a winged eyeliner, which you can master with an Ultra-thin Waterproof Liquid Eyeliner available for $2.40.
In general, the store's many positive reviews and good customer service makes it a great place to start your makeup marathon on AliExpress.
Loca Makeup Store

Duration: 4 years
Positive feedback: 92,4%
Followers: 2627
Loca is the best place on AliExpress to look for lip cosmetics, as it offers "mirror" lip glosses, pencils, matte lipsticks, tints and so on. In addition to that, the store offers a wide range of beauty tools, face and eye makeup, skincare and even hair styling products.
If you are looking for new lipstick color ideas, try 4-Colors-In-1 Matte Lip Crayon – a compact kit of 4 matte shades in one case. You can easily carry it in your purse and apply different lipstick colors each time. Han Daiyan's cosmetics are available in this store as well – like a long-lasting Nude Liquid Lip Gloss for $0.79.
Make sure to check the store's care products – such as blackhead remover charcoal stickers and Heror Ange lip balm (which clearly took its design inspiration from a Chupa Chups candy).
The store has a high rate of positive reviews – almost 93.4% – and more than 4,000 subscribers. However, as some customers point out, shipment takes a lot of time.
Pretty Girl Makeup Store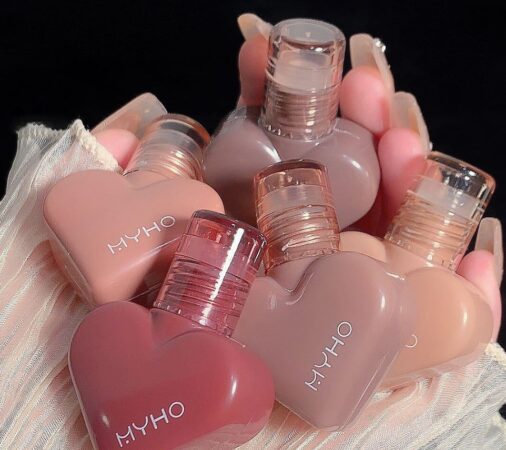 Duration: 1 year
Positive feedback: 82,6%
Followers: 2856
Judging by the selection of cosmetics, Pretty Girl Store is aimed to attract teenagers and young women: there are a lot of glimmers, shimmers, eyeliners of any color and "cute" makeup products in general. The seller has been working for a year and has a positive review rate of 82.5% – which means that the store is still growing and offers some amazing discounts to attract new regular customers.
Diamond Shimmer Liquid Eyeliner is the store's best-recognized product: it is waterproof, long-lasting and very sparkly, which makes it a perfect choice for party makeup. You can follow it up with a Peel Off Liquid Lipstick by Romantic Bear: a creamy formula takes around 5-10 minutes to dry, but after peeling off the dry layer you can enjoy wearing a vibrant lip color for a long time.
In total, the store offers around 130-140 different cosmetics products for low prices. And make sure to use the coupons: you can get a $2/3/5 discount for spending $15/40/99 accordingly.
Sweety Beauty Store

Duration: 4 years
Positive feedback: 91%
Followers: 28,5K
There is not a single makeup product that is not offered by Sweety Beauty Store. A perfectly organized catalogue features foundations, BB and CC creams, concealers, lipsticks and eyeliners… The list of available cosmetics is huge and you can spend the whole day just scanning through them.
The store is famous for its lips makeup products: like an $0.80 Waterproof Matte Lipliner Pencil by PHOERA with a silky texture and moisturizing effect, an $1 Mirror Moisturizing Pearlescent Lip Gloss by Han Daiyan to give your lips a shimmering and glossy appearance, and a famous Peel-Off Lip Gloss, which has been promoted on Chinese TikTok.
As you can see, the prices are more than affordable, so you can buy a whole makeup set in one place – rest assured, you won't be able to leave the store's page without placing an order. A neatly organized catalogue also helps to quickly find any product and compare it to other offers.
Digitaling Store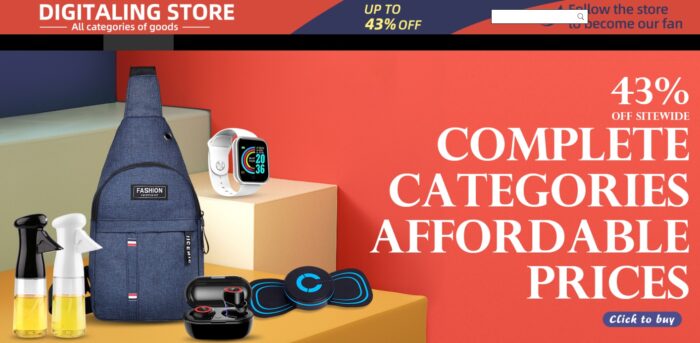 Duration: 3 years
Positive feedback: 95,3%
Followers: 529,6K
Applying makeup without brushes, sponges and other beauty tools can be challenging at best. That's why Digitaling Store offers brushes sets, toiletry organizers and foundation applicators in addition to a wide collection of makeup products. Buying everything you need in one place is not just convenient – it also helps save a lot of money on shipping costs, since all of the items will be packed in the same package.
Store's most popular products include a 13-pieces makeup brushes set, which has every brush you might think of – for nose contouring, highlighting or applying eyeshadows; cute 2-piece eyelash curlers set, made in the shape of kitten paws; soft egg-shaped makeup sponges for foundation and so on.
On top of that, add some cosmetics – like eyeshadow palettes with acrylic and glittery shades, brow stickers and false eyelashes, as well as highly popular "glass" lip gloss, – and you are all set!
Which is the best Makeup Store on AliExpress
If China is the biggest cosmetics manufacturer, then AliExpress is the best place to look for affordable drugstore makeup products. Here you can find everything – from shimmery eyeshadow palettes to TikTok-trending lipsticks and glosses. Any of the featured stores are a great starting point for your shopping marathon, but here are our editor recommendations.
Best Brand Store. Usually, brand stores offer better customer service and quality cosmetics which are close to the high-end level. The Chinese-based O.TWO.O brand is officially present on AliExpress and offers some of the best makeup products available on the market. If you care about the quality, then make sure to check them out.
Best Selection. It is easy to get lost in Sweety Beauty Store's catalogue, as it has almost any makeup product you can imagine. Popular peel-off lipsticks, "mirror" lip glosses, matte eyeshadows and so on – you'll find everything you need for a complete cosmetic bag.
Best Store Overall. Digitaling Store has everything – from cosmetics to beauty tools for smooth and easy application. If you are looking for a place where you can find any type of foundation and an affordable set of fluffy brushes, this store is the best place to start.