A power bank is a portable source of energy for your devices: you can easily charge your device several times even if there is no power plug nearby. Such portable batteries come in different capacities and are extremely handy in travel or when you are on the road. AliExpress offers many different models, and in this article, we picked up the best power banks available on the market.
How to choose the best Power Bank
Capacity (which is measured in mAh) is the most important feature and the main indicator of a power bank's performance. The bigger the number, the more power you'll get to charge your devices. But note that the power banks with big capacity tend to be bigger and bulkier, so if you are looking for a travel-friendly format, you'll have to give up some of the power.
Another important feature is the charging speed measured in wattage. The same rule applies here: the higher the wattage, the faster you'll get a full charge for your smartphone.
At last, don't forget to check the input and output ports. You'll need at least the USB, Type-C and Micro USB ports to ensure maximum compatibility with your devices.
Top 10 Power Banks on AliExpress
10.

WST 3350mAh Mini Power Bank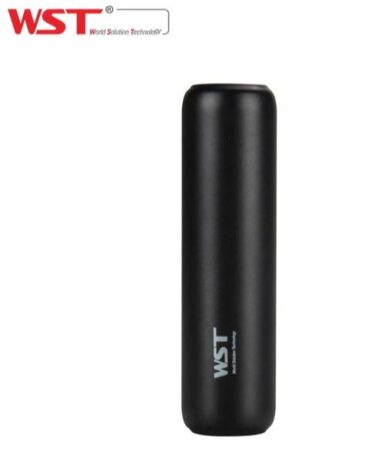 Specs: Real Capacity: 3350mAh, Output Interface: Micro USB, Shell Material: Plastic, See all.
We start our Aliexpress rating with a mini power bank of low capacity – such as the WST portable battery. With a capacity of 3350 mAh, it costs less than 10$, which makes it a perfect portable battery for simple day-to-day use.
Of course, don't expect that it will be able to fully recharge your smartphones several times: according to the data provided by the manufacturer, the capacity is enough to charge a good old iPhone 7 just once. This is not much, considering how modern smartphones have evolved in terms of battery consumption.
However, the small capacity is compensated by the extremely compact size and shape: the power bank can be easily carried around even in your pocket.
9.

Mlinn (Mussels) 5000mAh Portable Power Bank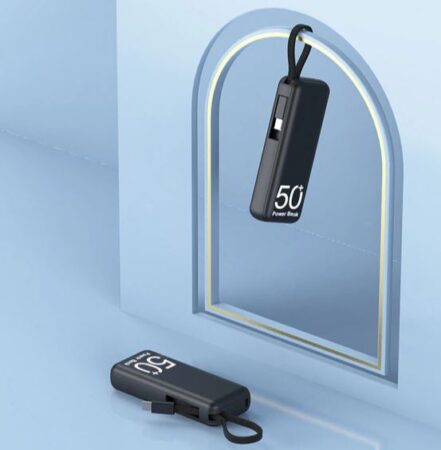 Specs: Max Input: 10W, Output Interface: USB-A, Shell Material: Plastic, See all.
Contrary to common belief, there are small and compact power banks available on the market. In fact, there are devices designed specifically for kids, such as Mlinn small portable battery with a varying capacity of 3000/5000 mAh, depending on the model.
It is indeed very small (just around 85x35x24 mm), comes with a handy strap, has a built-in cable and is available in many different colors, so you can even choose a pink or blue case.
The obvious complaint is the limited capacity: you probably won't be able to charge a smartphone battery from zero to 100% with this power bank, but it is still a good emergency option for daily use.
8.

USAMS 30000mAh 65W Power Bank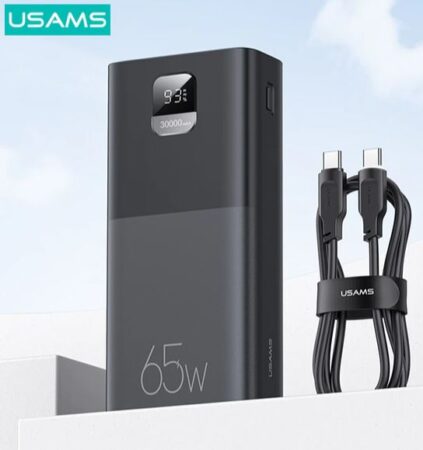 Specs: Capacity: 30000mAh, Max Input: 65W, Weight: About 590g, Output Interface: USB-Type C, Shell Material: Plastic, See all.
A power bank by USAMS features one of the biggest capacity indicators not only in the context of this rating but on the whole Aliexpress market as well: with a 30000 mAh, you can fast-charge laptops, smartphones and any other devices several times.
Quite often there are concerns regarding the power banks with high power delivery, but this one also supports the low current mode for low current devices.
The portable battery has 1 Type-C input (which is also intended for output use) for charging the power bank itself and 2 additional outputs for your devices: a 22.5W USB and an 18W USB.
Regarding laptop charging, the manufacturer provides specific examples: a MacBook Air 13 will fully recharge in 1.5-2 hours, proving impressive power delivery.
The reason why this power bank is not so popular with the customers lies in its expense and large size – it's heavy and inconvenient to carry around.
7.

Rocoren 10000mAh Magnetic Power Bank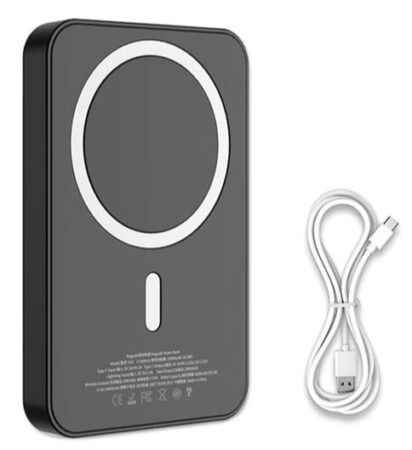 Specs: Max Input: 20W, Output Interface: USB-Type C, Shell Material: Plastic, See all.
Wireless power banks are becoming more and more popular since they are much easier to carry around while offering the same capacity as wired portable batteries. As for the Rocoren power bank, it supports both wired and wireless charging, making it a perfect 2-in-1 device.
For the wired charge, the power bank is equipped with the iP 18W PD and Type-C 20W PD interfaces. Having just 2 inputs might not be enough for some customers (especially those who charge more than two devices simultaneously), but this is compensated by the compact size, thin case (just 17 mm) and lightweight construction.
As for the capacity itself, two models are available – a 5k mAh and a 10k mAh. The second one is almost permanently out of stock, so consider this as a disadvantage.
6.

ASOMETECH Power Bank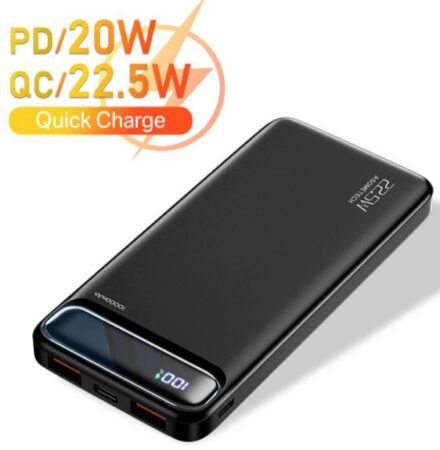 Specs: Capacity: 10000mAh / 20000mAh, Max Input: 18W, Output Interface: Double USB, Shell Material: Plastic, See all.
ASOMETECH's official store on Aliexpress offers 3 variations of this power bank: a 10k, 20k and 30k mAh capacity, with each of them supporting the 22.5W output. It means that whatever you choose, you'll still be able to charge your phone in no time thanks to the fast charging interface.
The portable battery fully charges in 6-7 hours – a record compared to other power banks. Although some customers complain that in reality, the device needs much more time to recharge fully.
The device is equipped with USB-A, Type-C and Micro USB outputs, designed to fit any of your devices – from a smartphone to wireless earbuds.
As for complaints, some customers noted that after a month of use, the fast charging port stopped working completely.
Read also:
5.

DELABO Wireless Magnetic Power Bank 10000mAh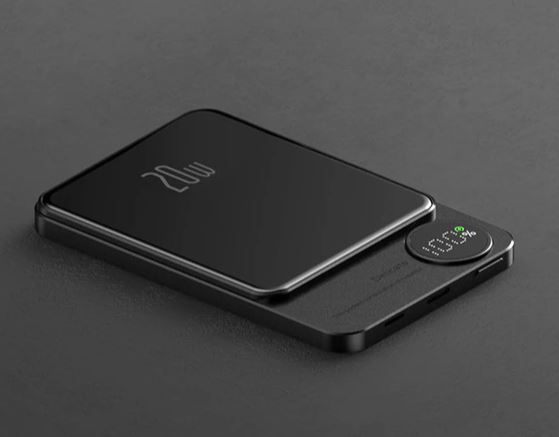 Specs: Max Input: 23W, Output Interface: Wireless Charger, Shell Material: Metal, See all.
Tired of walking around with a cable when your phone needs an extra recharge? Then you might consider a wireless power bank which uses a magnet to attach itself to a smartphone. You can literally attach it to the back of your phone and enjoy fast charging without annoying cables and wires – just make sure that your smartphone supports the QI (the list can be checked in the product description).
But even if your device is not QI-enabled, you can still enjoy an old and trusty wired charge: with a total capacity of 10000 mAh, you can get from 2 to 3 full charges, depending on your phone specifications.
Aside from this, the DELABO is small and lightweight – a perfect choice if you don't like it when a power bank takes up too much space in your bag.
As for the cons, the customers report that the power bank can significantly heat up if the wireless charge is used extensively.
4.

QOOVI Power Bank 20000mAh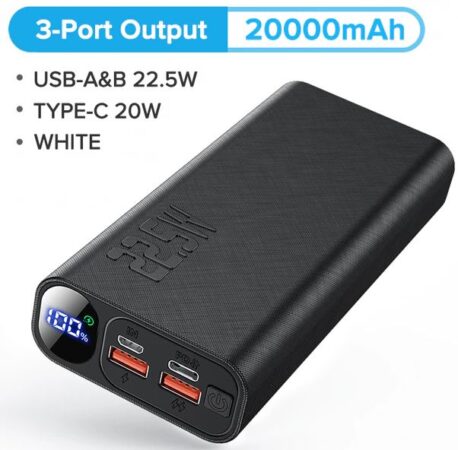 Specs: Capacity: 20000mAh/ 3.7V (74Wh), Max Input: 45W, Weight: 431g, Output Interface: USB-Type C, Shell Material: Plastic, See all.
For a 20000 mAh power bank, QOOVI is surprisingly cheap: while it costs around 50-60$, the regular discounts offered by the official store lower the regular price down to 15-25$! That's one of the best offers on Aliexpress in terms of cost-performance ratio.
As for the technical specifications, they are quite impressive as well: this portable battery supports all of the essential fast charging methods (20W PD, 22.5W QC/SCP/AFC), which will enable you to charge your smartphone up to 80% in just 30 minutes.
Overheat is a widespread issue with power banks, but QOOVI features a Safe Charging system, which protects both your phone and the portable battery from high temperatures while charging.
Some minor issues include a short charging cable and some scratches on the power bank's surface due to poor delivery (according to some reviews).
3.

Essager Power Bank 20000mAh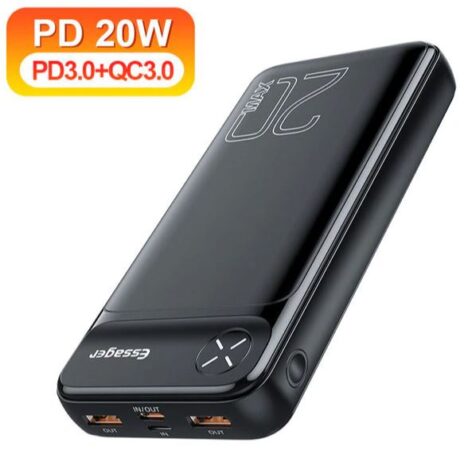 Specs: Max Input: 20W, Output Interface: Double USB, Shell Material: Plastic, See all.
Essager is a monster among Aliexpress power banks: it has an amazing capacity of 20000 mAh, which is enough to recharge any phone or even a small laptop multiple times.
In addition, it supports several fast charging protocols to ensure that your devices are recharged in no time. The manufacturer brings some examples: the USB1/USB2 outputs are perfect to charge Huawei phones (60% in 30 minutes thanks to 22.5W SCP fast charging), and the Type-C works best for the iPhone series, providing the same percentage charge via 20W PD fast charging.
The only complaint is that this power bank needs too much time to charge fully: instead of 7 hours declared by the manufacturer, the process can take a whole day.
2.

KUULAA Power Bank 10000mAh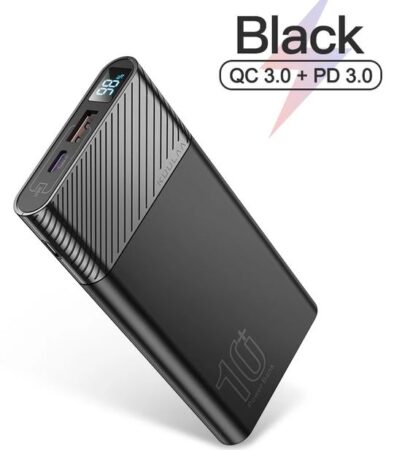 Specs: Max Input: 18W, Output Interface: Double USB, Shell Material: Plastic, See all.
KUULAA offers two different options for this specific model: a fast-charging power bank with a 18W output and a regular one, which is much cheaper, but doesn't support QC PD charging methods. This information is just for your reference, as we will look mainly at the fast-charging option.
With a 10000 mAh capacity, you can quickly recharge your smartphones thanks to 18W QC 3.0 and PD 3.0 charging methods. The manufacturer uses iPhone 11 as an example: the KUULAA fast charge provides around 52% of the smartphone's battery, while the ordinary power bank recharges only 20-21% for the same period of time.
Another prominent feature is a small digital display which shows the power bank's remaining capacity. It is extremely convenient, as you'll always know when it is the right time to charge your portable battery.
While most of the reviews are positive, some customers complain about a frustratingly long delivery.
1.

Baseus Power Bank 10000mAh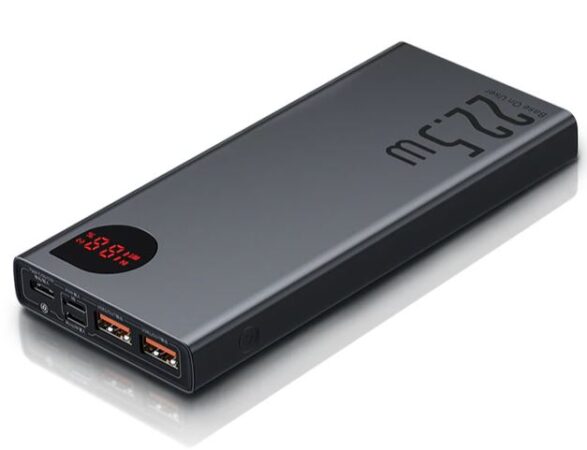 Specs: Capacity: 10000mAh/3.7V 37Wh, Max Input: 23W, Output Interface: USB-Type C, Shell Material: Metal, See all.
Baseus is one of Aliexpress' featured brands, meaning that it was favorably acknowledged by customers and the marketplace alike. With more than 10 thousand orders and 3400 reviews (the majority of them are positive), it is one of the most viewed and popular power banks available on Aliexpress.
The reason behind its popularity lies in top-quality performance: having an impressive 10000 mAh capacity (the rated capacity is lower, of course), it can fully charge your phone around 2-4 times (depending on its specifications). In addition, this power bank supports fast-charging PD 20-18W technology for the iPhone series.
As for Huawei phones, the power bank uses SCP 22.5W Quick Charge technology: 30 minutes are enough to recharge about 60% of the smartphone battery.
Minor issues include a relatively long charging period: a total of 4 hours is required to charge the power bank.
Which Power Banks on Aliexpress are the best?
As per tradition, let's remember our top-picked power banks from Aliexpress to finalize our rating.
On first place is a Baseus 10k mAh Power Bank – a powerful portable battery in high demand designed by one of the Aliexpress top brands. It perfectly balances capacity, price, power delivery and charging speed, making it the best power bank for travel and daily use.
KUULAA Power Bank with the same capacity of 10000 mAh takes second place. It is easily adjustable to your needs, while the fast-charging interface will enable you to recharge your devices two times faster.
Last but not least is the Essager Power Bank with the biggest capacity among our three leaders. With 20000 mAh capacity, you'll be able to charge not only your phone but a laptop anywhere and at any time.
Read also: