In simple words, a tube amplifier is a musical equipment that can make the sound as close to the original as possible. This equipment is necessary for listening to Hi-Fi music or complex instrumental parts. We've put together this list of the best Chinese tube amps for audiophiles and aspiring audio enthusiasts looking to take their sound experience to the next level.
How to Choose the best Tube Amplifier
There are a few things to consider before buying a Chinese amplifier, namely:
Wattage. Roughly describes how loud the amplifier will be. For home use, almost any amplifier will be "too loud" for your neighbors, but still, it is good to choose a device twice the wattage that you need to have enough headroom.
Frequency Range. These days, almost all tube amplifiers have an optimal frequency range of 20 Hz – 20 KHz, but it wouldn't hurt to double-check this.
Audio input. You need to be able to connect your devices to the amplifier, so make sure that the device supports Bluetooth, RCA, USB or any other input interfaces that you need.
Additional features include removable tubes (so you can easily replace them when needed), headphone support and so on.
Top 10 Chinese Tube Amplifiers
10.

PJ.MIAOLAI 6K4
Specs: Certification: NONE, Channels: 2 (2.0), Maximum Power Per Channel: NO POWER, Brand Name: PJ.MIAOLAI, See all.
Equipped with two 6K4 vacuum tubes, this amp produces warm and soft sound while also removing the digital noise to improve your Hi-Fi experience. In addition, the default tubes can be replaced with other supported models due to the removable design.
It supports wireless sound transmission via Bluetooth 5.0, meaning that any Bluetooth-supporting device – smartphone, laptop or tablet – can be easily connected to the amplifier.
However, this amp is not widely popular with customers, hence the low ranking.
9.

Nobsound Super Mini Vacuum Tube Headphone Amplifier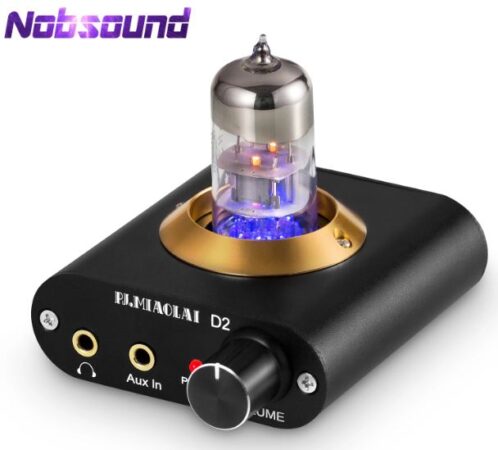 Specs: Certification: CE, Channels: 2 (2.0), Maximum Power Per Channel: NO POWER, Brand Name: Nobsound, See all.
The idea of buying a Chinese amplifier can be intimidating at first: after all, the device is considered a part of a serious sound system. But if you just want to try it out – or need something small to complement your desktop setup – then this mini amplifier by Nobsound is a perfect option.
With a 3.5 mm AUX output, you can connect passive/active speakers, an amplifier (using this one as a stereo preamp) or a headphone set, which makes it a perfect choice for a PC system.
The amplifier uses a 6N3 vacuum tube, which is known for its ability to soften harsh digital sounds, providing warm and clear Hi-Fi sound.
The only reason why this amplifier is placed so low is that it's not enough to significantly improve sound quality – you'll need something more powerful for that.
8.

Douk Audio X1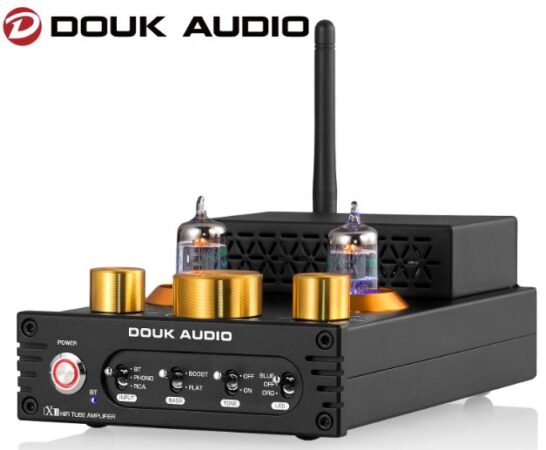 Specs: Certification: CE, Channels: 2 (2.0), Maximum Power Per Channel: 131-200W, Brand Name: Douk Audio, See all.
While not necessarily "affordable" – after all this amplifier costs more than 150$, – this device is loved by customers due to its impressive output power and low-frequency output. To amplify and improve the sound quality, it uses two GE5654 vacuum tubes, delivering intense Hi-Fi sound with soft deep basses.
In terms of connection to devices, aside from Bluetooth 5.0, it supports Stereo RCA and MM Phono inputs, which allows using X1 as a tube amplifier and a MM phono amplifier. In addition, you can easily switch the input signal thanks to the input selection option. To put it more simply, the amplifier will support most of the smartphones, PCs, CD/DVD players and so on.
Customers note that the amplifier is fairly easy to set up, and the sound is "deep and rich", but the price remains a major setback.
7.

Old Chen Tube Amplifier El34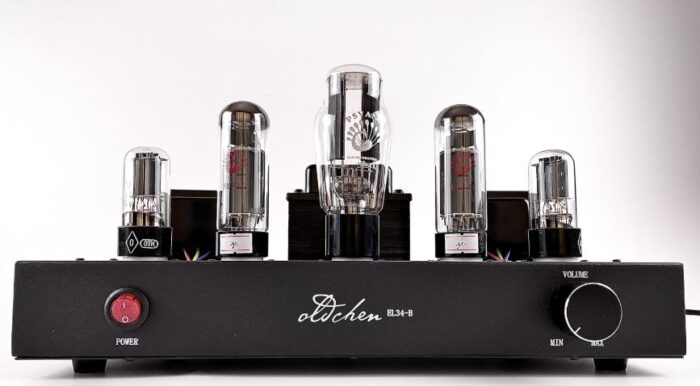 Specs: Certification: NONE, Channels: 2 (2.0), Maximum Power Per Channel: 10W, Brand Name: SUQIYA, See all.
As the brand name suggests, this Chinese amplifier can become a "good old buddy" for audiophiles and audio enthusiasts – all thanks to the high level of customization offered by the manufacturer.
For example, when choosing the preferred model on AliExpress, you can request an amplifier which supports Bluetooth wireless connection. While a bit more expensive compared to the default configuration, it will give you more flexibility in terms of sound transmission from your Bluetooth-supported devices.
According to the manufacturer, the working voltage of this model is more than 300 V, which is 10-20 more powerful compared to ordinary transistor amplifiers.
Depending on the configuration, the amplifier will be equipped with 4 or 5 tubes, which perform incredibly well with the full-range speaker vocals and strings.
As for customer reviews, they are mostly positive – except for a couple of recommendations to replace the default tubes with better ones.
6.

FX-AUDIO TUBE-01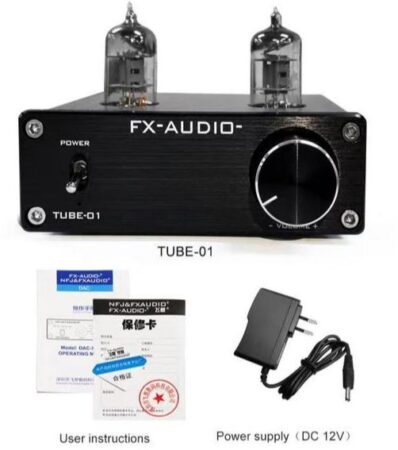 Specs: Certification: pse, Channels: 2 (2.0), Maximum Power Per Channel: NO POWER, Brand Name: NF J&FXAUDIO, See all.
The Tube-01 Amplifier by FX-Audio, a brand famous for its CHi-Fi devices, is one of the cheapest offers on the market: you can get it for less than 40$ and enjoy deep, warm and detailed sound at home.
The amplifier is designed to be used for mid-range and high-end equipment: you can connect it to a lamp amplifier or an active speaker as a preamp, or use it to improve sound quality transmitted from your smartphone, laptop or CD player.
It uses two 6K4 tubes, which renders the vocals in a dense fashion, allowing you to fully enjoy the high-fidelity sound.
While most of the reviews are positive, some customers complained that the amplifier "distorts" the bass to a certain degree – such a problem is not observed in the case of high-frequency sounds.
Read also:
5.

VOSE PM50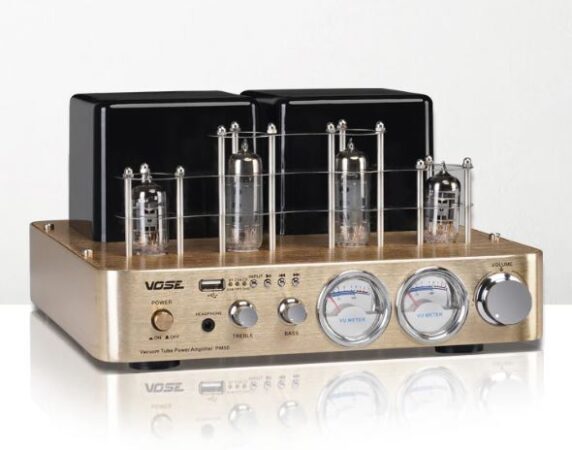 Specs: Certification: RoHS, Maximum Power Per Channel: 80W, Brand Name: SHISUO, See all.
Whether you enjoy listening to symphonies or Hi-Fi music, this CHi-Fi amplifier with improved compatibility will vastly improve the sound quality.
It uses two sets of tubes: two 6F1 and two 6U1 model tubes, which deliver rich and clean sound.
With Bluetooth 5.0, you can enjoy stable wireless sound transmission from your smartphones or laptops. In addition to that, the amplifier supports USB flash drives and even smart TVs, DVD players and so on – all thanks to the support of coaxial and optical digital interfaces. More than that, you can connect your headphones to fully enjoy the high-fidelity sound.
The design is also impressive, as the amplifier is encased in a one-piece metal panel and has two electronic dials, which look incredibly fancy in gold and black colors!
4.

Ampapa A1
Specs: Certification: CE, Channels: 2 (2.0), Maximum Power Per Channel: NO POWER, Brand Name: Douk Audio, See all.
"More than just a simple preamp" – this is how Ampapa characterizes its A1 tube preamplifier, designed specifically to improve the audio signal from your smartphone, laptop or any other compatible device, amplifying the sound to a whole new level.
This amplifier uses JAN GE5654W vacuum tubes, which are usually characterized by rich and fine sound with warm undertones. However, the convenient pluggable tube design allows replacing the tubes with ones you prefer, as the device supports 6J1, 6J1P, etc. models.
In addition, it features excellent compatibility with most headphones – something that gamers or Netflix lovers will appreciate.
Customers' reviews are mostly positive: the amplifier is praised for "vinyl sound quality" and neat design with no major drawbacks.
3.

Nobsound 6P1 Home Audio Tube Amplifiers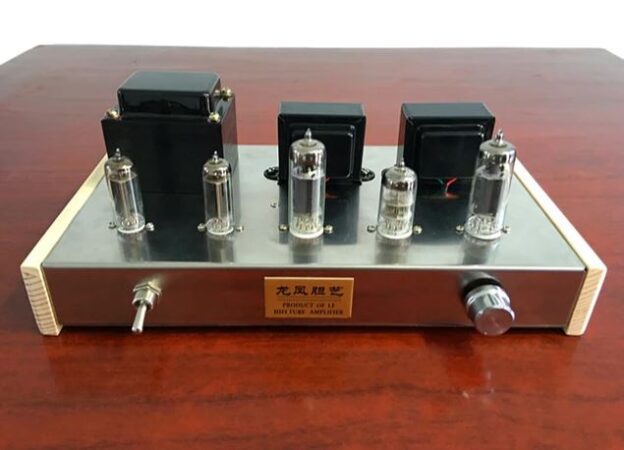 Specs: Certification: NONE, Channels: 2 (2.0), Maximum Power Per Channel: 4W, Brand Name: Nobsound, See all.
Nobsound is famous for providing DIY amplifier kits: you'll receive a full set of parts to assemble the device yourself, which helps to minimize the price while maintaining excellent sound quality. This approach proved to be effective because, with a total price of 50-60$, this amplifier has lots of positive reviews on AliExpress.
It is a 6P1 Chinese tube DIY kit, characterized by powerful sound with deep basses. It features a VU meter, headphones output, as well as volume, bass and treble regulators. As the manufacturer says, the output power of this amplifier is about 4W, while a speaker has a sensitivity of above 90db.
The tech stuffing is encased in a 15 cm case with wooden panels, meaning that the device is fairly small and will fit on your table well.
There are no major complaints by customers, although some claim that tubes may have traces of use upon delivery, which doesn't speak well of the seller.
2.

Fosi Audio BOX X2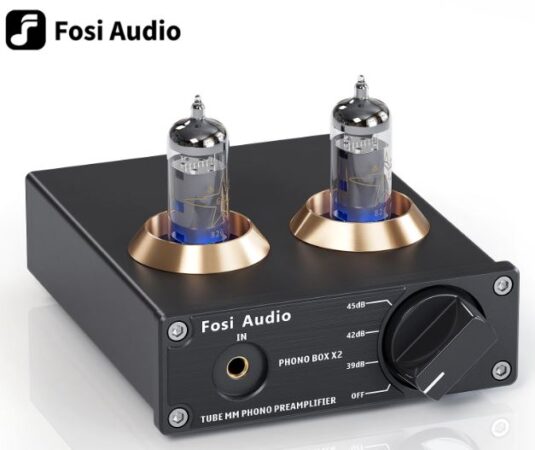 Specs: Certification: CE, Maximum Power Per Channel: NO POWER, Brand Name: Fosi Audio, See all.
Fosi is among the top CHi-Fi brands offering high-quality preamplifiers to improve your sound quality. Equipped with two 6A2 tubes, it elevates the sound, making it "warmer and smoother" as described by customers.
There are two ways you can use this device: as a tube phono preamplifier via MM Turntable RCA input and as a tube preamplifier using the 3.5 mm AUX input. As a phono preamplifier, you can purify the sound by removing low-frequency noise: the sound streaming from your tablet, laptops and DVDs has never been easier.
In addition, default vacuum tubes can be easily replaced to better adjust to your needs. The device supports 6K4, 6J1, etc. models.
As for the setbacks, one customer complained that the amplifier emits buzzing and humming sounds even when connected accordingly.
1.

AIYIMA HiFi T9 BT 5.0 Vacuum Tube Amplifier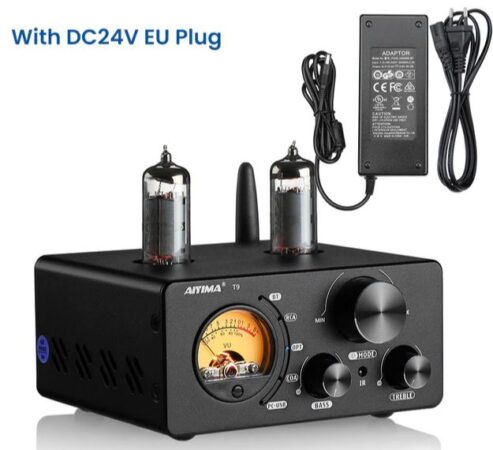 Specs: Certification: RoHS, Channels: 2 (2.0), Maximum Power Per Channel: 100W, Brand Name: Aiyima, See all.
Among CHi-Fi brands, AIYIMA offers one of the best tube amplifiers on the market. Mostly they are known for outstanding performance and reasonable price-performance ratio, which attracts both audiophiles and home audio enthusiasts.
By default, it is equipped with a 6K4 tube which is characterized by clear sound, fair balance and weighty bass notes. However, we are saying "by default" because the tubes can be replaced: the pluggable socket is compatible with 6J1/J2, GE5654 and many more tube models – the full list is available on the product's description page.
The amplifier has multiple audio inputs (both physical and digital), ensuring that most of the devices can be connected: you'll get Bluetooth 5.0, USB, COA and others.
While complimenting the sound quality, some customers complain that the tubes were damaged upon delivery, but this could be blamed on the poor handling at the post office.
Which Chinese Tube Amplifier is the best
As we reached the end of our rating, let's have a look at the best tube amplifiers available on the CHi-Fi market.
As expected, AIYIMA T9 BT 5.0 Amplifier takes the first place. Manufactured by one of the most well-known Chinese brands, it delivers high-quality and clear sound for a reasonable price, making it a top choice for audiophiles.
Fosi Audio BOX X2 takes second place. If you are looking for a "classical" smooth and warm sound delivered by vacuum tubes, this model is the right choice.
Nobsound 6P1 is in third place. Of course, you need to be tech-savvy to a certain extent to be able to assemble this DIY amplifier kit, but if you manage, then you'll get the most affordable device which also delivers powerful and rich quality sound.
Read also: