Bored of watching TV channels because of the lack of quality content and entertainment? Then you need to consider buying an Android TV Box – a streaming device which enables you to watch services such as Netflix, Amazon Prime and YouTube on a TV screen instead of a laptop or smartphone. But not only that: you can play games, browse the web, shop, watch photo and video files from an external USB drive or even switch between your smartphone and TV. If you have no idea how to choose an Android TV Box or don't know where to find one, then refer to this article – we have prepared a selection of devices worthy of your attention.
How to choose an Android TV Box on AliExpress
AliExpress offers many options when it comes to Android TV boxes: all of them feature different chipsets, RAM/ROM capacity, Android OS versions and so on. If you are confused about what to look for in a good TV box, here is a list of recommendations to follow.
A good processor is one of the most important features. For smooth streaming and gaming, it is strongly recommended to choose a quad-core CPU (1.5 GHz or higher) – that will make sure that you won't encounter any lags.
Your TV Box needs memory to store your content; a part of that memory will be taken by OS, so consider this when choosing your configuration. It is good to start with 4 GB of RAM and at least 32 GB of ROM, combined with the support of external memory storage like USB drives or microSD.
Display quality defines your streaming experience. A good TV box should support 4K and HD streaming – it's a must to watch Netflix or YouTube.
In terms of the operating system, it is advised to choose a TV box with an Android 9.0 or higher – this is one of the latest versions which can be easily updated and still receives regular fixes to improve performance.
Connection specifications include Wi-Fi, Bluetooth, 4G/5G and Ethernet – make sure that your TV box supports as much as possible since it will ensure that you'll always be able to get the most stable and fastest connection.
Top 7 Android TV Boxes on AliExpress
7.

TOX3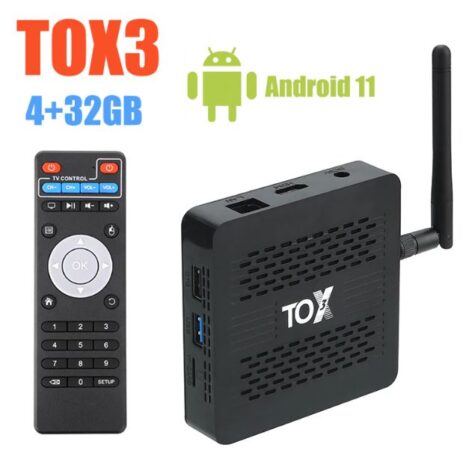 Specs: CPU: (S905X4)Quad core ARM Cortex-A55, Internal Storage: 32GB eMMC, System: Android 9.0, See all.
If you have never used Android TV boxes before and want to start with something relatively simple (and affordable), then TOX3 is a perfect choice for beginners.
It runs on Android 11 OS, delivering a decent processing speed and stable connection with your devices. With multilanguage support, the TV box can operate in English, Chinese and other languages – just don't forget to upload the necessary updates.
It is equipped with a quad-core ARM Cortex-A55 CPU – typical hardware for TV boxes of Chinese origin. Combined with ARM G31 MP2 GPU, and 4 GB RAM/32 GB ROM, you'll get a fairly smooth performance for your movies, videos and games.
According to reviews, the TV box is fairly easy to set up and connect, as it doesn't have a lot of additional functions. It doesn't overheat, even though the manufacturer says that the TV box can heat up to 80 degrees, which is considered normal.
Some customers recommend changing the standard remote included in the package: it is described as "flimsy", and the cover of the battery compartment is badly adjusted.
Pros:
affordable price;
beginner-friendly, easy to connect;
multilanguage support.
Cons:
poorly designed remote controller.
6.

Topsion Android TV Box 10.0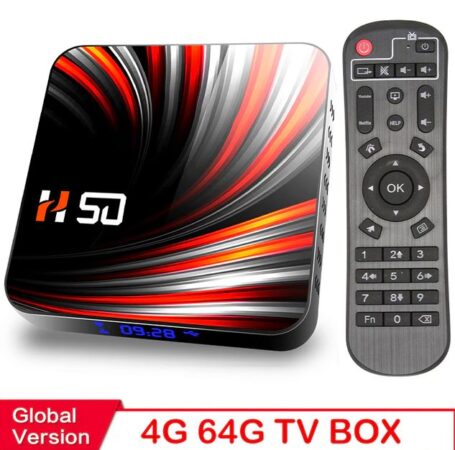 Specs: CPU: RK3318 Quad-Cor, Internal Storage: 64GB eMMC, System: Android 10.0, See all.
Topsion Android TV Box might not be the most popular option available on AliExpress, but it has some of the best price-performance ratios on the market. With a price not exceeding 60$, it received tons of positive reviews and remains a popular choice for customers.
First of all, it is equipped with quad-core Rockchip RK3318 Cortex-A53 hardware, which will enable you to play games, watch movies and stream TV shows with minimum delays. In terms of RAM and ROM capacity, the following options are available: 1.2/16, 2.3/32 and 3.4/64 GB, so make sure to choose the right set when placing an order. All of them support 5G, Wi-Fi and Bluetooth, which ensures a fast, stable and reliable connection.
As for the viewing experience, the TV box supports 4K HD – which is perfect for streaming and gaming on a big screen.
Customer's impressions are mostly positive: the shipping is fast, the package contents are intact, and the device itself is true to the description. However, there is a common issue with Wi-Fi: apparently, the TV box doesn't always support this type of connection, which can become a problem.
Pros:
good price-performance ratio;
fast processing speed;
fast delivery.
Cons:
issues with Wi-Fi connection.
5.

Mecool KM6 Deluxe Edition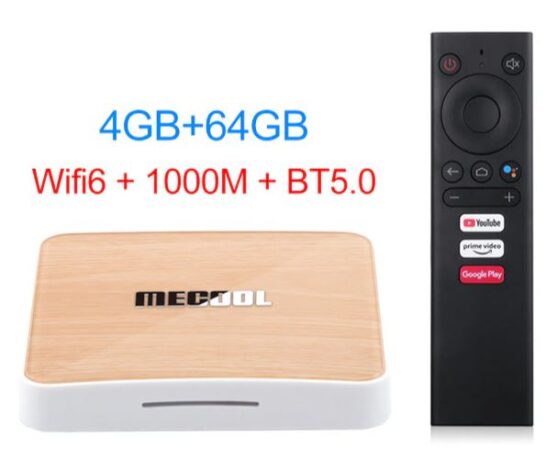 Specs: CPU: Amlogic S905X4 Quad Core ARM Cortex A55, Internal Storage: 64GB eMMC, System: Android 10.0, See all.
Mecool KM6 Android TV box is small and ergonomic – all thanks to the perforated platform which evenly dissipates heat.
There are two options available for the device: 4/32 and 4/64 GB, so make sure to choose the right one before placing an order. The device itself runs on Android 10 OS, which delivers stable and fast performance.
With Wi-Fi 6 support, it transmits data 6 times faster, featuring 2400 Mbps speed and up to 75% of latency reduction to minimize data loss.
In terms of control options, you'll be offered a Google Assistant to quickly set up your device and easily access entertainment content.
For the viewer experience, the TV box is equipped with 4K HDR technology which allows you to watch videos and movies in high-definition on a big TV screen.
Customers praise the design, efficient heat dissipation and over-the-average performance, but are discouraged by the price: it can cost up to 150$ which is expensive when compared to other AliExpress products.
Pros:
ergonomic design;
efficient heat dissipation;
fast processing speed.
Cons:
4.

Reyfoon X96 Max Plus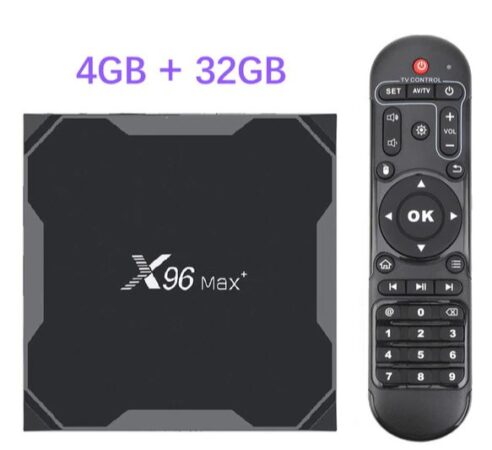 Specs: CPU: Amlogic S905X3 64-bit Quad Core ARM Cortex, Internal Storage: 64GB eMMC, System: Android 9.0, See all.
While running on Android 9.0 (which is inferior to other TV boxes in our review) the Reyfoon X96 Max Plus still deserves an honorable mention due to its fast performance and improved chipset.
Equipped with an Amlogic S905X3 quad-core processor, it has a Neural Networks Accelerator, which provides an incredible processing speed. You can enjoy playing games on a big screen using AirPlay technology, meaning that you can transmit your photos, videos and apps from an Android device to the TV screen without delays.
As for the viewing experience and picture quality, HDR+ support will let you watch videos in 8K resolution (100% size) with improved color rendering.
For the remote-control options, an additional keyboard is available (both with a backlight and without it), which is compatible with an Android TV box itself, a laptop, a tablet PC and so on.
While most of the customer reviews note that the device doesn't heat much, the CPU will overheat when too many tasks are assigned: it is recommended to give it some time (at least 5 minutes disconnected from the network) to cool down.
Pros:
fast processing speed;
the keyboard is included;
AirPlay technology.
Cons:
the device overheats and occasionally needs to be disconnected.
Read also:
3.

Ugoos X4Q Pro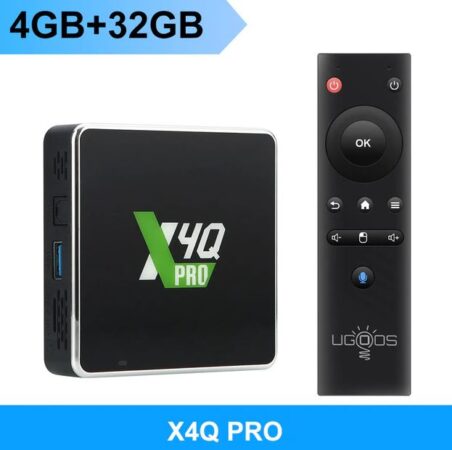 Specs: CPU: (S905X4)Quad core ARM Cortex-A55 CPU, Internal Storage: 64GB eMMC, See all.
X4Q Pro TV box is small, but fast: all thanks to the Android 11 OS and a USB 3.0 interface which supports up to 4.8 GB/s of speed. All of the necessary updates are installed upon delivery, so you can enjoy tons of videos and Android TV content straight out of the box.
In addition, X4Q features unique Family Settings to adjust your user experience: their list is constantly updating, thus improving performance and customization over time.
Depending on the specifications chosen on AliExpress, you can get a 2 GB RAM/16 GB ROM box or a 4 GB RAM/64 GB ROM.
It has an impressive resolution of 4K 60 fps, which ensures the best viewing experience and smoothest playback. Even the customers point this out, noting that the picture quality increases significantly when compared to other TV boxes.
But the most unique feature of this TV box is "Samba" – your own local server to share files with those who are connected to your network. However, in the description, it is noted that the feature will be included in the "future updates", so we are not entirely sure if it is available on the newly bought devices.
As for the cons, the voice remote control doesn't seem to be working – which is not a big deal, since the TV box works perfectly via a smartphone app.
Pros:
Samba server;
family settings available;
updated OS upon delivery.
Cons:
the voice remote control option doesn't work properly.
2.

VONTAR H1 Android 12 TV Box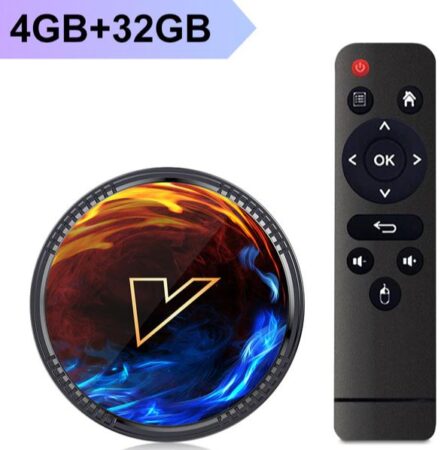 Specs: CPU: Allwinner H618 Quad Core ARM Cortex A53, Internal Storage: 64GB eMMC, System: Android 12.0, See all.
Vontar TV box might be the best option for family use: while adults can enjoy movies and TV shows, children will be excited about playing games.
But why is this TV box considered so good for casual gaming? Equipped with an Allwinner H618 CPU, it offers more stability and performance efficiency, meaning that you can smoothly run even the most demanding games.
In addition, the TV box features resource optimization based on the Mali G31 architecture. This specialized GPU is designed to find an optimal balance between energy consumption and processing speed to save resources.
In terms of Internet connection, the device supports Ethernet, 4G and 5G and Wi-Fi 6. And if your connection is stable, you can use Google Voice Assistant to control the TV box remotely.
There is a minor issue, however: a few customers have reported that system's navigation has a "very annoying" clicking sound, which cannot be disabled.
Pros:
best choice for family use;
powerful CPU which supports a wide selection of games;
resource optimization system.
Cons:
unpleasant clicking sounds in system navigation.
1.

Transpeed Android 12 TV Box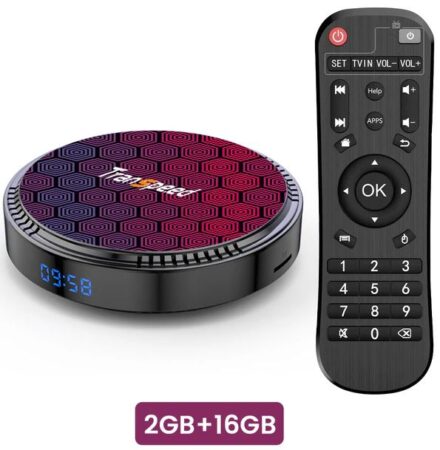 Specs: CPU: Allwinner H618, Internal Storage: 128GB eMMC, See all.
An AliExpress bestseller sold more than 3000 times and a customer's favorite with 1200 positive reviews, the Transpeed TV Box is the best product available on the market.
Running on the latest Android 12 operation system, the TV box ensures stability and powerful processing of graphics for your games. In addition, the manufacturer frequently releases updates to improve performance.
The processing technology deserves special attention: HDR10+ combined with fast processing speed (up to 60 FPS) brings you to a new level of viewing experience.
Featuring Wi-Fi 6 connection technology, it offers the fastest download/upload speed with low latency, allowing you to watch demanding (in terms of size, of course) movies and videos with no issues whatsoever.
In addition, customers note that the TV box does not warm up even after extended periods of time in use. As for the drawbacks, some reviews report that the TF card slot doesn't seem to be working.
Pros:
AliExpress bestseller with a best price-performance ratio;
Android 12 OS;
fast processing speed.
doesn't overheat.
Cons:
TF card slot doesn't work (according to some reviews).
Which Chinese TV Box is the best on AliExpress
To sum up, let's remember the best Android TV Boxes featured in this review – and why they were selected as top products.
Our leader is the Transpeed TV box – one of the few devices on AliExpress which supports Android 12, ensuring the most stable and reliable connection with your devices. Together with the powerful chipset and amazing streaming quality, it will be a wonderful addition to your entertainment routine.
A TV box by VONTAR is in second place – a device capable of balancing its performance based on the assigned tasks, which, in turn, ensures the maximum resource optimization and high-quality gaming or streaming experience. It is also a good choice for families, especially if your kids are fans of casual gaming on a big screen.
Last but not least – an Ugoos X4Q Pro, featuring a unique file share system. With Samba Server you can share files with those who are connected to your local network. In addition, it has one of the most stably updated systems, since you'll receive a fully updated TV box ready for immediate use.
Read also: