If you want to enjoy movies or play games on a big screen, then you might consider buying a projector. By connecting it to your smartphone or laptop, you can project videos directly onto your wall or any other surface. To find the best deal, we searched AliExpress – the biggest Chinese online market, – and picked the 10 best projectors for your consideration.
Top 10 Chinese Projectors on AliExpress
10.

Salange J15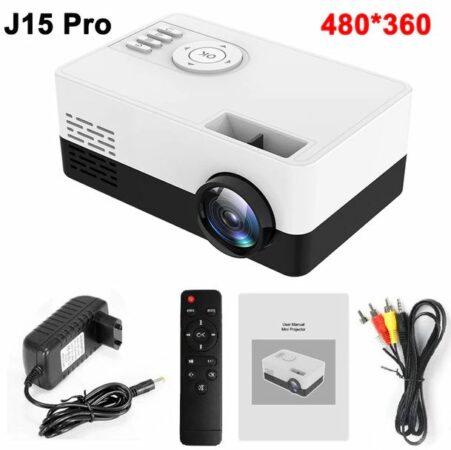 Specs: Optical Resolution: 480x320dpi, Brightness: 1000 Lumens, Projected Dimension: 60-120 inches, Screen Scale: 16:09, Projection Distance: 0.8-2m, See all.
Our list begins with the J15 projector by the Chinese brand Salange – a small but well-trusted manufacturer with a total of 94% positive reviews on its official store page.
This low-budget projector (costing around $70-80) has a native resolution of 480×360 pixels. To transmit movies and videos from your smartphone, a USB cable is required, along with an HDMI adapter. Please note that the adapter is not included in the package.
However small and basic, the projector still supports HDR technology for smooth transmission and low delays between the frames. In addition, its size (8.6×13.1×5.8 cm) makes it a perfect portable device.
Regarding the obvious drawbacks, the low resolution and contrast ratio are notable, so it is not recommended to consider this projector for stationary use.
Pros:
small and portable;
supports HDR;
low price.
Cons:
low quality of image transmission.
9.

Wanbo T2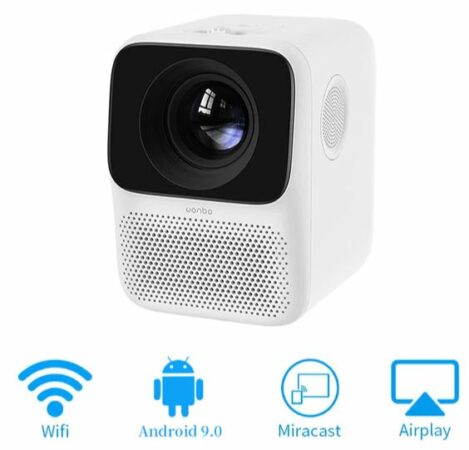 Specs: Optical Resolution: 1920x1080dpi, Brightness: 5000 Lumens, Projected Dimension: 40-120 inches, Screen Scale: 16:09, Projection Distance: 1.5m-3m, See all.
Priced at $300 (with no discounts applied), the Wanbo T2 is a decent projector for transmitting images from your Android devices. A built-in Android 9.0 system ensures a stable and smooth connection, minimizing lags and low FPS issues during screenings.
It has a native resolution of 1080 P – not the best on the market, but still good enough for home use. Its most prominent feature is the anti-dust construction: the optical path is completely isolated, which protects the device from dust and, partially, water. Still, remember that the projector is not water-resistant.
It uses 3 fans for maximum heat dissipation; according to reviews, they do not cause much trouble in terms of noise levels. The main issue is the low level of brightness – because of this, the projector might not be the best choice for daytime screening or outdoor cinema.
Pros:
anti-dust design;
good FPS;
fast heat dissipation.
Cons:
8.

ThundeaL TD97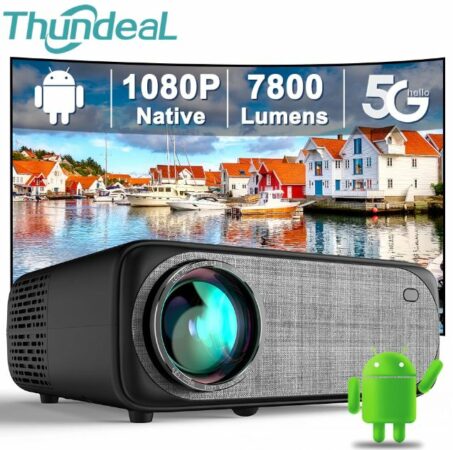 Specs: Optical Resolution: 1920x1080dpi, Brightness: 7800 Lumens, Projected Dimension: 30-300 inches, Screen Scale: 4:3/16:9, Projection Distance: 1-5meter, See all.
For this model, Thundeal offers 3 options: some of them support wireless Wi-Fi and Bluetooth connections, and some do not. Therefore, it is advised to do your research in advance. For this article, we will be reviewing the basic option, which costs around 500-520$ – not so cheap, especially when compared to other Chinese devices on AliExpress.
This high-brightness 7800 Lumens projector has a native resolution of 1920×1080 pixels. Such characteristics make it a solid choice for watching movies, presentations, and photos. It supports 50%-100% zoom, which is quite useful for screening texts or documents.
The unique feature is the full support of the Microsoft Office package – Word, Excel, and PowerPoint files can be transmitted with ease, avoiding quality loss. This feature explains why the TD97 is so popular for office and professional use.
In terms of color transmission, the projector has a 15000:1 contrast ratio, combined with an enhanced color gamut. You can watch movies in dark or moderately lit rooms without a drastic decrease in the quality of transmission.
As for the issues, we found out that the projector's fans are considered as noisy by many customers.
Pros:
good for presenting papers;
zoom option;
supports Microsoft Office package.
Cons:
7.

Polaring A1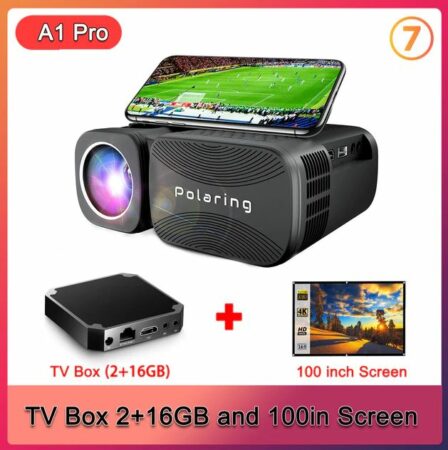 Specs: Optical Resolution: 1920x1080dpi, Brightness: 10000Lumens, Projected Dimension: 50-300 inches, Screen Scale: 4:3/16:9, Projection Distance: 1m – 5m, See all.
Polaring is a Chinese brand famous for offering many low-budget projectors designed for home, outdoor, and office use. However, the A1 model is considered a bestseller on the market.
In terms of image transmission, it is equipped with a second-generation optical 250 ANSI lens. Not only does it dramatically increase the quality of the projected movies and videos, but it also affects the resolution – the projector supports 4K, which can be compared to HD LED TV screens in terms of quality.
Only one button is needed to focus the image, and the anti-blue light technology increases eye comfort.
Another key feature is the incredibly low noise levels; the fans do not exceed 30-35 dB, so the projector can be safely placed in the bedroom.
When ordering on AliExpress, you have a chance to choose a special "gaming edition" of the A1 projector, which comes with more than 1000 preinstalled mini-games – arcades, puzzles and so on.
Looking at the cons, we found that some customers complained about the assembly quality – the projector is "fragile," which explains the low cost.
Pros:
second-generation optics;
eye-shield technology
gaming edition available.
Cons:
6.

TouYinger Q10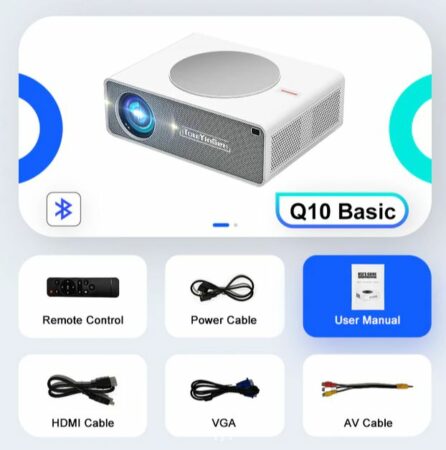 Specs: Optical Resolution: 1920x1080dpi, Brightness: 9500 Lumens, Projected Dimension: 40-120 inches, Screen Scale: 4:3/16:9, Projection Distance: 1.8-5m, See all.
The Q10 projector has several unique features compared to the previous models issued by this Chinese brand.
With a brightness level of 9500 Lumens, it supports a 1920×1080 FHD resolution, making it a perfect choice for home-based or outdoor cinema. You'll be able to enjoy vivid colors to the fullest with a 10000:1 contrast ratio.
The LED lamp has a life cycle of 30,000 hours of work, so the projector will serve you for a long time. In terms of connectivity, it supports Bluetooth and Wi-Fi Sync Screen, enabling you to transmit images directly from your smartphone or laptop.
The projector is also good for gaming, as it offers a low latency of 17.9 milliseconds. Connecting speakers will make your gaming experience truly unforgettable.
As for the cons, some customers reported that the lens can be a bit 'dirty' inside, which affects the quality of the transmission.
Pros:
low latency;
high brightness level;
fit for gaming.
Cons:
dirty lenses upon delivery (according to some reviews).
Read also:
5.

LEJIADA YG300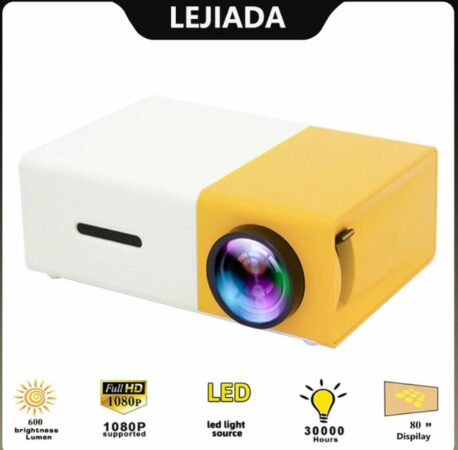 Specs: Optical Resolution: 480x320dpi, Brightness: 800 Lumens, Projected Dimension: 24-80inches, Screen Scale: 16:09, Projection Distance: 1.5-2.5m, See all.
Among the projectors that ended up in the top section of our rating, the YG300 by the Chinese manufacturer LEJIADA is one of the cheapest. Even without discounts, its price doesn't exceed $50-60.
Unlike other models, the projector features a 'sunny' design with white elements, but other color options are also available. With a native resolution of 480×272 pixels, it can support 1920x1080P screening without losing too much in terms of sharpness and brightness.
Projector supports a lot of devices: laptops, game consoles, speakers and so on. It also has a focusing wheel to increase image sharpness.
What we found strange is that there is no information about wireless connection: either the device doesn't support Wi-Fi and Bluetooth at all, or the manufacturer forgot to clarify this. This, together with low brightness, are the model's main issues.
Pros:
low price;
interesting design, several color options are available;
focusing wheel.
Cons:
doesn't support wireless connection;
low brightness level (according to reviews).
4.

XIDU Mini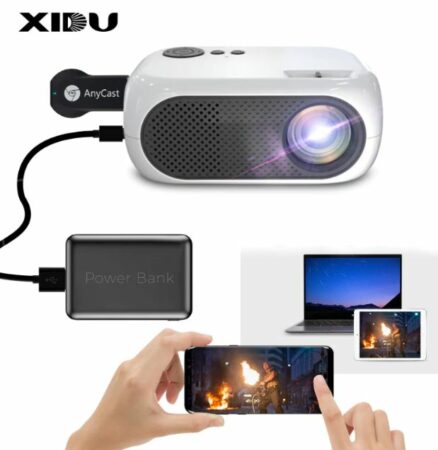 Specs: Optical Resolution: 640x480dpi, Brightness: 1400 Lumens, Projected Dimension: 40-120 inches, Screen Scale: 4:3/16:9, Projection Distance: 0.5-3 meters, See all.
With a price of less than $100, a projector by XIDU – a small but well-trusted Chinese brand – offers the best cost-performance ratio. However, there are many things to be considered before placing your order.
First, the basic model doesn't support Wi-Fi or Bluetooth connection; it is mainly designed to connect through HDMI cable or USB flash drives, TV sticks, etc. But there is an "Anycast" model which supports any type of wireless connection, so place your order carefully.
The good thing is that, thanks to its small size, the projector can be charged with a power bank. You can set it up outside to create an outdoor cinema without worrying about cables or adapters.
It has a moderate resolution of 640x480P and a brightness level of 1200 Lumen. For better projection quality, it is recommended to install it at a distance of 0.8 to 4 meters from the screen.
As for the issues, customers mostly complain about the 'Anycast' feature – the connection often fails, and after that, the device must be restarted.
Pros:
can be charged by a power bank;
small-sized, perfect for outdoor cinema;
good resolution.
Cons:
wireless connection issues.
3.

HONGTOP S30MAX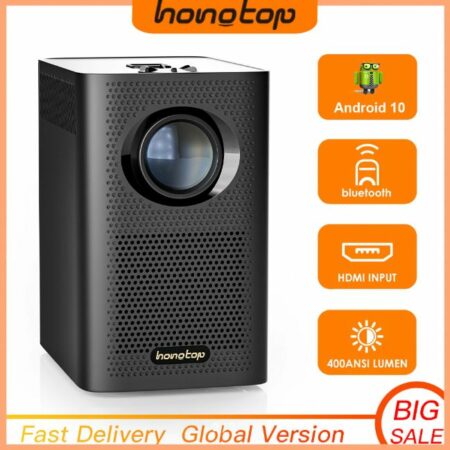 Specs: Optical Resolution: 1920x1080dpi, Brightness: 4000 Lumens, Projected Dimension: 40-120 inches, Screen Scale: 16:09, See all.
It would be safe to assume that the S30MAX is the smallest projector available on the Chinese market. Palm-sized, it can be carried anywhere.
While small, it supports 4K resolution for transmission and can connect to smartphones via Bluetooth with just one click: enjoying movies and games has never been easier.
To decrease blurriness, the projector is equipped with the Focus option: by simply rotating a small lever you can easily sharpen the image. This feature is incredibly useful for watching sports or dynamic movies.
In terms of connectivity, the device is equipped with HD 2.0, DC sockets and a 3.5 mm headphone jack. Wireless methods, such as Bluetooth and Wi-Fi, are also supported.
The projector is recommended by more than 900 customers, while minor issues include a limited Wi-Fi connection: according to some reviews, the internet download speed is limited to 10 Mbps, which makes it impossible to watch videos over 720p.
Pros:
small and portable, very easy to carry;
Bluetooth 10;
adjustable focus.
Cons:
limited Wi-Fi download speed.
2.

WEWATCH V50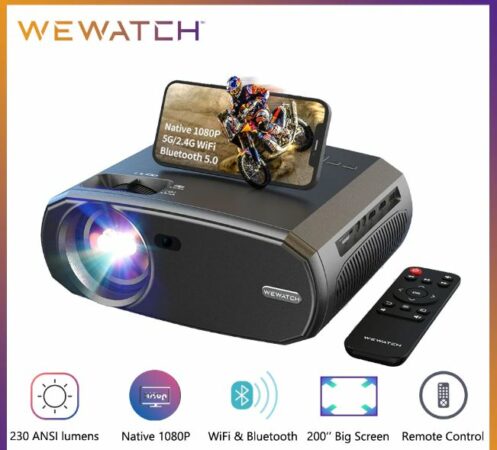 Specs: Optical Resolution: 1920x1080dpi, Brightness: 15000Lumens, Projected Dimension: 36-200inches, Screen Scale: 16:09, Projection Distance: 1.16M-5.78M, See all.
The WeWatch V50 is one of the few Chinese projectors offering 1080p FHD resolution for your movies and images, delivering a top-quality viewing experience indoors. It also protects your eyes with diffuse reflection technology, which softens overly bright colors.
The brightness levels are indeed impressive: a 230 ANSI lumen brightness provides incredibly vivid images, so you can enjoy a cinema-quality transmission at home.
As for the screen size, it can be adjusted from 90 to 500 cm, which is suitable for movies, presentations (not for PowerPoint text presentations – we'll explain why) or games. The projector supports wireless connection to iOS and Android devices, so you can transfer files directly from your smartphone.
One minor issue is that this projector is not suitable to transmit text, as it will appear blurry.
Pros:
diffuse reflection technology;
bright and vivid transmission;
supports Full HD resolution.
Cons:
bad at transmitting text and PPT presentations.
1.

AUN MINI Projector A30C Pro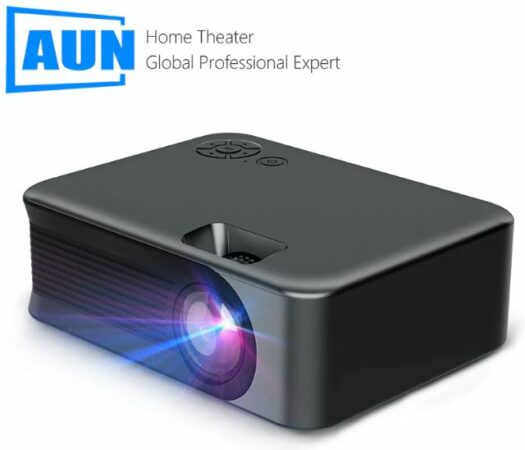 Specs: Optical Resolution: 800x480dpi, Brightness: 3000 Lumens, Projected Dimension: 20-120 inches, Screen Scale: 4:3/16:9, Projection Distance: 0.5-4m, See all.
A bestseller with a total of 1800 positive reviews and more than 4000 orders, an A30C Pro projector proudly claims first place in our ranking list.
This portable device features impressive autonomy thanks to two 2500 mAh lithium batteries. When not plugged in, the projector's working time equals 90 minutes of screening – which is enough to watch at least one movie. However, it should be noted that the battery is an optional accessory and must be purchased separately, so clarify this with the seller.
With an 89% color gamut, the projector transmits vivid and bright images for better immersion. Additionally, you can connect your smartphone to the projector through Wi-Fi and watch photos and videos saved in your gallery.
Minor complaints include issues with USB flash drive recognition: the projector doesn't read USB flash drives above 64GB or those that do not use the FAT32 file system.
Pros:
wireless smartphone connection;
portable (if batteries are ordered);
quiet fan, low noise levels.
Cons:
doesn't recognize some of the USB flash drives.
How to choose a projector?
A projector can be used for a variety of purposes, from viewing presentations to setting up a home cinema. To choose the best device for specific tasks, here is a checklist of the most important characteristics of projectors.
Throw Ratio is the ratio of the distance between the projector lens and the wall to the width of the picture. For example, a ratio of 2:1 indicates that if the projector is placed at a distance of 2 meters from the screen, the image will be 1 meter wide. So, consider the size of your room and calculate the required throw ratio in advance.
Most projectors use one of the two transmission technologies, DLP or LCD. DLP projectors ensure high brightness and contrast ratios, while LCD projectors are the most affordable but may struggle to produce high image quality. However, they are the best choice for home use.
For projectors, Chinese manufacturers indicate the amount of luminous flux, measured in ANSI Lumens, which is also commonly referred to as brightness for simplicity. The higher this value, the clearer the projection will be in the dark. For example, 500-600 ANSI Lumens are sufficient to watch movies in a darkened room on an 80-inch screen.
Picture saturation, clarity, and visual comfort depend on the contrast. In the context of home theater, this characteristic is of great importance because the higher the contrast ratio, the better the overall picture quality.
Finally, resolution refers to the number of pixels displayed per centimeter of the screen. The higher the resolution, the more detailed the transmitted picture is. For example, a resolution of 1280×800 (combined with a 16:10 screen) is a good budget choice for a home theater.
Read also:
Identifying the best Chinese projector: Conclusion
Our first place goes to the AUN MINI A30C projector – a customer favorite equipped with a powerful battery, enabling you to watch movies anywhere without the need to carry the power adapter. Vivid and clear transmission combined with a good contrast ratio makes it a perfect choice for watching movies at home and outdoors.
The WEWATCH V50 projector is the runner-up, offering both HD resolution and eye protection, which is especially important when watching movies in the dark.
And our third place goes to the HONGTOP S30MAX – a small and compact projector, perfect as a portable device. You can easily set it up in your office or a conference room for dynamic presentations to impress your audience.