A quadcopter drone is a small helicopter with four rotors used for aerial shooting or fun. Photographers often use them to make amazing bird's-eye view photos or record videos from a top angle for weddings or any other outdoor celebrations.
And if you thought that this type of equipment is expensive and available only to professionals, then we are happy to dispel the myth. Affordable quadcopters can be found even on AliExpress!
In this article, we selected the top 10 best drones which you can find on this famous Chinese online market, so you can learn how to fly a quadcopter yourself.
Top 10 Chinese drones on AliExpress
10.

FIMI X8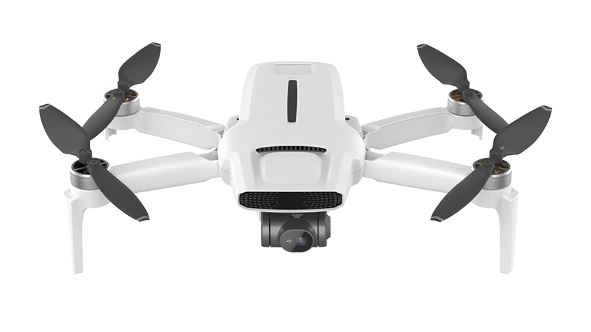 Specs: Video Maximum Resolution[Pixel X Pixel]: 4K(4096*2160), Control Channels: 10 Channels, Flight Time: Others, See all.
The FIMI X8 drone is a nice starter for anyone who is considering buying and testing the quadcopter for the first time.
Small and foldable, it weighs less than 250 grams (plus or minus 10 grams, depending on the battery), so you can carry it even in your pocket.
The X8 model is used for transmission in real-time: according to the product's description page, it has an 8 km transmission range. To be honest, this sounds a bit exaggerated, but customers didn't complain about this feature in the reviews section.
The drone supports fast charging (the exact charging and flight times are not indicated, though) and Wi-Fi synchronization with your smartphone.
Equipped with highly-efficient rotors, the drone can resist Level 5 winds, meaning that you can use it in mountains or above the sea to capture breathtaking views.
While the majority of reviews for this model are positive, there are some minor complaints – such as some issues with the fast-discharging battery.
Pros:
beginner-friendly;
lightweight and compact;
good transmission range.
Cons:
low-capacity battery;
lack of information provided by the manufacturer.
9.

KBDFA E88 Pro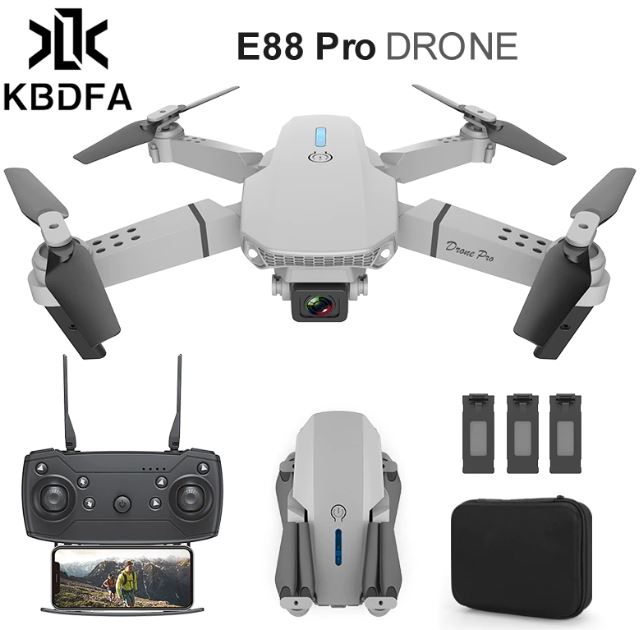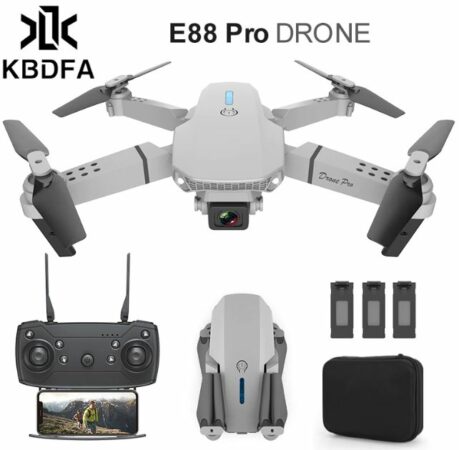 Specs: Video Capture Resolution: 4K UHD, Control Channels: 6 Channel, Remote Distance: 200, See all.
This compact foldable Chinese drone is equipped with everything a beginner might need while learning to operate a quadcopter.
The small size and foldable body allow you to carry the drone everywhere you need: while folded, its sizes are around 12.6x8x5.5 cm. For 100 minutes of charging time, you'll get around 15 minutes of flight, which is typical for basic drones.
The camera is also pretty good: while not exactly the 4K as the manufacturer promises, it still features 90–180-degree adjustment options for a wide range of shooting, and a 1600W video image quality (which is also doubtful, if we are being honest).
But if a stable Wi-Fi connection is provided, you can watch the image transmission in real time, capturing breathtaking aerial views. To ensure that the picture is not blurred, the drone supports hover mode for better stabilization.
In terms of control, you can set up a trajectory for the drone to follow – this significantly simplifies the operation.
Pros:
foldable body, compact size;
image transmission in real-time;
hover mode.
Cons:
8.

KY202 Expeditod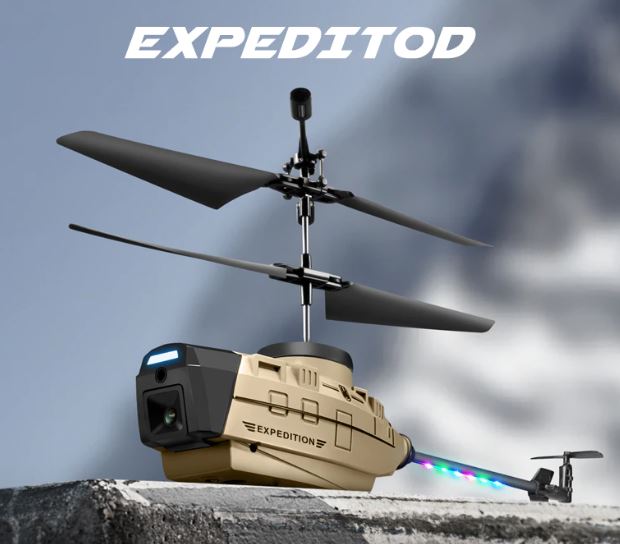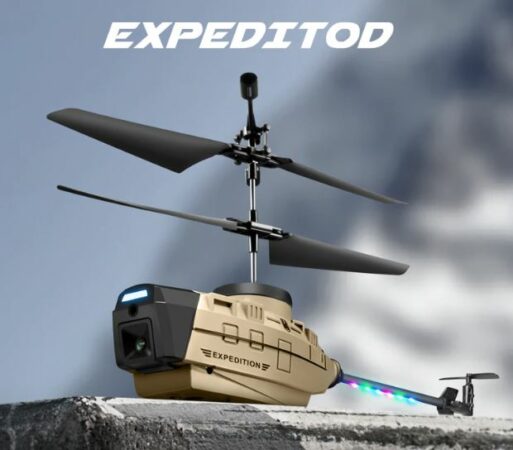 Specs: Video Capture Resolution: 4K UHD, Control Channels: 4 Channels, Flight Time: 15 minutes, Remote Distance: 100m, See all.
Expeditod belongs to a class of basic drones, but its helicopter-inspired shape makes it a perfect toy for kids.
It is small, fragile and can be operated indoors thanks to the Air Gesture control mode. No remote controller is needed: just use the palm of your hand to navigate the drone and have fun exploring the surroundings with this small drone hovering around you!
The Expeditod can identify obstacles to avoid them, which serves as additional protection against collisions and damage. But if you have two Expeditod drones, you can turn on the combat mode, which features cool sound effects – something that the children will be excited about.
And if you think that this toy drone cannot surprise you further, then note that it even has a small camera to capture scenery during the flight! The transmission can be viewed on your smartphone in real time.
But to avoid disappointment, it is important to remember that this drone is used for fun and games – you won't be able to make some professional shots with it.
Pros:
a perfect toy drone for kids;
combat mode (only works if you have 2 drones);
obstacle avoidance system.
Cons:
7.

Q6 5G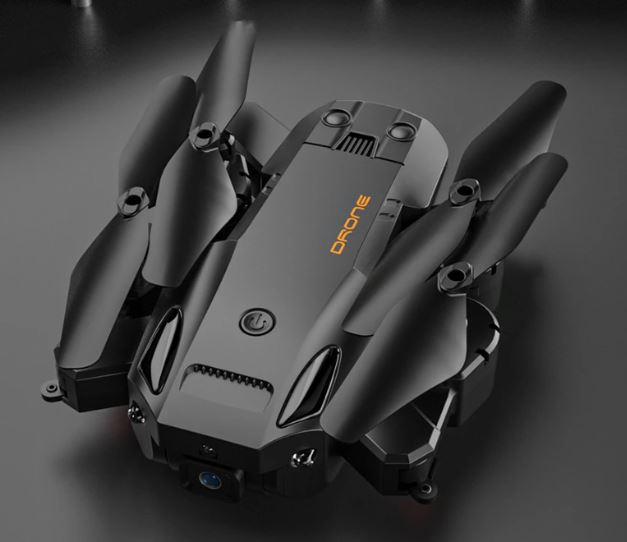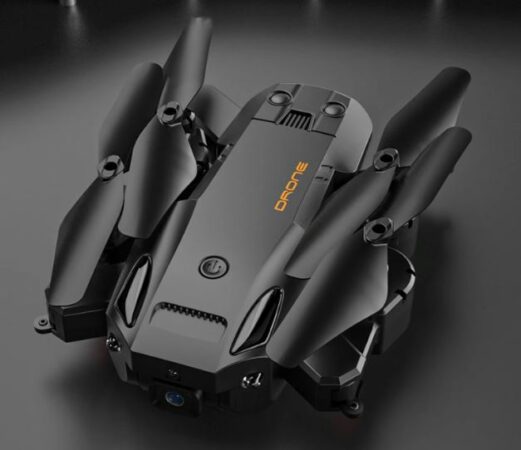 Specs: Video Capture Resolution: 6K UHD, Control Channels: 4 Channels, Flight Time: 15Min, Remote Distance: 150m, See all.
Looking like something straight out of a cyberpunk movie, the Q6 drone is an advanced 8K model equipped with the Avoidance smart technology, intended to protect the device from collisions. It scans the surrounding area of 1.5 to detect any obstacles and renavigate accordingly to avoid trees, buildings and walls.
The Chinese drone is beginner-friendly, as it features a simplified control mode: only one key is used for take-off and landing, and headless operation ensures that you don't have to choose the direction or balance altitude all the time.
In addition, the quadcopter is equipped with two HD cameras: the image can be transmitted to your smartphone in real-time, while the 3000 meters flight range will give you a glimpse of the most breathtaking views.
1800 mAh capacity battery provides 25 minutes of flight time, which is better than most of the drones available on AliExpress.
While the customers praise the device for its fancy design and decent specs, there are several complaints. For example, it is hard to synchronize the smartphone and controller, and the drone itself is very fragile, so it's better to be careful when using it outdoors.
Pros:
good design;
improved obstacle-avoidance technology;
easy control.
Cons:
fragile, easy to break;
synchronization issues.
6.

JJRC H107 Mini Drone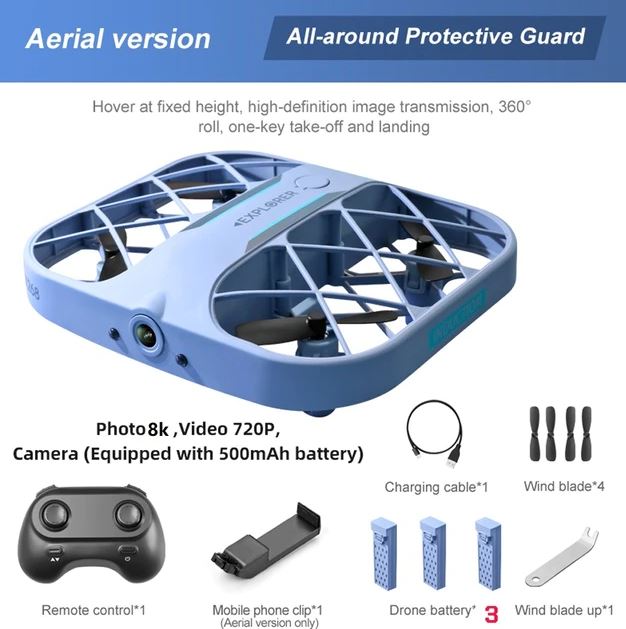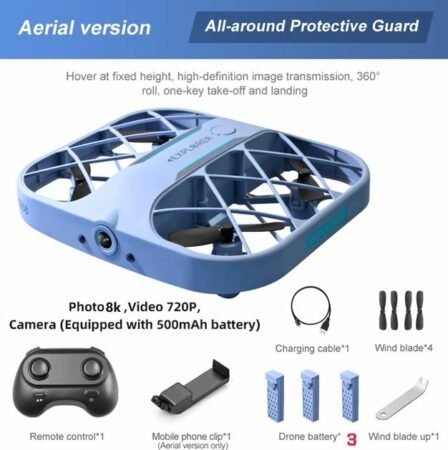 Specs: Video Capture Resolution: 8K UHD, Control Channels: 4 Channels, Flight Time: About 6-8 mins, Remote Distance: About 100m, See all.
This mini-drone is unique in many ways: starting from its pocket size and ending with its flexible control features.
The first thing that customers notice about JJRC H107 is its unusual shape: all 4 propellers are protected by a shield, unlike other models where rotors are usually protruded for display. Such a design prevents the drone from getting scratched or damaged by an accidental fall.
In addition, this small toy-looking quadcopter can take pictures in 4K: an HD-camera lens captures clear and vivid shots midair, which serves as an additional bonus.
Some customers are worried that because of its unique shape, the H107 is difficult to control, but thanks to the Altitude Hold mode the drone will steadily hover in midair. And most importantly, it can flip! Of all the models featured in this article, the H107 is the only one capable of performing stunts.
It seems that the main complaint the customers have is the problem with the batteries – they are either weak or not included in the package at all.
Pros:
unique body shape;
can perform flips and rolls;
auto-hover midair.
Cons:
issues with the batteries.
5.

TENG1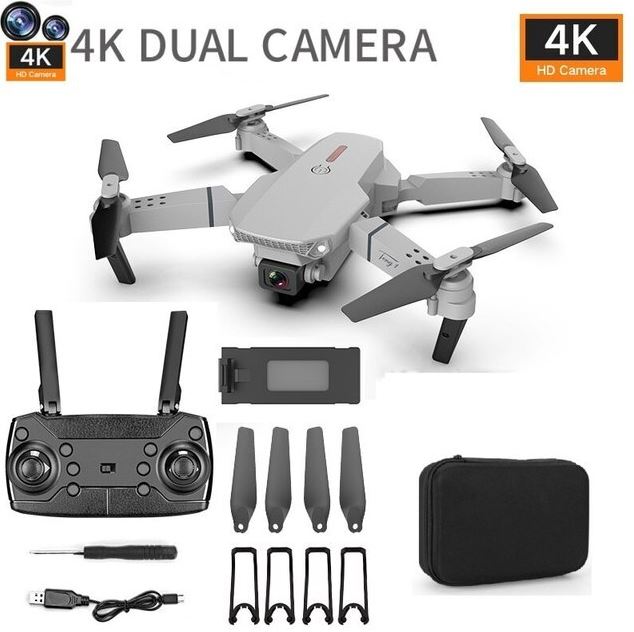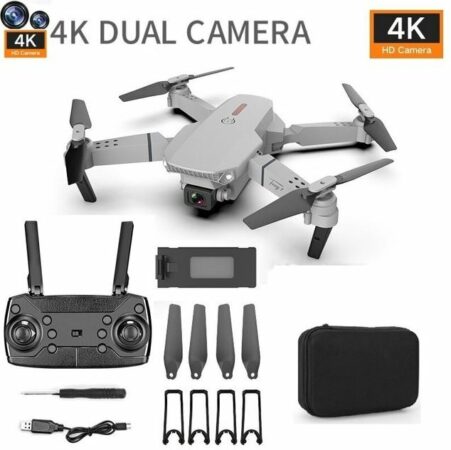 Specs: Video Maximum Resolution[Pixel X Pixel]: 4K(4096*2160), Control Channels: 4 Channels, Flight Time: Others, Remote Distance: 150m, See all.
The Chinese TENG1 drone is a small drone which can be used for amateur aerial photo/video shooting or as a remotely-controlled quadcopter for fun – the manufacturer specifically tagged this model as a "kids' toy".
Its key feature is the modular-designed battery: it needs 100 minutes to be fully charged and provides around 8-15 minutes of flight time. Moreover, you can set up a preferred trajectory for the drone using the designated app – a feature which will make children excited about learning how to navigate the drone.
Remote altitude control is also supported: you can change it by simply tilting your smartphone left or right. In addition, there are some impressive additional options, such as one key take-off/landing and the VR glasses support, so you can experience the surroundings from a bird's-eye view.
Here we move to the disadvantages: while the shooting quality is mediocre (a typical problem for AliExpress drones), customers mostly complain about quick battery discharge – it lasts less than 5 minutes, which is not nearly as close to the promised 15 minutes of flight time.
Pros:
a good option for kids;
modular battery;
supports VR glasses;
easy control and operation.
Cons:
battery discharges quickly.
4.

4DRC V4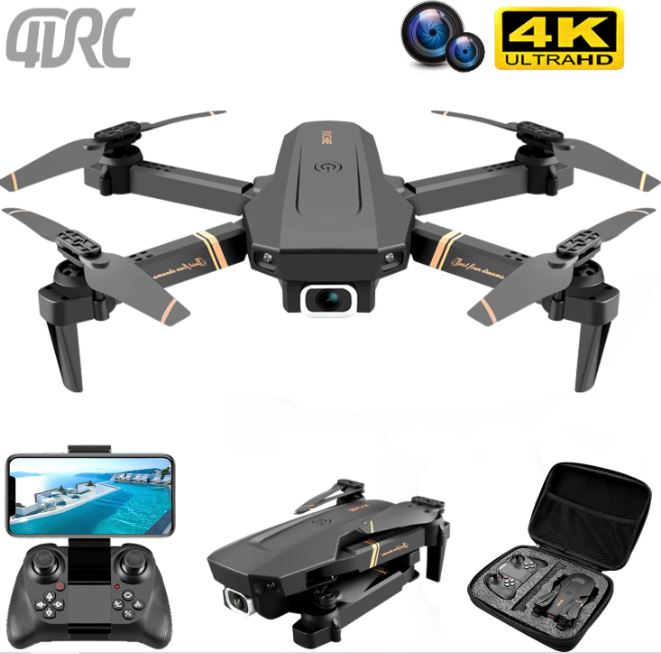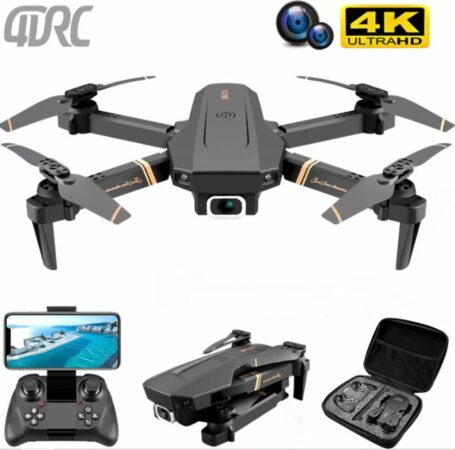 Specs: Video Capture Resolution: 4K UHD, Control Channels: 4 Channels, Flight Time: About 25 minutes, Remote Distance: 100M, See all.
The 4DRC V4 HD drone has another name – a "Shadow HD Record 3", which sounds kind of cool. And we are not the only ones who think this way: currently, the quadcopter has more than 650 customer reviews and was ordered more than 5000 times, which is a sign of high demand.
It has a convenient foldable design, being much smaller and lighter (less than 100 grams together with the battery) when compared to previous models.
And there is the reason why the drone was named "Shadow": thanks to the improved propellers, the noise levels reduce down to 45%, so you can say goodbye to annoying buzzing. This feature is especially helpful if you use the drone to shoot weddings, where low noise levels are crucial.
The battery provides up to 20 minutes of flight. In addition, the drone is very easy to control due to the Light Flow Vision system – you can use one hand on a remote controller to maintain smooth stabilization.
Not necessarily a disadvantage, but it is important to note that the drone has multiple configurations: some customers mistakenly ordered this quadcopter without the camera, which, of course, resulted in a huge disappointment.
Pros:
small and quiet, perfect to shoot weddings or outdoor celebrations;
foldable design;
several configurations are available.
Cons:
many customers reported delivery issues: the drone was delivered in a broken condition.
3.

LS-S1S Mini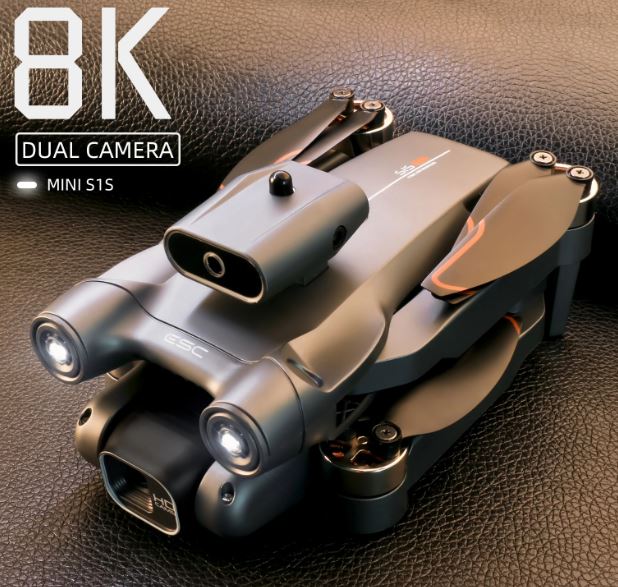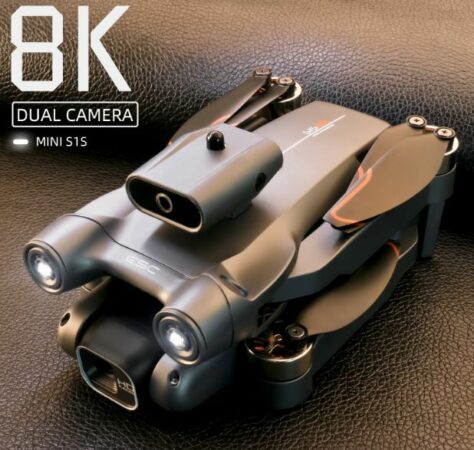 Specs: Video Capture Resolution: 480P SD, Control Channels: 4 Channels, Flight Time: 14-18 min, Remote Distance: 100m, See all.
"Small and powerful" is one way to describe the Chinese LS-S1S folding quadcopter, which impressed the customers with an improved brushless motor and 6K adjustable dual camera.
The manufacturer lists the 360-degree smart obstacle avoidance system among the drone's main features: unlike others, this model scans its surroundings in 4 directions. This provides more security during operation, making sure that the drone won't unexpectedly collide with anything on the flight.
We have also tried to understand what the brand means by the "7-Level Brushless Power". Apparently, it refers to increased stabilization and wind resistance when compared to older models. With a power output of 3200 rpm, the drone can be used to shoot photos and videos in harsh conditions, such as above the sea or desert.
Both cameras support the remote-control angle option, real-time image transmission and can shoot photos/videos in 8K high resolution – but here comes the tricky part. On AliExpress, the review section features some amazing HD photos allegedly taken by the drone, but other customers claim that these examples are "fake". What we recommend is to keep your expectations at bay and treat this drone as a decent tester, since finding a real 8K drone on AliExpress is difficult.
Pros:
powerful brushless motor for improved stabilization;
360-degree obstacle avoidance system;
folding body, easy and compact to carry.
Cons:
doesn't actually support 8K (according to reviews).
2.

Z908 Pro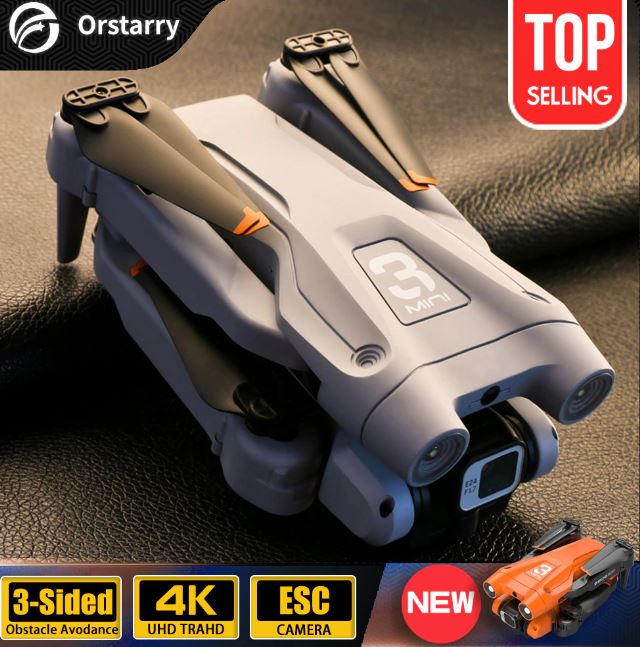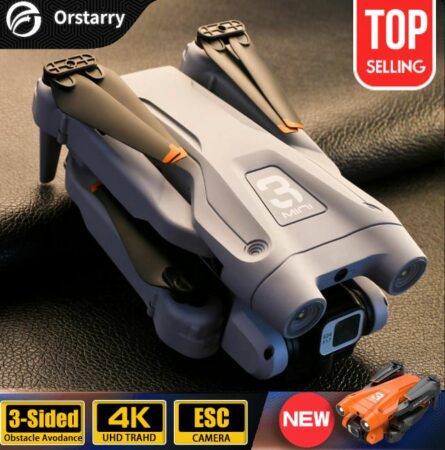 Specs: Video Capture Resolution: 4K UHD, Control Channels: 4 Channels, Flight Time: About 18minutes, Remote Distance: about 200m, See all.
Z908 Pro is a small and compact travel buddy which will follow you around to make beautiful aerial shots.
Its key feature is the ESC camera capable of adjusting its angle up to 150 degrees to ensure multidimensional shooting. You can make looking-up shots, set up head-up shooting for horizontal frames or capture perfect overhead shot videos. In addition to the main 150-degree ESC front camera, the drone has a smaller bottom camera with a 120-degree angle, which provides additional shooting range.
If you are afraid that your expensive drone may collide with an obstacle, then you'll like the fact that this model is equipped with a 3-dimensional obstacle avoidance system. It scans the environment in front, on the left and the right of the drone to make sure that no unexpected collisions happen.
If you are solo travelling and want to make perfect pictures on your own, then the gesture recognition technology can help you out: just face the drone, wave your hand or make a peace sign – and voila, the drone will take a picture or record a video within the next 3 seconds!
While the model received positive reviews from more than 200 customers, it has a number of complaints as well – such as the "tragic quality" of the video, which doesn't stand near the promised 4K. Our advice is to use the drone as a practice model before buying something more expensive.
Pros:
wide shooting range, supports different angles;
3-dimensional obstacle avoidance system;
gesture recognition technology;
perfect choice as the first drone to learn flying and navigation;
Cons:
poor quality of the video.
1.

L900 PRO SE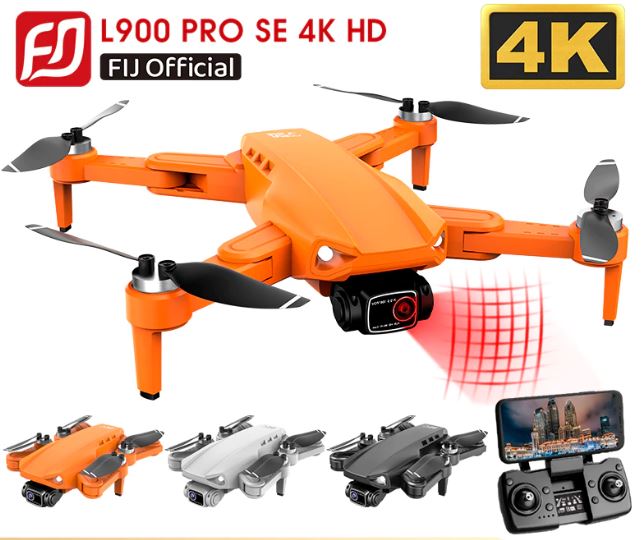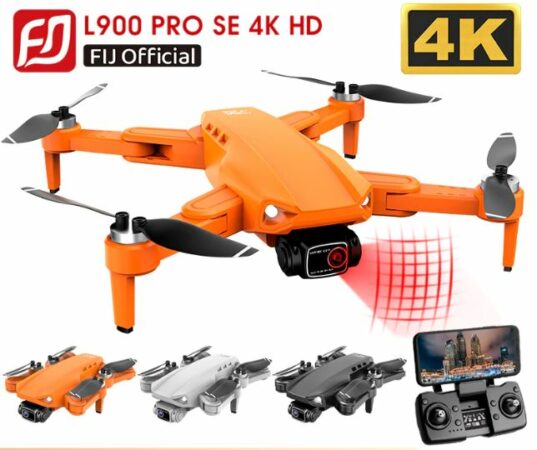 Specs: Video Maximum Resolution[Pixel X Pixel]: 720P(1280*720), Control Channels: 4 Channels, Flight Time: 20min, Remote Distance: 1200m, See all.
With 1000 positive reviews and over 3000 orders placed on AliExpress, L900 PRO SE is considered the bestselling drone on the market.
Equipped with a number of useful features, it can be used for professional shooting: with two cameras, a video resolution of 1920×1080 and a picture resolution of 4096×2160, you'll get the best aerial shots from different angles in 4K quality.
Moreover, the drone is equipped with a unique system of obstacle avoidance: by scanning the surroundings, the quadcopter can avoid collision with birds, walls or buildings, and even navigate itself through narrow corridors.
For better outdoor and indoor navigation, the drone can switch between the GPS and optical flow modes. But still, it comes as no surprise that sometimes drones get lost. To avoid it, this model is equipped with GPS satellite return technology, which automatically returns the device to the home station if it is on low battery, too far away from the launching position or if the Wi-Fi connection is poor.
While this Chinese model is at the top of our rating, there are some customer complaints, such as the light-dependent shooting quality.
Pros:
dual camera shooting for different angles;
obstacle avoidance system;
satellite return technology;
a bestseller on AliExpress.
Cons:
does not support 4K shooting in poor lighting conditions.
How to choose a drone (quadcopter) on Aliexpress?
The Chinese drones available on AliExpress are mostly designed for beginner or mid-level photography and videography. They can be a perfect option to learn drone navigation and control before buying something more expensive.
Having thoroughly scanned the market for the best quadcopters, here are some general tips on how to choose the right model.
Flight time and charging time
First things first – the drone is supposed to fly, and the longer it flies, the better it is in terms of operation.
Typically, the flight time varies between 10-20 minutes for basic drones, but racing and professional drones can perform even better.
As for the charging time, make sure that it is not too long. Basic models can take up to 100-120 minutes to charge fully, but this time also varies.
Camera
Not every drone comes with a camera – some can only fly, which makes them closer to toys. However, if you intend to shoot videos or photos, then camera specs should be your top priority.
Check the resolution (2K is more than enough for starters, while 4K or even 6K will give you cinematic-quality photos), number of available cameras as well as angle adjustment to get the best shooting range.
Obstacle avoidance system
Having a drone with obstacle-avoidance technology can save you a lot of nerves and money if you are unsure of your remote-control skills.
With this option equipped, it is much easier to navigate your drone outdoors, as it will help to avoid collision with trees, buildings or even birds.
Auto-tracking
Drones can sometimes get lost – which is a shame since you spend a lot of money on the device.
To avoid this, some models are equipped with satellite return technology, which automatically returns the drone to the home station if it is running out of battery or flies too far away.
Additional options
Depending on the drone, there are many useful features which can make the control and operation much easier.
VR glasses support, one-hand remote control, trajectory planning and so on – while these options might seem unnecessary, they can act as a nice addition to your drone.
Choosing the best Chinese drone on AliExpress
After reviewing the top 10 quadcopters available on AliExpress, let's pick up "the best of the best" drones, according to technical specs and customer impressions.
The first place is shared by L900 PRO SE and Z908 Pro drones, each of them perfect in their way. L900 PRO SE features one of the best control options, has a decent camera to shoot on a nearly professional level and avoids collisions with ease. As for the Z908 Pro, it can become your best friend in travels thanks to enhanced shooting ranges and improved gesture recognition technology.
The second best is a small LS-S1S Mini drone with powerful 3200 rpm propellers, which provide additional resistance to wind and harsh conditions.
And our third favorite is the 4DRC V4 "Shadow" drone – a lightweight, compact and quiet quadcopter, perfectly balanced and designed for shooting outdoor celebrations.