A wedding is one of the most important events in a woman's life – and one of the most stressful. From choosing a venue to coming up with a guest list, there are lots of preparations to consider, but none of which are as crucial as finding a perfect wedding dress.
If you think that it is impossible to find a white gown that is gorgeous and affordable at the same time, we've got you covered with this list of the best wedding dress stores on AliExpress.
Buying a Wedding Dress on AliExpress: Measurements Guide
When shopping for wedding dresses on AliExpress, many brides are worried about getting the right size. Sellers understand all too well that a wedding dress must fit perfectly, so many of them offer dress fitting services free of charge.
Quite often if fitting services are provided, it will be mentioned in the product description section. Here is what it can look like (credit to Bepeithy store):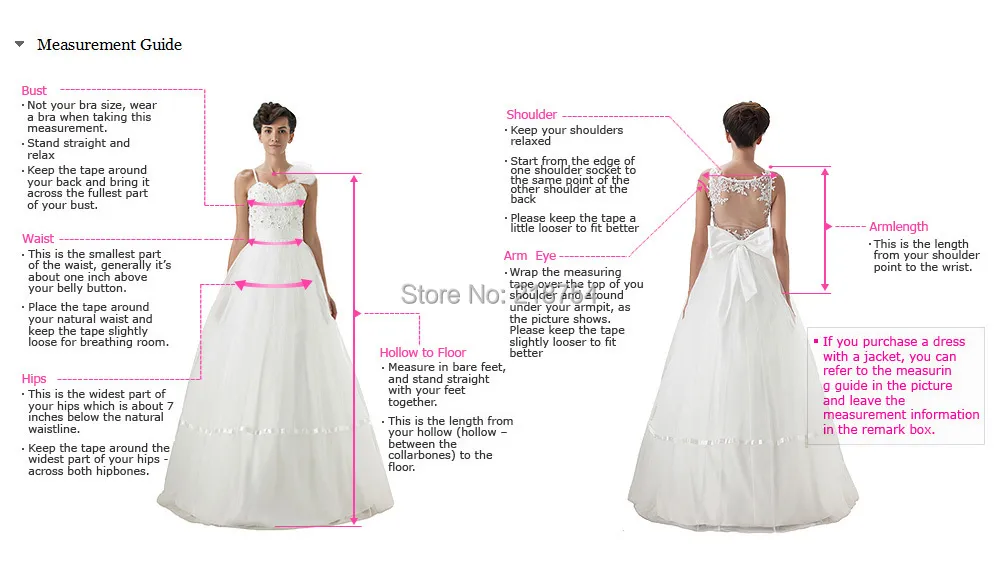 Along with detailed instructions, you'll find information on how to send your measurements and which elements can be additionally customized (color, appliques, etc.). Make sure to reach out to the seller in advance if you require a dress fitting since it will take more time to prepare and ship a customized gown.
Top 15 Wedding Stores on AliExpress
Mine Wedding Dress
As the name suggests, Mine Wedding Dress is a store where you'll find everything needed to make your wedding day special. A variety of wedding gown styles, accessories and even a dress for your maid of honor – just name it, and this seller has it all.
Make sure to have a look at their special occasion dresses – they might pique the interest of those brides who don't want to get married in a traditional white gown.
BECHOYER
Bechoyer Boutique is your best pick when it comes to customization: the store offers custom-made wedding dresses of any style, silhouette and color. Their latest collection is distinguished by romantic vibes, the use of satin and chic elements like big bows, sophisticated appliques and open necklines.
As expected, their dresses are more expensive compared to other options on AliExpress, but for an average price of $300, you'll get a good-quality custom-made dress that you won't find in local boutiques.
TL Romantic Wedding Dresses Factory
TL Romantic Factory offers A-line and ball gown wedding dresses for those who want to glide into their "happily ever after" like a true princess. And with prices ranging from $30 to $100 for a dress, it is one of the most affordable stores on AliExpress.
In addition to white wedding gowns, you can find gorgeous evening dresses for bridesmaids and guests. The only drawback is the lack of other silhouettes in the store's collection, like mermaid and column styles.
DreamDress
"Your satisfaction is our pursuit" – this is the motto that inspires DreamDress to expand their wedding gown collection with new designs and silhouettes every year.
From short mini bridal dresses to long and dreamy ball gowns, brides can find the most complimenting models and save some money too! One of the best things about the store is the prices: expect to pay around $100-$110 for a dress which would cost you a fortune in a local bridal boutique.
EZKUNTZA
EZKUNTZA store is quite versatile when it comes to available designs, but ball gown wedding dresses still prevail in the current selection. If you are opting for "princess vibes" on your special day, this boutique can offer a variety of flattering shapes and designs.
As for the quality of the fabric, it is surprisingly good when prices are considered – it's unlikely that you'll find similar designs for less than $90. Just make sure to check the reviews with photos first, as they offer a more realistic demonstration of the dress – something that the store itself doesn't always provide.
Mryarce
For a bride who loves minimalistic subtle dresses Mryarce is the best choice. The store's selection of wedding gowns can be roughly divided into 3 categories: crepe, lace and Boho wedding dresses.
Crepe dresses are sleek yet flowy, offering comfort and versatility when it comes to embellishments. Store's lace gowns are extremely sophisticated, often featuring an open back. And Bohemian dresses keep to natural-fitting silhouettes and damask patterns for a dreamy bridal look.
Sevintage
Sevintage wedding dresses are more on the creative side, with flower motifs, tulle skirts and Boho aesthetics dominating the current collection.
There are options for brides and bridesmaids and a selection of evening dresses for proms and wedding afterparties, so you won't be stuck with white gowns only.
Take into consideration the shipping costs, though – in some cases, they may exceed the price of a dress.
Read also:
Eightree
Sometimes all you need for a wedding is a simple satin dress with no embroidery, no appliques and no rhinestones – this way you can be sure that guests will be mesmerized by you only, rather than focus on the dress design.
Eightree is all you need for that minimalistic look. Here you'll find an extensive selection of fishtail silhouettes, V-necks, ball gowns and boho-styled dresses made of satin with nothing extra and only the veil to add finishing touches to your bridal look.
Lakshmigown
Lakshmigown store has found a secret formula for cheap, but elegant wedding gowns which will leave your guests (and the groom) in awe.
By relying on vintage lace appliques, tulle skirts and V-necks in their designs, the boutique created one of the most aesthetic collections of wedding dresses available on AliExpress.
Since the dresses are fully handmade, you can customize each element for a better fit (additional fees apply), or even opt for a rush order in case your wedding celebration is happening sooner than expected.
QQ Lover
QQ Lover might be the oldest wedding dress store on AliExpress, and throughout its history the boutique managed to satisfy customers' needs, keeping the 98% positive review rate levels.
It's a budget-friendly store all the way through. With just $50 in your pocket, you can buy a classic ball gown wedding dress with lace appliques or choose from a wide selection of A-Line designs and mermaid skirts.
Ashley Carol
Ashley Carol is a brand which creates wedding dresses for "high-end clientele". The approach is evident if you look at their selection of elegant gowns with invisible necklines, floral lace embroidery, and smart use of beaded appliques.
There are customizable wedding veils available as well – you can adjust the length and commission a chapel veil, for example, – so it is easy to create a finished wedding look.
But while the prices are justified, they are way higher compared to other stores on AliExpress – you can expect to pay around $300-$500 for a dress.
HSD Wedding Dresses Co.
Ball gown wedding dresses are always associated with big expenses, but the HSD store is here to save your wedding day.
For less than $60-$70 you can buy a Korean-style gown decorated with embroidery, lace and crystals – your guests won't even suspect that it was ordered from AliExpress.
For a small fee, you can also customize your dress – for example, make the skirt longer or adjust the bodice for a better fit.
However, dresses might appear "too classy" when it comes to designs and silhouettes: the store has little to offer for a modern bride.
Lorie
If your wedding has a "Hollywood chic" written all over it, then you'll love this store. Lorie Boutique has outstanding customer reviews record and a wide collection of luxurious, yet affordable dresses for brides with a soft spot for fanciness and sparkles.
Bohemian style dresses, V-necks and fishtails, fir and flare gowns – just name it, Lorie has it all. In addition, the store can fully customize your dress if you think that a standard fit won't work out for you.
For some options you can even change the color – that's useful if you don't want to tie the knot in a traditional white dress.
Maria Novia
No other store on AliExpress beats Maria Novia Boutique when it comes to ball gown wedding dresses. With a long history of outstanding customer service and a record-high positive review rate, the store offers a wide selection of dresses for brides who want to feel like a true fairytale princess on their special day.
The store's best-selling wedding gowns are distinguished by a delicate V-neck, a form-fitting bodice heavily adorned with lace, and a classic ball gown silhouette.
But if you visualize your perfect wedding dress as something more simplistic, then it is a good idea to check what other sellers have to offer.
Bepeithy
There are wedding dress stores, and then there is Bepeithy – a boutique with the best selection of wedding gowns AliExpress has to offer.
Highly adored by customers around the world, it is the ultimate store to find the wedding dress of your dreams – whether it is a modern A-line with vintage elements or an elegant mermaid skirt.
Prices range anywhere from $100 to $1500, so there is an option for any budget. Additionally, you can find affordable wedding veils and bridesmaids dresses, both adult and junior.
The best part is that you can customize any dress for a better fit – just communicate with the seller first and send them your detailed measurements.
All You Need to Know About Wedding Dress Silhouettes
If you are confused about all the "fishtails" and "columns" we have been using in this article, here is a quick guide to the main wedding dress styles or silhouettes.
Ball gowns are what we usually imagine when talking about a traditional wedding dress. It features a very large skirt with a flattering bodice, usually decorated with appliques. Truly an 'ultimate princess dress'!
A-line is similar to a ball gown but is a bit more subtle. Due to the soft skirt style which looks like a capital "A", it is the perfect choice for a modern bride who aims for a romantic look.
A mermaid or fishtail dress is one of the most flattering styles for an hourglass figure. Usually combined with an open backline, it perfectly balances curvy hips, resulting in a stunning look.
Fit and flare style can be easily mistaken for a fishtail, but the main difference is that these dresses don't hug your body as dramatically as a mermaid shape does. That's why it is a good choice for brides who value comfort and simplicity over anything else.
A column gown is a perfect dress for brides who want to emphasize their height, as the straight lines help in elongating your body. Combined with minimalistic design, it is stunning in its simplicity, and appreciated by modern brides.
Read also: