When it comes to finding the best Chinese soundbars, it's important to consider factors such as sound quality, features, pricing, and customer reviews. By exploring various options and analyzing detailed information about the top-rated soundbars available on AliExpress, you can make an informed decision based on your specific needs and preferences.
How to Choose a Soundbar on AliExpress
Choosing a soundbar on AliExpress involves several key steps:
Identify your Needs: First, consider why you need a soundbar. Are you looking for improved sound for your TV or do you want a soundbar for music? Your requirements will directly influence the features you look for.
Check Size and Compatibility: Make sure to measure the space you intend to place your soundbar in, and compare this with the size of the soundbar you're considering. Also, check to see if the soundbar is compatible with your TV or other device. Information about compatibility is generally available in the product details.
Understand Specifications: Take some time to understand what different technical specifications and features each soundbar offers. Look for features such as channel information (like 2.1, 3.1, etc.), connection type (Bluetooth, WiFi, HDMI, Optical), power output, supported audio formats, and additional features like Virtual Surround Sound or Dolby Atmos.
Read Reviews and Ratings: Reviews and ratings from other consumers can provide a lot of insight into a product's performance, and can help you gauge potential issues before you purchase.
Compare Prices: Don't settle for the first option you come across. It's always beneficial to compare prices across different sellers to make sure you're getting the most value for your money.
Guarantee and Return Policy: AliExpress has customer protection policies in place. Always check the seller's return policy and the stipulated guarantee to insure your purchase.
Remember to take your time making your decision. While sales and discounts can create a sense of urgency, the most important thing is that you're happy with your purchase in the long term.
Top 10 Chinese Soundbars on AliExpress
10.

Lenovo Lecoo DS102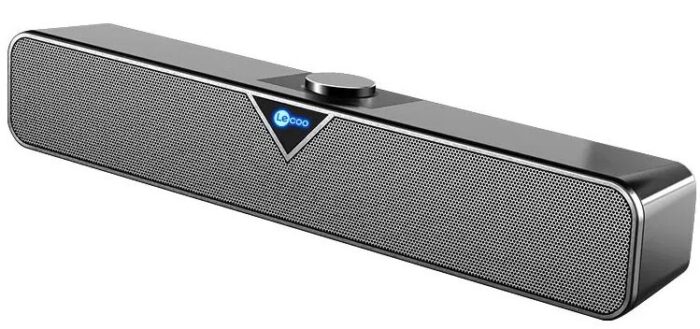 Specs: Channels: 2 (2.0), See all.
The Lenovo Lecoo DS102 is a mainly plastic soundbar designed for enhancing audio. With a weight of 674g, it is light and portable, making it ideal for use at home or when travelling. Customer reviews range from positive recognitions for decent sound quality and working as described, to criticisms about lower volume than expected and lack of bass. Some users also thought the quality did not match the Lenovo brand as the product is from their sub-brand Lecoo.
Pros:
Small and portable.
Stereo sound mode enhances audio experience at home.
Bluetooth 5.0 ensures stable connection over a reasonable distance.
Integrated with phone function, allowing users to answer calls.
Can play video from source devices.
Comes with USB and audio line for increased compatibility.
Cons:
No voice control or support for apps.
No waterproofing, limiting its use outdoors.
Some users reported lower volume output.
Bluetooth connection cannot switch between two computers at once.
9.

HONOURSACY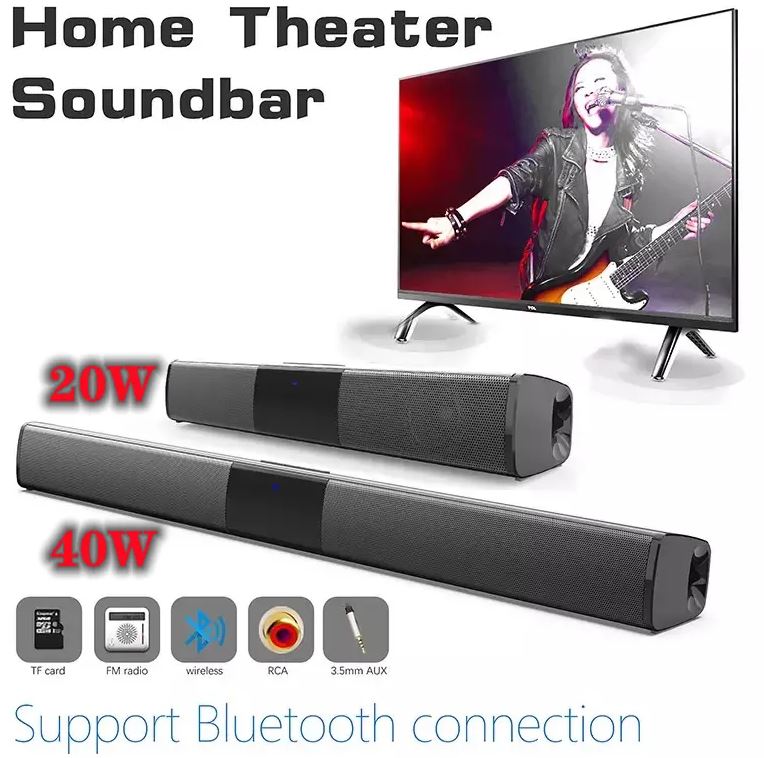 Specs: Frequency Range: 100Hz-20KHz, Output Power: 40W, Channels: 2 (2.0), Impedance: 4-6 Ohm, See all.
The HONOURSACY soundbar from AliExpress is a Bluetooth 4.2 device with a frequency response ranging from 20Hz to 20KHz. Its output power equals 40W (10W x 4). The device supports a Bluetooth distance of 8 – 10m and offers a playing time of 4-6 hours after 2-3 hours of charging. Further, it includes a standby time lasting up to 240 hours. The soundbar's battery is a 3.7V/2000mAh model.
Pros:
The soundbar offers a reasonably wide frequency response, ensuring rich sound quality.
The device supports multiple Bluetooth profiles: A2DP, AVRCP, HSP, and HF.
Purchasers have extensively praised the fast delivery and the product's good condition upon arrival.
Users complimented the simplicity of connecting the device to TVs and computers.
The sound quality when connected to a TV is highlighted as impressive by numerous reviews.
The product is also lauded for its clarity and noiselessness when connected to computers.
The added TF card usage is acknowledged as a convenient feature by users.
Cons:
Some users have noted a high-frequency bias with poor midrange performances, particularly on vocals.
One review pointed out that interferences occur when connecting the charger.
A few customers found the blue light on the soundbar annoyingly flashy.
As per some reviews, the sound output is not particularly powerful.
A few users mentioned a delay between the connected TV and the soundbar, rendering it ineffective for home theaters.
Some customers found the bass performance unsatisfactory.
This soundbar stands out for its broad array of features and mostly positive user reviews, particularly regarding its sound clarity and ease of connection. On the flip side, if you are looking for a powerful sound with strong midrange and bass, some reviewers suggest this might not be the right choice.
8.

REDRAGON GS560

Specs: Channels: 2 (2.0), See all.
The REDRAGON GS560 is an elegantly designed, functional soundbar primarily intended for computer use. Originating from mainland China, it has approvals from CE and FCC. The speaker comes with an Aux input/output and operates in a standard sound mode. It supports a 2.0 channel system and has full-range audio crossover. The body is made from durable plastic, and it runs on USB power. However, features like a built-in microphone, App support, memory card support or remote control are missing.
Pros:
Elegant design; perfect for a personalized workspace.
Features like easy-to-use Aux input/output.
Reasonably loud sound.
Commendable cost-to-benefit ratio.
Good audio for general and gaming usage.
Takes up little space.
Cons:
Lacks advanced features like App support, built-in microphone, memory card support and remote control.
Audio quality may not impress high-end music listeners or audiophiles.
No bass, which might affect music quality.
Reportedly slow delivery times; product may not arrive as scheduled.
Packaging quality is occasionally poor.
In conclusion, the REDRAGON GS560 offers its strength in aesthetics, decent sound quality, and value for money, with a few weaknesses. Know that this soundbar is more suitable for computer gaming and general sound output rather than high-quality music playback.
7.

Lenovo TS33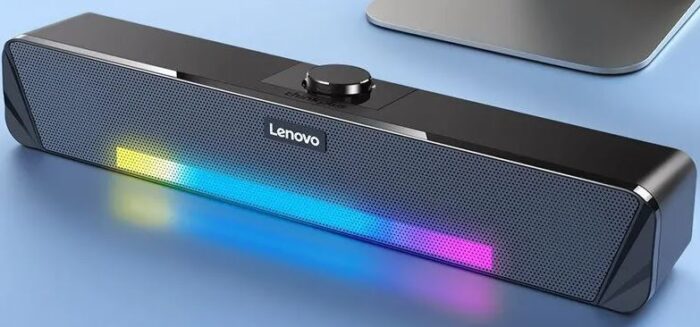 Specs: Output Power: 6W, Channels: 1, See all.
The Lenovo TS33 is a competent soundbar designed to provide enhanced audio for gaming, listening to music, or watching videos. This compact soundbar, capable of providing 2.0 channel stereo sound and equipped with Bluetooth/AUX connectivity options, delivers a decent sound performance given its price and size.
The speaker of this soundbar is 2 inches with an audio response range of 80Hz~18KHz making it possible to produce a decent range of sound frequencies. The unit's sound output is rated at 6W. It operates in a temperature range of -20 to +45°C.
Pros:
Easy to use and space-saving.
High-efficiency, energy-saving green digital power amplifier.
USB power supply cable plug for convenience.
Can be connected to any audio source using a 3.5mm standard plug.
Users have expressed satisfaction with the sound and build quality, considering its price.
Most customers have mentioned that it delivers clean and loud sound.
Cons:
At maximum volume, sound distortion has been observed.
Some customers have noticed that the LED lights cannot be turned off, which might be inconvenient for some users.
The device lacks a battery; it functions only when connected via a USB cable.
One user expressed dissatisfaction with the level of bass produced.
From users' feedback on AliExpress, it can be seen that most users are happy with the purchase, primarily commenting on its design and sound quality. However, some users have complaints about the inability to turn off the LED lights and the absence of an internal battery for standalone use.
6.

Ohwogot W8C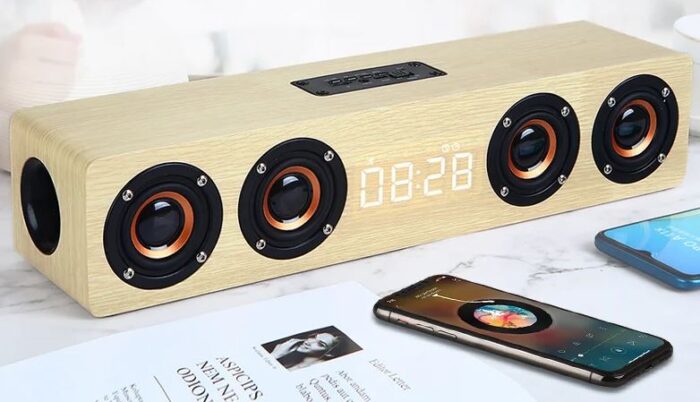 Specs: Frequency Range: 100Hz-20KHz, Channels: 1, Impedance: 4 Ohm, See all.
The Ohwogot W8C is a portable speaker designed for modern lifestyles. It features a stylish wood cabinet with dimensions of 380*90*80 mm and a weight of 1100 grams, making it easily portable. The speaker supports various input modes including Bluetooth, TF card, and AUX, and its lithium battery provides a playtime of 6-8 hours. The sound system delivers a textured, exquisite sound with strong bass and clear, loud audio. The speaker is designed with a display screen and features a battery capacity of 3000mAh. It is also equipped with a voice control feature and supports a frequency range of 100Hz-20KHz.
Pros:
Clear and strong sound quality
Stylish and modern design
Convenient Bluetooth connectivity
Portable and lightweight
Strong battery life – 6-8 hours playtime
Textured, exquisite sound with strong bass
Display screen for controls and information
Multiple input modes – Bluetooth, TF card, and AUX
Cons:
Some users reported issues with FM radio functionality
Negative feedback regarding sound quality, particularly related to bass
Non-intuitive settings and user interface
Volume resetting issues after reboot
Overall, the Ohwogot W8C offers a portable, modern speaker solution with convenient connectivity options, making it a suitable choice for users who prioritize stylish design and on-the-go audio experiences. Always consider individual user feedback before making a purchasing decision.
5.

Redmi TV Speaker

Specs: Output Power: 30W, Channels: 2 (2.0), Impedance: 4Ω, See all.
The Redmi TV Speaker is a compact, wall-mountable, 30W soundbar that operates via a wall plug. Compliant with BT 5.0, and with AUX and SPDIF connection capabilities, it has a frequency response range of 80Hz-20kHz and an impedance of 4Ω. It lacks a display screen and a built-in intelligent assistant, but aims to deliver robust sound at home.
Pros:
Affordable and value for money
Bluetooth connection is quick and stable
Adaptable for use with PC and gaming consoles
Stylish design and good build quality
Convenient for both Bluetooth connectivity and wired interfaces
Works with a variety of sound modes
Cons:
No HDMI connectivity
Lacks an optical drive input
Package issues: damaged deliveries, missing EU adaptor
Supposedly lacks mid frequencies
Instructions available only in Chinese
No remote control included.
Based on this, the Redmi TV speaker presents a strong option for those looking for an entry-level soundbar complement for their TV or PC.
4.

REDRAGON GS570 Darknets

Specs: Channels: 2 (2.0), See all.
The REDRAGON GS570 Darknet is a compact and sleek sound bar that superbly enhances your audio experience. Featuring dual 1.5W drivers and Bluetooth connectivity, this device effectively caters to your dynamic audio needs. Various controls like RGB lighting, volume adjustment, and play mode are at your fingertips, giving you full reign over your sound environment.
Pros:
Unmatched sound quality for its size and price range.
User-friendly with easy-to-access controls.
Connectivity with Bluetooth and 3.5mm aux cord.
Compact design makes it ideal for minimal desk space.
RGB lighting adds an aesthetic appeal to your setup.
Cons:
Some users on AliExpress noted that the bass could be stronger.
The shipping and packaging issues reported by some buyers.
Some users report that it is not as loud as they expected.
Despite these minor concerns, the general consensus is one of satisfaction and acknowledged value for its price range, making it a sensible choice for those looking to enhance their audio experience on a budget.
3.

ELE ELEOPTION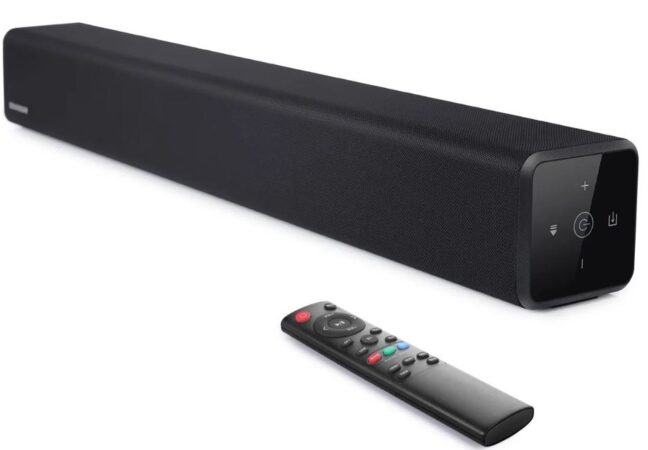 Specs: Frequency Range: 50Hz-20KHz, Output Power: 100W, Channels: 2 (2.0), See all.
The ELE ELEOPTION soundbar is a sleek and powerful audio unit with a selection of physical and wireless connection options. It features Bluetooth Version 5.0, ARC, AUX, optical input, coaxial input, and USB. Catering to a broad spectrum of audio needs, it offers a stereo sound mode and is mainly designed for home use. It doesn't support memory cards or Voice Control, and it doesn't have a display screen, but it comes with a remote control.
Be it for music or movies, this soundbar boasts an impressive frequency range of 50Hz-20KHz and an output power of 100W. Despite its plastic construction, users praise its sound quality and durability. While it does not support an Intelligent Personal Assistant or provide Waterproof features, it supports a two-way audio crossover and contains six loudspeaker enclosures. Its power source is DC.
Pros:
Users report a clear and powerful sound output.
Wide range of connectivity options: Bluetooth, USB, and multiple wired inputs cater to almost all needs.
The included remote control makes it simple to control from a distance.
Wall mount is included, advantageous for those with limited space.
Wide Frequency Range: Delivers a solid performance across various genres of music and movies.
Most users on AliExpress report fast delivery times.
Good value for the price based on user reviews.
Cons:
Some users would like to have smart home capabilities.
No screen for showing volume levels or settings.
Some users reported problems with Bluetooth connectivity.
In conclusion, the ELE ELEOPTION soundbar is a versatile and quality choice for those seeking to upgrade their home audio experience without breaking the bank. With its powerful sound and selection of connectivity options, it delivers high value despite some minor drawbacks.
2.

AFFHASAT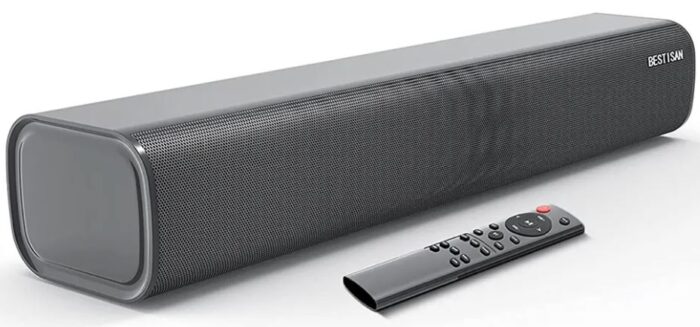 Specs: Frequency Range: 50Hz-20KHz, Output Power: 60W, Channels: 2 (2.0), See all.
The AFFHASAT Soundbar from AliExpress is a high-quality sound system perfect for all your audio needs. It delivers a powerful output of 60W with an impressive Total Harmonic Distortion of 1%. It operates in three main sound modes: 3D Surround Sound Mode, Stereo Sound Mode, and Extra Bass Mode. It's powered by AC and communicates through various modes including AUX, optical input, coaxial input, USB, and Bluetooth with the latest 5.0 version.
The soundbar can play mp3 files and comes with remote control for convenient usage. It is not waterproof, has no built-in microphone or display screen, and does not support a memory card. Remarkably, it features as many as 14 unique functions listed as features. They range from being a simple soundbar, to a HiFi Speaker, a 2.0 Home Theater Sound System, a Bluetooth Speaker, a Subwoofer, and many more.
Pros:
It has a diverse range of use cases, from providing improved sound for your television or console, to enhancing listening experience for personal use.
Many users praised the sound quality and the soundbar's ability to deliver deep bass.
Users have noted a positive experience with the seller, mentioning prompt issue resolution and helpful communication.
The material of the soundbar and its aesthetic appeal also received positive feedback.
Cons:
A few users noted that the power supply had problems early on but the issue was resolved promptly by the seller.
Some users felt that the bass frequencies were not pronounced enough.
It lacks support for HDMI, a built-in microphone, and memory card.
Overall, the AFFHASAT Soundbar has garnered positive reviews, with users recommending it for its quality and affordability. It's an excellent investment for buyers looking for a multifunctional soundbar to upgrade their home audio setup.
1.

Baseus DS10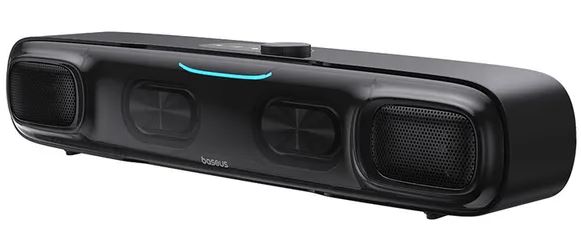 Specs: Frequency Range: 100Hz-20KHz, Output Power: 25W, Channels: 2 (2.0), See all.
The Baseus DS10 Mini Soundbar is a versatile gaming and media audio device designed with gamers and media enthusiasts in mind. This soundbar comes with a duo of 2 dual-unit drivers and 2 low-frequency drivers on each side. Whether you utilize it through wired or wireless connections, the Baseus DS10 delivers superior, incredibly dynamic, and immersive sound.
The soundbar is fashioned from ABS, PC, and Metal, making it durable and long-lasting. The wireless version, V5.3, has a Bluetooth distance of up to 10m, which is excellent for a wireless device. The soundbar comes in two models: one with a battery capacity of 5000mAh (yielding 10-12 hours of playback at 50% volume) and one without a battery.
Pros:
Superior sound quality optimised for gaming.
Convenient touch controls.
Ambience-enhancing dynamic RGB lights.
Elegant compact design conserves desk space.
User-friendly connectivity permits seamless switching between two devices.
Cons:
Battery Model – Expected higher volume level from users on AliExpress.
Connectivity defaults to Bluetooth after every restart.
Base might be weak for model without battery.
Given its multiple positive reviews and the brand's renowned reputation for quality products, the Baseus DS10 is a sensible choice for gamers and multimedia enthusiasts looking for impressive audio quality in a compact package. It's evident that the soundbar's pros far outweigh the few reported cons, making this a good investment for enhancing your audio experience.