No matter the occasion, finding a perfect dress can be difficult and time-consuming. This is why women worldwide have switched to online shopping – and AliExpress offers one of the best deals available online.
This extensive guide offers you a list of the best women's dress stores on AliExpress – whether you are planning to dress up for a romantic date or getting ready for a senior prom night.
Types of Dresses on AliExpress: Easy Explanation
There are many types of dresses based on designs, fabrics, silhouettes and so on – which, to be honest, is such an extensive topic, it requires a standalone article. Here we'll define just the 3 main types of dresses which are requested on AliExpress.
Ball gown. If you see "black tie requested" on an invitation (usually for weddings and senior school proms), aim for an elegant ball gown or a "prom dress". These types of dresses are usually floor-length and shimmery, featuring ornate details and combined with jewelry for a finished look.
Cocktail dress. The dress code for engagement parties and the rest of the relatively less fancy events is normally a cocktail dress. Cocktail dresses can be shimmery or satin, asymmetric or strapless, but one thing remains in common – it is the knee-length (or, on a rare occasion, a tea-length) skirt, which creates a less "formal" vibe when compared to ball gowns.
Casual dress. Everything else that does not fall into two of the above categories qualifies as casual dress. This includes office attire, blazer dresses, knitted dresses and even most of the fancy bodycons which are too revealing for a formal event.
Top 15 Women's Dress Stores on AliExpress
Dulzura
From long off-the-shoulder dresses of contrasting colors to knitted autumn bodycons for the autumn season, Dulzura never fails to surprise with the versatility of their collection.
The store offers elegant ball gowns and prom dresses, cocktail mini-dresses, and more casual options for everyday wear.
Just note that the selection of evening gowns is limited: if you are looking for a prom-specific dress, then it is recommended to check other stores in our list.
MIA GENOVIAG
Mia Genovia store is, perhaps, one of the most unique on our list, as it doesn't offer evening gowns only – it mostly caters to the needs of buyers who are looking for extravagant costumes for thematic parties and even performers.
You'll find immensely glamourous Gatsby-inspired dresses, 1920s flapper-style gowns, embroidered belly-dance dresses, Halloween party dresses and all the necessary accessories.
With that being said, don't expect this store to offer you anything "neutral" in terms of design – you might want to check out other sellers for that.
FANTOYE
Dresses make up one of the biggest categories in the Fantoye Store's inventory. Carrying more of the "street fashion" vibe, their dresses are bold, revealing and fit into most of the occasions – from cocktail parties to romantic dates.
Fantoye also has a small selection of 2-piece dress sets – they look like a regular bodycon dress but are far more comfortable and creative in terms of style.
Prices go as cheap as $14-$15 per piece, but be careful with Chinese sizing – it would be best to order one size up if you are not sure of your exact body measurements.
Tomorrow
With more than 200+ thousands of subscribers, Tomorrow is one of the biggest women's dress stores on AliExpress. Their secret to success lies in unique prints and designs: if you were looking for a vintage stripe dress straight out of 60s sitcoms, then this store is all you need.
There are plenty of modern and practical options as well: Boho maxi dresses for summer, V-neck designs made of chiffon with a floral print, and a limited selection of modest party gowns.
And the best part is that dresses can be as cheap as $13 per knee-length piece, so almost every deal is a steal.
Chiclongdress
It is not always that we have a clear idea in mind when we look for a dress. In most cases, online stores are used to find inspiration – and Chiclongdress with its highly diversified selection of models manages this task perfectly.
Their inventory has literally everything – from office pencil dresses to evening ball gowns with ruffles, – so you'll find many options to start with.
On the other hand, such a lack of consistency can make it difficult to find what you need, so prepare to allocate a lot of time to browse through the store's entire collection.
Rforx Riyi
Rforx Riyi is one of the few stores on AliExpress that offers inclusive sizing: you can easily find 4XL-sized dresses to flatter and emphasize your curves.
There are many styles available, including creative all-over print dresses, asymmetrical designs, casual shirt dresses and chic party gowns.
Dresses can be filtered by size, color and style, which makes it even easier to find the perfect option for yourself.
Cryptographic
Based in Guangzhou, Cryptographic is a fast-fashion brand which can serve as a cheaper alternative to such brands as Zara and H&M.
Their AliExpress store features a big inventory of knitted minidresses, flattering and minimalistic bodycons and stunning backless dresses – basically, everything you need to stand out at any event.
However, if you are looking for ball gowns and prom dresses, we would recommend checking other stores.
Read also:
MneAlways18
MneAlways18 store has a big customer base – and an even bigger selection of dresses for any event.
The entire collection is conveniently divided into six categories: Party & Club for cocktail dresses, Knitted & Sweater models for colder days of autumn and winter seasons, Office & Blazer featuring business attire and trendy blazer dresses, and so on.
The prices range from $20 to $50, and considering the quality, it's a stellar deal even by AliExpress standards.
TRAF
TRAF is a long-established brand inspired by major retail clothing chains such as Zara, H&M and Bershka.
The dresses offered are bold, contemporary in their designs and, as expected of fast fashion, highly affordable. You can find midi and mini halter neck dresses for less than 30$, and satin slip dresses for 20$. Being trendy has never been cheaper!
Combined with fast shipping and surprisingly good quality, this store is an ultimate shopping destination for casual dresses.
Marwin&Friend
Sometimes all you need is a comfortable practical dress which can be worn to parties and daily.
If you are in search for one, then the Marwin&Friend brand can surprise you with a huge selection of soft and feminine sundresses, shirtdresses for a laid-back look and tea-length floral print dresses for semi-formal outdoor events.
However, before placing an order, refer to measurement guides – in some cases, the size of a dress doesn't match the label, and it may turn out smaller than expected.
Celebrity Dress Factory
Celebrity Dress Factory prides itself on its long-standing reputation.: for more than 10 years of customer service, the store managed to maintain a high positive review rate of 93%.
Their dresses are stunning, and a variety of models makes it easier to find a perfect gown for any occasion, whether it's attending a formal wedding reception or dressing up for a restaurant date.
Just note that the prices here are slightly higher compared to other sellers on AliExpress: a mini strapless cocktail dress will cost you $50 minimum.
CNYISHE
If you are a big fan of Zara and Bershka cocktail party dresses, then the CNYISHE store is your place.
The selection mainly features short bodycon dresses for casual gatherings at a bar and riskier feminine designs for nightclubs and fancy parties. Combined with dress prices ranging from $20 to $30, the CNYISHE boutique is the best destination to shop for the upcoming party season.
The only drawback is the absence of evening dresses – you'll have to skip this store when looking for a classy gown.
Eshaut&bridal
Just looking at the store's name many might suggest that Eshaut & Bridal caters to brides only, but the store has a surprisingly big collection of evening gowns.
Mermaid dresses are the boutique's absolute bestseller. Flattering silhouettes made of sequined shimmering fabrics and elegant long sleeves combined with an off-the-shoulder bodice – every woman will feel like royalty in a gown like these.
In addition to prom dresses, there are modest options for covered women and even abaya dresses for stunning desert photoshoots.
Ladybeauty
If we were asked to choose one word to describe Ladybeauty's selection of dresses, that would be "elegance".
Currently offered models have a very classy, glamorous vibe to them, bordering on 90s prom fashion. However, it is still possible to find bold and revealing designs with a short puffy skirt and an open back.
The store has a separate category for prom & cocktail party dresses, formal evening gowns, bridesmaid and flower girl dresses, and even a limited selection of wedding dresses. But while the prices are reasonable – you can expect to pay around $70 for a nice-quality dress, – the absence of modern silhouettes and designs could be considered a disadvantage.
Noble Weiss
A future prom queen's dress or an elegant gown for a wedding reception? Noble Weiss store has an affordable option for any occasion.
For $50 you can find a shimmering mermaid dress, a flattering sheath gown or even a knee-length cocktail dress for less formal events. If you wear plus size, the shop offers a collection of fully customizable dresses which can be adjusted to fit any body type.
Note that the store's selection of dresses is more on the "glamorous" side, more appropriate for formal events rather than casual parties.
AliExpress Sizing Tips
Most vendors on AliExpress use a Chinese sizing system – which is a tricky terrain for those who are used to US and European charts. For example, an American "S" size will most likely be equal to a Chinese "M" size when converted.
Sizing is especially important where dresses are concerned – they need to fit you perfectly for that stunning look. For this purpose, we recommend taking exact measurements of your body (in cm/inches) and comparing these values to the size charts provided by sellers in the product description chapter. This is how this chart can look like (credit to Noble Weiss store):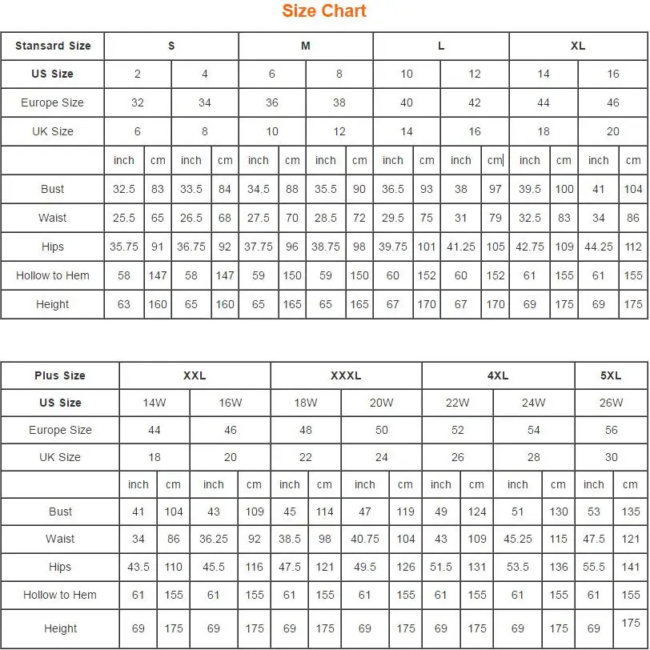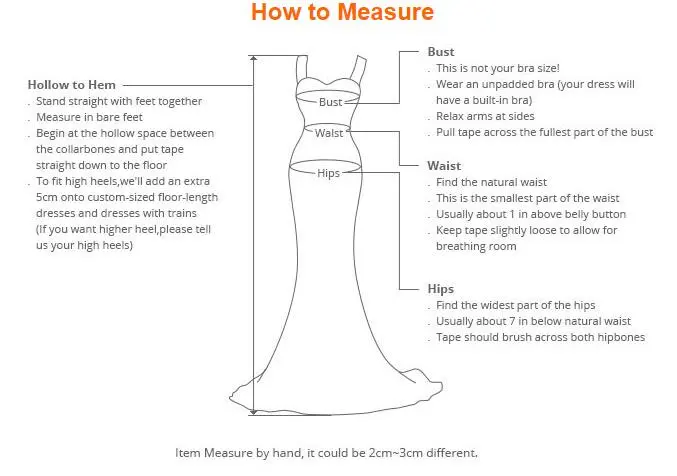 The general rule is to always refer to your actual body measurements, rather than the size you are accustomed to when buying clothes in Europe or the US.
For some dresses, such as evening gowns, sellers can offer free-of-charge fitting services, but this option is unavailable where casual and cocktail dresses are concerned.
Read also: