For the cost of a visit to a professional barbershop, you can buy your own set of hair clippers and perform a grooming routine in the comfort of your home – whether it's beard styling or just a casual touch-up to your hairstyle. But finding and choosing the right device can be challenging, especially when the price-performance ratio is considered: it comes as no surprise that everyone wants to get the best deal and save as much money as possible. Thankfully, there is always AliExpress, where you can find all the best possible offers – and one of them is the ENCHEN Boost Hair Trimmer, which we will be reviewing in this article.
Technical characteristics
When it comes to the ENCHEN brand, there is a certain confusion around its roots, because sometimes you'll encounter 'Xiaomi ENCHEN' mentioned in the product description. While Xiaomi is a well-known Chinese brand, the question is how ENCHEN is affiliated with it. The answer can be found on the ENCHEN official website: initially, the brand was selling its products on the Xiaomi E-commerce platform, and even some of the appliances have been co-designed with the famous manufacturer.
Currently, the brand has its own channels of distribution, AliExpress included. To ensure the highest quality of produced electronics, ENCHEN collaborates with top design teams from USA and Europe and pays close attention to customers' feedback to improve its products.
As for the ENCHEN Boost Hair Clipper, it is considered one of the outdated but tested models still offered by the company. Before moving to a detailed review, let's take a look at the product's specifications:
Type: Cordless hair trimmer
Material: Mixed (plastic body, ceramic blades)
Product weight: 142 g
Product size: 43×164 mm
Rated power: 5W
Charging time: 90 min
No information is available on the type of rechargeable battery – and, frankly, failure to provide specific details about the product is usually seen as a disadvantage. However, we do know that the device uses a Type-C charging interface.
Packaging and appearance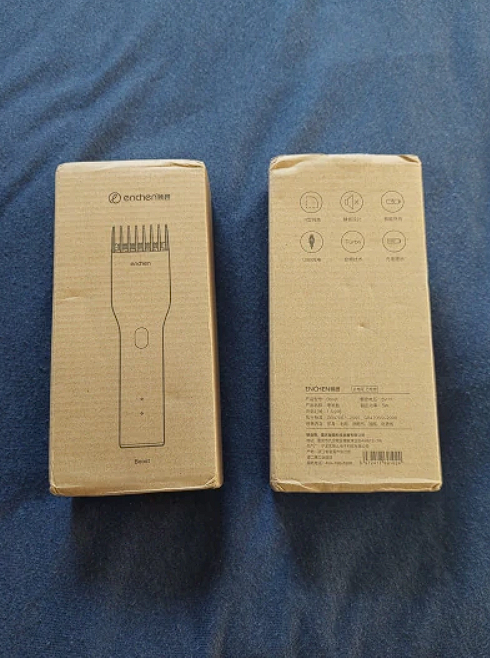 The Enchen Boost Hair Trimmer sticks to a simple design with no distinctive features: it is available in black or white colors and that has a protruding guiding comb, which can be adjusted by the integrated switch. The grooming set includes a cleaning brush and a USB cord for charging; the oil bottle, typically included in the box, will most likely be removed by the seller for security considerations. However, the seller promises to thoroughly oil the device beforehand, and later you can use mechanical or lubricating oil for maintenance.
Everything is packed in a sturdy cardboard box to protect the device from damage in the shipping process – otherwise, there is nothing else special to note about its appearance.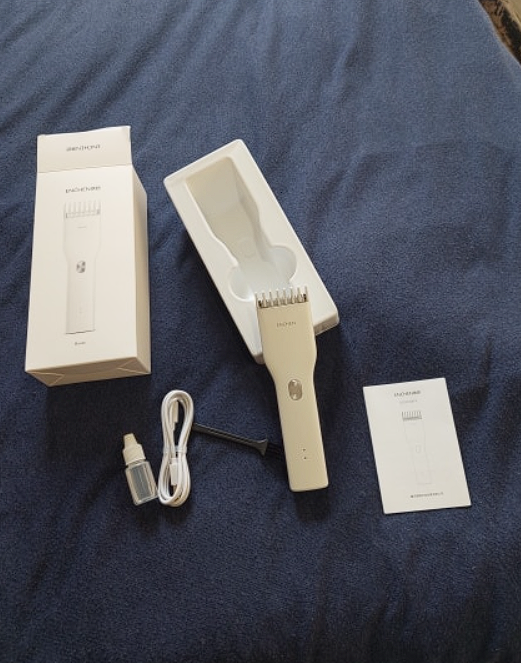 Performance
The Enchen Boost Hair Trimmer is fairly easy to use, even if you are new to hair clippers and home grooming. First, there are no guiding combs to be replaced to adjust the haircut length – everything is controlled with a single switch. The adjustment range varies from 0.7 to 21 mm, so you can use the trimmer for styling sideburns, flat-top haircuts or beards.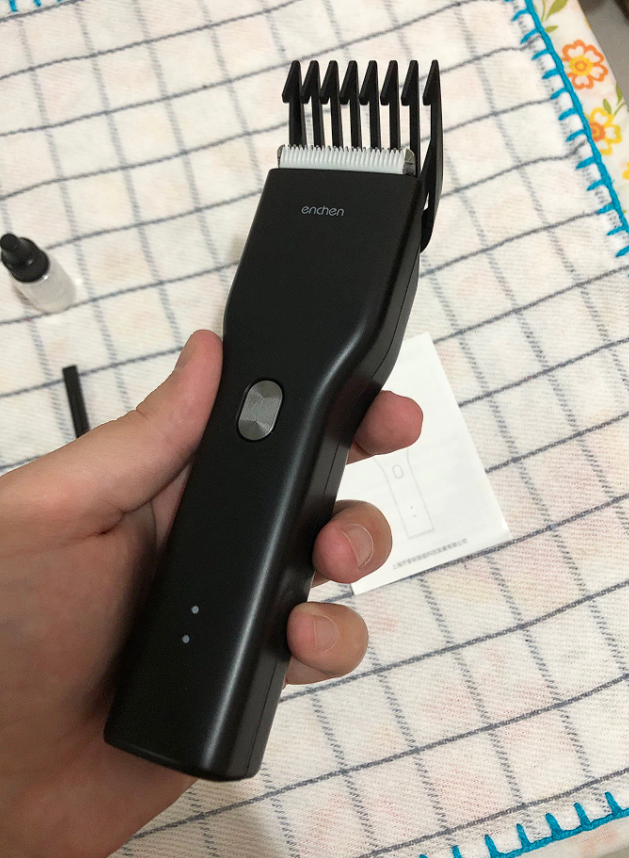 The trimmer is equipped with "nano-ceramic" blades, which are 1.6 times sharper and more durable compared to blades made of stainless steel – that is according to the manufacturer. According to the product's description on AliExpress, the blades were successfully tested on copper wires: they 'break at a touch', meaning that dense hair should pose no problem. The blades have rounded corners designed to minimize the impact on the skin to prevent damage or irritation.
Moving to the "boost" part: the trimmer has two speed settings – one of them is "normal" (4500 rpm) and the other is considered a 'Turbo Extreme speed mode' (5800 rpm; and yeah, it does sound fancy) powered by the Boost280 speed motor. Both settings can be used to style thin or thick hair accordingly.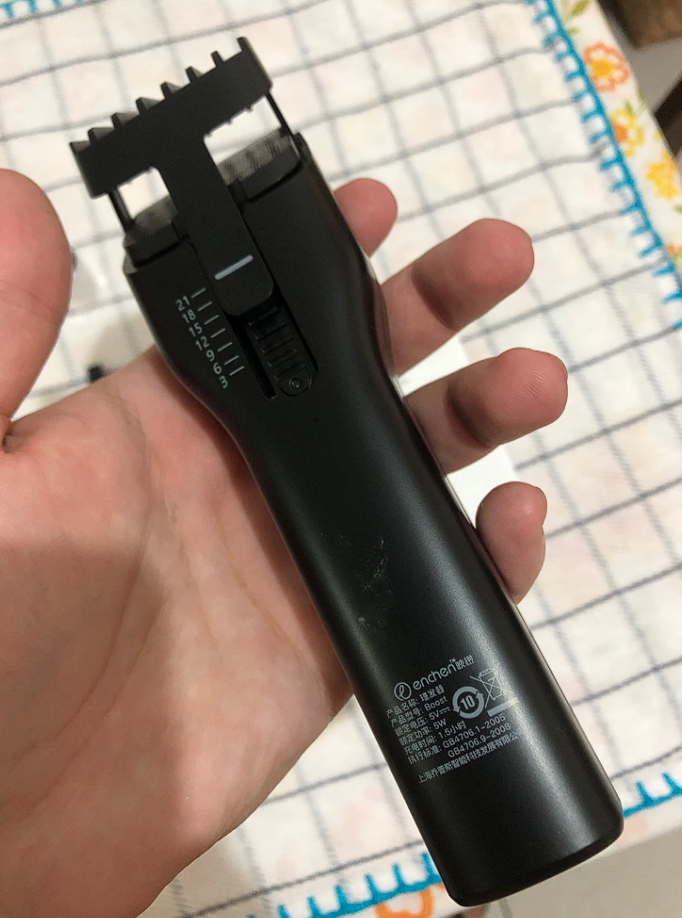 As for the battery life and charging, the clipper is equipped with Energy Smart Manager (ESM) system to prolong battery life and minimize battery wear levels during charging cycles. The intelligent power display will show device needs charging: just follow the indicators and plug it in when necessary ("plug and play" is also supported, in case you unexpectedly run out of power). Trim time per full charge equals 90 minutes – not the best result when it comes to hair clippers in general, but adequate nonetheless.
The device is quiet when in use: "it generates a moderate sound level of no more than 55 dB. While the blades can be washed, the clipper is not completely waterproof, meaning that you won't be able to use it in the shower.
Pros and cons
ENCHEN Boost Hair Trimmer is affordable and user-friendly, making it a perfect choice for beginners. And there are indeed many good points about this product, such as:
Inexpensive – can be bought for less than 15-17$;
easy comb adjustment with a single switch;
simple and elegant design;
quiet even on the turbo speed setting;
ceramic blades with rounded edges;
2-speed modes for any type of hair;
can be used while charging;
battery life protection system.
But there are a few disadvantages as well:
short battery life: lasts for 90 (or even less, as noted by customers) minutes on a full charge;
limited set of grooming accessories;
irritates and damages skin when not positioned correctly, so requires precision.
Conclusion
We would recommend ENCHEN Boost Hair Trimmer to beginners in hair trimming, as it is cheap and fairly easy to operate, which makes it perfect for some daily touch-ups. But it is not the best choice when it comes to professional care or intricate hairstyles: for this purpose, we advise looking for a device with more length adjustment options.
Some video reviews
Read also: