Enjoying music on the go is even better when you have a pair of good wireless earbuds. If you don't know where to look for the best offer, here is a list of the top 10 TWS earbuds available on AliExpress.
How to choose the best TWS
When buying wireless earbuds, it is recommended to consider the following specifications:
Playback time. It is one of the key features: the longer the working time, the more music you'll be able to enjoy on a single playback without needing to stop for a quick recharge.
Bluetooth version. It is advised to choose earbuds with Bluetooth 5.1-5.3 chips for the best compatibility with your devices and a decent connection range.
Audio latency. Consider earbuds with low latency (40-50 ms) to ensure that there are no sound delays when playing games or watching movies.
IPX certification. In the case of sports earbuds, water and sweat resistance is important. Make sure that the earbuds have at least an IPX4 or IPX5 certification.
Best Chinese wireless earbuds on AliExpress (TWS)
10.

Miffy Bluetooth Wireless EarBuds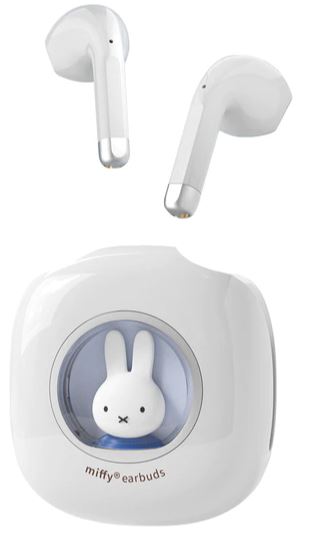 Specs: Frequency Response Range: 20 – 2000, Resistance: 32, Bluetooth Version: 5.3, Battery Capacity[mAh]: 300mAh, Battery life up to[hours]: 4, More.
Miffy wireless earbuds are unique in terms of design: featuring a small semi-transparent case with a Miffy rabbit and LED background lightning, it is a perfect set of buds for children or young women.
But they are not just "cute": equipped with a Bluetooth 5.3 chip, they support most devices and provide undisrupted transmission together with HD stereo sound quality and a low-latency listening experience. And the best part is that they even support heavy bass!
9.

Mibro Earbuds2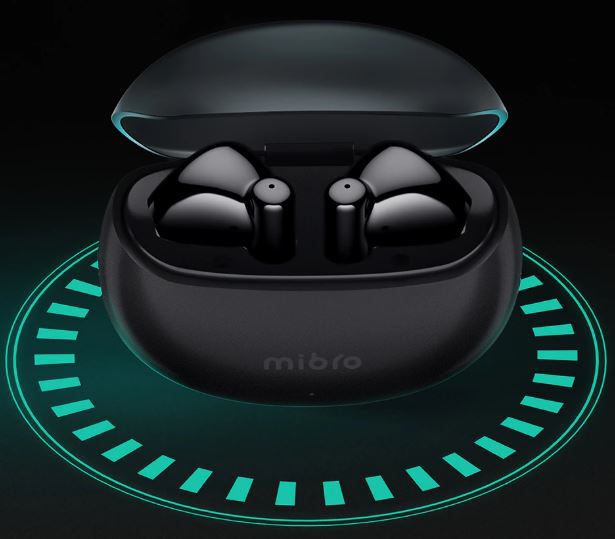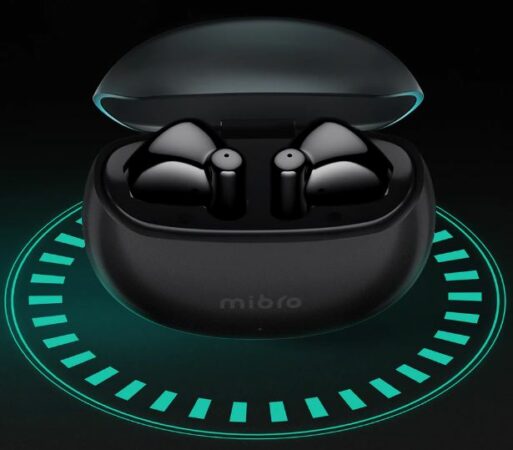 Specs: Frequency Response Range: 20 – 20000, Resistance: 32, Bluetooth Version: 5.3, Battery Capacity[mAh]: 380, More.
Together with a compact case, these small earbuds are a perfect choice to carry in your pocket. With Bluetooth 5.3 chip, earbuds support instant-connect with most Android and iOS devices and ensure stable connection throughout the use.
An AI-powered algorithm contributes to noise cancellation, reducing up to 75% of background noise to ensure clear sound and transmission. But there is a minor disadvantage: since they don't have silicone tips, the earbuds might not be the best fit for everyone, especially when their egg-like shape is considered.
8.

Monster XKT10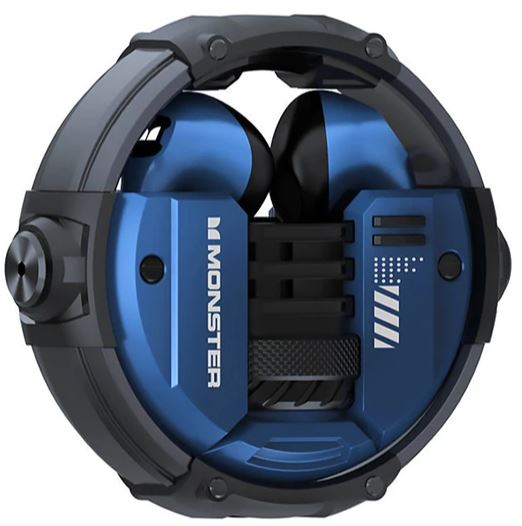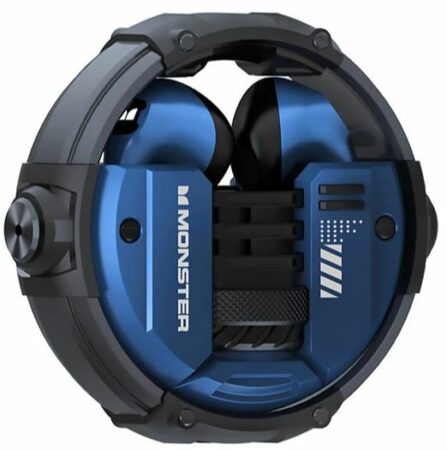 Specs: Frequency Response Range: 20 – 20000, Bluetooth Version: 5.2, Battery Capacity[mAh]: 300, More.
For experienced gamers looking for low-latency performance and great quality sound, the Monster XKT10 wireless earbuds can be one of the best choices on AliExpress, as they maintain a good price-performance ratio.
With a Bluetooth 5.2 chip, they are compatible with a majority of smartphones and gaming laptops. You can choose between gaming or music modes to adjust sound quality: in the first mode, the earbuds deliver 45 ms low-latency performance, which is perfect for fast-paced games.
Another advantage is a great design with LED indicators and a unique rotating case. The only downside is the bad charging-playback ratio, as for 1.5 hours of charging time you get only 4 hours of playtime.
7.

New Bee B45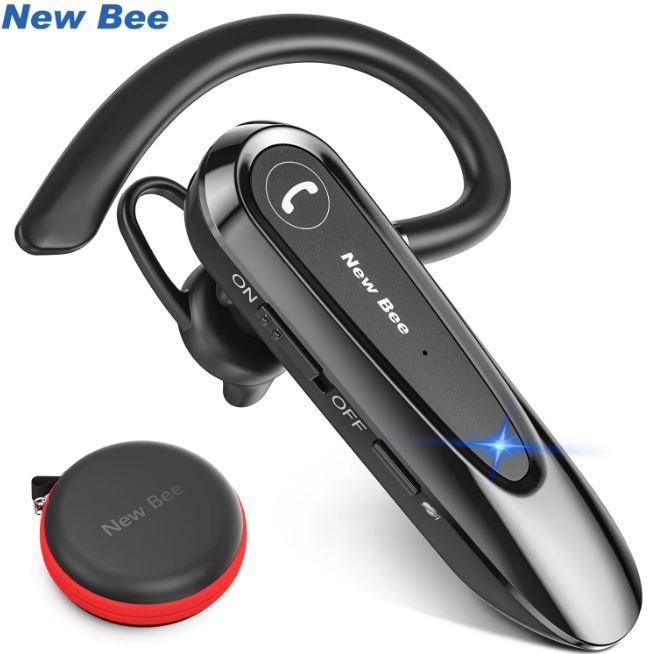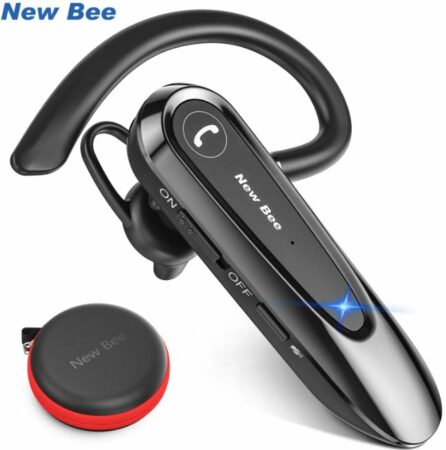 Specs: Bluetooth Version: 5.0, More.
The B45 earbud by New Bee is a solid choice for businessmen constantly on the go or office workers who often deal with calls.
Featuring a unique ergonomic shape for a comfortable fit, it is fully touch-controlled: sound volume, mic and incoming calls can be managed with just a touch of a finger. A regular 160 mAh battery supports a whole day of non-stop music playback or almost 20 hours of talking time on a single 2-hours charge – the last one might be especially important for busy operators.
Equipped with 2 microphones for recording and managing sound levels, it reduces background noise for clear transmission. The downside is that the set includes only one earbud, so it is not the best choice for full sound immersion.
6.

Anker Soundcore Space A40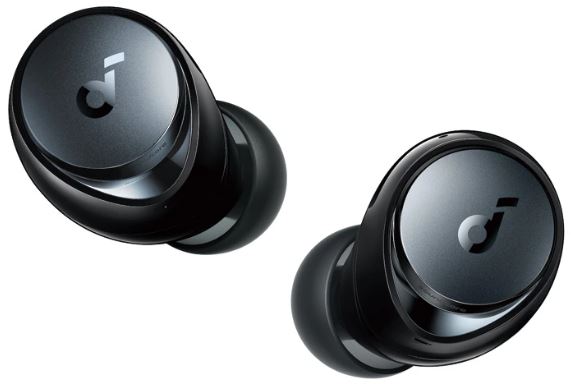 Specs: Frequency Response Range: 20 – 20000, Resistance: 16, Bluetooth Version: Other, More.
Anker's Space 40 earbuds' key feature is the unique noise cancellation system: according to the seller, they can block out up to 98% of background noise! What's even better is that the smart system automatically adapts to your surroundings, as the noise-cancellation requirements may differ from place to place.
Another distinctive feature is the outstanding battery time: on a single charge, the earphones provide up to 10 hours of playtime – which is one of the longest runtime periods available on the market. Together with the case, you can enjoy 50 hours of listening to music or watching movies – and that makes this model a perfect choice for long flights.
5.

DACOM ATHLETE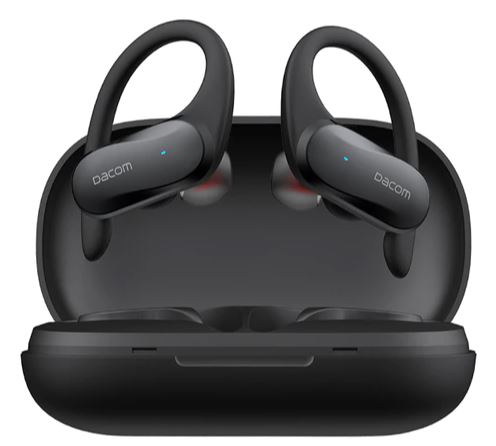 Specs: Frequency Response Range: 20 – 20000, Resistance: 32Ω, Bluetooth Version: 5.0, More.
Dacom offers Athlete sports earbuds for true athletes and joggers, designed to assist you in the most rigorous workouts. Thanks to the ergonomic shape, they are a snug and comfortable fit for your ears, making sure you won't feel them even after hours spent in the gym.
As expected, they are IPX5-certified, so the earbuds are not afraid of water and sweat (although it is recommended to thoroughly dry the earphones before charging). A powerful 500 mAh battery can deliver up to 6 hours of playback, and together with the case the working time increases to 30 hours on a single 2-hour charge. And to enhance user experience, earbuds are touch-controlled to avoid any distractions to your fitness routine.
4.

UGREEN HiTune X6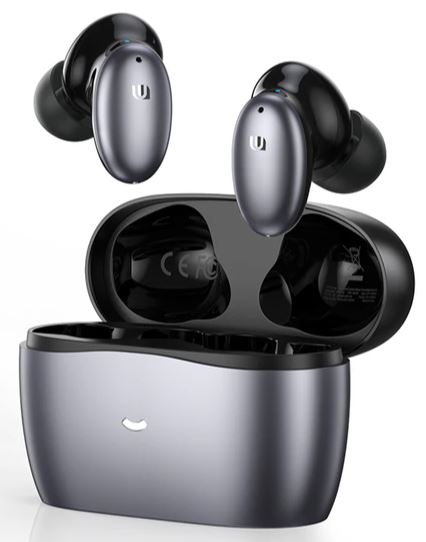 Specs: Frequency Response Range: 20 – 20000, Resistance: 32, Bluetooth Version: Bluetooth 5.1, More.
HiTune X6 earbuds are equipped with Active Noise Cancellation (ANC) system – they can reduce up to 35 dB of background noise to ensure uninterrupted playback for music and gaming modes.
The 10-mm diamond-like carbon driver enhances basses and delivers the best sound quality, while six ENC mics will ensure that your voice is heard and recorded clearly during calls. Powered by Bluetooth 5.1, the model is compatible with most iOS and Android devices, while also supporting up to 10 meters of range.
Gamers will appreciate the ultra-low latency mode of 50 ms, activated by tapping each of the earbuds 4 times. As for the battery life, earbuds ensure 6 hours of playback on a single charge and 26 hours in total, so you'll never be out of your music.
3.

QCY T20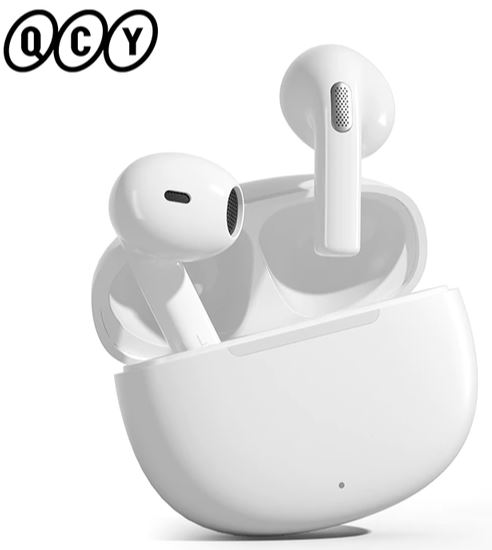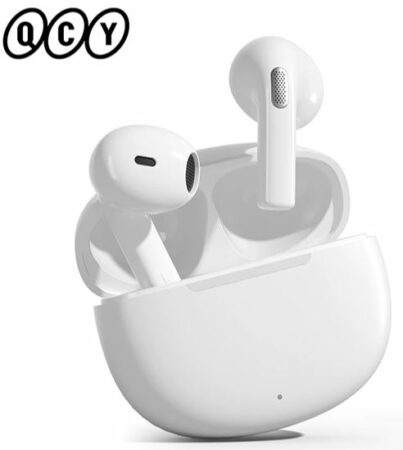 Specs: Frequency Response Range: 20 – 20000, Resistance: 50, Bluetooth Version: 5.3, Battery Capacity[mAh]: 220mAh+35mAh, Battery life up to[hours]: 20h, More.
QCY T20 feature a stunning aesthetic design and ultra-compact size: the earphone case is 3 times smaller than the palm of your hand. Lightweight buds are comfortable to wear for long periods as well – all thanks to the 2.6 cm-long stem, which contributes to the semi-ear design.
The inner composition consists of a 13-mm liquid crystal polymer diaphragm driver for the best sound quality. One playback will give you almost 5.5 hours of non-stop music, while the case provides an additional 14.5 hours – so the total battery life reaches 20 hours! And as a cherry on top, the earbuds (not the case though) are waterproof, so you can jog and enjoy music even on rainy days.
2.

Xiaomi Redmi Buds 3 Lite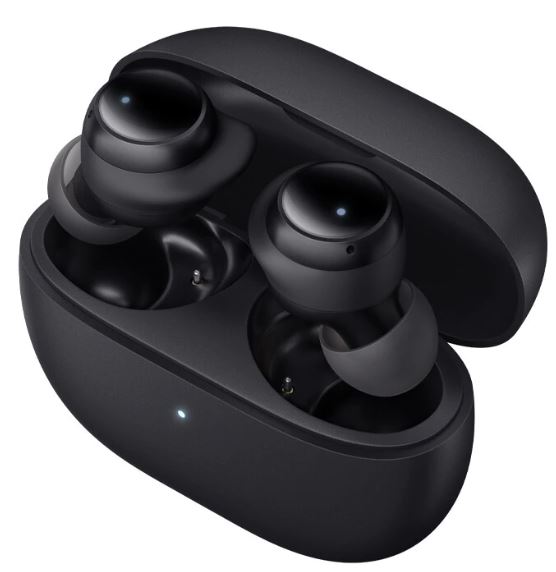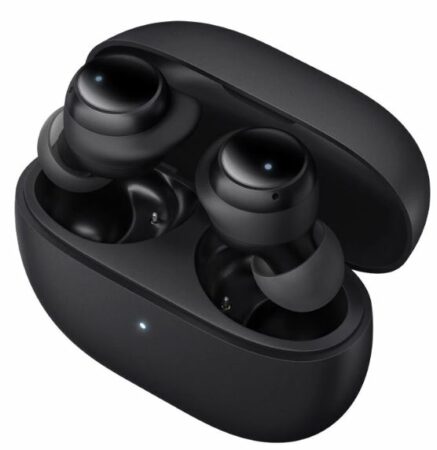 Specs: Frequency Response Range: 20 – 20000, Resistance: 32, Bluetooth Version: 5.1, More.
Famous Xiaomi Redmi earbuds have a Lite Youth Edition for casual tasks: they are very affordable and support up to 18 hours of playback time (with the case), which made them one of the most well-reviewed models on AliExpress.
Equipped with a Bluetooth version 5.2 chip, they support instant connection and stable transmission for a range of 10 meters. They also have a noise reduction system and IPX certification as additional advantages.
However, it should be noted that the earphones are not designed for high-performance tasks, which can be considered an issue.
1.

Lenovo GM2 Pro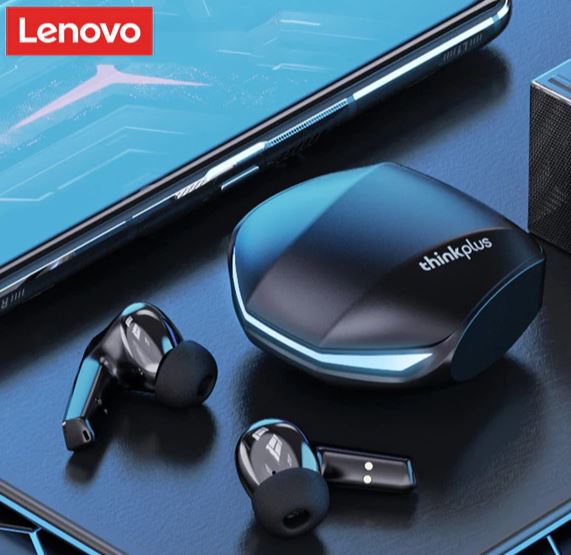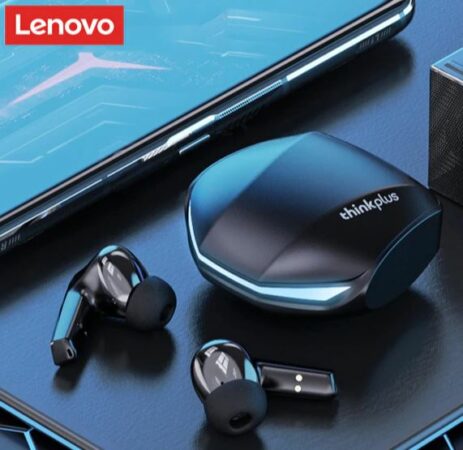 Specs: Frequency Response Range: 20 – 20000, Resistance: 16, Bluetooth Version: Other, More.
A top-seller with over 12k positive reviews on AliExpress, Lenovo GM2 Pro gaming earbuds are at the top of our rating. Powered by Bluetooth 5.3, they are compatible with most devices, and their transmission distance reaches 10 meters.
One of its key features is the impressive run time of 30 hours (breaks included), which requires only 1.5 hours of charging time. This model is mainly chosen by gamers for low latency, realistic sound effects for better immersion and intelligent noise reduction system, but they are perfect for listening to music as well.
As for the user experience, the earbuds weigh less than 30 grams and are comfortable to wear – which, together with excellent sound quality, makes for a perfect device.
Which TWS earbuds on AliExpress are the best?
To summarize, we have placed Lenovo GM2 Pro wireless earphones on the top of our rating: it has a combination of great performance for any task, powerful battery, affordable price and, most importantly, customers' trust.
Honorary mentions go to Anker Soundcore Space A40 for their advanced noise cancellation system and the UGREEN HiTune X6 – one of the best low-latency earbuds for gamers.