A smartwatch can act not only as a fashionable accessory but also as a personal assistant, capable of monitoring your health indicators, counting steps and burned calories, reading NFC information and receiving notifications on the go.
In this article, we will review the best Chinese smartwatches available on AliExpress.
How to choose a Chinese smartwatch on AliExpress?
AliExpress features many different models of Chinese smartwatches – and some of them can go toe to toe even with famous brands such as Apple or Samsung while keeping to moderate prices. While choosing smartwatches, we recommend paying close attention to the following specifications:
Battery life. A smartwatch is not intended to be charged as often as a smartphone: for example, it should have a decent battery capacity to offer no less than 10-15 days on standby mode. For typical scenarios, 3-5 days of use on a full charge is enough for a cheap model.
Display. With so many display options, pay attention to the dimensions and resolution: a 1.7-inch screen supporting HD is a minimum for a decent device.
Health monitoring. A smartwatch is usually used to track various indicators: your step and calorie count, blood oxygen levels, sleeping time and so on. Try to choose a device based on your needs: for example, if you are a fitness lover, then calories and heart rate trackers are a must.
Additional features. Waterproof certification, adjustable band, a big collection of watch faces, workout modes and so on – all of these small but important features can greatly affect the overall smartwatch usability.
Top 10 Smartwatches on AliExpress
10.

SENBONO C20S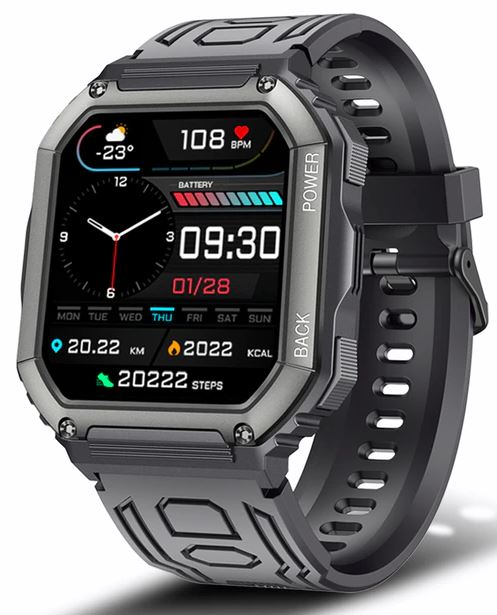 Specs: Display Size: 1.8inch, Battery Capacity: 300-450mah, Resolution: 240*286, ROM: <128MB, See all.
The C20S smartwatch by SENBONO is preferred by bicycle enthusiasts: thanks to the adjustable silicone strap it provides a comfortable and firm presence on the wrist.
It got a vivid 1.8-inch HannStar display protected by scratch-resistant glass. In terms of software, the device offers everything that is needed for comprehensive health monitoring: an all-day heart rate tracker, a "drink water" reminder, a GPS sports track (another bonus point for those who wish to record their cycling achievements) and blood pressure/oxygen indicators.
When synchronized, the device supports push notifications from most messenger apps and a dial pad, so you don't need to get your smartphone out of your pocket each time someone calls.
But according to customers, the battery discharges very fast, which, combined with "lagging" software, doesn't necessarily offer a smooth user experience.
Pros and Cons
cheap;
silicone strap for easy adjustment;
all necessary trackers included.
9.

MELANDA 2023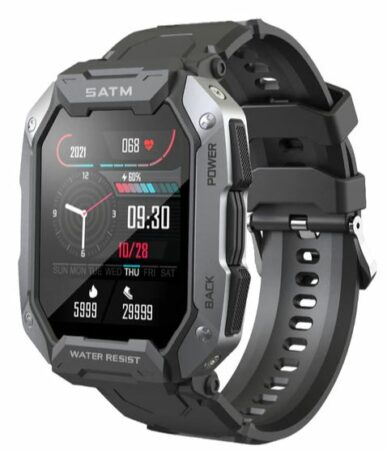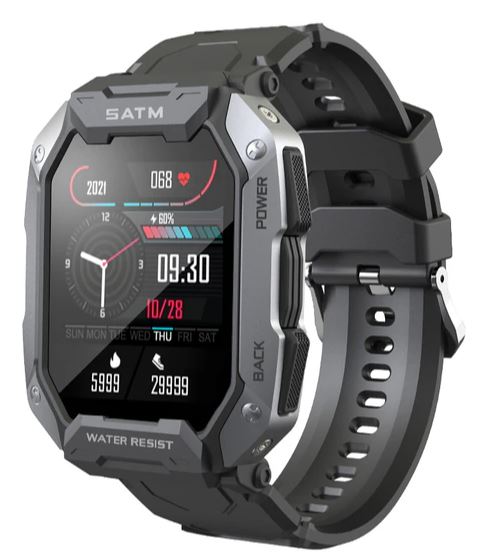 Specs: Display Size: 1.71 inch, Battery Capacity: 300-450mah, Resolution: 280*320, ROM: <128MB, See all.
MELANDA Chinese smartwatch is not something you would wear on your wrist for the office or casual walks – this powerful 5ATM waterproof designed model exists to thrive in harsh environments and assist you in the most rigorous hiking trips.
The display is protected by an anti-smashing Corning Gorilla glass and a metal frame – a combination which ensures high resistance against scratches.
It also offers accurate tracking of your heart rate, blood oxygen levels, step count, calorie burn and additional sports data. The interface supports the split screen mode, so you can create shortcuts to frequently used apps.
In addition, a 380 mAh battery capacity is enough for up to 50 days of standby time and up to 20 days of regular use, which is quite impressive.
However, many customers complain about the limited number of available apps, even calling the device a "kids smartwatch".
Pros and Cons
affordable;
long battery life;
reinforced display.
limited software capabilities.
8.

Mibro A1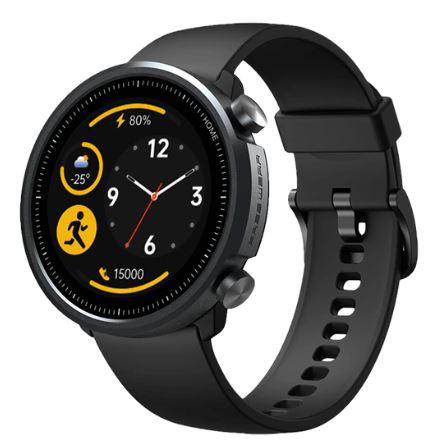 Specs: Display Size: 1.28Inch, Battery Capacity: 220-300mah, Resolution: 240*288Pixel, ROM: <128MB, See all.
For something slim and elegant, the Mibro A1 smartwatch is a good option to consider.
It is indeed extremely lightweight, featuring a 5-mm slim body with a sophisticated finish and a narrow metal frame. A such minimalistic look is further enhanced by a simple round display which can be customized with various all-match watch faces.
A 24-hour health monitoring system is enhanced by prewarning of rate abnormalities: the device sends you a notification if it detects that something is wrong with your heart rate or sleep quality.
For increased effectiveness, the battery supports up to 45 days of usage in basic mode and 10 days in daily mode.
It should be noted that the device is limited in terms of available workout modes and software capabilities: we would recommend it for daily health measurements but don't expect anything fancy.
Pros and Cons
affordable price;
minimalistic design;
long battery life.
a limited number of sports modes and apps.
7.

Zeblaze Vibe 7 Pro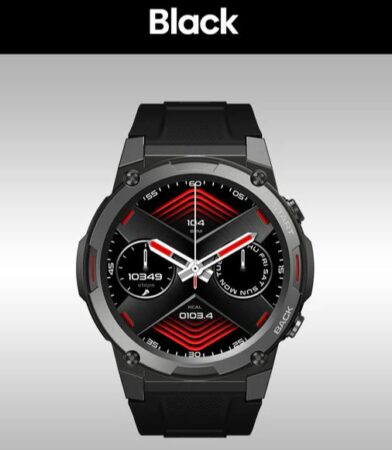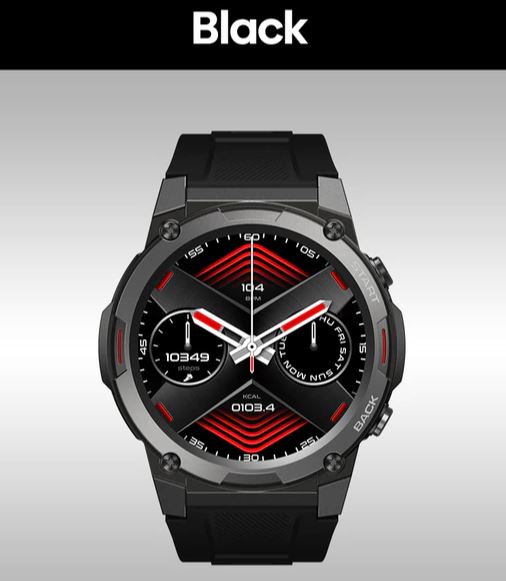 Specs: Display Size: 1.43 inch, Battery Capacity: 300-450mah, Resolution: 466*466 pixels, ROM: <128MB, See all.
This military-styled watch is a powerful personal assistant for those who enjoy physical activities and monitor their health.
Zeblaze Vibe 7 is empowered with improved tracking technology, which uses wavelengths generated by 5 powerful LEDs and collects 36% more data when compared to other models. This allows to perform in-depth monitoring of blood oxygen levels, heart rates and so on.
But only that – this model is extremely durable, capable of withstanding the harshest conditions. Having passed 12 military tests, it is resistant to heat (55°C) and cold (-40°C), ice and freezing environments, humidity and shock impacts.
The only issue is the low screen brightness level when the Always-on-Display mode is on.
Pros and Cons
extra-durability;
improved health data collection;
large AMOLED display.
6.

Haylou RS4 Plus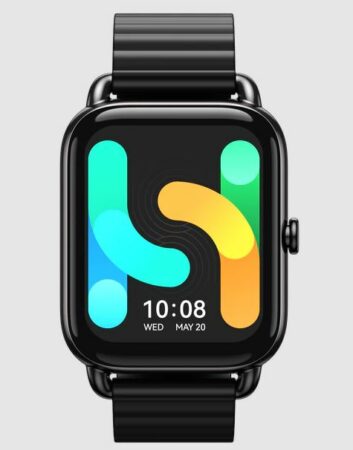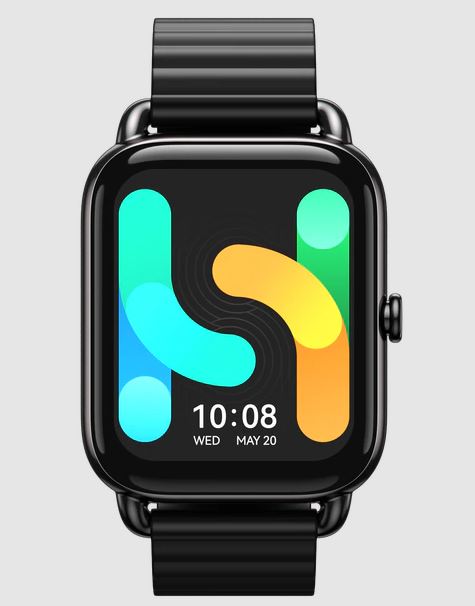 Specs: Display Size: 1.78inch, Battery Capacity: 220-300mah, Resolution: 368*448, ROM: 256MB, See all.
Featuring a 1.78-inch AMOLED display, the RS4 Plus smartwatch by Chinese company Haylou offers one of the best screen resolutions (368×448) among budget devices.
Its battery is powerful enough to last for 10 days in standard scenarios – you'll appreciate it while exploring 100+ sports modes offering various health monitoring options, such as heart rate, blood oxygen, stress levels, calorie burn and so on.
What's even better is the Bluetooth 5.1 version which offers fast synchronization and the best compatibility with Android and iOS smartphones.
For increased comfort in daily use, the smartwatch has an easily adjustable magnetic strap and a waterproof/dustproof design.
However, the watch set-up takes a lot of time because of the Haylou Fun app, which can be a minor headache.
Pros and Cons
latest Bluetooth chip;
magnetic strap;
high screen resolution.
Read also:
5.

COLMI C61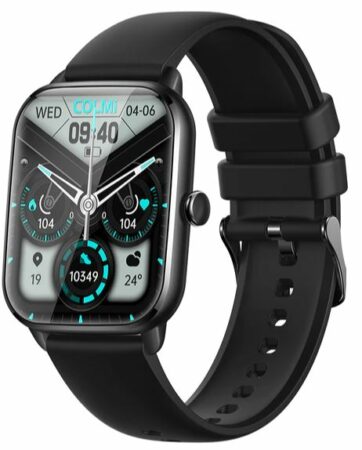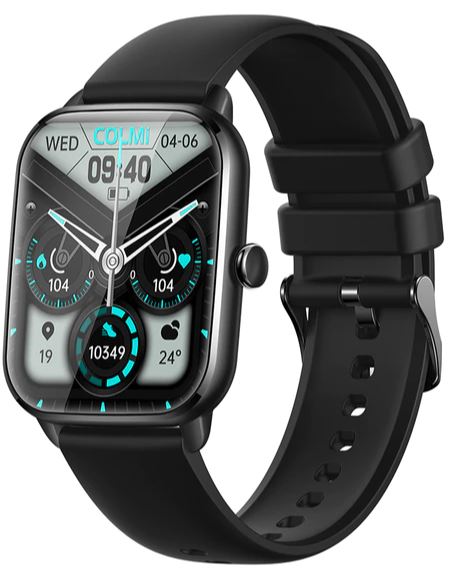 Specs: Display Size: 1.9 inch, Battery Capacity: 220-300mah, Resolution: 240*280, ROM: 128MB, See all.
Compared to the previous model, the C61 smartwatch by COLMI got a bigger 1.9-inch screen with a 95% screen-to-body ratio and a narrow bezel, which significantly increased the display area.
Moreover, it offers an extended battery life of 7 days on a full charge when used in typical scenarios, and 15 days in the standby mode.
The device is waterproof, so you can wear it on rainy days or wash your hands without taking it off.
For health monitoring, it effectively tracks your sleeping patterns, heart rate and daily exercise data, enhanced by more than 100 sports modes to choose from.
Possible issues may arise in terms of app synchronization, however – several customers reported that some of the smartphone apps appear on watches' display, and some don't.
Pros and Cons
big display;
elegant waterproof design;
comprehensive health monitoring.
issues with app synchronization.
4.

VWAR ZD8 Ultra MAX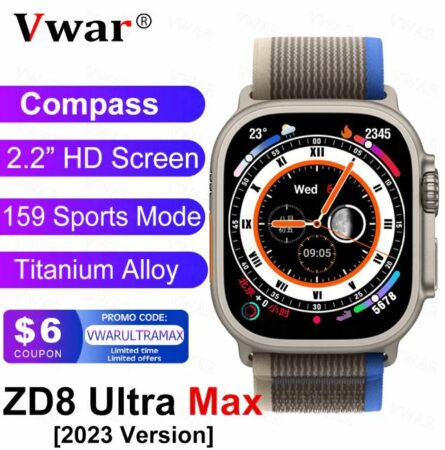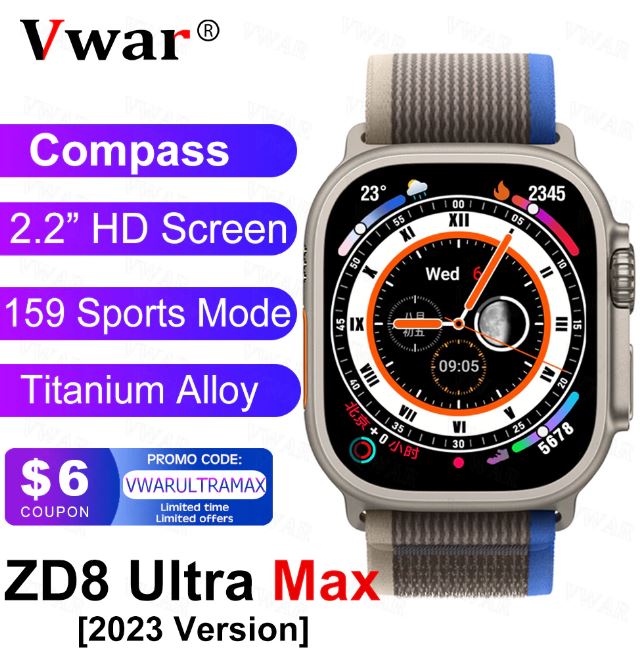 Specs: Display Size: 2.1 inch, Battery Capacity: 300-450mah, Resolution: 520*585, ROM: <128MB, See all.
If you are keen on exploring forests and hiking, you might want to look for something reliable and practical.
The renewed VWAR ZD8 Ultra smartwatch features nothing less than a compass! Together with a 2.2-inch HD explosion-proof screen resistant to scratches and blows, you can embark on any adventure with confidence.
To ensure that you won't accidentally run out of power, the device is equipped with a powerful battery, which can last up to a week on a single charge when used daily and for 60 days on standby mode.
There are also more than 150 sports modes for fitness lovers, which offer personalized tracking for each type of exercise, ECG, ABPM and all-day heart monitoring.
In addition to that, this monstrously durable smartwatch is IP68 waterproof – falling in the water or even going into the shower with it on your wrist is not a problem.
The only issue is related to the software, as the OS is prone to crashes according to several customers.
Pros and Cons
has a compass;
comprehensive health monitoring;
durable display.
3.

SitopWear Smart Watch Ultra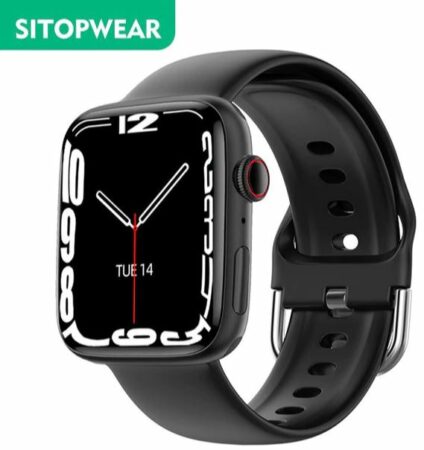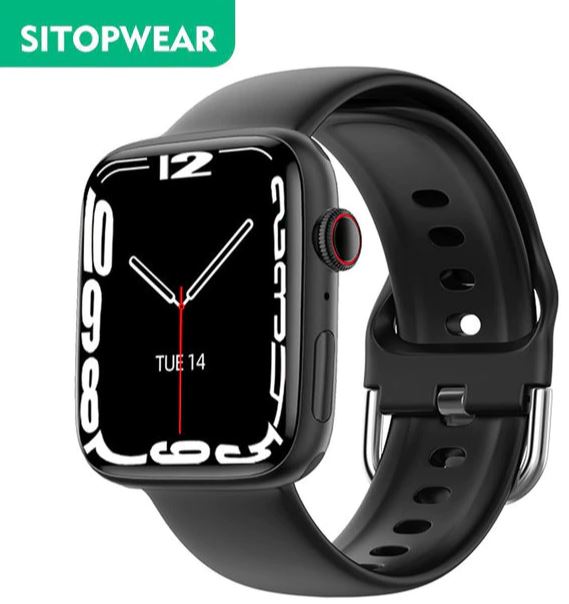 Specs: Display Size: 1.8 inches, Battery Capacity: 300-450mah, Resolution: 320*385, ROM: <128MB, See all.
The updated Chinese smartwatch by SitopWear got an improved 1.8-inch HD curved display reinforced by 3D glass, which resulted in crystal-clear clarity and color rendering.
With more than a hundred watch faces to choose from, the device features a high level of customization – which, combined with many band options, will let you sync the design to your mood or outfit. In addition to that, the smartwatch has an NFC door access control option: by copying the information of a physical NFC chip, it can be used instead of a card key.
The battery life is also impressive: even while actively receiving smart notifications and Bluetooth calls, the smartwatch will last for 7 days on a full charge; this period is increased to 30 days in standby mode.
In addition to real-time notifications, the device offers all-around health tracking to monitor your heart rate, blood pressure, sleeping patterns, etc. – so you can rely on the SitopWear smartwatch to act as your small personal assistant.
Pros and Cons
HD Retina display;
long battery life;
can read NFC information.
possible issues with iOS smartphone compatibility.
2.

Amazfit GTR 2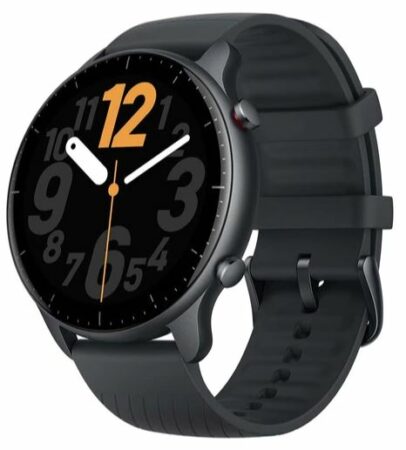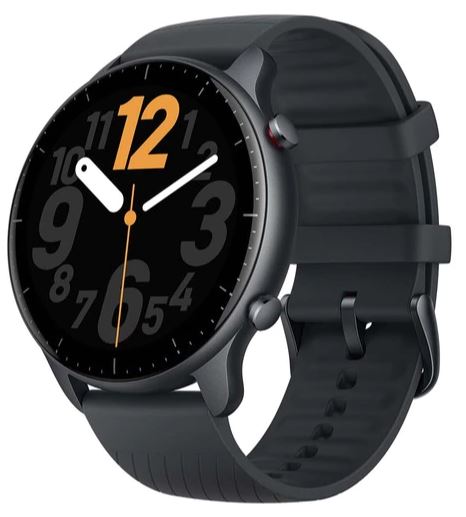 Specs: Display Size: 1.39 inches, Battery Capacity: >450mAh, Resolution: 454*454, ROM: 4GB, See all.
GTR 2 smartwatch by Amazfit offers one of the best heart rate monitoring options on the market, as it tracks your health indicators in 24-hour mode and alerts you of any abnormal measurements. Such a feature might be important not only to fitness lovers but also to people with various heart conditions.
However, the device is primarily designed to be used by joggers and athletes who pay close attention to their body indicators: powered by OxygenBeats technology, it delivers one of the most precise blood-oxygen saturation measurements, which is a cornerstone of a comprehensive health understanding.
As for the technical specifications, the smartwatch features a 1.39-inch high-definition display, which delivers a clear and vivid image of your notifications, apps and customizable watch face.
However, some of the customers complained about the battery life, claiming that it lasts far less than 14 days.
Pros and Cons
precise health measurement;
abnormal heart rate alerts;
always-on-display function.
1.

LIGE Smartwatch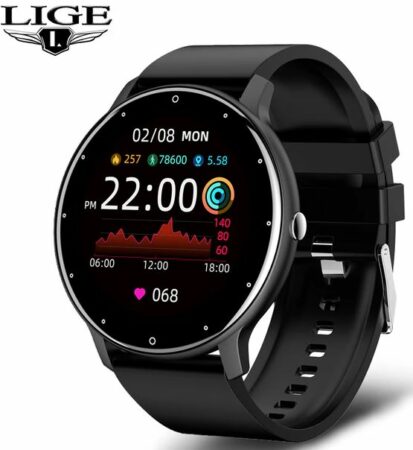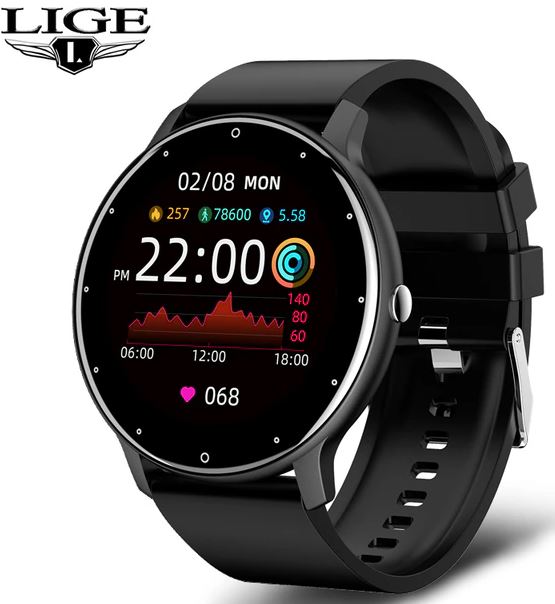 Specs: Display Size: 1.3inch, Battery Capacity: 220-300mah, Resolution: 240*240, ROM: <128MB, See all.
We were curious to explore why LIGE Smartwatch became one of the bestselling models on AliExpress: currently, it has a record count of 10 thousand orders, more than 2500 positive reviews and a total rating of 4.6.
Compatible with Android and iOS smartphones, this watch won't let you miss any notifications in real-time, and its sophisticated design (less than 27 grams) makes it a perfect choice for daily use.
In addition to notifications, this smartwatch can track your health rate, steps and calories. Considering the IP67 waterproof certification, you can wear them for your jogging and fitness routines with confidence, as the device is not afraid of sweat or water.
The only drawback is the high price – it ranges between 130-140$, but if you happen to get a seasonal discount, you can get them for less than 20$!
Pros and Cons
IP67 waterproof design;
tracks heart rate, steps and calorie burn in real-time;
customers' choice on AliExpress.
expensive, when seasonal/special discounts are not applied.
Which Chinese Smartwatches are the best on Aliexpress?
You'll probably never run out of options while looking for smartwatches on AliExpress, but after careful market research, we can recommend the models rightfully trusted by other customers.
Our first place goes to a LIGE Smartwatch – a bestseller featuring an elegant design, affordable price and enhanced tracking options.
For athletes and fitness enthusiasts, we recommend Amazfit GTR 2 with one of the best heart rate monitoring options.
And for everyday use, there is a practical SitopWear Smart Watch Ultra with an NFC Access control and enhanced customization – a perfect assistant for your daily tasks.
Read also: