Fishermen, assemble! Fishing is not only a hobby – it is a demanding sport requiring mental and physical skills, as well as necessary equipment. A basic set including a fishing rod, lures, additional accessories and tools necessary for fishing is a costly affair, but we know a way to save a lot of money. Whether you are a professional fisherman or an enthusiast, shopping on AliExpress is a fun, convenient and affordable way to buy everything you need to catch any fish. So here is our list of the Best Fishing Stores on AliExpress!
Top 10 Fishing Stores on AliExpress
Sporting Goods A Store

Duration: 2 years
Positive feedback: 95%
Followers: 1259
This store has been supplying fishermen with equipment for almost 2 years now: such dedication was rewarded with an AliExpress Silver Medal and a positive review rate of 95.1%.
While the store offers a wide range of sports items, fishing accessories are among the bestselling products. The list includes fishing hooks, hook extractors, floats, lures and additional tools. For example, the catalogue features such popular products as a pack of 50/100 PCS fluorescent lightsticks for floats (they resemble fireflies and help to fish in the dark), and silicone fishing lures in the shapes of silver carp and bighead carp.
Most of the reviews are positive: customers note great prices, fast shipping and excellent quality of fishing accessories.
MEREDITH Official Store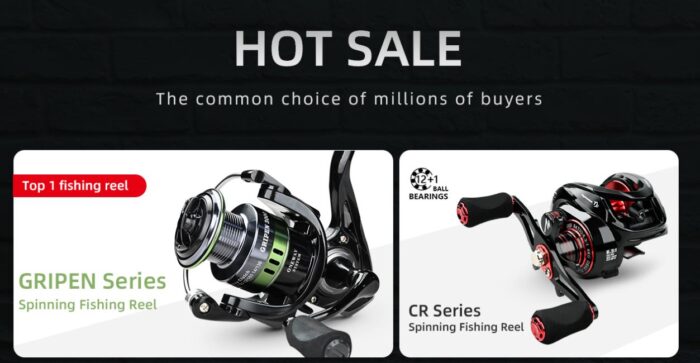 Duration: 8 years
Positive feedback: 98,4%
Followers: 206,2K
Meredith is a well-known Chinese brand of professional fishing gear: it offers one of the best fishing reels made of stainless steel available on the market. With an 8-year history on AliExpress and more than 200,000 followers, the store is a must-visit place for fishing enthusiasts.
For the best gear, check the brand's "flagman" models, such as the Sagittarius Series (previously Gripen) – an ultimate fishing reel made of high-quality stainless steel with an ATD drag system, durable rotor design and incredibly light aluminum-made spool. For budget-friendly options, try the CR Series – a wear-resistant reel with 15 adjustable levels of magnetic force, suitable for fishing in freshwater and saltwater.
Customers note fine prices and the gear's robust construction as the store's main advantages.
Pesca Lures Store

Duration: 6 years
Positive feedback: 98,1%
Followers: 4453
This store is the best place on AliExpress to shop for small fishing accessories and lures of any type. This is further proven by a high positive review rate of 98.1%, which is why the store got an AliExpress Silver Medal award.
The catalogue features fishing tackles, hooks, reels, fishing lines and, of course, lures. There are minnow, popper and VIB fishing lures, blank lure bodies, jigs, pencils and so on – you'll certainly find the right lure for any catch. As for the hooks, there is an impressive collection of high-carbon steel fishing hooks and connectors, which are described as "impeccable" by customers.
Fishing Expert Store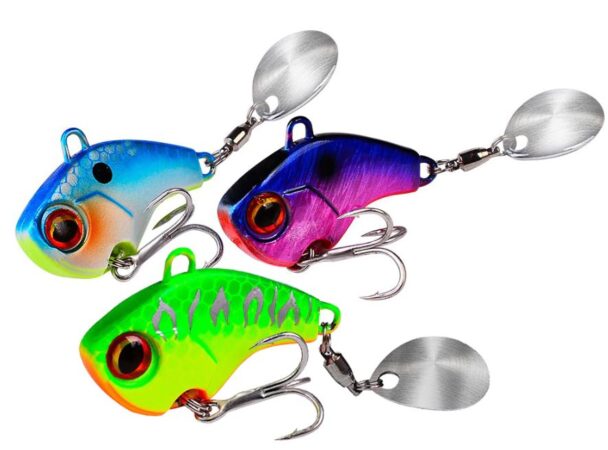 Duration: 3 years
Positive feedback: 98,4%
Followers: 2631
As the name suggests, the store is a convenient place for professionals and enthusiasts to find all the fishing accessories and gear they need. With a record-high positive review rate of 98.3% and an AliExpress Silver Medal, you can be confident in the products' quality.
The store has fishing reels, steel wire lines, lures, soft and hard baits, additional tools and even comfy fishing chairs. For the most popular offers, check out the anti-bite steel wire leader (you can buy them in sets of 5, 10 and 20 pieces) and cheap wobbling fishing lures.
According to customers, the quality of accessories is "above average" – considering the prices, it is a win-win.
JiuYu Fishing Store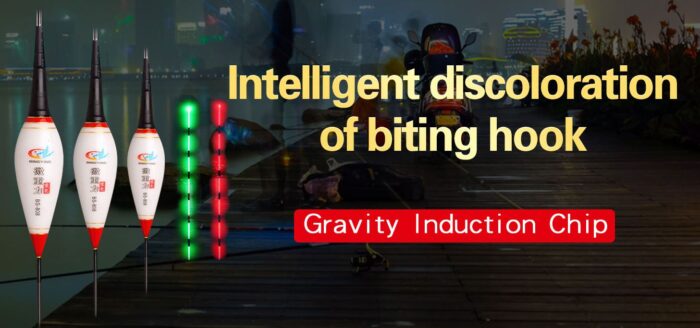 Duration: 4 years
Positive feedback: 96,4%
Followers: 32K
JiuYu is one of the few stores on AliExpress that offers smart fishing gear and tools, such as fishing LED floats equipped with sensors to detect gravity changes and automatic illumination. The brand has been acknowledged with an AliExpress Gold Medal – it is the first store in our article to be distinguished by this award.
The catalogue features smart floats and float sets with rechargeable batteries, luminous floats for fishing during the nighttime, fish hooks and lines, baits and even fishing rods. The store's absolute bestseller is the JIMITU Fishing Float with a gravity sensor, which glows red once the gravity changes are detected – this way you'll always know when to strike.
Jsfun Fishing Store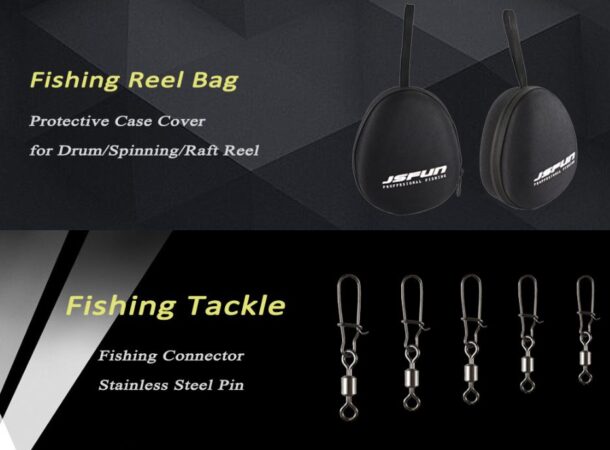 Duration: 6 years
Positive feedback: 97,6%
Followers: 18,9K
Storing your fishing lures and accessories is important, so a fishing bag should be the #1 item on your shopping list. Jsfun Store has a fairly wide selection of storage cases and multifunctional bags, which are going to be shipped to your address as fast as possible with AliExpress Choice.
For around $20, you can buy a fishing bag of large capacity made of waterproof nylon: it has a divided internal space and additional pockets and mesh bags to store your many fishing lures, hooks and tools.
But not only that – you can purchase some small accessories as well, such as fishing connectors and shrimp-shaped soft fishing lures with a luminous hook inside.
Booms Fishing Official Store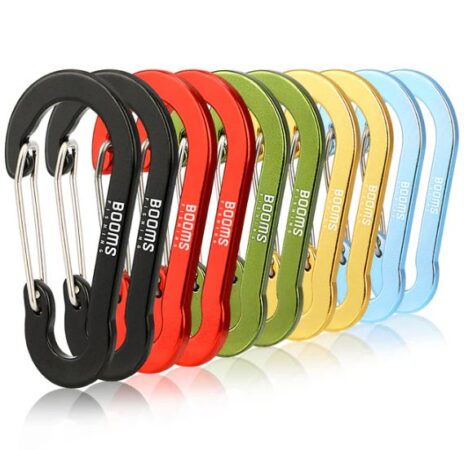 Duration: 8 years
Positive feedback: 98,3%
Followers: 23K
Booms Store has everything for storing, maintaining and improving your fishing rod. A member of AliExpress Choice service, the brand guarantees that you get the best prices and the fastest shipping this market has to offer.
The catalogue features only the brand's products, so it may appear limited in terms of variety. For the bestsellers, check out the WV4 Fishing Rod Holders which can safely and securely store up to 10 fishing rods in a vertical position on the wall and off the floor. The rack can be placed in your garage and, as customers say, "save a ton of space".
You can buy other essential tools, such as magnetic release clips, fishing pliers made of stainless steel and finger protectors to minimize the abuse of a stripping line when fishing for a whole day.
RunSport Store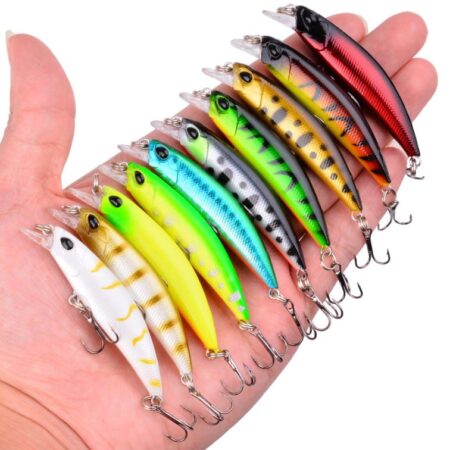 Duration: 4 years
Positive feedback: 97,9%
Followers: 3029
Don't be misled by the store's name – RunSport offers fishing tools and accessories only, with fishing lures as the store's main products. The seller has been offering equipment for 4 years and was awarded an AliExpress Silver Medal – all thanks to the positive reviews from amateur and professional fishermen.
The store's bestseller is a $3 Mini Minnow Fishing Lure with 3D fish eyes and flat rings – it is a perfect bait to catch catfish, carp, culter and pale chub. Another viral product is the stainless-steel Fishing Plier Scissors to cut the fishing line and remove the hooks: the customers note that the tool is so robust it can cope with wind-up rings.
In addition to that, you can also purchase metal jigs, fishing tackles, reels and lines, which makes the RunSport a one-stop-shop for fishing enthusiasts.
BUDEFO Outdoor Official Store

Duration: 4 years
Positive feedback: 97,9%
Followers: 26,2K
As we are moving closer to the end of our article, you might wonder – are there no stores on AliExpress that offer high-quality fishing rods? Well, there is no way we could skip this essential fishing tool – and the BUDEFO Brand store has the best selection of gear for professional and amateur fishermen.
The store's bestseller, the BUDEFO MAXIMUS Fishing Rod, is an impressive tool with a fishing line weight of 4.2 kg and an adopted Fuji K-type bracket guide ring. Customers note that the fishing rod is light, but sensible, with a "spectacular" quality and perfect packaging. Another popular model is the BUDEFO ROCK Carbon Spinning Fishing Rod available for $36 – a fantastic gift for a fisherman.
The quality of customer service is something to be complimented as well: one customer reported that they received a fishing rod with a damaged middle ring, but the seller immediately sent a replacement.
KastKing Official Store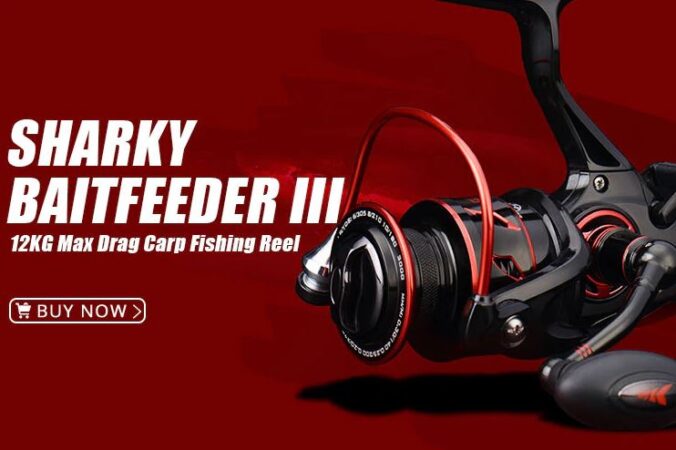 Duration: 10 years
Positive feedback: 98%
Followers: 626,2K
With a subscriber count of 620,000+ and a 10-year history, the KastKing Brand Store is the king of fishing rods and gear on AliExpress. Led by the "Affordable Innovation" motto, it offers the most popular fishing rods on the market, which are sought out by professional fishermen and amateurs alike.
You can buy everything you need in one place, from nylon fishing lines to fishing lures, but the rods remain the store's absolute bestseller. If you are looking for a reliable tool, check out the KastKing Max Steel Rod – a fishing rod with KastFlex Technology and 24 Ton carbon blanks.
With a price of $65, it is more expensive when compared to other rods on AliExpress, but the outstanding performance is worth every cent.
What's the best Fishing Store on AliExpress
Fishing is often associated with stress relief and the feeling of freedom: there is nothing better than to dedicate time to recreational activity and catch some fish in the process, with the "process" as the most important element. Finding the best equipment is one way to make this process even more enjoyable, so here is a small list of our editor's picks.
Best Store Overall. KastKing has everything – like, literally everything – you need for fishing. Unlike other stores that limit their selection to fishing lures, reels and basic accessories, KastKing goes so far as offering high-quality fishing rods.
Best Store for Fishing Accessories. Pesca Lures Store has baits and fishing lures to catch any type of fish. Not only it has an impressive selection, but also has the lowest prices on AliExpress, so make sure to shop here for essential accessories.
Best Fishing Equipment Store. JiuYu Fishing is the only store in our article that has innovative fishing equipment to offer. LED floats with gravity sensors and multifunctional pliers – fishing has never been easier and more convenient.