Comfy sneakers or fancy high heels, winter boots or formal Oxfords – there are many styles of shoes for different occasions. In case of a "shoe emergency", you can always run to the nearest outlet in hopes of finding a decent pair of shoes (and most likely overpay for them), but we have a better solution in mind. AliExpress is the largest online marketplace featuring many footwear stores with affordable prices, impressive selections and decent quality. So, this time we will tell you about some of the Best Shoe Stores on AliExpress.
Sizing Tips for Buying Shoes on AliExpress
People from all around the world shop for clothes and shoes on AliExpress, but the sizing system is not universal – the standards and unit dimensions vary in different regions. For shoes, the major size charts are American (US), European (EU), United Kingdom (UK), Australian (AU), Japanese (JP) and Chinese (CN). Chinese sizing system uses centimeter scale and is similar to EU – the only issue is that clothes and shoes run smaller than their Western counterparts. AliExpress mostly uses the CN system with some sellers offering conversion to EU and US scales, so it is strongly recommended to refer to conversion charts to find the corresponding size in the desired system.
If, however, you don't know your exact shoe size, take a ruler, stand on a flat surface and measure your foot from the longest toe to the heel. Knowing the length of your foot in inches or centimeters, you can now refer to the AliExpress Size Chart – usually, sellers feature it in the item description, but you can easily find detailed conversion charts online.
So, now you are equipped with valuable knowledge of your shoe size in different sizing systems, have a general understanding of what you want (sneakers or high heels – take your pick) and money to spend… This means that it's time to go through our rating of the Best Shoe Stores on AliExpress!
Top 10 Shoe Stores on AliExpress
Shop4194009 Store

Duration: 5 years
Positive feedback: 88%
Followers: 9669
This store is your perfect shopping stop for formal footwear. You can find men's Oxfords made of PU leather for just around $10, elegant high-heeled sandals with rhinestones for the same price and many other affordable shoes for any occasion.
The store has been present on AliExpress for 5 years and has a positive review rate of 88.8% – not the highest percentage in our rating, but we are just getting started.
For example, customers note that leather Oxfords are "beautiful" and "true to size", but not very comfortable – as is expected for the low price. However, female customers are more satisfied with the quality of their sandals.
College styles Store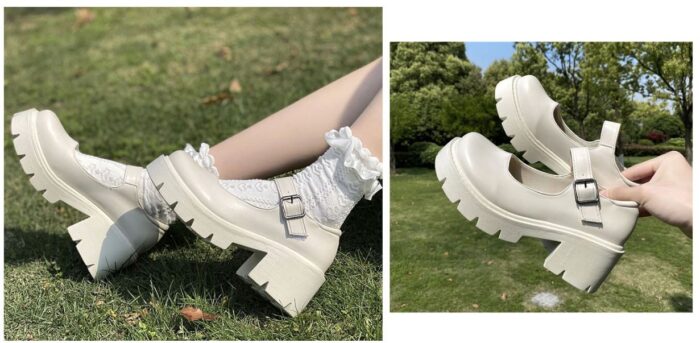 Duration: 3 years
Positive feedback: 94,8%
Followers: 10,3K
You may have heard about "Lolita" and "Mary Jane" shoes – traditional-styled shoes with a high platform, ribbons and bows. College Styles Store specializes in this particular footwear, offering a wide selection of loafers, sandals and pumps for Lolita clothing, which could also be styled for school and university outfits.
A pair of basic Lolita shoes will cost you around $8, but you can find fancier styles for party outfits or to make your college uniform stand out.
Just note that the store has a very specific selection – it might not be the best shopping destination for those who look for casual family footwear.
NKADQD Official Store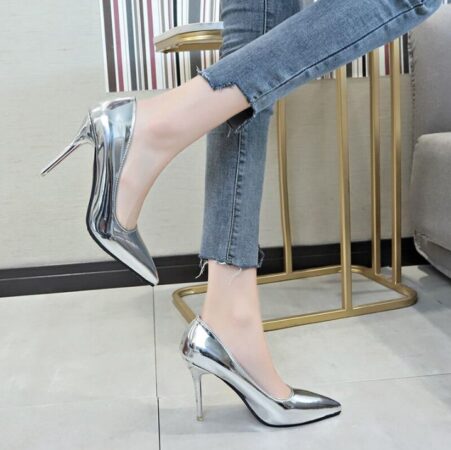 Duration: 4 years
Positive feedback: 90,7%
Followers: 8742
We all know that primarily AliExpress shoe stores deal with casual footwear, but we all can get tired of this. If you are looking for something fancier – or even affordable brand replicas – then check out the NKADQD Store. The seller is a member of the AliExpress Choice program, so in addition to low prices, you'll get free shipping.
You'll find many famous European brands featured in the design of the shoes – just remember that these are high-quality replicas, not original footwear. The bestsellers include women's outdoor sandals and slippers, square-heeled summer shoes with open toes, rhinestone-decorated heels and other styles. However, the store doesn't offer men's shoes.
Aliketoys Store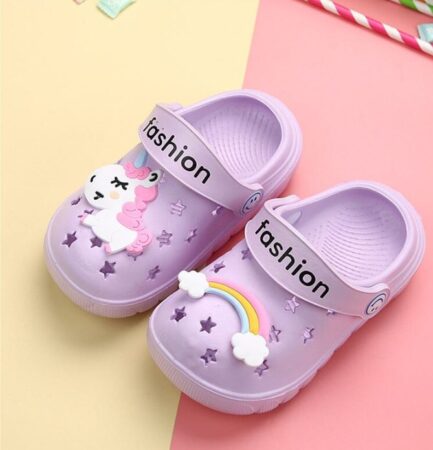 Duration: 4 years
Positive feedback: 96,2%
Followers: 3229
While most of the stores in our rating target adult shoppers, there is no way we could skip the category of kids' shoes. Aliketoys is a famous dropshipping store for children's clothes and footwear, but it supports retail as well, so you can snatch some great prices.
The catalogue features the cutest shoes you'll be able to find: tiny summer sandals with cartoon charms, beach sandals for boys and girls, casual sneakers for toddlers which are going to melt your heart and so on. The sizing charts start from 15 (or 11.5 cm), so you can find footwear for any age.
Summer sandals are among customers' top favorite and most reviewed products, so we recommend checking them out.
Manufacturer Direct Store

Duration: 3 years
Positive feedback: 95,9%
Followers: 2,2M
Manufacturer Direct Store has a record number of subscribers – currently more than 2.2 million customers follow the page. The reason behind such popularity is that the store works as a broker between manufacturers in China and customers, so you can get the best prices.
The store is also a good place to buy shoes for every family member, as it offers men, women and kids' footwear. There are many styles available: sports sneakers, ankle boots, high heels, summer wedges, platformed canvas shoes and durable leather shoes for men.
Viral models include $11.11 Men Casual Running Shoes: breathable material and anti-slip vulcanized soles make them perfect for athletics, tennis and jogging. And if you are looking for more quality and durability, check out the selection of polyurethane leather shoes – such as $18.73 Men Climbing Shoes for hiking and outdoor activities.
YBQJOO NFER Store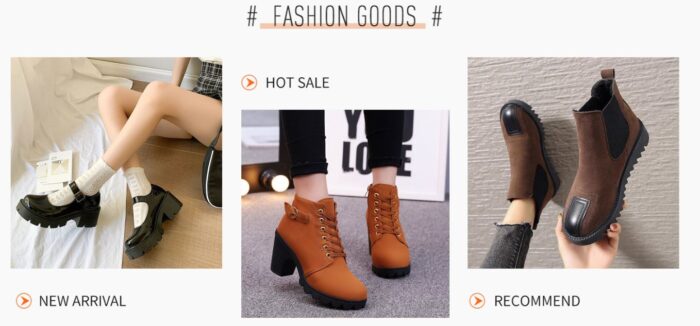 Duration: 2 years
Positive feedback: 85,1%
Followers: 2718
YBQJOO NFER Store has a big selection of men's and women's footwear: main styles include high heels, sandals, sneakers, flat shoes and boots, so you'll be able to find shoes for any season. In general, there are more than 500+ models to choose from.
For women, one of the most featured products would be $2.74 Nude Pumps – basic high-heeled shoes in many colors (not just nude) with a glossy leather appearance, which would go well with a party or casual office style. Customers note that while incredibly cheap, the shoes' quality is surprisingly good for such a price.
Men can check out $5.07 Summer Loafers – comfortable and breathable footwear for any capsule outfit. While comfortable and pleasant to the leg, customers advise to check the measurements and ask for a size more.
MILIKUYOU Store

Duration: 2 years
Positive feedback: 94,5%
Followers: 2815
MILIKUYOU store has been active on AliExpress for the last 2 years, but it already has a decent base of loyal customers and a positive review rate of 94.4%. The selection is mostly men-oriented, offering men's summer slippers, mesh sneakers, tennis footwear and light EVA sandals, with a total of 240+ styles featured in the catalogue.
For most popular products, look for $19.36 Colorful Tennis Sneakers – a pair of trendy mesh sneakers with a combination of several colors, which would fit in a street-style outfit; $4.82 Men Summer Sandals made of EVA durable foam, plus sizes available; and $8.21 Skull Slippers – unique skull-shaped summer slippers to stand out in the crowd.
Comfort and quality of materials are frequently featured as the store's advantages but be aware that the shoe sizes can run smaller.
KUIDFAR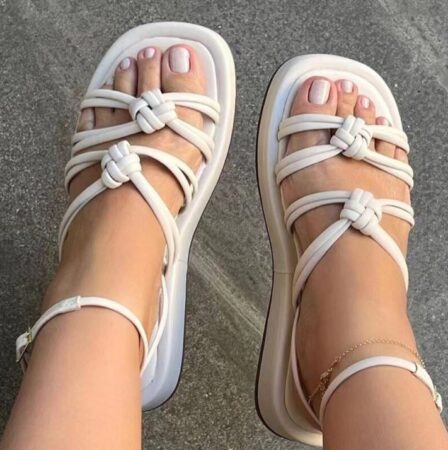 Duration: 7 years
Positive feedback: 93,3%
Followers: 13,5K
KUIDFAR is an old and trusted seller with a 7-year history, a high positive review rate of 93.4% and an AliExpress Gold Medal Award – all good signs of a reliable store. While it has a small selection of men's footwear, the store's target audience is women: it specializes in summer sandals with high platform soles and casual shoes for running and everyday wear.
Store's bestsellers include $9.17 Summer Lightweight Wedges for women – a perfect pair of summer sandals in 6 different colors, comfortable and ultra-weight despite the high platform; and $9.49 Wedge Slippers – a cute pair of open-toe sandals with a bow, which would go amazingly with a summer dress. There are casual sneakers for men as well but with less variety.
Customers note that shoes are always true to size, so don't hesitate to order your exact size.
WIENJEE Specialty Store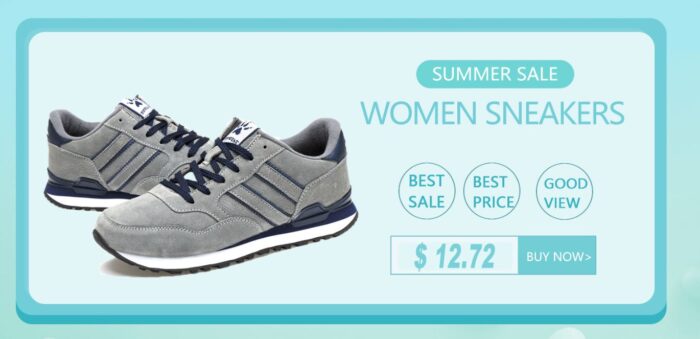 Duration: 3 years
Positive feedback: 95,8%
Followers: 13,4K
It is funny how such a small store managed to attract so many customers, but WIENJEE offers some of the most popular women's sneakers on AliExpress. Specializing in casual footwear, the seller has a limited selection of breathable mesh sneakers, tennis footwear with vulcanized soles, summer sandals and even waterproof ankle boots for the autumn and winter season.
Thanks to permanent discounts, the prices stay low throughout the year – you can buy a pair for $10-20 and get fast shipping free of charge with AliExpress Choice service.
Customer feedback is positive in general: reviews highlight light and comfortable materials, fast delivery and a "true to photo" appearance. Some minor issues include wrong sizing: mesh sneakers can run smaller to half a size for a tight fit.
ChuulGorl Fashion Store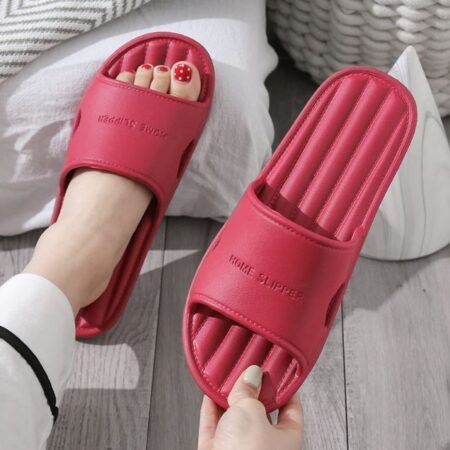 Are you looking for summer and beach strolling slippers? ChuulGorl Store got your back (and feet) with its selection of trendy and comfy slippers for indoor and outdoor wear. Their slippers are one of the best and most popular on the market, with more than 10,000+ orders and surprisingly low prices between $10-20 per pair.
Store's absolute bestsellers are Men Summer Original Slippers made of soft EVA material and non-slip soles; Women Platform Slippers – a series of brightly colored slippers with a 4-cm platform, which is perfect for beach walks; and Women Shark Slippers – funny shark-shaped EVA non-skid slippers for wearing at home.
Customers note that the slippers are comfortable, and made of good material, but somewhat large, so make sure to choose the correct size.
What's the best Shoe Store on AliExpress
There are hundreds of shoe vendors on AliExpress – covering them in one article wouldn't be possible. But these stores can serve as a good starting point for your shopping marathons:
Best Shoe Store Overall. ChuulGorl Fashion Store is "the king of casual footwear" on AliExpress, as it offers viral men's and women's slippers and sandals for outdoor and beach walks.
Best Women's Shoe Store. KUIDFAR offers the fanciest sandals and high heels you'll be able to find – they are a perfect choice for dresses and formal gowns.
Best Men's Shoe Store. MILIKUYOU has a great selection of PU-leather shoes, summer sandals and boots for men.