If you are a professional nail technician or planning to try treating your nails at home, you need nail polishes, manicuring instruments and tools – and the list of essential nail equipment doesn't stop here. Many professionals frequently use AliExpress as a place to affordably restock their nail supplies. If you are one of those nail art enthusiasts, then make sure to check out our rating of Best Nail Stores featured on AliExpress.
Top 10 Nail Stores on AliExpress
GeForest Store

Duration: 3 years
Positive feedback: 95%
Followers: 165,3K
We will start this rating with the basics – or, more specifically, with the store where you can find base equipment for nail care, essential for setting up a beauty salon. GeForest Store was featured in many of our previous ratings, as it's the biggest one-stop-shop on AliExpress. It is important to note that GeForest is by no means a nail supplies store, but it offers tools and instruments needed for nail art.
Surprisingly, GeForest offers professional UV LED nail drying lamps, electric nail drill machines (both for salon and domestic use), clippers, replacement nail files and even artificial hand models for practicing nail art. There is even a small selection of UV gel polishes, so if you are a beginning nail technician, the store is perfect for your first shopping.
Just note that you won't find nail decorations and extension polygels, so you'll still have to buy additional supplies from other stores.
Rosalind Nail Beauty Store

Duration: 1 year
Positive feedback: 88,3%
Followers: 7374
Rosalind is not just a store – it is a nail supplies brand from China, which manufactures viral nail gel polishes, extension nail polygels, acrylic powders and even gel removers. The brand has been present on AliExpress for almost a year and doesn't have a lot of subscribers yet – which means that the store uses low prices and special discounts to attract new customers.
Brand's bestsellers include the ROSALIND Nail Gel Polish with 58 different bright colors to offer: a single layer is enough to give your nails an opaque appearance, and the polish heals well in LED lamps. For nail extensions, try ROSALIND 15ml/30ml Nail Polygel with a thick texture and quick building in a LED/UV lamp.
In addition to that, add the brand's special Top Coat and Base Coat – and you have everything you need for a perfect manicure!
Meini Disney Nail Store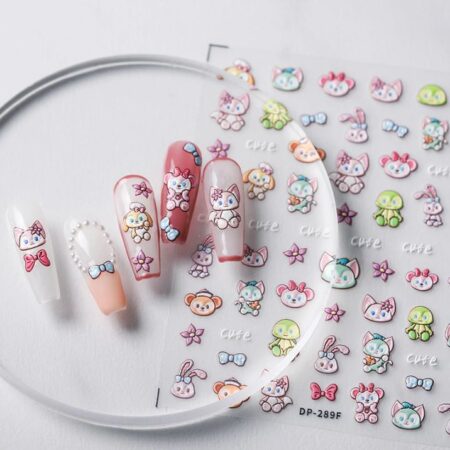 Duration: 1 year
Positive feedback: 97,8%
Followers: 9832
We included this store in our rating because of its unique selection of Disney and cartoon-themed nail stickers and decorations. The Meini Disney Store has been working for 1 year, but it already has a high positive review rate of 97.9% and more than 9,000 subscribers.
Unlike other stores that offer neutral aesthetical nail art supplies, the store features creative 3D and 5D stickers with Disney princesses, the Simpsons family, Marvel Heroes and others. There are some neutral options as well, like adhesive nail sliders with hearts, butterflies, romantic quotes and letters. You can expect to pay around $0.40-0.50 per sheet, and the seller kindly adds 1 random sheet of stickers as an extra gift.
Just note that the store's primary product is stickers, so it is not the best place to shop for major nail equipment and supplies.
LILYCUTE Official Store

Duration: 6 years
Positive feedback: 92,4%
Followers: 94,9K
LilyCute is a brand offering the full package of nail equipment needed for professionals: you'll find everything from quick extension polygels to glue line gels with a drawing brush design to apply the tiniest of nail rhinestones. The store promises to give its customers the VIP experience and prices together with "a fast delivery time within 48 hours", but that depends on the type of shipping you choose on checkout.
The store's homepage features Extension Gel Kits in 8-15 ml bottles and a wide selection of nail polishes (a total of 120+ colors available), but they cannot be found in the store's catalogue. However, there are plenty of nail art tools, like liner brushes to draw thin French stripes, nail art stickers, small UV lamps and silver/gold nail foil flakes for decoration.
The store's bestseller is the Glitter Nail Powder with metallic/mirror effect, but the overall unavailability of the brand's other major products is a big setback.
MagiBling Nail Art Store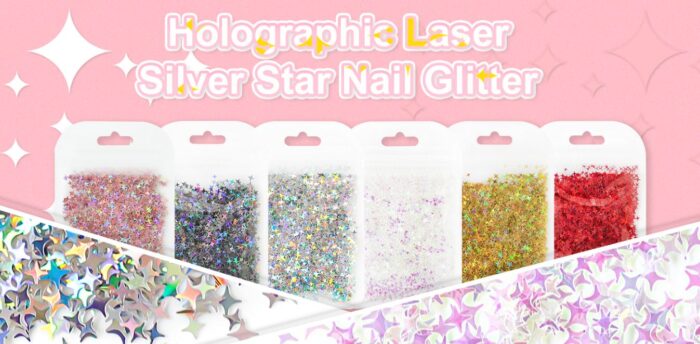 Duration: 2 years
Positive feedback: 97,5%
Followers: 4332
MagiBling Brand has an impressive selection of self-manufactured acrylic nail powders – from nude to summer light colors, you'll find any style you need. The official store has been operating on AliExpress for 2 years, but a high positive review rate and low prices make it eligible to be called "the best among the best".
In addition to nail dipping powders, the brand produces nail art flakes and glitters, stickers, brushes and even nail tips for extensions. A special focus is given to "French macaron" colors and decorations: there is a line of macaron-colored acrylic powders and nail beads to create soft designs.
Store categories also feature nail drill bits, brushes and tools, but the brand doesn't manufacture extension polygels and nail polishes, so you'll have to look for them elsewhere.
NICOLE DIARY Official Store

Duration: 7 years
Positive feedback: 94,9%
Followers: 83,5K
Guided by the "Nail What You Dream" enthusiastic motto, the Nicole Diary is a famous Chinese-based brand of nail art supplies. It is best known for its nail stamping products like stamping plates and stamping polishes to create gorgeous nail designs. The catalogue features around 90 unique plates, so you'll find any style requested by your customers.
In addition to that, the store offers aluminum foil sequins for nails, shining flakes and chameleon/mirror nail powder – basically, everything needed for demanding nail designs. As for the nail polishes, the store has a small selection of top and base gels, water-based and thermal nail polishes, as well as regular ones.
It is also one of the few stores that offer nail drill machines and tungsten carbide/ceramic nail drill bits. In the end, Nicole Diary is a perfect store to shop for a complete set of nail equipment in one place.
UR Sugar Official Store

Duration: 6 years
Positive feedback: 94,4%
Followers: 97K
UR Sugar is a nail supplies brand, which specializes in base solid polygels and nail polishes. It is famous for its Large Volume Series – base top coats, extension gels and rubber base gels in 150 grams packaging, which is perfect for frequent use in beauty salons.
The Brand's official store has been present on AliExpress for the last 6 years and is marked by the Gold Medal Award, which certifies the excellent quality of customer service and a great number of positive reviews.
The store has many products to offer. Beginner nail art enthusiasts can find affordable complete manicure sets with a UV/LED lamp, manicure instruments, gels and polishes included, while professional technicians can look for rubber base gels with a chameleon or cat eye effect, extension gels and nail polish set with many colors for their collection.
FUMOSIK .Nail Art Store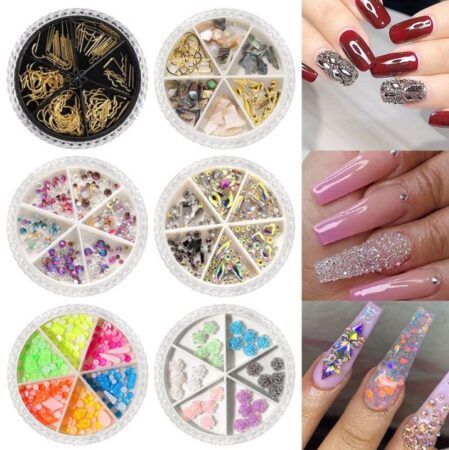 Duration: 3 years
Positive feedback: 96,6%
Followers: 9803
It's important to note that Fumosik Store doesn't have polygel nail kits or gels, as it specializes in nail art tools and supplies. But even with such a limited selection, the store has good ratings (96.5% of all reviews are positive) and around 10,000 loyal subscribers, so it's still worth checking out.
With low prices, it is a perfect place for nail technicians to resupply if you are running out of sparkling nail rhinestones or nail forms. Among the store's most popular products are the complete Nair Art Brushes sets, which have from 5 to 20 tools including carving and dotting pens, assorted stones and gems for nail art decoration, cuticle scissors and toe separators.
In addition, the store got a Gold Medal from AliExpress, so it can be trusted with fast shipping and good quality customer service.
Born Pretty Official Store

Duration: 8 years
Positive feedback: 94,6%
Followers: 832,5K
Born Pretty is a brand store, which manufactures nail gels and other materials for professional use. The brand is acknowledged globally, as it has more than 830,000 followers from 150 countries and regularly participates in beauty conventions around the world to showcase its products.
Among the top-selling products is the quick-drying UV 9D Cat Magnetic Gel to achieve a perfect cat eye laser effect, a Non-Stick Solid Extension Polygel ("one of the most beautiful nail polygels on the market", according to the customers), and the Metallic Painting Gel Polish, which looks like a mirror and creates a super chrome effect.
In addition to nail polishes and polygels for various use, there are nail art tools like stamping plates, stickers and dipping nail powders available as well.
HEONYIRRY Nail Art Store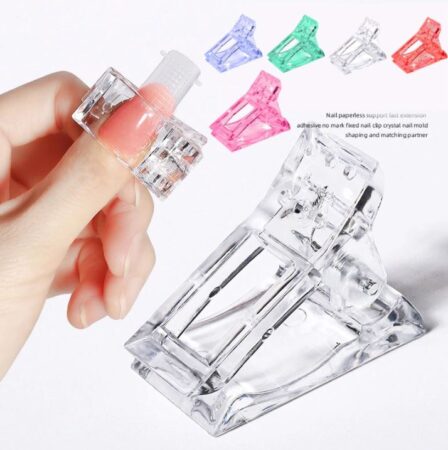 Duration: 1 year
Positive feedback: 95,5%
Followers: 5616
Heonyirry Store has the best selection of nail art supplies and instruments. Whether you are an experienced nail technician or a beginning specialist, there is everything you need for your work.
The store's catalogue is divided into several categories for nail art tools and brushes, nail decorations, stickers and so on. Among the most viral products are transparent nail stampers, cuticle scissors and nippers for manicuring, Kolinsky brushes and even solid pigments to create mesmerizing nail designs for your customers.
While the store doesn't have a lot of followers, it is distinguished by AliExpress Gold Medal, meaning that the seller has good ratings and many positive reviews.
The major setback, however, is the lack of nail polishes and polygel nail kits – you'll have to look for them in other stores.
What's the best Nail Store on AliExpress
A list of nail supplies can be overwhelming: there are nail polishes and gels, nail art brushes, stickers and decorations, machine equipment like nail drills and so on… But AliExpress stores with their impressive selection of essential nail equipment got your back. And to summarize this article we present you with our editor's store picks:
Best Store for Nail Tools and Instruments. Heonyirry Store has everything a nail technician might need from clippers to replacement nail files. You can also find various brushes, stampers and pigments for exquisite nail designs.
Best Store for Nail Polishes and Gels. UR Sugar Store has a great selection of extension polygels, color gels and nail polishes for professional and domestic use.
Best Nail Store Overall. Born Pretty is acknowledged globally as one of the best Chinese-based suppliers of nail polishes, gels and extension polygels. With high-quality and low-budget-friendly products, it is the best shopping place for nail technicians.