Handheld portable vacuum cleaners are the best tools for quick and easy dry cleaning at home: they don't take much space, are energy-efficient and capable of getting into the tiny creases and under the furniture. But sometimes you don't want to sacrifice suction power for the sake of maneuverability of a handheld vacuum cleaner. In this situation, the Deerma brand comes to the rescue with its DX115C 2-in-1 smart vacuum cleaner, which can be easily adjusted according to your needs. And the best part is that this model can be purchased on AliExpress for a relatively cheap price! In this review, we will carry out an analysis of this popular product, to see if it is worth the hype.
Technical characteristics
This is not the first time we are reviewing Deerma devices: as a manufacturer specializing in household appliances for cleaning, it offers a wide variety of vacuum cleaners, mite-removers and so on.
It appears that DX115C is one of the brand's best-selling devices: it has a total ranking of 4.8 on AliExpress, as well as numerous positive reviews on other sources. With a median price of 60-65$, it is considered affordable, with a good price-performance ratio maintained – and even cheap when regular AliExpress discounts are applied. As for the general specifications, they are listed as follows:
Type: Corded portable vacuum cleaner
Dust box capacity:2 L
Power: 600 W
Noise levels: less than 75 dB
Cable length: 5 m
Suction power: 14000 Pa
Item size: 21x102x13 cm
Item weight: 2 kg
Packaging and appearance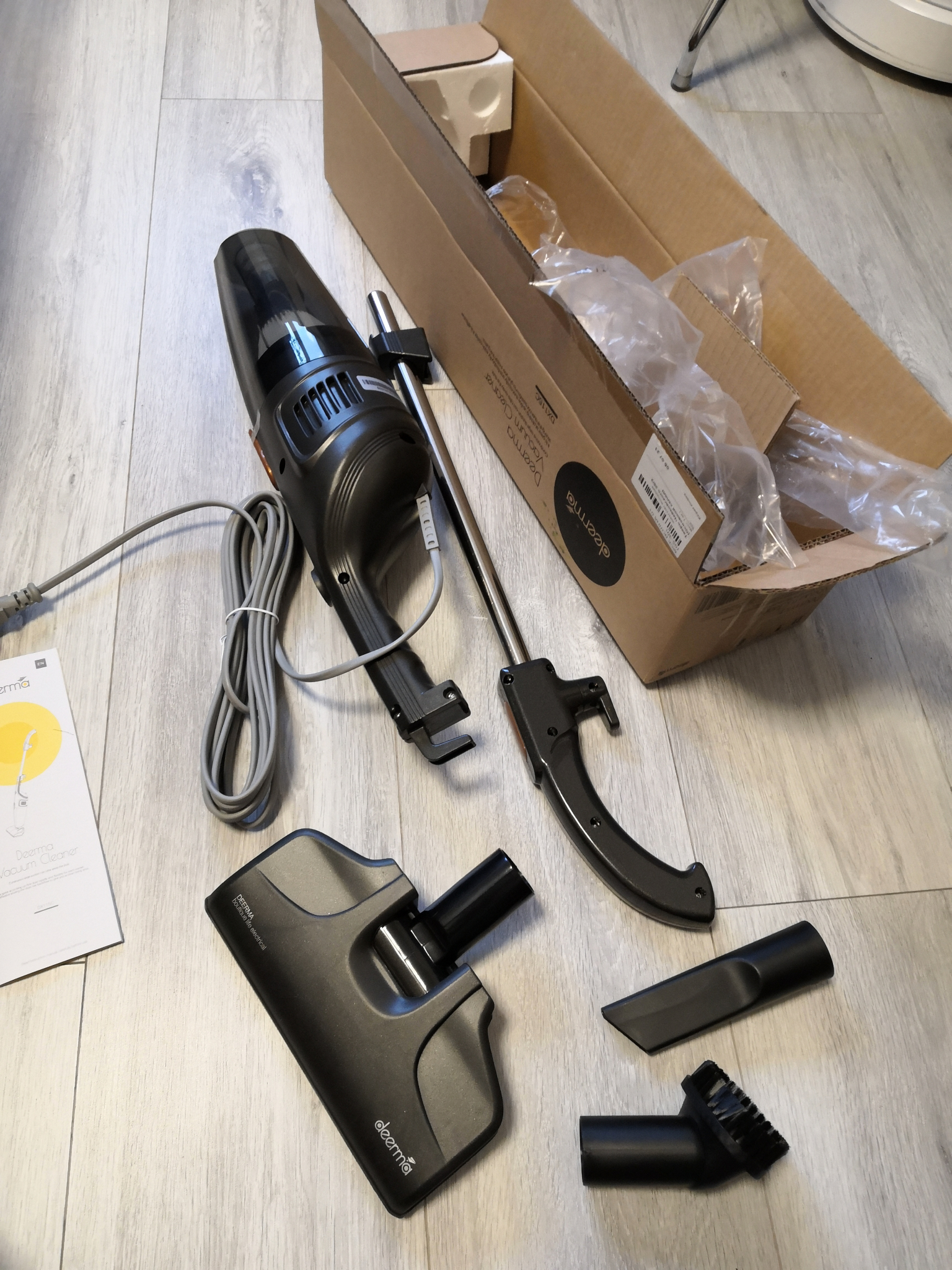 DX115C can be used in two ways: as a portable handheld vacuum cleaner and as a regular upright model by attaching the designated stick. The first mode is perfect for cleaning hard-to-reach areas, such as beneath the furniture, creases in sofas, cupboards, and even laptop keyboards. The second mode is designed for vacuuming floors and carpets, but since the device is quite lightweight (a little less than 2 kg, to be specific), it is easy to lift it to clean curtains.
For the design, the manufacturer has chosen an elegant and sleek approach by using black, gold and grey plastic materials for the vacuum cleaner's body. The handle shape is ergonomic and comfortable to handle as well.
The vacuum cleaner comes with a set of interchangeable brush attachments for furniture, floors and crevices. Everything is packed in a plain cardboard box, so it wouldn't hurt to add ribbon or wrapping if you plan to give it away as a gift.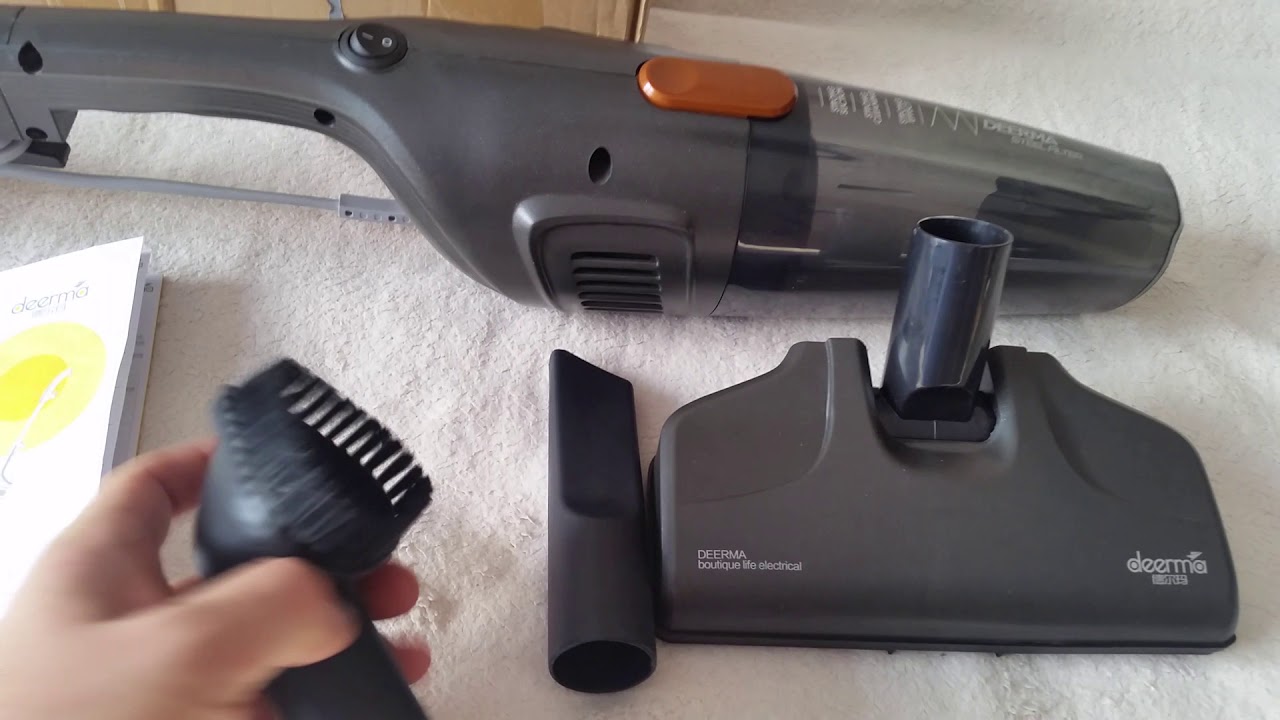 Performance
To think of it, there is nothing particularly outstanding about the DX115C set of functions, yet it is one of the most popular Deerma models. This can be explained by the fact that this vacuum cleaner combines effectiveness, comfortability, ergonomics and power efficiency in one device.
Equipped with a powerful copper motor, it delivers a suction power of 14k Pa – an impressive feature which ensures that even the tiniest dust particles, pet hair or crumbs will be removed. Combined with the maneuverability of a handheld regime, you'll find it easy to clean even the most hard-to-reach places in your house: for example, under the kitchen island, stove or refrigerator, where dirt accumulates the most. Some customers say that this vacuum cleaner can be used to clean the car interior: just arm yourself with an extension cord and take the vacuum cleaner out into the yard.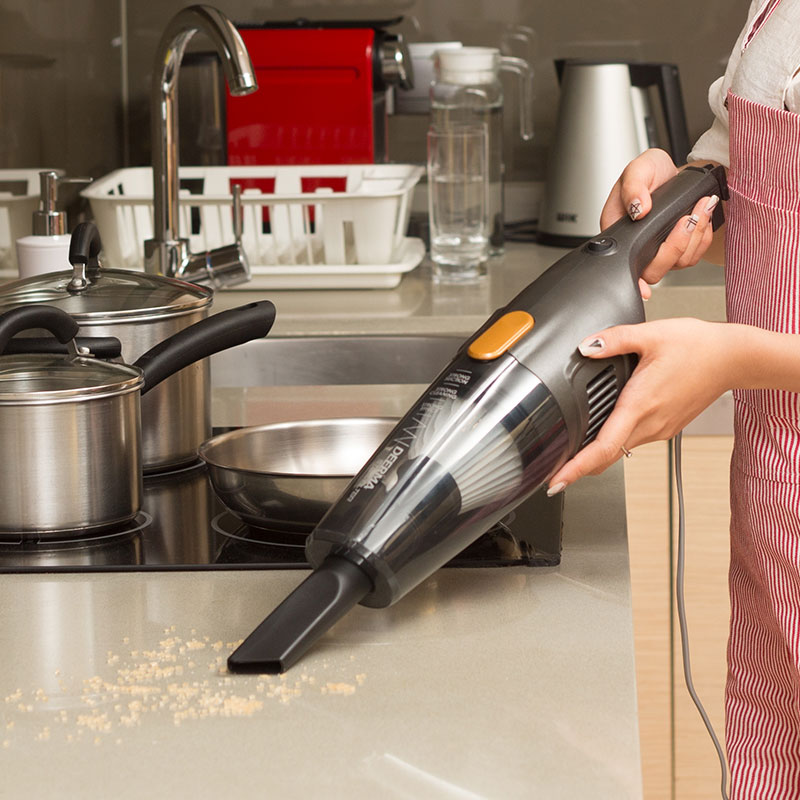 As for the cord, the 5 m cable is considered short by some of the customers, but it shouldn't be a problem indoors, since usually, every room has a power socket.
To improve the air quality while cleaning, the device is equipped with a triple HEPA filter, which removes bacteria and allergens. The filter is reusable and can be washed, which positively contributes to durability and ecology.
As for the reviews, customers praise the compact size and light weight of the vacuum cleaner, which makes it much easier to store. Not only that: according to reviews, the size doesn't negatively affect the power performance, meaning that this small and effective device is capable of fighting even the dustiest of environments.
There is an insignificant number of complaints: like the short cable, which we have already mentioned, and the poor quality of the plastic used.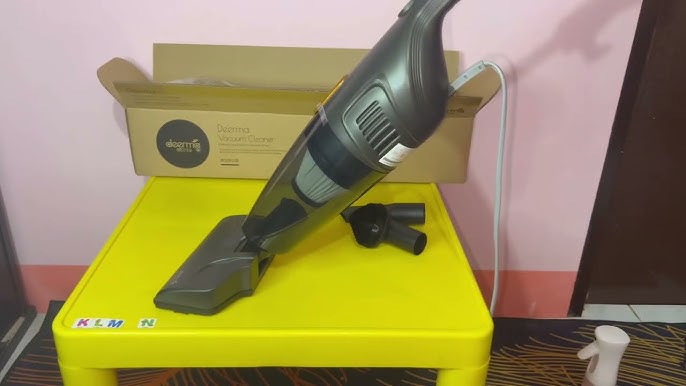 Pros and cons
After reading so many reviews and conducting small analyses of our own, we can characterize the DX115C by Deerma as a "small but powerful monster" – and we mean it positively! So far, the list of main advantages can be summarized as follows:
14k Pa suction power, effective to vacuum almost everything;
small, lightweight and compact;
elegant design combined with ergonomic handle;
2 modes of use – as a handheld portable vacuum cleaner or as a traditional vertical hoover;
3 interchangeable brushes included;
durable copper motor with low noise levels (around 70-85 dB)
good price-performance ratio;
easy to clean the dust box.
As for the disadvantages, they are insignificant (and even expected) when the low price is considered, but still, it is important to highlight them:
a short power cable;
low-quality plastic used for vacuum cleaner's body;
a strong airflow blows through the side holes of the vacuum cleaner, which raises dust into the air.
Conclusion
If you are looking for a small but effective vacuum cleaner, then DX115C should be your choice: it miraculously combines the compact size with a powerful motor, capable of vacuuming almost anything and everywhere. The 2-in-1 use is an additional bonus point, as you can even carry the device outside when needed. Lastly, AliExpress offers one of the best prices for this model, so you'll save a lot of money too – all of these factors can surely outweigh the minor flaws.
Some video reviews
Read also: