Keeping your home – and, most importantly, floors – clean can be a daunting task: chores are not something that people usually enjoy, but the right device can make the issue of cleaning your carpets or bare floors much easier if you have a good vacuum cleaner. With so many options available on AliExpress, choosing the right one can be difficult, but we are here to help you out. This time we will be analyzing the DX700 Deerma Vacuum Cleaner – an ergonomic 2-in-1 helper to maintain your space clean.
Technical characteristics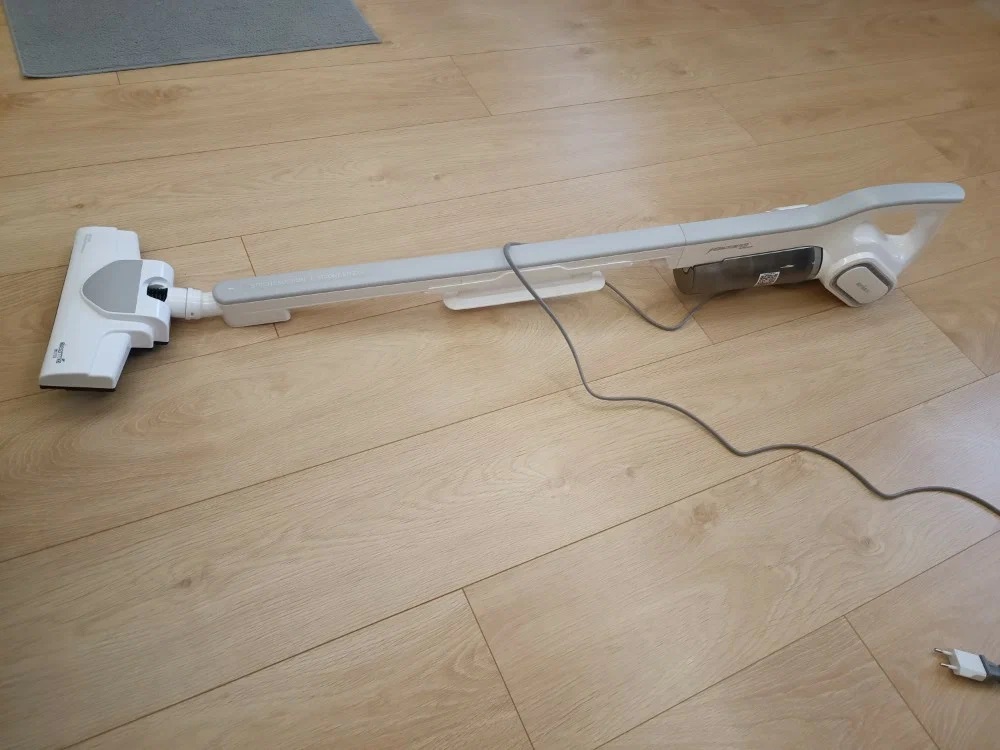 Founded in 2011, Deerma specializes in a wide range of home appliances for cleaning and indoor climate control. This means that the brand knows how to design devices both ergonomically satisfying and effective in terms of cleaning – a rule that works just fine in the case of the DX700 Deerma Vacuum Cleaner.
This vacuum cleaner is popular among customers: it has a total rating of 4.1 on Amazon and 5.0 on AliExpress, although the last one is based on an insufficient number of customer reviews. Before moving forward with the review, let's take a quick look at the product's technical specifications.
Type: 2-in-1 handheld vacuum cleaner
Item size: 26x288x1123 mm
Item weight: 2.2 kg
Capacity: 8 L
Power: 600 W
Voltage: 220 V
Suction force: 15k Pa
We advise you to be careful when it comes to the actual item size: while checking different sources, we have noticed that resellers often provide wrong dimensions, which can cause minor inconvenience when trying to visualize the vacuum cleaner before purchase. The numbers we provide are taken from the official Deerma website, so they are more or less reliable.
Packaging and appearance
DX700 Deerma Vacuum Cleaner is ergonomically designed to offer maximum versatility in terms of cleaning. It can be used vertically or horizontally – you can choose the cleaning mode based on your needs, while the lightweight construction allows you to lift it easily to vacuum upholstery.
Another useful feature is the handle which ensures a steady grip. The overall design of the vacuum cleaner is quite minimalistic, and the grey color looks futuristically stylish. The length of the cable is approximately 5 meters, which is just enough to cover several rooms without the need to re-plug the vacuum cleaner.
The device comes with a set of three interchangeable brushes – we are going to cover them shortly in the next section.
Performance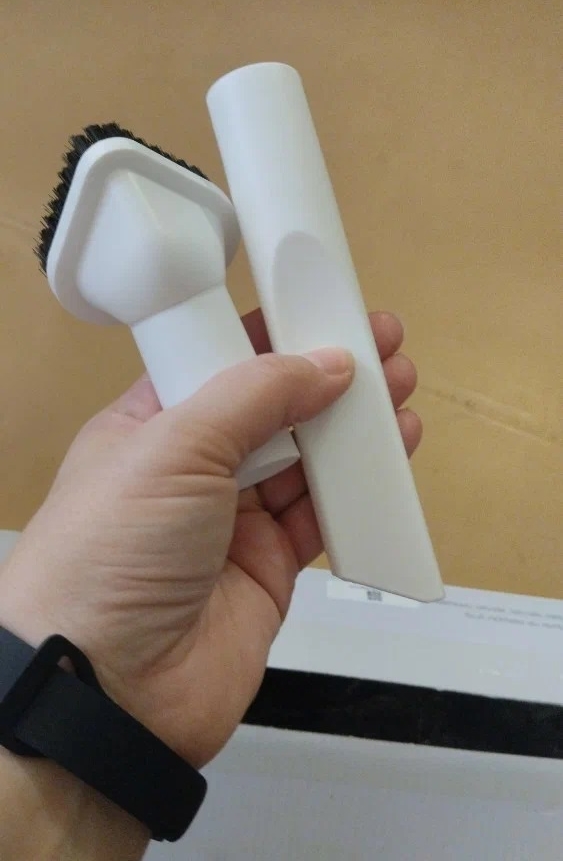 The mobility and maneuverability are the key features of the DX700 Deerma hoover: it can be used horizontally to clean shelves or even curtains (although caution is required in order not to ruin the fabric) or as a vertical floor cleaner, which is more of a traditional approach. But, in addition to the offered versatility, there are 3 different brushes which can be attached to the hoover:
The crevice brush is designed to reach in between the gaps or corners, and even underneath certain pieces of furniture, where lots of dust and stubborn dirt usually accumulate.
The dust brush should be used to clean the smallest of surfaces, such as gaps in between the furniture or even keyboards! Don't worry, you won't damage your laptop if you are careful.
As for the third attachment, the floor brush is large enough to cover carpeted or bare floors and squeeze into tight spaces (beneath the sofa or bed) thanks to its well-thought-out shape.
Efficient performance is another point of satisfaction: the 15000 Pa-suction force combined with the powerful motor ensures that not even the smallest particles of dust or dirt remain on the vacuumed surface. In addition, the device uses a new filter technology which creates a rotatable cyclone, capable of repelling hair and dust without blocking or decreasing suction power. It is perfect for cleaning marble, tile, and wooden floors. Moreover, the 3-stage filter ensures that any pollutants are effectively removed. The filter is made of cotton, so it can be hand-washed – easy to maintain.
The transparent dust box allows you to monitor when it's the right time to empty it, and the high capacity will make sure that you don't have to do it too frequently.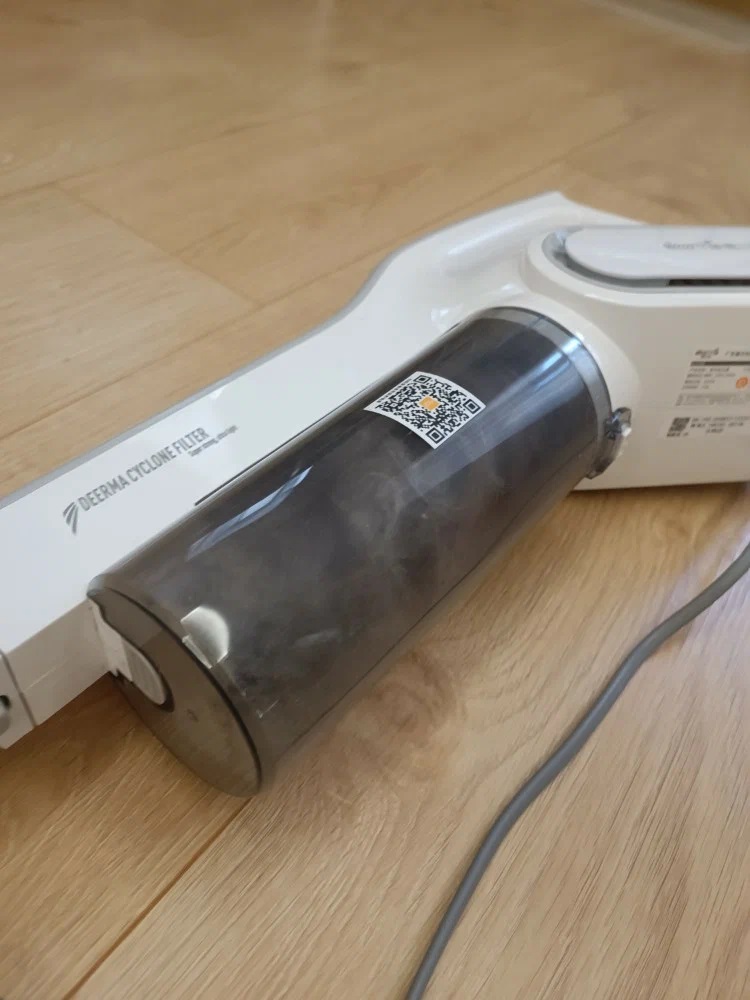 But here we come to the hoover's weak points. It should be noted that this model won't perform well in spacious apartments, as it is not designed to cover large areas of the floor. Moreover, many customers complained about the "flimsy" quality of brush attachments. Another issue is overheating: if you accidentally unplug the device from the power socket and then try to turn it on again, the vacuum cleaner will not work unless fully cooled down.
Pros and cons
After everything is said and reviewed, we can estimate that DX700 Deerma Vacuum Cleaner is a lightweight and convenient device for small spaces, as it has many advantages:
2-in-1 use, vertical and horizontal;
3 additional interchangeable brushes;
ergonomic handle and elegant design;
transparent dust-box;
small and compact, can be easily stored;
3-stage cotton filters which can be washed under water.
But as it turns out, there are a few disadvantages to be considered:
questionable quality of attachments: brushes tend to break easily, according to customer reviews;
short cable;
too small for spacious rooms.
Conclusion
DX700 Deerma Vacuum Cleaner is a good option if you are running on a tight budget and don't have big rooms to vacuum: ideally, it should be used for small and tight spaces, as well as for cleaning the dirt under furniture using designed brushes. But for long-term use, we would recommend adding more money and buying something more reliable on AliExpress.
Some video reviews
Read also: