With the summer season approaching, it's time for ladies to get ready to wear short dresses, shorts, and open clothing. But the issue of unwanted body hair can discourage women from showing their skin – and we believe that this should never stand in the way of your beauty and confidence. While shaving and waxing can be time-consuming and ineffective, another method for removing body hair is epilation. Today there are many affordable epilators on AliExpress, and this time we will be reviewing one of the customers' favourite models – the Kemei 189a Epilator.
Technical characteristics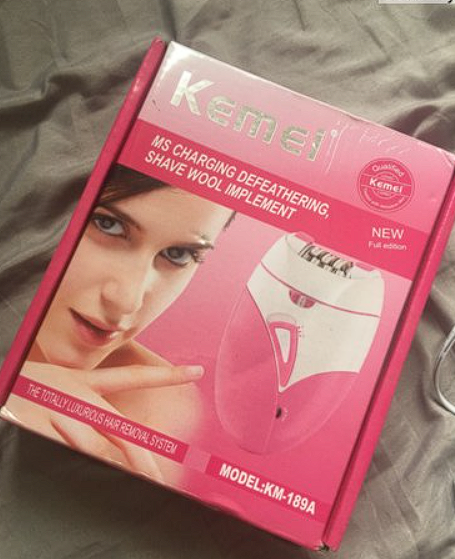 There are many hair removal methods: shaving, waxing, sugaring, tweezing, and even laser hair removal… All of these methods have disadvantages: shaving delivers short-term results, waxing and sugaring are time-consuming and require a certain hair length to be effective, tweezing is painful and laser epilation is too expensive! This can be a tough issue for women. But trust us when we say we've got you covered – or, more specifically, the Kemei 189a Epilator, which offers fast and painless hair removal from any area of your body.
This model is designed for full-body hair removal, so you can use it on areas like lip hair, arms, legs, armpits, and even sensitive areas. Below are detailed technical specifications for your consideration:
Type: Rechargeable epilator
Materials: ABS
Package dimensions: 14.8×4.5×17.3 cm (information may vary between different sources)
Package weight: 374-400 g
Battery type: 450 mAh Li-ion battery
Charging time: 8 hours
It is important to note that there is some inconsistency when it comes to product size and weight: seller information on AliExpress may vary from what is published on other sources, but this isn't critical. It's nothing crucial, just keep it in mind.
Packaging and appearance
Kemei 189a Epilator has a very feminine design – all pink, smooth and ergonomic. It is small and will easily fit in your hand, ensuring comfortable use at all times. If you plan to travel with the epilator, it comes with a convenient cap to cover the blade portion, making it more convenient and secure for storage in your luggage.
In addition, the package includes a cleaning brush, a USB charging cable and a user manual. Everything is packed in a nice cardboard box (with pink motifs too), so you can give it away as a gift without additional wrapping.
Performance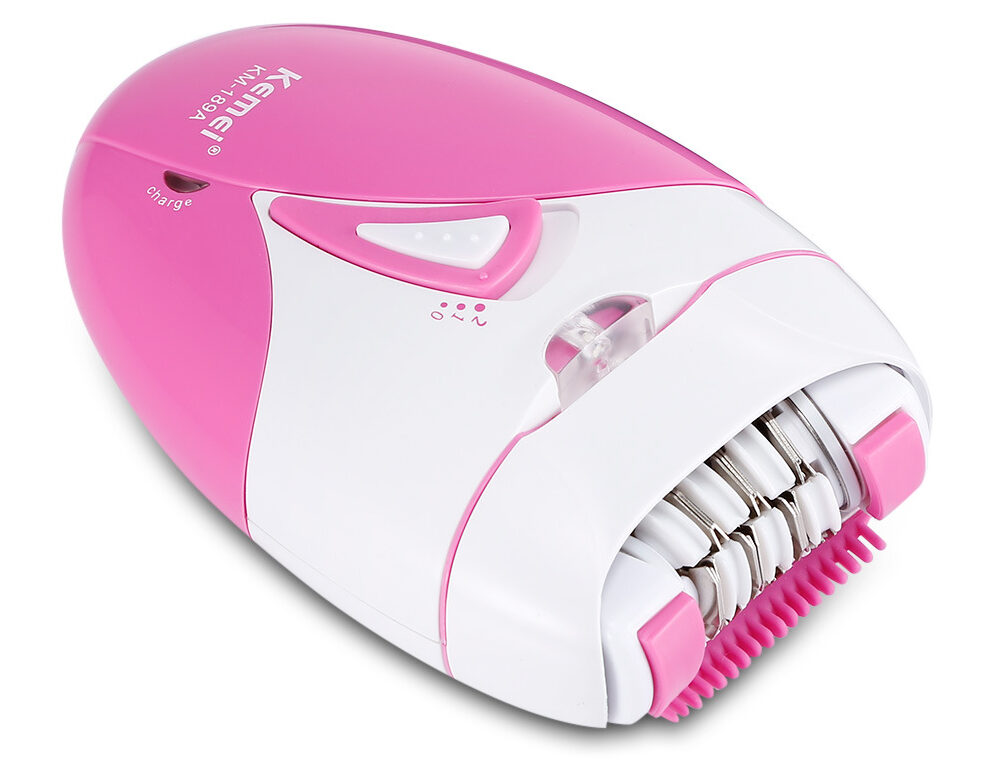 Moving to the performance section, it is important to remember the emphasis on 'full body hair removal' – so the Kemei 189a Epilator is expected to effectively remove hair of different thicknesses and densities. To achieve this, the device is equipped with two optional speed settings, so you can choose the suitable level according to different hair types. The manufacturer claims that the hair is removed from the root and grows back finer than before, with the overall effect lasting up to 4 weeks. However, we have some skepticism about this claim, as it is highly individual and depends on each person's hair growth rate, which can vary.
From what we have learned before comes the second important feature – the Kemei 189a Epilator is designed to remove hair from even the most sensitive and private areas of your body. However, customers claim that the process is not as painless as the manufacturer promises: it is strongly advised to exfoliate your skin beforehand to prevent ingrown hairs. Another issue is the red dots which appear on the skin after epilation. However, we believe it is more related to individual skin sensitivity levels than the device's performance.
The epilator can effectively remove even tiny hairs and may slow down hair growth with regular use.
The built-in 450 mAh Li-ion battery can work for 35-40 minutes on a single charge, but the epilator requires an 8-hour charging time, which, let's be honest, is quite long. However, the device supports 'plug and play', which partially solves the problem.
To clean the device, first, remove the head by squeezing both sides and pulling it up. Then, use a brush to remove any trapped hair. Note that the epilator is not waterproof, so it should never be used in the shower or a room with high humidity.
Pros and cons
Kemei 189a Epilator has many issues to consider first before buying it, but there are reasons why customers love the product nonetheless. Let's sum up the key points:
full body hair removal;
2 speeds of operation for thick and fine hair;
helps to slow down hair growth;
small and compact, can be carried in a bag;
supports plug and play;
nice design;
affordable, even cheap when discounts are applied.
But let's not forget about the weak points – which are many:
can cause ingrown hair and red dots after epilation;
long charging time;
not as "painless" as the manufacturer claims;
not waterproof;
noisy.
Conclusion
The Kemei 189a Epilator's strongest point is its affordability. When considering the price-performance ratio, the device delivers what is expected. But if you can afford to spend a little more on hair removal tools, we would advise you to consider a different model – preferably waterproof and more versatile in terms of operating speeds.
Some video reviews
Read also: