For a long time, I was looking for a replacement for the razors, because with them so uncomfortable, when tired of shaving every other day or two, I went first shugaring, went for a year, but got very bored with being tied to the master, that you have to grow hair before each procedure, such a thing.
During the New Year vacations, I decided to visit a sale on AliExpress and look for something new. I didn't know much about all kinds of epilators, but I gave up and ordered the most common and cheapest one (Kemei Epilator 189a), thinking "what if I can't use it at all?". Well, at least I'll try it.
Kemei epilator review
I didn't have to wait long for the package, 2 weeks later the epilator was already in my hands. It arrived in a small cardboard box.
The epilator was the size of the palm of my hand, which is very good, because it fits comfortably in my hand. Despite its small size, the epilator is equipped with a small flashlight that turns on automatically along with the epilator
It is very convenient, since the light in the bathroom is not the best, you do not really want to go under the window or under a bright light. In turn, the flashlight allows us to do our procedures even in low light, the hairs are all visible.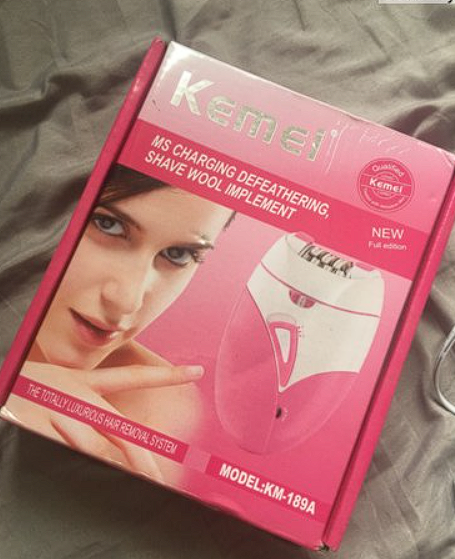 In addition to the epilator itself, the package included a brush for cleaning and a USB cable, pretty good quality. It is poor, but for an epilator for 10 dollars, I think that nothing else is needed.
The first time it was very painful to use it, but after each time the pain blunted and now the process of shaving, no longer gives discomfort.
Technical specifications
Brand: Kemei;
Voltage: 110 – 220V 50/60Hz;
Input: DC 5V 1A;
Uses USB charging for recharging;
Built-in 450mA battery;
Charges in 8 hours, which is quite a lot;
Usage time: 40 minutes, often enough to completely treat all places.
Main characteristics
Quickly and without unnecessary hassles will remove unwanted hair from the body;
Designed to remove all types of hair on the body: areas such as the arm, leg, and even sensitive areas such as the face, neck, underarms and bikini line can be cleaned without problems;
It removes hairs together with the root, so the hairs do not grow for up to four weeks, and those of the industry re-grow, become thinner;
Completely safe to use, and causes almost no pain with prolonged use. The first few times you have to be patient, but after a couple of uses, the pain is less noticeable and no longer uncomfortable;
The machine has two speeds. Depending on the thickness and thickness of your hair, you can choose the optimal speed;
Built-in lithium-ion battery, very convenient to use; it also supports plug and play.
Proper use of an epilator
Due to the fact that I had never used an epilator before, I had to surf the Internet a little bit to find how to properly shave. First, for maximum results, it is worth taking a warm bath or shower to remove dead skin and open the pores, which will help make the hair removal process more comfortable.
Before using it, you should charge the epilator to the maximum, this will take at least eight hours. After you turn on the device, and put it on the safety switch lock and at the same time move it to the desired speed. Press the device against your skin at a 90-degree angle, but don't press too hard, just gently slide it over the surface of your skin.
Advantages of the epilator
A huge plus of this epilator, is that after two months of use the hairs became very thin and light, even if you look closely, you cannot always see.
Compared to a razor, you can now remove hairs much less often, because the procedure lasts for a month, and it has no problem capturing even the tiniest hairs!
Disadvantages of epilator
The big problem is that there is no separate nozzle. I don't really want to go to my face after cleaning other places. So, before I go to it, I usually try to rinse it out gently.
There is no charging indicator, and no mention of whether it is charged or not, which is quite inconvenient. After all, you don't really want your epilator to run out of power halfway through.
Also, a disadvantage is that after shaving, some hairs may begin to in grow into the skin.
There were times that the epilator broke some of the hairs, and the other part pulled out with the root, thus the hairs did not always grow equally, and the skin was not as smooth and clean as I wanted it.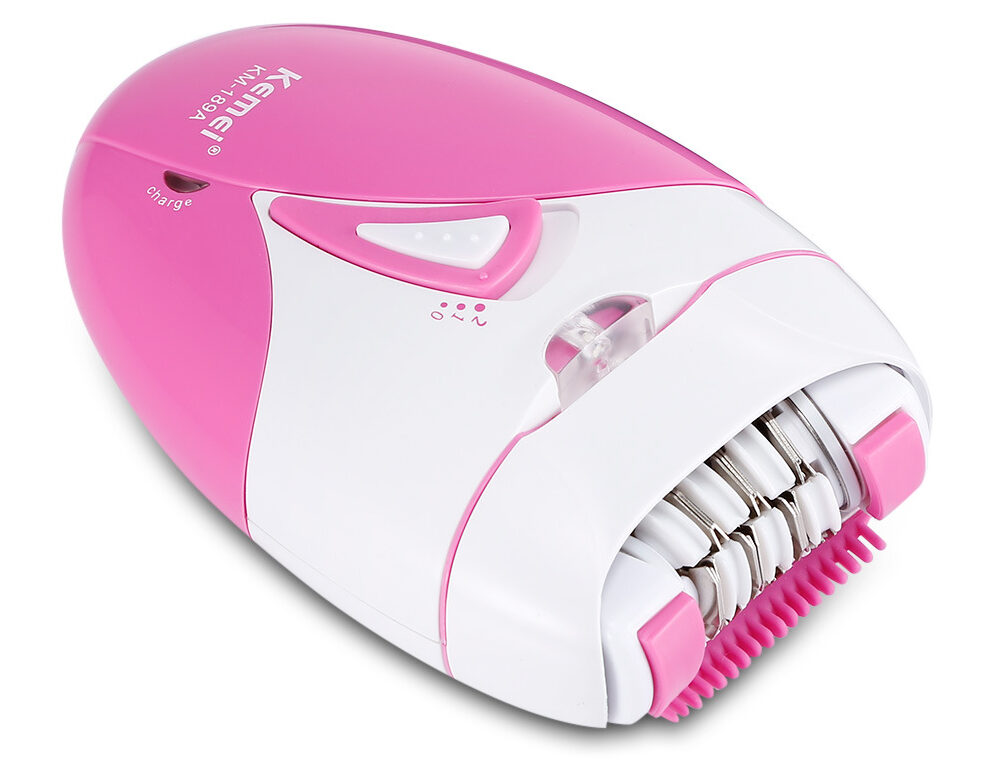 Conclusions
If you make the conclusions, then Kemei Epilator 189a, is a budget and an excellent option, despite its number of disadvantages, they are all offset by the cost of 10 dollars and its convenience.
For people who have never used an epilator, but want to, this model will fit like nowhere else better. The first times it is difficult to use, but with a little practice, everything begins to turn out.
Some video reviews