A good trimmer is essential for hairstyling, whether you are running on a low budget and don't want to waste money in barbershops or simply prefer home-based hair care. AliExpress offers many affordable hair clippers, but the powerful VGR V-653 stands out as a product appreciated by customers. We are going to deliver a detailed review of this model and see if it meets our expectations.
Specifications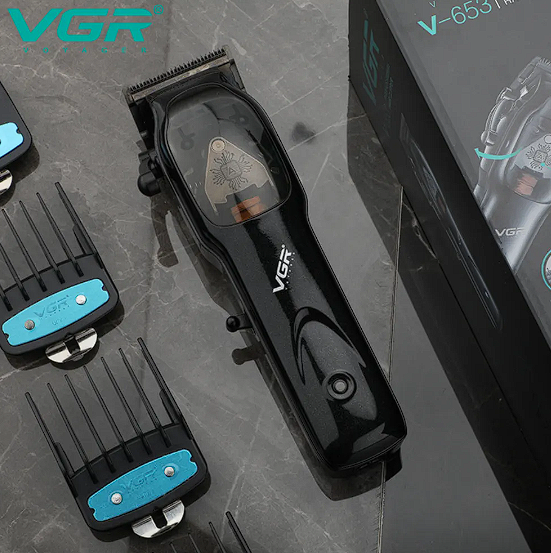 VGR (an acronym for Voyager) is an emerging brand in the world of personal care electronics, specializing in hair clippers/trimmers, shavers, straighteners and everything you might need to maintain your hair in perfect order. Although the brand is new to the global AliExpress market, its official store holds a rating of 94.47%, marking VGR as a reliable seller.
The VGR V-653 Hair Trimmer belongs to a Salon Professional Series, capable of upgrading your personal care regimen to a whole new level. But don't let the "salon professional" label confuse you: this model is perfect as a home haircut kit. Let's take a closer look at the product's technical specifications:
Type: Cordless hair trimmer
Materials: Mixed (stainless steel blades)
Item dimensions: 3×13.5×9.2 cm
Item weight: 970 g
Battery type: rechargeable 2500 mAh Li-ion battery
Charging time: 3 hours
What we covered so far was just the background information – now we are ready to move on to a close-up review.
Packaging and appearance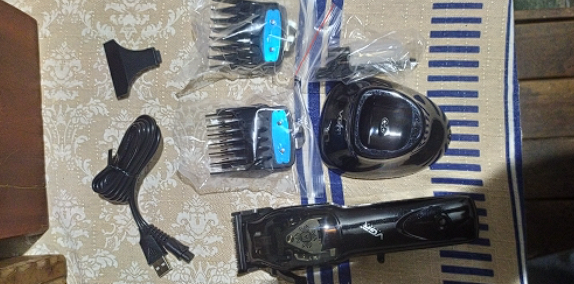 The brand's emphasis on the 'absolute best in men's grooming equipment' is evident in the design of VGR V-653. The body is made entirely of black plastic, with rounded edges smoothing the overall appearance. There is also an intricate detail behind the plastic "window", similar to a microcircuit – which looks cool and unique from the design perspective, albeit having no practical purpose.
Inside the box, you will find a grooming kit that includes necessary accessories: the basic set includes 4 attachment guides (or, to put it simply, plastic combs), a cleaning brush, a USB charger and a stand. Everything is packed in a sturdy cardboard box: once wrapped, it's an excellent gift for a man who values his appearance.
Performance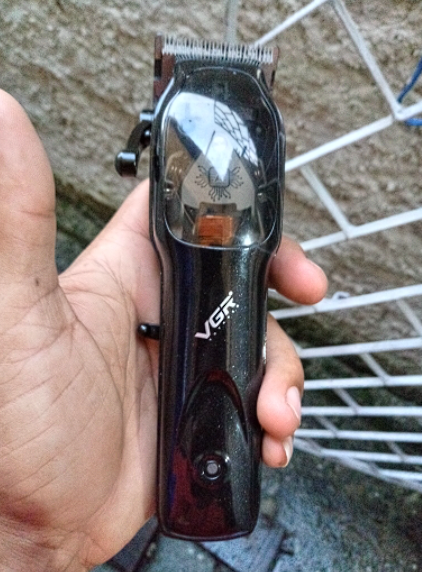 The "Salon Professional Series" is not here for nothing, as it shows that VGR V-653 is preferred by professionals in the salon and barber industry. Since it offers a fast and smooth operation, it'll be a smart addition to your morning or evening routine, although we wouldn't recommend it to total beginners – and here is why.
First, a hair-cutting length adjustment requires you to use an integrated taper on the side of the trimmer's body. While trimming length can be adjusted from 0.8 to 2 mm with a single click of taper, setting a suitable level with the integrated taper requires some skill, which might be challenging for those new to home-based hair styling. The good news is that VGR V-653 comes with a set of attachment guide combs (3, 6, 9 and 12 mm), which are easier to operate.
The hair clipper is equipped with impressive R-shaped blades covered with DLC (diamond-like carbon) coating. Not only are they perfectly aligned for smooth trimming without skin damage, but they are also capable of cutting wet and dry hair. The self-sharpening blades are durable and resistant to corrosion, making them perfect for quick and smooth trimming from a long-term perspective.
Trimmer is powered by a rechargeable 2500 mAh Li-ion battery: on a full 3-hour charge it will run up cordless for up to 100 minutes, making it a perfect solution for business trips or vacations. And a dock charging option on a sleek USB-powered charging pod acts as an additional bonus.
Customers like the product, describing it as "one of the best offers on AliExpress". However, it is not exactly the cheapest one: without a discount applied, the VGR V-653 costs approximately $70 – a decent deal when it comes to professional quality hair trimming, but still a little bit expensive.
Pros and cons
VGR V-653 Hair Trimmer can level up your grooming routine, ensuring the best trimming with no snagging or pulling. So far, its best qualities can be summarized as follows:
professional quality – a product preferred by experts in the barbering industry;
R-shaped blades with DLC coating for effortless and smooth trimming;
taper for hair-cutting length adjustment;
4 guiding combs included;
100 minutes of work on a single charge;
powerful battery;
sleek design;
charging dock/hair trimmer stand included;
nice packaging.
As for disadvantages, these are the factors to consider before purchasing the device:
not beginner-friendly: some experience with hair trimmers is recommended;
no IPX7 certification, implying that the device is not completely waterproof;
expensive when compared to other deals on AliExpress.
Conclusion
If you are a professional looking for new grooming tools to enhance your arsenal or an amateur familiar with hair styling at home, then VGR V-653 Hair Trimmer is a decent option. Otherwise, we recommend considering more beginner-friendly models, which can save you both money and time.
Some video reviews
Read also: