Styling your hair or beard at home can be tricky, especially if you don't have the right tools. Thankfully, AliExpress is always there to help us out: this globally renowned online marketplace offers a wide selection of grooming appliances. This time the Kemei Professional Hair Clipper KM-1990 is in the spotlight of our attention – we are going to provide a detailed review of this in-demand model, and see why it is so popular with customers.
Technical characteristics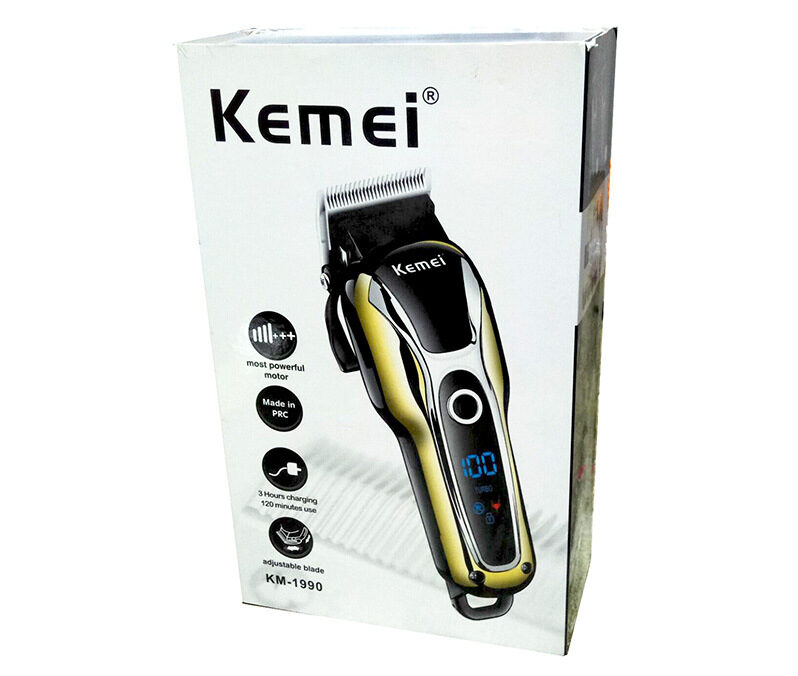 Kemei is a Chinese brand focused on the production of razors and hair trimmers – which means that this manufacturer is familiar with the specifics of men's hairstyling and what professionals seek in a perfect tool. And customers love the brand for cheap prices and decent quality.
As for the KM-1990 Hair Clipper, it is designed for salon use: with a full set of guiding combs and additional accessories included, it aims to deliver the best possible grooming performance. Even if you're not a professional barber, you might find it worth ordering for personal use, given its user-friendly nature and affordability. Now, let's have a quick look at general specifications:
Type: Cordless hair clipper
Material: Metal, stainless steel, plastic
Battery type: 500 mAh rechargeable lithium battery
Item size: 18.5×4.5 cm
Item weight: 138 g
Charging time: 90 min
Key point to note: We have observed significant discrepancies in the product dimensions and charging times when cross-referencing information from various sources. For example, some resellers claim that the charging time is limited to 60 minutes, while others give estimates of 3 hours for a full charge. For consistency, we will refer to the AliExpress description later in the review.
Packaging and appearance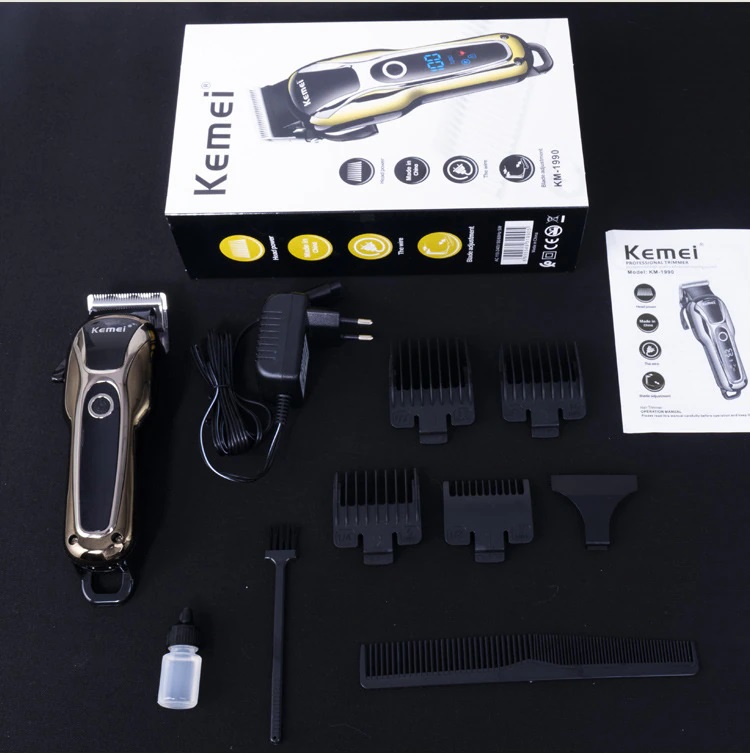 KM-1990 Hair Clipper looks fancy and eye-catching: its body is made of metal-like and plastic materials of gold, silver and black colors. As a bonus point, there is a digital display integrated into its handle – it looks rich and provides some practical usability, to which we will refer later. Customers claim that the device not only looks good but also feels nice in the hand.
The package includes everything you might need for styling: aside from the hair clippers, you'll receive 4 guiding combs (for 3-13 mm length settings), a charger, a regular comb and an English manual. The oil bottle will be removed for customs considerations.
The packaging is impressive as well: every item has a separate section in the box, and the set is covered by a plastic shield. The box is also pretty impressive, making it a suitable birthday gift for a man.
Performance
As a professional trimmer, KM-1990 is expected to offer various adjustment options. However, you might wonder: how can only 4 guiding combs offer such a variety of trim lengths. The secret lies in the small handles on the inner side of the combs, which serve for additional adjustment and ensure precision for any haircut. In addition, you can adjust the cutter head blade gap from 0.5 to 2 mm to ensure trimming accuracy and precision for any hairstyle.
As for the blades, they are made of bearing steel – a material with incredible wear resistance and rolling fatigue strength. An additional bonus point goes to automatic sharpening: the blades will serve you longer and ensure a smooth trimming process. While the device is not waterproof, the blades can be removed and rinsed with water.
The LED display is not just for aesthetics – it serves as an indicator for remaining battery power, the charging process, active lock and a reminder to lubricate the mechanism to prevent wear or damage.
Here, we move on to the controversial description of full charging and working times. On AliExpress, the reseller claims that 90 minutes of charge is enough to provide up to 120 minutes of cordless operation. It is not the best performance time when compared to other similar models on the market, but still good enough to take the KM-1990 with you on travels.
Not much is said about the motor, aside from the fact that it is 'powerful'. We are sceptical about this, as it is always preferable to have a look at the detailed description.
Pros and cons
KM-1990 Hair Clipper is a decent solution for professionals and amateurs alike: it provides a precise adjustment for cutting hair at any length, performing well even with bald trimming and beard trimming. Aside from its precision, here are other advantages to be noted about the model:
great design and good packaging;
full set of grooming accessories included;
LED display with useful indicators;
durable blades with adjustment option;
4 guiding combs for various cutting lengths;
quite affordable – can be bought for less than 60$.
But inconsistency is the enemy of perfection, some major disadvantages forced us to remove a couple of grading points, such as:
it is not clear how long the device needs to be fully charged – this ranges between 60 and 120 minutes;
short time of operation when compared to other hair trimmers;
doesn't stand up for the 'professional' title.
Conclusion
Ironically, the Kemei KM-1990 Professional Hair Clipper is more suitable for home use than for barbershops. While its precise adjustment settings are commendable, we would anticipate more consistency in descriptions from a professional-grade device. But if you are planning to use it solely for home hairstyling, then you can certainly give it a try.
Some video reviews
Read also: