Professional barbers or enthusiasts wanting to improve their grooming routine – everyone wants to have a good hair clipper in their possession. With a little practice, a powerful trimmer can transform how you approach hair and beard styling, making it easier and more cost-effective in the long run. If you've ever wondered where to find a good clipper, your search ends here – AliExpress is a perfect online market to find the best deals. In this article, we'll review one of the latest best-sellers – a professional Wahl Super Taper.
Technical Characteristics
The Wahl brand might be familiar to those in the barber industry: originating in Illinois, USA, it specializes in the production of a wide range of barber tools for male grooming and female styling for approximately 100 years. Their commitment has yielded results: as per the official website's information, over 90% of professional barbers now utilize Wahl products.
As one of the leaders in the salon trade, Wahl aims to deliver the best appliances for personal care, while pushing the boundaries of innovation and quality all the time.
Their Wahl Super Taper belongs to a professional class of hair clippers, suitable for bulk removal and tapering. But first, let's have a brief look at the technical specifications:
Type: Professional hair trimmer
Material: Mixed
Item weight: 620 g (without cable)
Item size: 15.8 cm (length)
Cable length: 2.4 m
Power Frequency: 120 V – 60 Hz
The trimmer is corded, so there is no 'charging time' characteristic. it is perfect for salon use, where it is expected to use the trimmer for long periods, but not so convenient for home use.
Packaging and appearance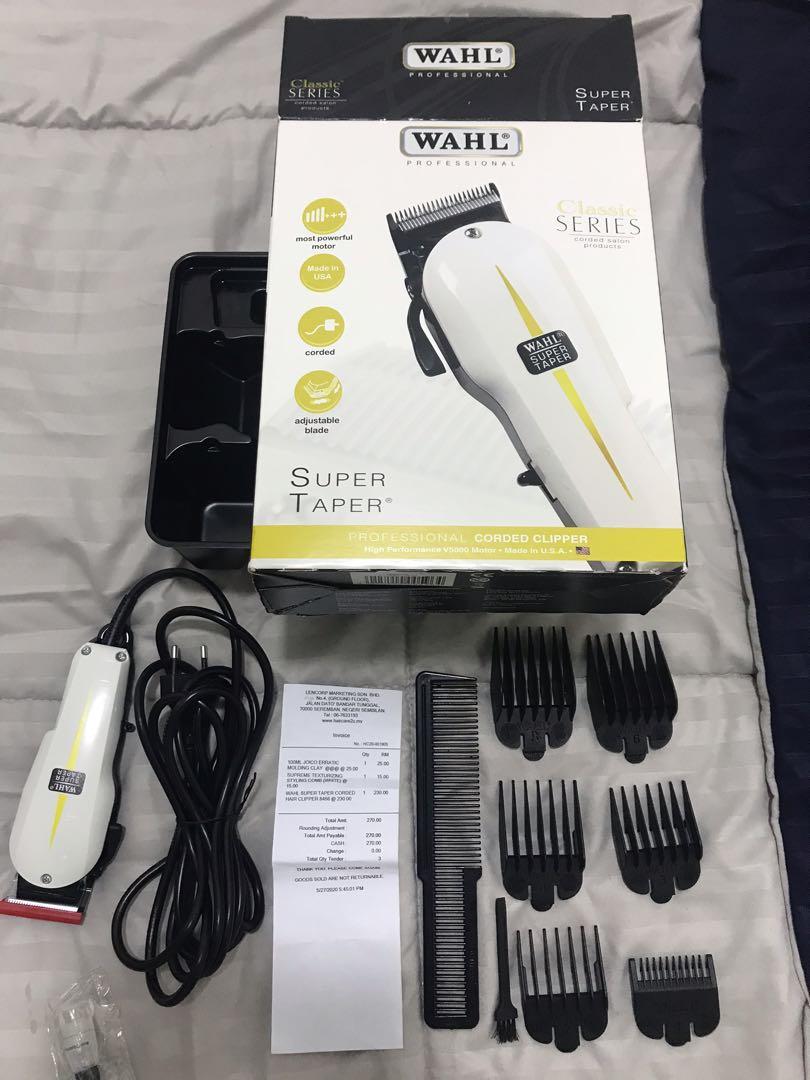 What stands out about the Wahl Super Taper design is its color: the trimmer's outer shell is made of white plastic, which is unusual for hair clippers. Blades can be adjusted with the help of a small lever on the side to allow easy tapering without the need for blade replacements.
The device is sturdy, feels heavy and solid in hand, but comfortable at the same time – after all, it is supposed to be used for long periods. The long power cable may not be the most suitable choice for home users, as many customers prefer cordless models, but it ensures stable operation, as you will never run out of battery.
Aside from the trimmer, the package contains a set of attachment combs for 3, 6, 10 and 13 mm lengths; a regular comb, a cleaning brush and a blade protector. Usually, there is also a bottle of oil for blade maintenance, but when ordered from AliExpress it is likely to be removed from the box to avoid customs problems.
Everything is packed in a branded Wahl box, so it makes for a nice gift even without additional wrapping.
Performance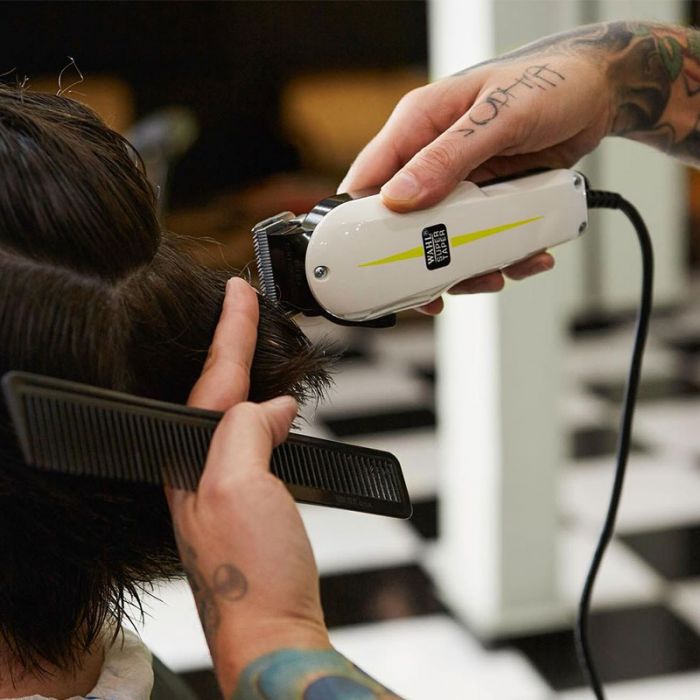 As a professional trimmer, there are standards that Wahl Super Taper is expected to maintain and, according to our assessment, it performs on an exceptional level – but for salon use only. This is not the best choice for a casual grooming routine at home, and we will explain why.
Let's start from the good points: Wahl Super Taper is equipped with a powerful V5000 engine, designed for all-day use and capable of achieving 6000 rpm, which is exactly what you need for a busy barbershop. Wahl motors are praised for their durability and longevity, so when the cutting power is concerned, we are certain about this product.
Such performance requires a constant source of power, which explains why the device is corded. Even the cable is made of professional-grade, chemical-resistant material.
Chrome blades are adjusted by the taper lever, giving you more variation in cutting lengths, tapering and texturing without the need to change blades or attach guiding combs. However, it requires the skill and precision of a professional hairstylist.
And, in line with professional clipper standards, the device requires a lot of maintenance: according to the recommendations on the manufacturer's official website, it is recommended to oil the blades after each use! While this is normal (welcomed even) in salons and barbershops, you probably wouldn't want to bother yourself with so much maintenance at home.
The customers praise the product for excellent quality, easy handling, high precision in trimming and "usual Wahl reliability".
Pros and cons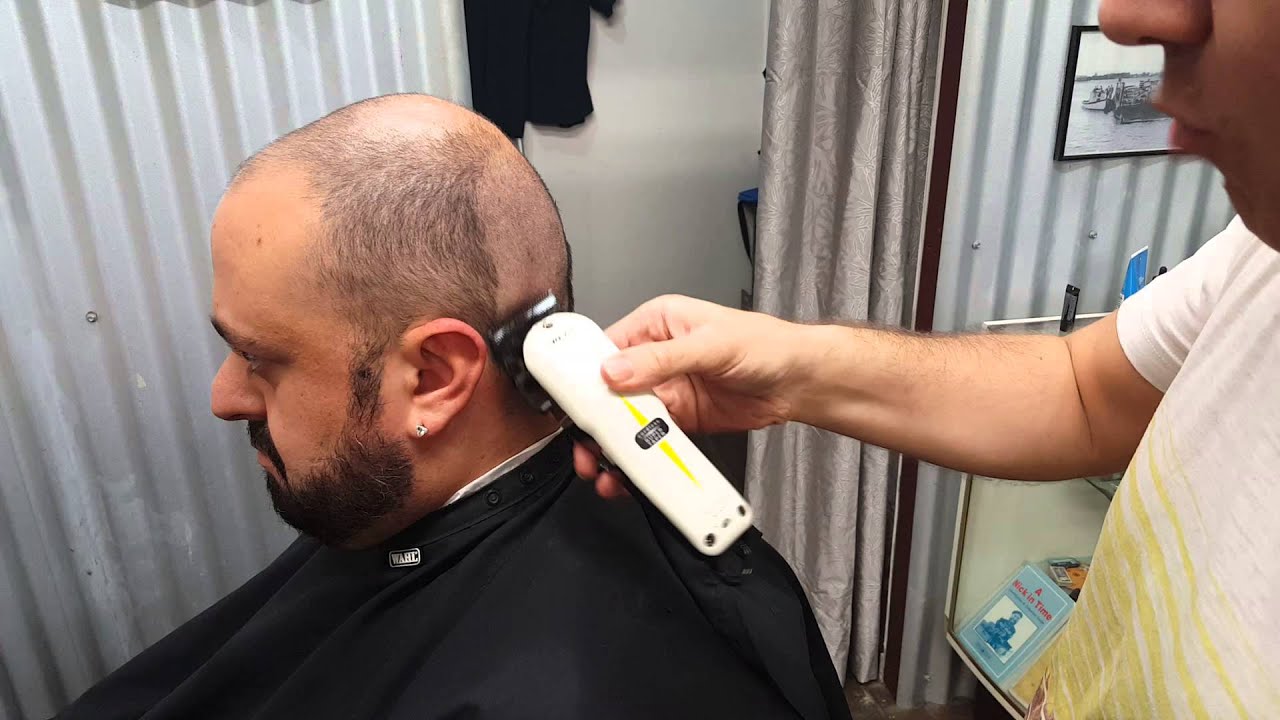 Wahl Super Taper is not designed to be used at home – and if this is taken into consideration, then you are up to the best professional trimmer you can find on AliExpress. Here is why:
equipped with a powerful motor suitable for all-day use;
adjustable chrome blades offer high cutting precision;
corded, so you won't run out of power;
comes with a set of combs and additional accessories;
nice design and packaging;
long reinforced cable that can be plugged in anywhere;
intended for salon use.
But if you are looking for a device for home use, here are the cons you've probably considered yourself already after reading our review:
demands a lot of maintenance;
blade adjustment requires skill;
takes a lot of space because of the long cord;
could be considered heavy compared to other models on the market;
quite expensive.
Conclusion
If you are a pro stylist looking for a new tool for your arsenal, don't hesitate – Wahl Super Taper is the best product you can find on AliExpress for your busy salon days. But if you are a home user, we suggest considering a different model, as this one requires too much effort and skill to be "beginner friendly" – and you don't want to take any risks with your hair.
Some video reviews
Read also: