Everyone can agree that professional barbers have no trouble choosing the right guide combs for the haircut – because they are, well, professionals. But what if you have little experience in self-grooming when it comes to hair or beard maintenance? Wahl brand came up with a creative solution by releasing the Color Pro Cordless Clipper – a perfect tool for family haircuts, which is available on AliExpress. Let's read our review and see what makes this model so special.
Technical characteristics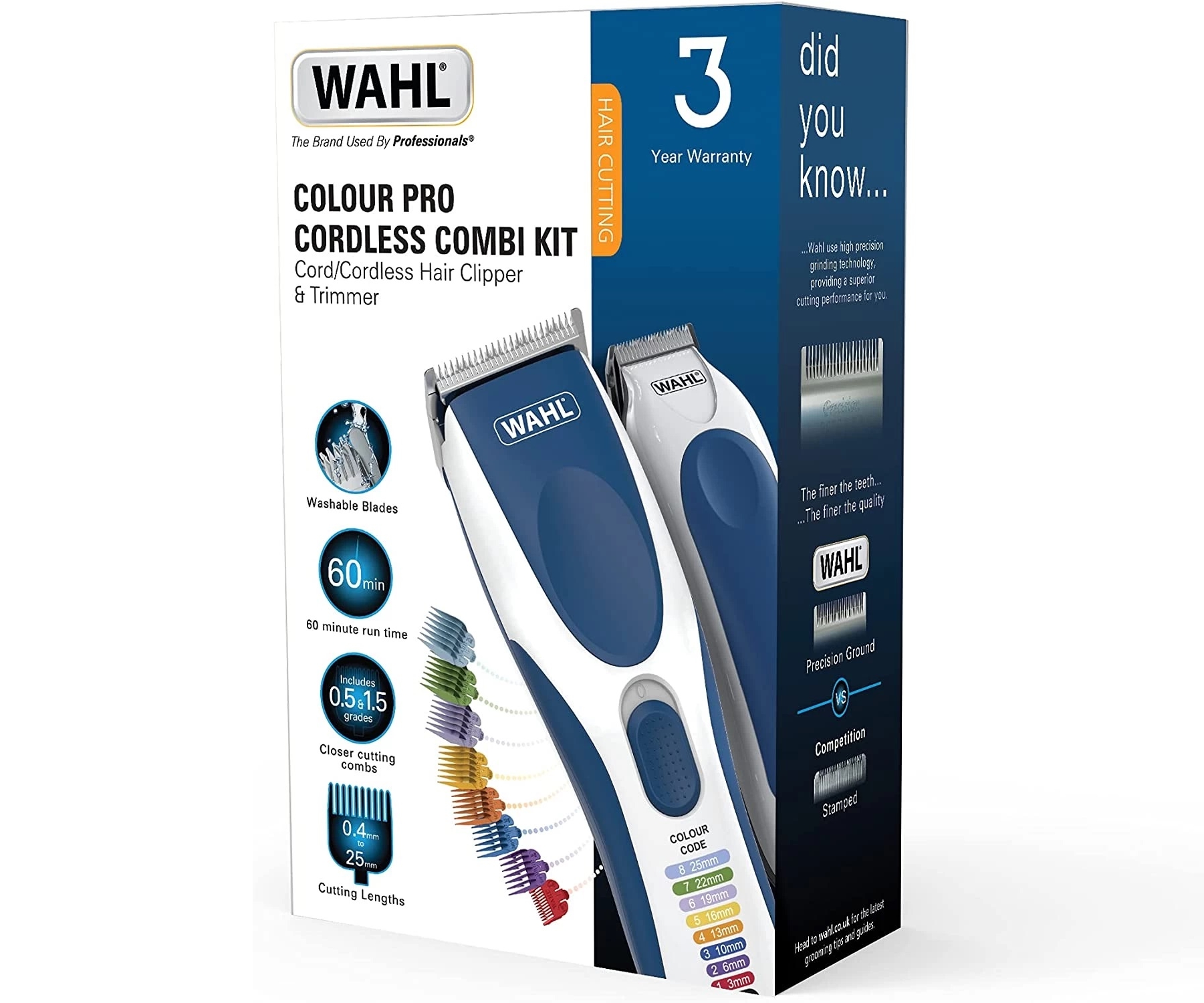 Wahl is not a no-name in the salon industry: the brand's trimmers and other styling appliances are widely used in barbershops and praised by professionals and amateurs alike. Offering the highest quality of materials, great cutting performance and a variety of tools to choose from, the brand is one of the customers' favorites on AliExpress.
As for the Wahl Color Pro Cordless Clipper, it was designed as a "family clipper" suitable for adults' and kids' hair. It features an innovative system of colored combs which correspond to the code on the clipper – and we will make sure to explain it further in our review. For now, let's take a quick look at some of the product's technical specs:
Type: Cordless hair clipper
Charging time: 12 hours
Run time: 1 hour
Battery type: NiMH
Item size: 26x16x7 cm
Item weight: 635 g
Just to wrap it up: note that this model has a total rating of 4.8 on Wahl's official website. We are not providing AliExpress rankings since customer reviews there are insufficient. As for the price, the device can be bought for 85-90$ with no discounts applied: not as affordable as other models, but expected of Wahl products.
Packaging and appearance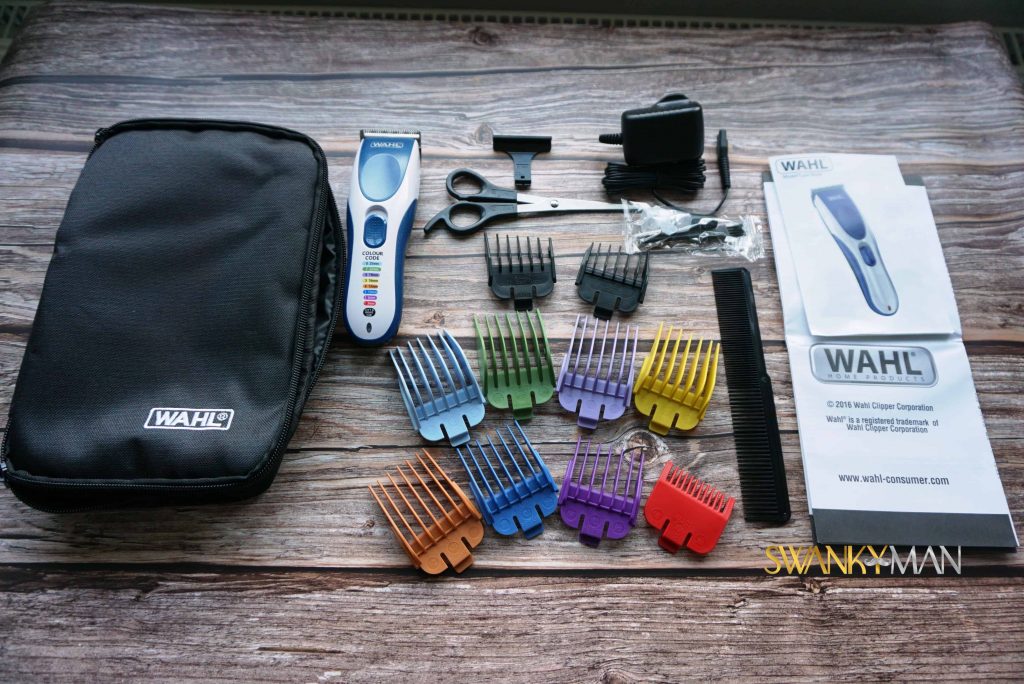 As the name suggests, colors are the prevailing theme in the design: with a set of guide combs of 8 different colors and corresponding codes on the handle, it is easier than ever to choose the right hair length. This trimmer stands out as a rare example where its visual design serves a functional purpose: color coding makes it easier to associate the comb with your preferred hair length even if you are a newbie to trimming.
Aside from that, the clipper features an ergonomic handle and a plastic body of white and blue colors, enhancing its family-oriented aesthetic. In addition to 8 colored combs, the set includes taper combs for right and left ear, scissors, a regular comb, a cleaning brush, a charger and a storage case for all of your accessories. The best part is that this clipper would make a perfect gift for just anyone!
Performance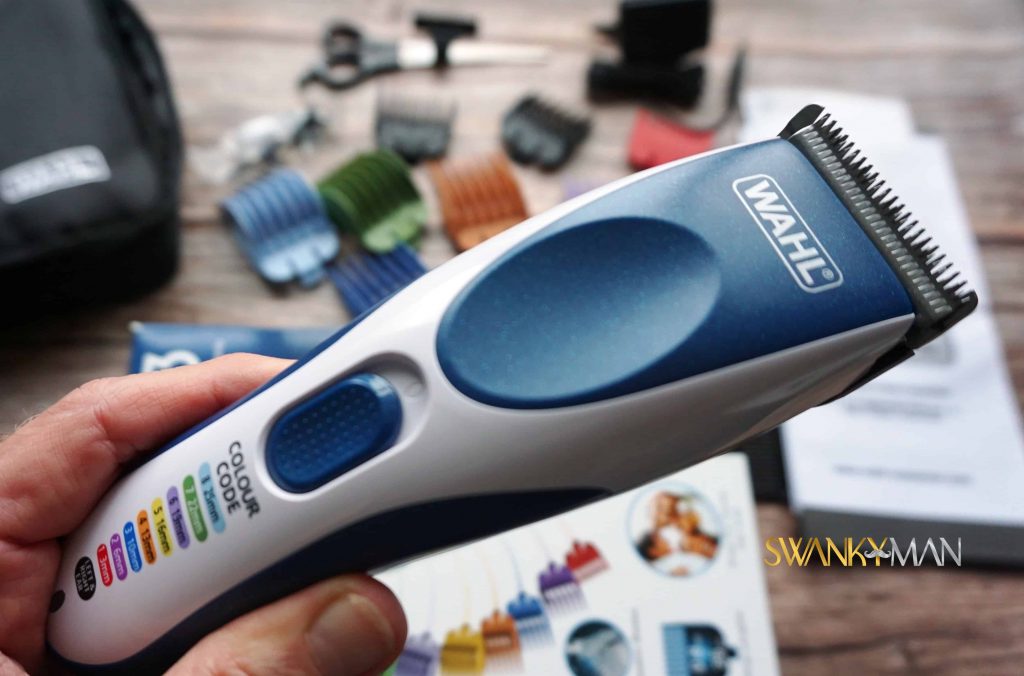 It makes sense that Wahl Color Pro Cordless Clipper is closer to the class of trimmers intended for home use: after all, you don't see a lot of colorful appliances in barbershops. It is convenient, surprisingly easy to handle and still delivers top-notch quality trimming and cutting.
First of all, the trimmer is cordless, so once fully charged it can be taken anywhere. This is convenient when you have to cut kids' hair, for example, as they are often reluctant to stand still in the bathroom and prefer to be comfortably seated. What we found disappointing is the charging time: the device needs a total of 12 hours of charge for just 60 minutes of run time, which is not the best ratio when compared to other models.
We have already mentioned that, but the easy selection of desired cutting length is the best feature of this model. The length range of colored guide combs falls between 3 and 25 mm, so you'll have plenty of options to choose from.
As expected, blades are less demanding in maintenance: the self-sharpening feature ensures that their performance won't deteriorate over time – just remember to oil them occasionally. More than that, the blades can be removed and rinsed under water, which is a bonus point for easy cleaning.
But moving to the non-obvious flaws, there is one thing that should be considered: this trimmer is the worst gift for people with color blindness. While the blades are indeed washable, it's important to note that the device is not fully waterproof, so it should not be exposed to the shower or water.
Pros and cons
It is safe to assume that Wahl Color Pro Cordless Clipper is one of the friendliest options for family use among trimmers. Here is the list of its best features in our opinion:
the unique system of color-coded guide combs makes it easy to choose the right cutting length
cordless, which allows for extended maneuverability;
removable and rinsible blades;
full grooming kit and a storage case included;
self-sharpening blades can cut through the thickest hair;
family-friendly and easy to use;
ergonomic handle with an integrated thumb grip.
But there are disadvantages as well:
not recommended for people with color blindness;
a disbalance of charging/run time ratio;
not for professional use;
blades are fixed and cannot be adjusted.
Conclusion
Wahl Color Pro Cordless Clipper is one of the nicest – both in terms of design and performance – trimmers for home use available on AliExpress. The key color-coding feature is exactly what makes it so special, but somehow the manufacturer forgot about the people who might experience trouble with distinguishing colors. However, if you don't have such issues, then this model is a must for family haircuts.
Some video reviews
Read also: