There are days when we feel lazy to spend even a couple of minutes brushing our teeth in the morning – and that's completely normal (although not welcomed by our dentists). In this case, an electric toothbrush can be a way to fight "toothbrushing procrastination". Released in 2019, Xiaomi Mijia T100 in no time became a bestseller among electric toothbrushes. In this article we'll try to cover its main features – and don't worry, this review wasn't sponsored by your dental clinic!
Specifications
Before we move on to the unboxing and actual review, let's take a quick look at Xiaomi Mijia T100 specifications:
Type: Electric toothbrush
Materials: ABS
Battery capacity: 700mAh
Charging time: 4 hours
Bristles: KR Dual Sharp Brush
Waterproof endurance: IPX7
We'll have a closer look at each one of them and explain how these characteristics affect the overall performance, but here is a small spoiler: this cheap electric toothbrush is better than some of the expensive models.
Packaging and appearance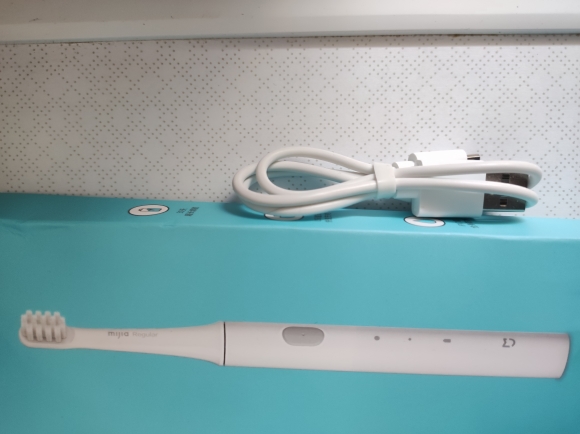 Clothes do not make the person, but in the case of electric appliances packaging plays an important role. The toothbrush comes in a small box (it could be blue, yellow or green – depending on the ordered model): on its side, you'll find short descriptions in Chinese, which is not helpful – unless you can understand characters, of course. But even without the translation key features are easily identifiable thanks to the small icons.
Upon unpackaging, you'll find a toothbrush inside – along with the manual (in Chinese, again), an interchangeable head and a 50 cm long USB cable for charging. Try to charge your toothbrush first before using it out of the box!
As for the appearance, the toothbrush looks expensive: the handle is made of ABS plastic, has 3 LED indicators on it and weighs nothing – around 42-47 grams, to be specific.
Performance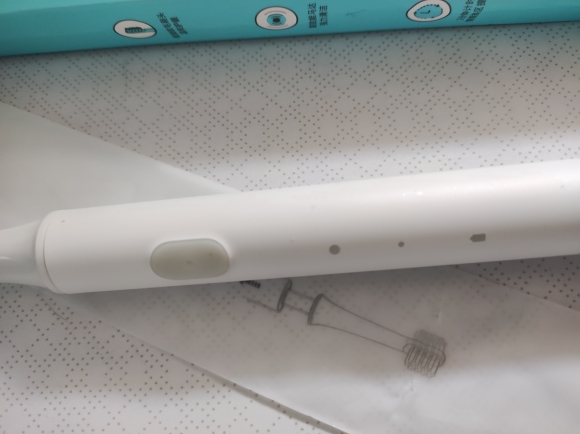 When our Xiaomi Mijia T100 toothbrush is finally charged, it's time to test it in action! Let's not move too far away from battery capacity and note that after 4 hours of charging, it can last up to 30 days. Those customers who used the toothbrush 2 times per day confirm that the battery provides around 20-25 days of autonomy. This makes it a safe option to take it with you on trips even if you forget the charger.
The toothbrush is waterproof, as expected of a device which is intended for bathroom use: thanks to the IPX7 water resistance standard your device will survive falling into the water.
At the heart of the device is the powerful engine, capable of delivering 16500 rpm: you can use the toothbrush in standard mode for deep cleaning or switch it to the delicate mode to protect sensitive or bleeding gums – just press the power button two times.
But even if you are not careful enough with the speed modes, the toothbrush itself limits the cleaning time to 2 minutes: every 30 seconds the vibrations will slow down to notify you to change the cleaning zone, and after 120 seconds the engine will turn off automatically. This is what Xiaomi calls a "scientific brushing" – which is working since you'll learn how to brush your teeth correctly. Another reason for your dentist to be happy!
Accessories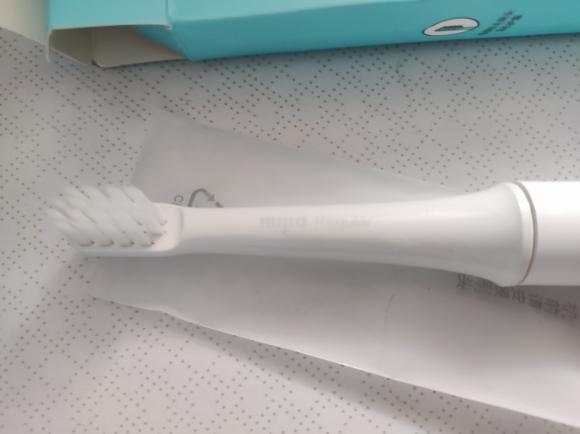 We already know that the standard packaging contains only one interchangeable head with slender and soft hypoallergenic bristles – they are gentle on the gums while being effective for cleaning the tooth enamel. However, it is possible to customize the toothbrush by ordering an additional set of heads available on AliExpress: they are cheap, can be easily adjusted and provide an additional improvement to user performance.
Pros and cons
So far we spoke mostly about the advantages of the Xiaomi Mijia T100 electric toothbrush, which could be summarized as follows:
An affordable price combined with excellent performance;
A powerful engine;
Up to 30 days of battery autonomy and fast charging;
30-second zone reminder and 2-minute timer with auto shutdown;
Two cleaning modes for delicate and effective cleaning;
Interchangeable head with soft bristles;
Waterproof;
Lightweight, but perfectly balanced;
Customizable, available in 3 different colours and can be further adjusted with additional toothbrush heads.
But this review wouldn't be fair if we overlooked some of the disadvantages mentioned by real customers – we have scanned them and found the following cons:
Noisy, as described by some reviewers;
MicroUSB charging port – it would be better if it had USB Type C charging port;
No smart functions, such as Bluetooth or Wi-Fi connection;
Still considered expensive by several customers.
Conclusion
If you never had an electric toothbrush, Xiaomi Mijia T100 is a perfect choice, as it combines an affordable price with excellent performance. It's handy, ergonomic and has an impressive battery life, making it possible to use it without charging for up to one month. But what's more important is that with this toothbrush you'll learn how to properly brush your teeth and enjoy the process.
Videos
Проголосуйте за эту статью!
[Проголосовало:

1

Средняя оценка:

5

]